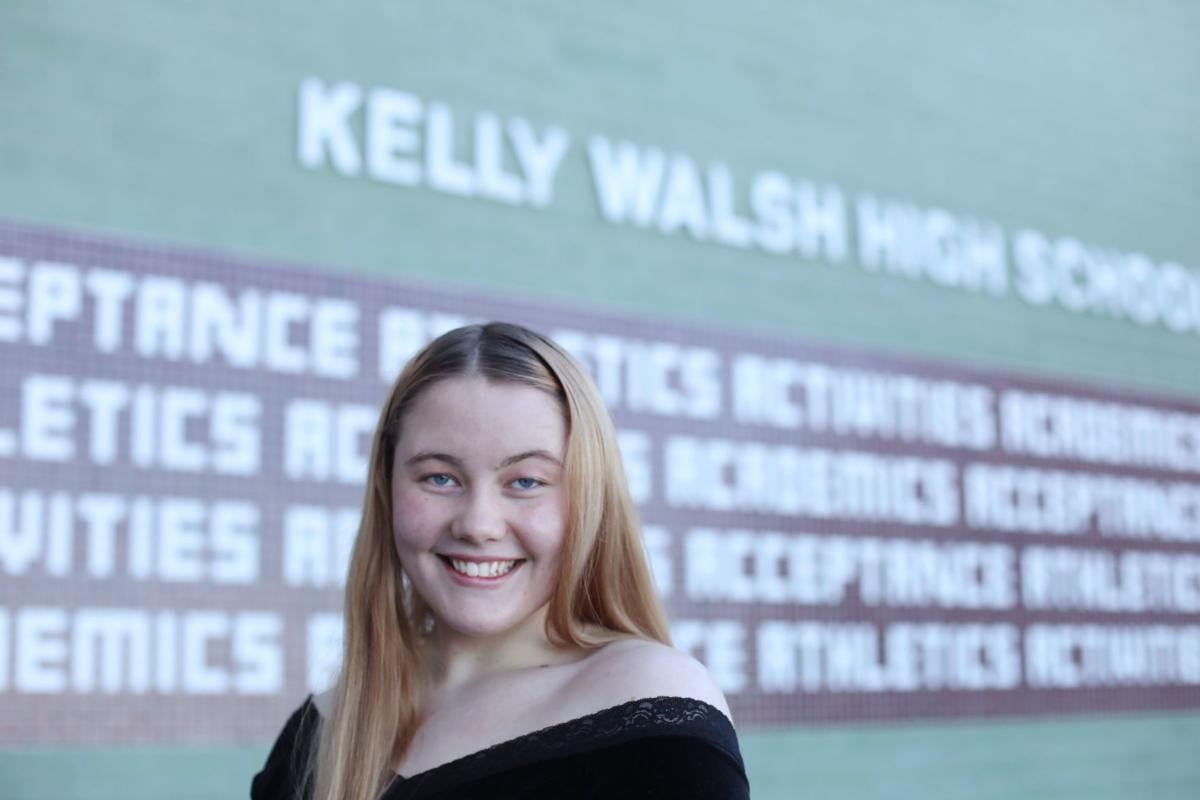 Jordyn Reed is a senior at Kelly Walsh High School, where she is an officer in National Honor Society, president of the school's volunteer Key Club and co-president of the Recycling Initiative. She also volunteers at Highland Park Community Church. She contacted the Star-Tribune because she was concerned that "coverage on Kelly Walsh is limited to sports," and she wanted to see the Trojans in the news for giving back to their community. We agree, so we chatted with her about her volunteer spirit. Next week, Chattin' will feature a student from Natrona County High School.
What makes you want to volunteer instead of just go to class and hang out? I think being a senior, this year I've really wanted to leave something at Kelly Walsh. I think volunteering is something that every well-rounded student does. I looked at the students last year and they were really leaders and they all volunteered, so I thought it might be a good thing to push me in the right direction. I joined Key Club starting my freshman year and got nominated for an office last year. I was really honored to get to be president of that group.
Tell us about Key Club. Key Club runs a lot of our volunteer efforts here, like Gobble Gobble Give, Coats for Kids and the Blood Drive. We have a group of about 20 consistent students who can always be counted on and about 40 on the list total, who come every once in a while.
So 20 students really make all of those things happen? We put a lot of time in. I'd say Key Club takes up a good six to 10 hours every single week organizing everything. I'm emailing people constantly, trying to keep up with all the events. We switched sponsors this year, so a lot of that fell on me, but I got to experience that and got to structure it the way I want.
What's your favorite Key Club event? Absolutely the blood drive. The reason why is because it's been the most beneficial for not only community but also the student body. The competition between NC and KW, I just think that's doing such good things for the student body and school spirit. The public goes to donate blood at Eastridge Mall on Feb. 27 from 1:30 to 5:30 p.m., and they can say which school they want their donation to count toward. The Peach Basket is also Feb. 27, and the blood drive ends that day.
How do you get others involved in the many projects? A big thing and we actually talked about this a lot, it kind of takes away from having volunteer work done but we do offer incentives. For Key Club, it's a sash and cord at graduation. That's the only way that kids will join, overall it sets a good example just because we are getting kids involved. National Honor Society often helps out with events, they are offered points. Points are based off of meetings they attend, number of events they are involved in, hours they volunteer.
How did you come by your desire to give back? My dad, Matthew, is a big influence in my life. He's always doing volunteer work at Highland Park. He's on the security team at church and he's an usher. He owns his own electrical contracting company, Envision Electric. I've grown up with a very good example. My mom, Brandie, teaches AP Lit and does the tutor center here at KW, so I do have a really good example in my home. Personally I just saw a lot of seniors and leaders last year and I really wanted to step up.
Volunteering is not all you do. Tell us about your other interest. I've been part of the drama department at KW since I was in middle school. This month is my seventh musical at KW. We're doing "Rock of Ages," and I am in the chorus because I've got a lot on my plate.
What does your future look like? The next step is certainly college. Montana State or Colorado is looking like it might be it, kind of experience a little bit different stuff than Wyoming. I would love to be a midwife. I'd love to do some kind of broadcasting or being a part of the media.
Follow Sally Ann Shurmur on Twitter @wyosas
Be the first to know
Get local news delivered to your inbox!