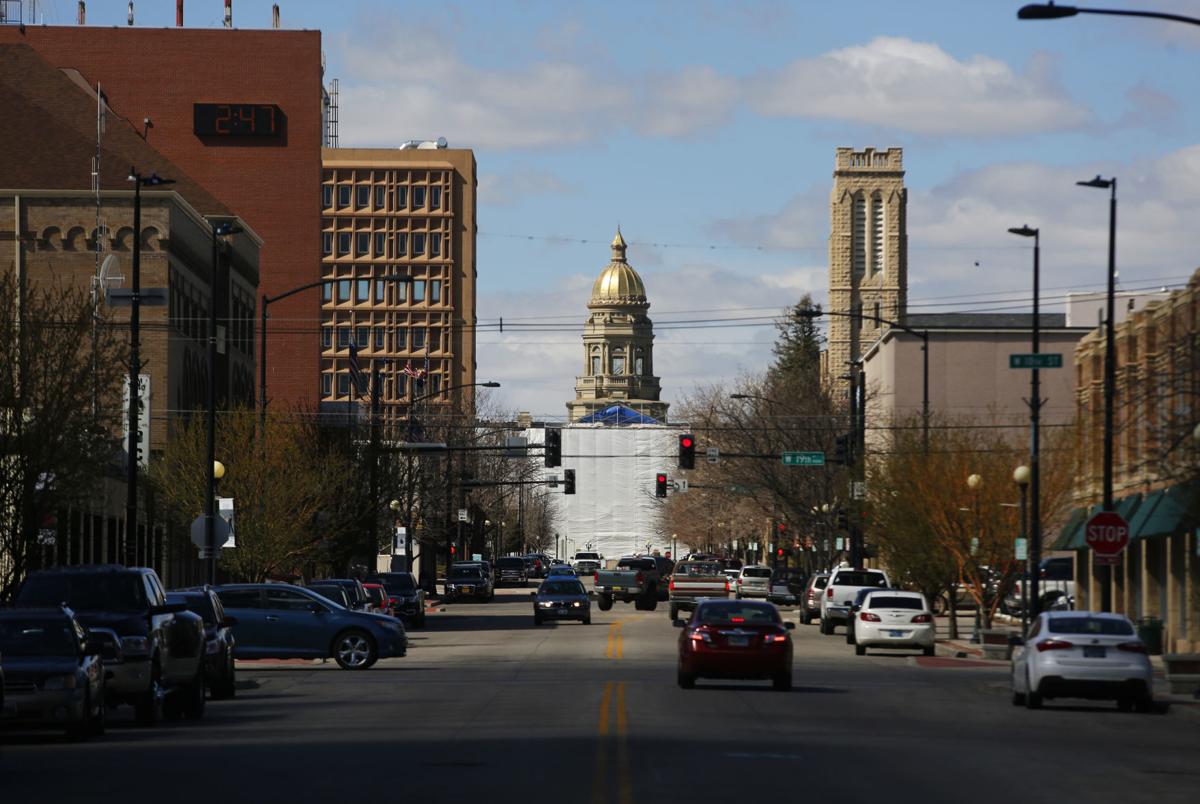 A Laramie County health official issued an order Thursday closing bars, movie theaters, gyms and other communal spaces in an effort to slow the spread of the novel coronavirus. 
"We recognize that these are extraordinary actions, but COVID-19 is a serious public health challenge," the county's health officer, Dr. Stanley Hartman, said in a news release announcing the order. "This decision was not taken lightly and will hopefully increase positive outcomes for our community."
As of Thursday morning, Cheyenne has had at least three confirmed COVID-19 patients. A fourth, at F.E. Warren Air Force Base, was also confirmed in a press release Wednesday, but a state Health Department spokeswoman said Thursday that it's unclear if that service member had already been counted.
The closures in Laramie County include all theaters, film or stage; bars, nightclubs, taverns or saloons; self-serve buffets, salad bars and other "unpackaged self-serve food service"; golf and country clubs; public pools, hot tubs, gyms, fitness centers, saunas, locker rooms and conference rooms; museums; tasting rooms; and "other like establishment or indoor recreational" facilities.
Restaurants can remain open for curbside pickup. Drive-thru restaurants can also remain open. 
"Cash payments are strongly discouraged," the announcement states. "Online and telephonic credit card transactions are highly encouraged. Staff who handle cash or credit cards shall not be involved in preparation, handling, or delivery of food. All dine-in food service, whether inside or outside the establishment and admitting guests, patrons, and customers inside the establishment is prohibited."
In a follow-up email, city leaders wrote that "essential" services — like police, fire, sanitation and snow removal operations — will continue. 
"The virus that causes COVID-19 is a new strain that we do not know much about," Cheyenne Mayor Marian Orr and City Council president Mark Rinne said in a joint statement. "This strain appears to be more virulent than previous strains that we have dealt with. In addition, the mortality appears to be higher than the influenza that we normally deal with. Consequently, governments around the country and the world are taking steps to control the transmission of COVID-19."
The two city leaders called the decision an "extraordinary step" and asked citizens not to "succumb to the hysteria" by hoarding food and supplies.
"We want to express sympathy for those directly affected by this decision," they wrote. "We know that the next few weeks will be difficult for all of us. Particularly, for those that will be struggling to get by without an income. While we are disappointed in the decision to restrict businesses in Cheyenne, we understand the decision."
Teton County, where one case has been confirmed and another has been reported just over the border in Idaho, has taken similar action. Officials in the city of Lander, where there have been eight confirmed cases tied to an assisted-living facility, have recommended against gatherings of more than 10 but said they would not make business closures mandatory. Such closures have been ordered all over the country.
There have been 18 cases identified in Wyoming, with the latest — a Cheyenne resident — being confirmed Thursday.
The virus has spread across Wyoming over the past week: four cases in Cheyenne; four cases in Sheridan, which are linked; eight cases in Lander, also linked; one in Park County; and one in Teton County. Later on Thursday, Park County announced its own public health order closures of a number of similar establishments, including child care centers; restaurants, bar, nightclubs, employee cafeterias; and buffets and salad bars, among others. The order also allows restaurants to remain open for curbside or drive-thru pickup. The eatery also has to inform the county health officer.
The eight Fremont County patients are all either residents or staff members at the Showboat Retirement Center. Two of them are hospitalized. 
COVID-19 is a respiratory illness that presents with fever, shortness of breath and coughing. It is especially deadly for the elderly, for those with compromised immune systems and those with chronic health conditions. Anyone in Natrona County — or elsewhere — who believes they may have contracted the virus is asked to not rush to the emergency room or their primary care physician's office unless they're really having trouble breathing.
"What we are really wanting to do is to educate the public that, should you suspect you have been exposed or you have coronavirus, one, do not freak out because 95 percent of the time you're going to be just fine," Dr. Ghazi Ghanem, an infectious disease physician in Casper, said at a news conference last week. "And two, help us not spread this around."
Officials have urged all residents to practice social distancing, which means minimizing close contact with others to cut down on the spread of the highly contagious COVID-19.
Closing 3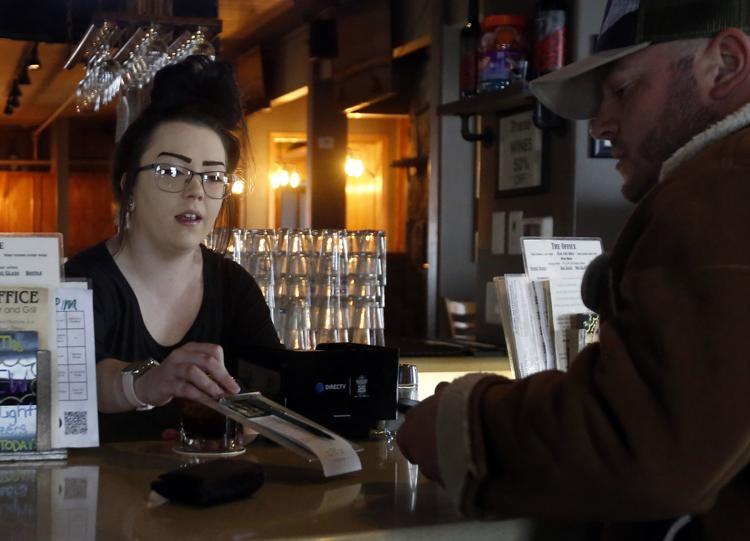 Pick-up order at HQ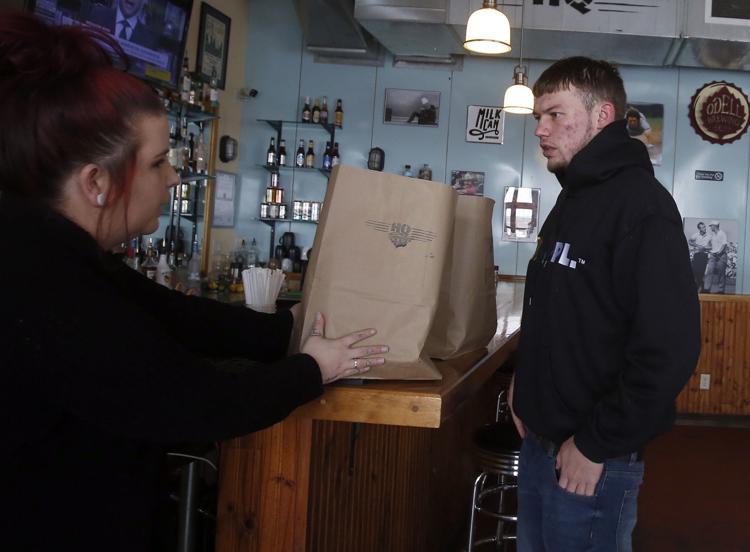 Wyoming Medical Center clinic Andy Dunn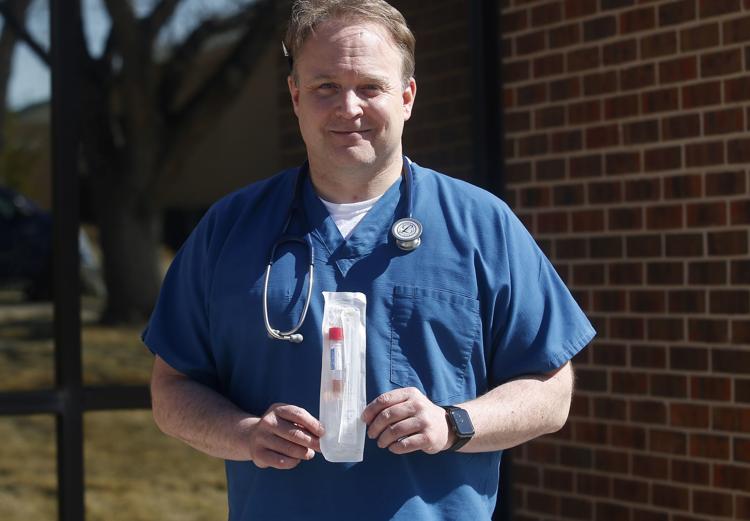 Wyoming Medical Center respiratory clinic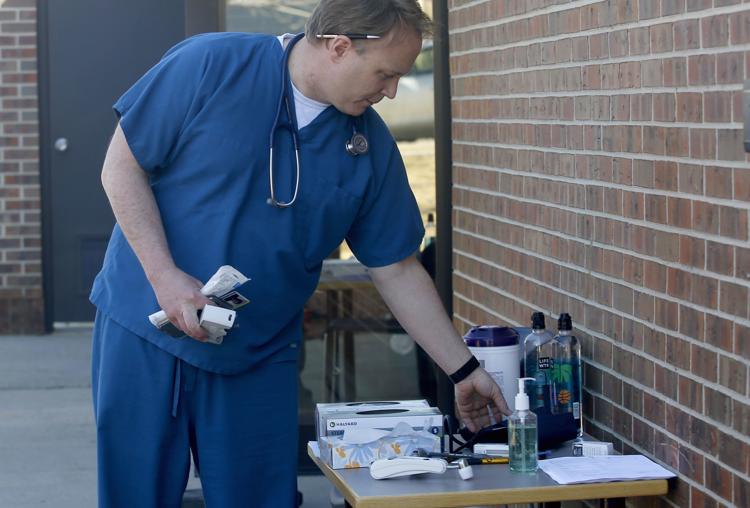 COVID-19 response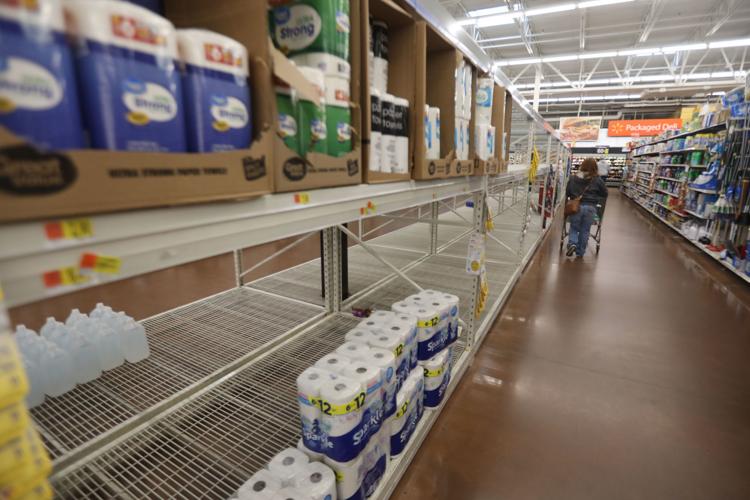 Press conference 5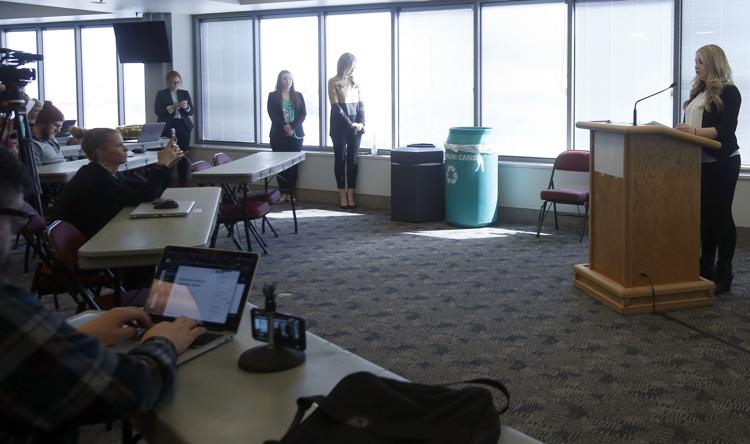 Respiratory clinic
Press conference 3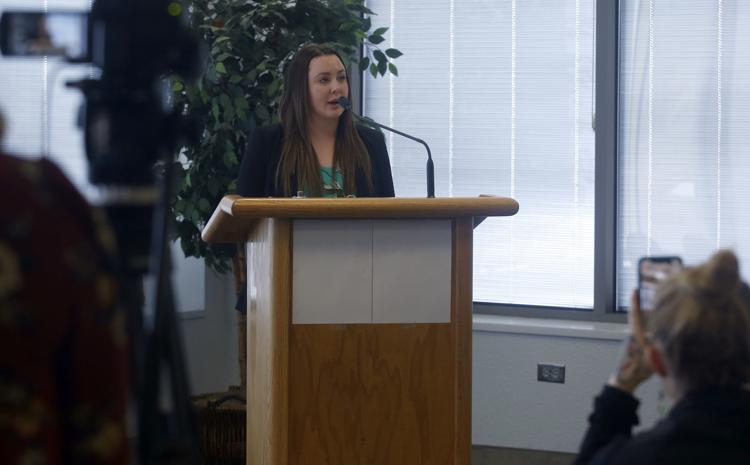 Respiratory clinic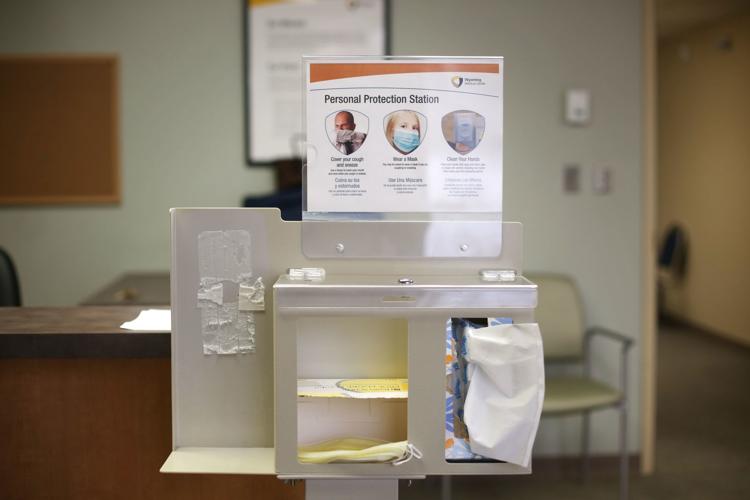 Briefing 5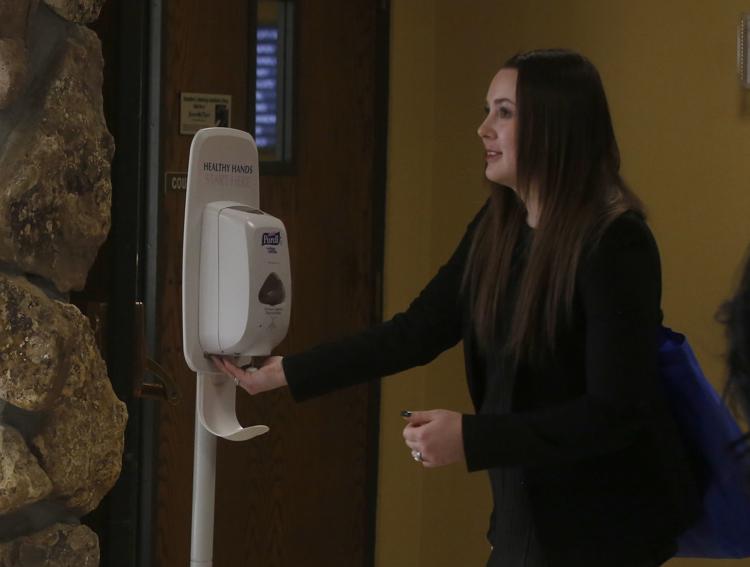 Briefing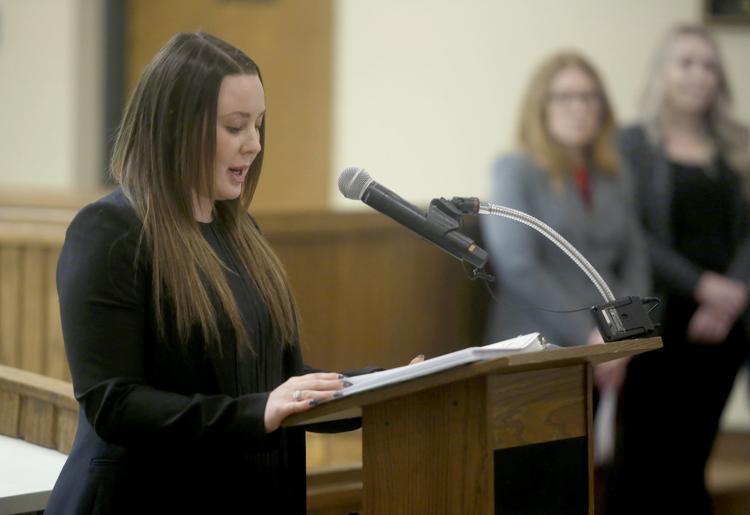 COVID-19 Press Conference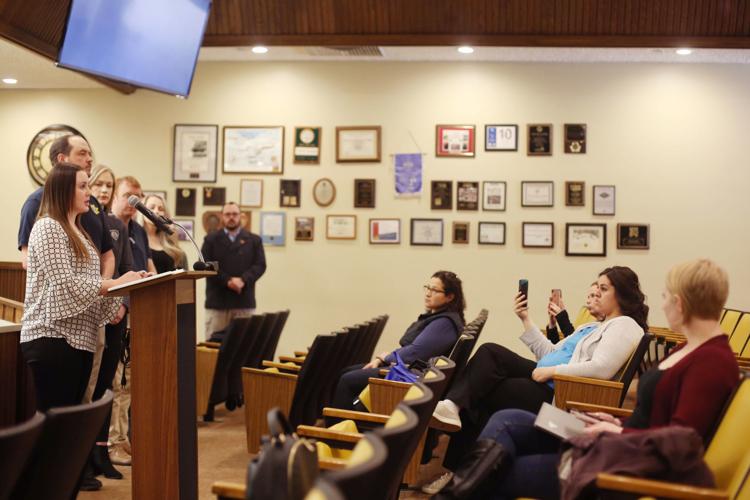 Respiratory clinic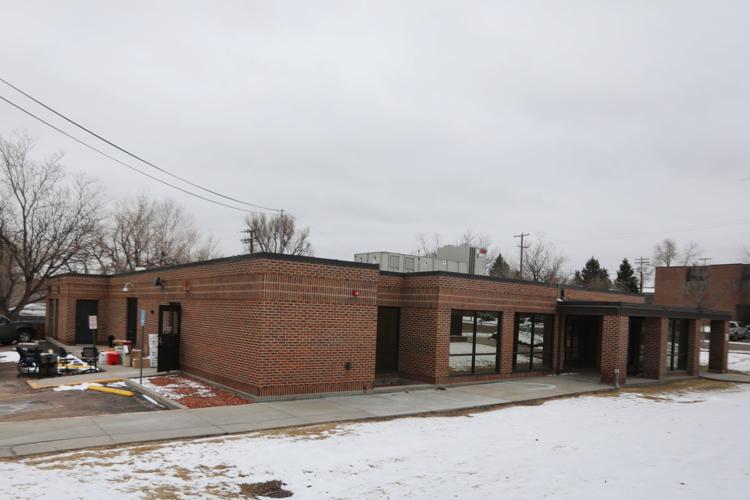 Respiratory Clinic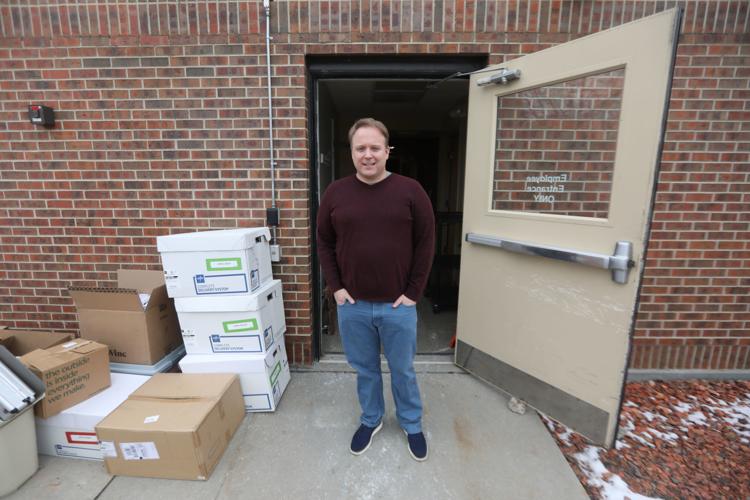 SageWest in Lander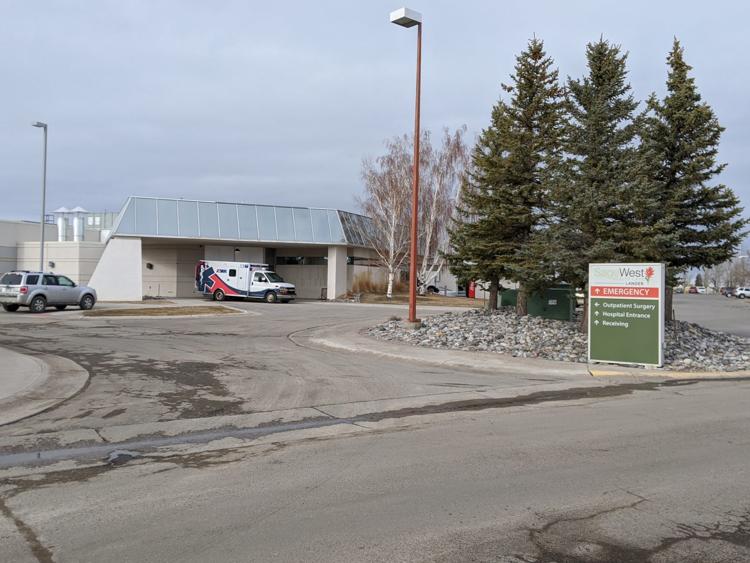 Showboat Retirement Center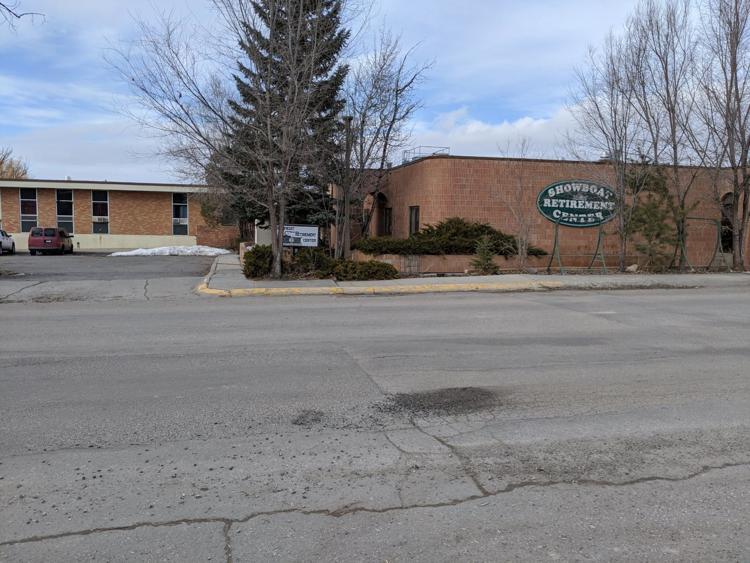 COVID-19 response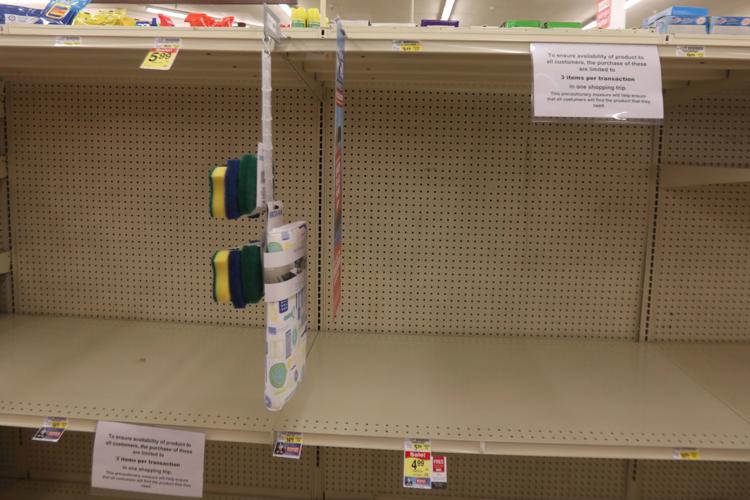 COVID-19 response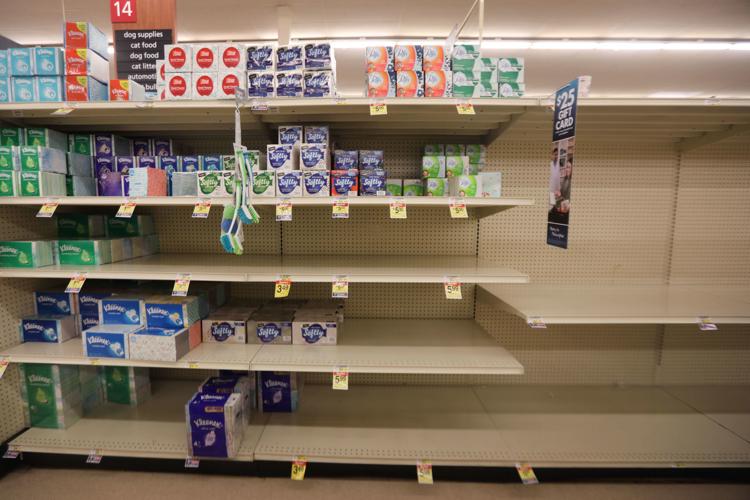 COVID-19 response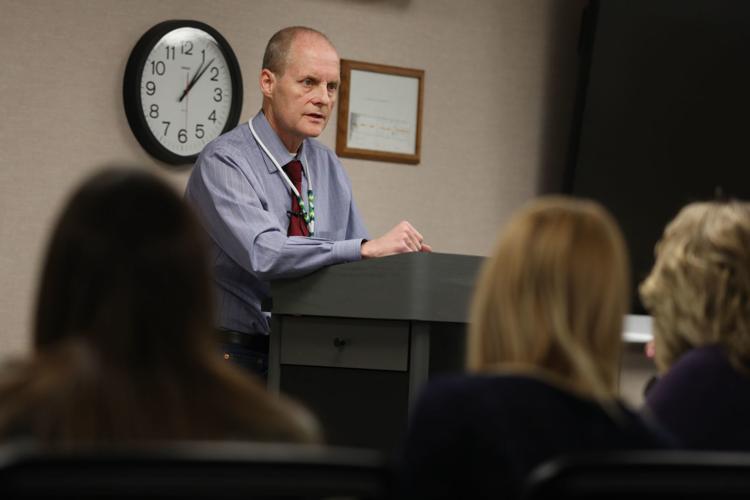 COVID-19 response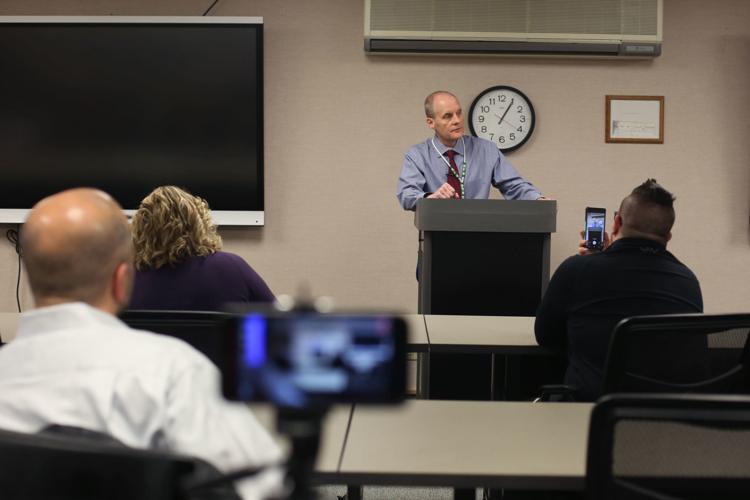 COVID-19 closure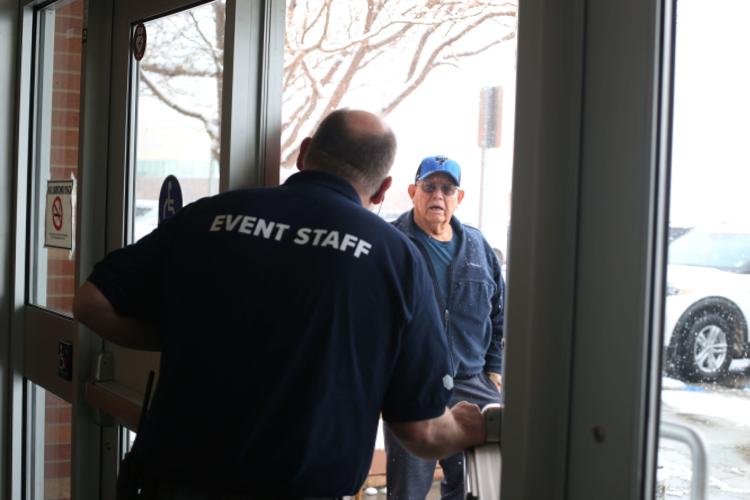 COVID-19 closure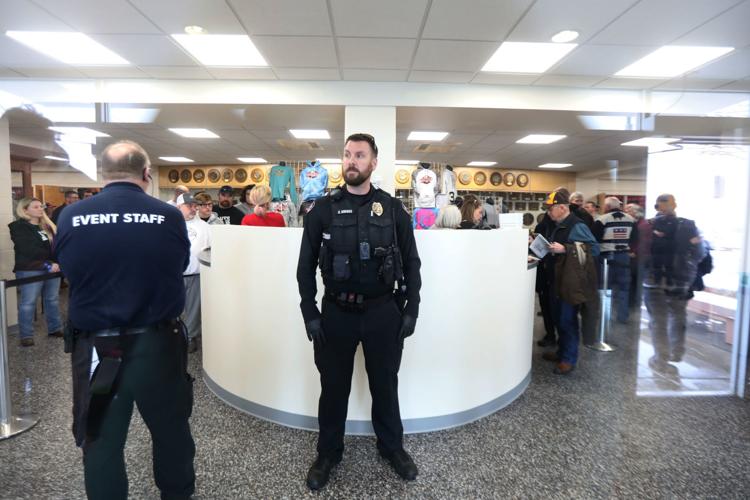 COVID-19 closure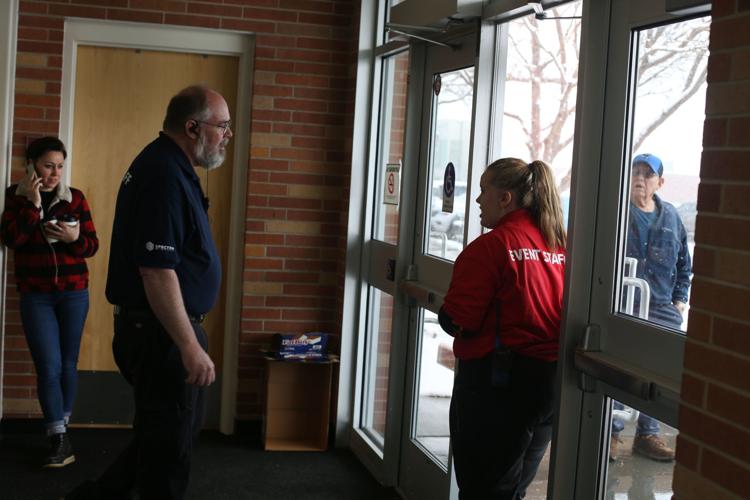 COVID-19 closure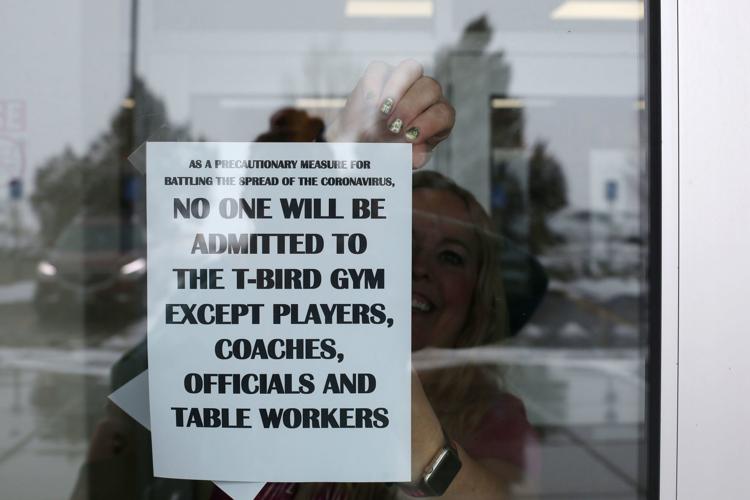 Covid 19 Press Conference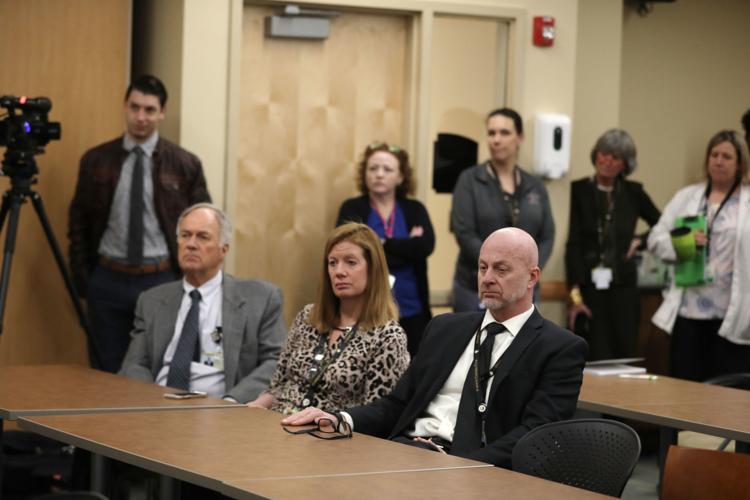 COVID-19 Press Conference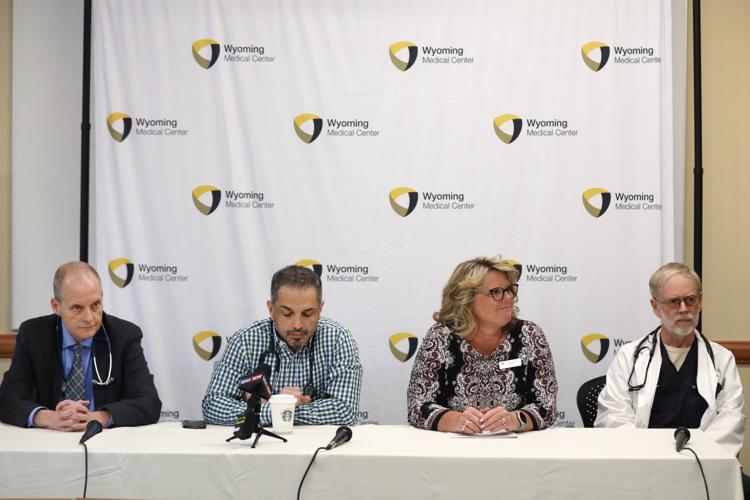 COVID-19 Press Conference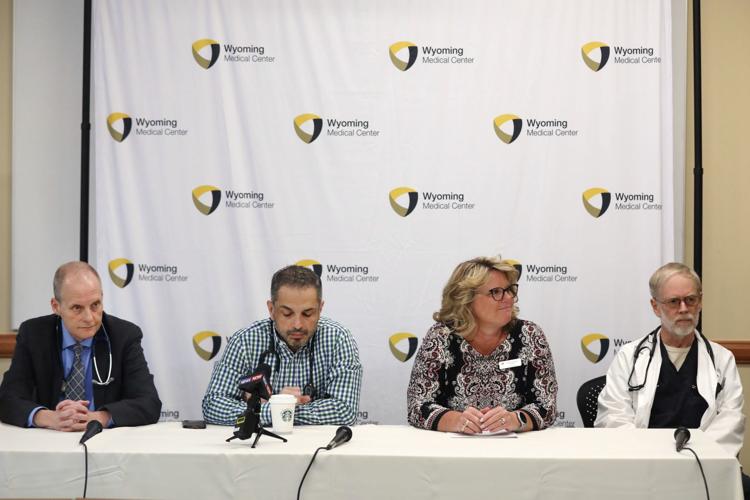 Covid 19 Press Conference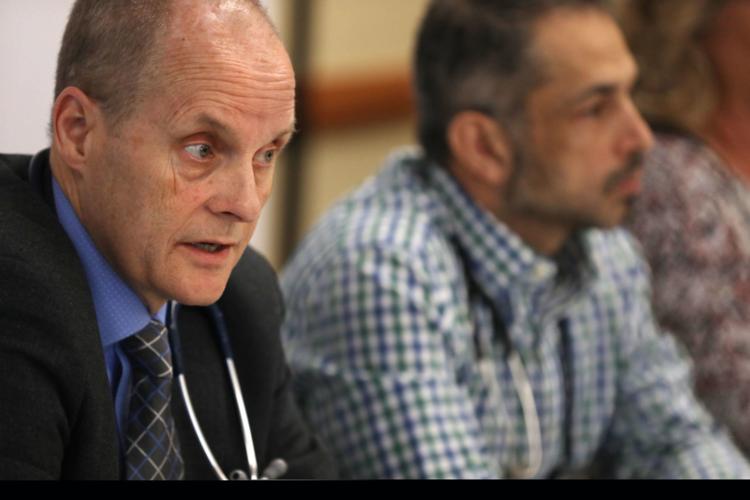 Mark Gordon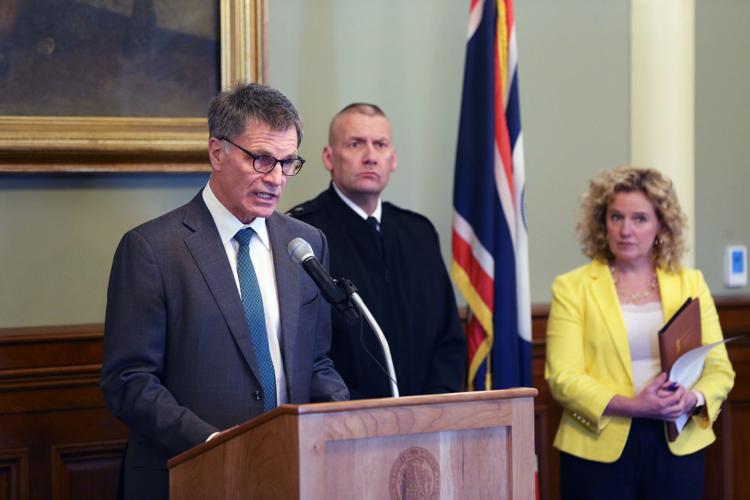 Closed sign at The Office Bar and Grill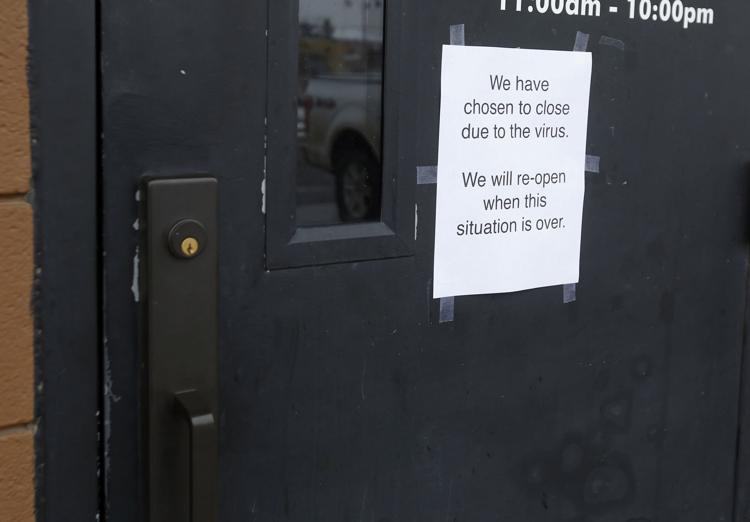 The decision to close communal spaces caused local restaurants to close their doors to the public and begin to offer curbside, to-go ordering. Poor Richard's in Cheyenne, which saw an uptick in business during the legislative session, saw an unusual drop in business on Sunday. They posted on Facebook on Monday that they'd begun increasing cleaning and the next day advertised openings for all positions. Thursday's decision changed that.
Cassie and Jim Rauzi opened Poor Richard's 42 years ago -- 43 in June.
"We've been through a lot of things, but nothing like this," Cassie said. "Made it through blizzards and huge snowfall and everything. Right now it's more important to keep everyone healthy and safe, and that's what we're striving to do."
She said a large portion of her 42 to 50 people on payroll are single parents depending on tips. Only two of them at a time will work with a rotating schedule during the shutdown. Outside of that, Cassie anticipated the kitchen staff will consist only of Michael Rauzi -- kitchen manager, head chef and her son -- as well as a prep cook and line cook as part of what she described as "a skeleton crew."
Seun Kipennett, owner of Korean House Restaurant, said she was scared for herself, her business and her 30 employees. They'll continue to offer take-out, but outside of that, she has no idea on what to do next.
A phone call to Golden House, a Chinese restaurant in central Cheyenne went directly to a voicemail that stated they were closed with the hope of re-opening the first week of April.
Crooked Cup coffee shop has also made changes. They've altered weekend hours to 6:30 a.m. to 4 p.m., and owner Eloy Martinez said they'll close earlier if business demands it. He and his girlfriend operate the business by commuting from Fort Collins, and while the situation in Cheyenne has changed significantly, they're also "at the mercy" of conditions in Fort Collins.
Martinez stated he expected their coffee offerings to remain the same, but their food menu has been condensed due to shortages. In Fort Collins, the grocery stores limit a gallon of milk to one per customer. He encountered no limit in Cheyenne and bought four gallons.
"We need the money, too, and we want to be here for people who need it," Martinez said.
Sheila Dixon is as an independent contractor massage therapist who works in agreement with Bellanova Med Spa & Salon. She's seen her clients drop from four or five a day to just one. 
Dixon had just started her own massage therapist business and said it's been hard to financially develop through this tough time. Thursday's only client pulled up to the storefront as Dixon explained what really worried her.
"I'm certainly less concerned about getting sick than the financial ramifications that will affect me for years to come," she said.
Concerned about COVID-19?
Sign up now to get the most recent coronavirus headlines and other important local and national news sent to your email inbox daily.