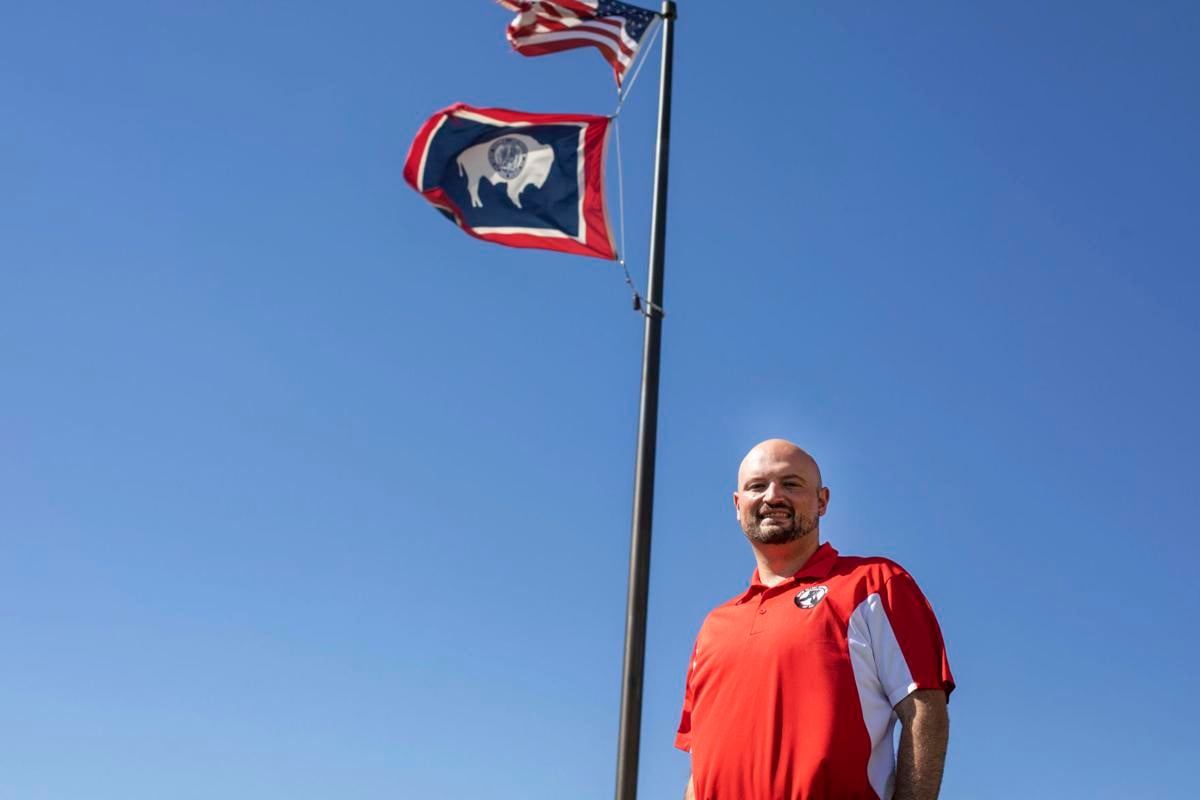 The photographic war memorial, Remembering Our Fallen tribute towers, arrived in Casper on Sunday and will be open for public viewing 24 hours a day from 9 a.m. Monday through noon Aug. 5 at Casper College in the lower parking lot of the Gateway Center. An opening ceremony will be held at 5:30 p.m. Monday. To accommodate social distancing, it will be held outside, in front of the Gateway Building.
Speakers include Casper College President Darren Divine, Gov. Mark Gordon and Megan Schafer, a Gold Star mother from Casper who will deliver the keynote address. The memorial consists of 36 10-foot towers that include military and personal photos of all 5,000-plus U.S. soldiers lost in the Iraq and Afghanistan wars. When it leaves Casper, the memorial's next stop is Sturgis, South Dakota, for the 80th annual Sturgis Motorcycle Rally, where it will be located outside downtown from Aug. 7-15.
We chatted with Nick Whipps, veterans and international students coordinator at the college, whose Casper College Veterans Club has brought the memorial here.
Tell us how this memorial got to Wyoming. It was to come in April and was rescheduled because of the pandemic. Once a year we try to bring in a memorial to bring the community together. This is the third year we've brought in a national memorial. Two years ago, we had the Eyes of Freedom Memorial which remembered the Lima Company Marines out of Ohio, and we had just over 1,500 people come to see that one. And last spring, we had the traveling Vietnam Wall and we had just under 5,000 people for that one. We just don't know what to expect with this one, based on everything that's going on, but we hope this is something people will look forward to and want to come see. And we've done everything humanly possible to make them feel safe while they are here.
Tell us about what you've done in that regard. Both the memorial and the opening ceremony are outdoors. We are practicing social distancing to put people more at ease. We are spacing out the actual towers as much as we possibly can. All of these panels are way farther than six feet apart, which gives those who want to look as much distance as they possibly need so they can observe the memorial in a safe manner.
With school not in session, how has your club organized all of this? We've done a lot of Zoom meetings and meetings where we have been social distancing. Luckily the weather has been great because we've had a lot of meetings outside. Any of these things takes a monumental effort to get it planned and organized and ready to go. Most of our veteran students are older and based in Casper. The majority have families and are basically coming back to utilize their GI benefits or get some sort of education after they get out of the military. I would say we have 25 active members. The amazing thing is the veterans club, everything that we do, none of it is funded by Casper College. All of it is by grant funding, donations — our students work their tails off to raise money to do these types of things. We've raised approximately just over $10,000 to bring this to the community and that doesn't include in-kind donations.
Tell us about the opening ceremony on Monday, July 27. It starts at 5:30 p.m. and will be outside the Gateway Center. We felt very fortunate that we got the governor because he is so busy right now. The fact he chose to be with us is a big deal. Dr. Divine will welcome the group. Megan Schafer, a Gold Star mom, actually works at Casper College so she dove into this head first. She is excited to talk about her experience as a Gold Star mom and Jason, his service and sacrifice, what it means to her family and the state. She is someone who was impacted by the guys and gals who are on the towers and have paid the ultimate sacrifice. (Note: Megan's son, Cpl. Jason Corbett, died Jan. 15, 2007, of injuries sustained when his military unit came in contact with enemy forces during combat operations in Karmah, Iraq. He was 23.)
Is there a way to find a specific person? Yes, there are tables set up and the memorial has two employees who will help people look up names.
And because this is open and available 24/7, there will be security at all times? Campus security will keep a pretty vigilant eye on it, there will be at least two volunteers with the memorial 24/7 from our veterans club, FFW, American Legion and the VA clinic.
Follow Sally Ann Shurmur on Twitter @wyosas
Be the first to know
Get local news delivered to your inbox!