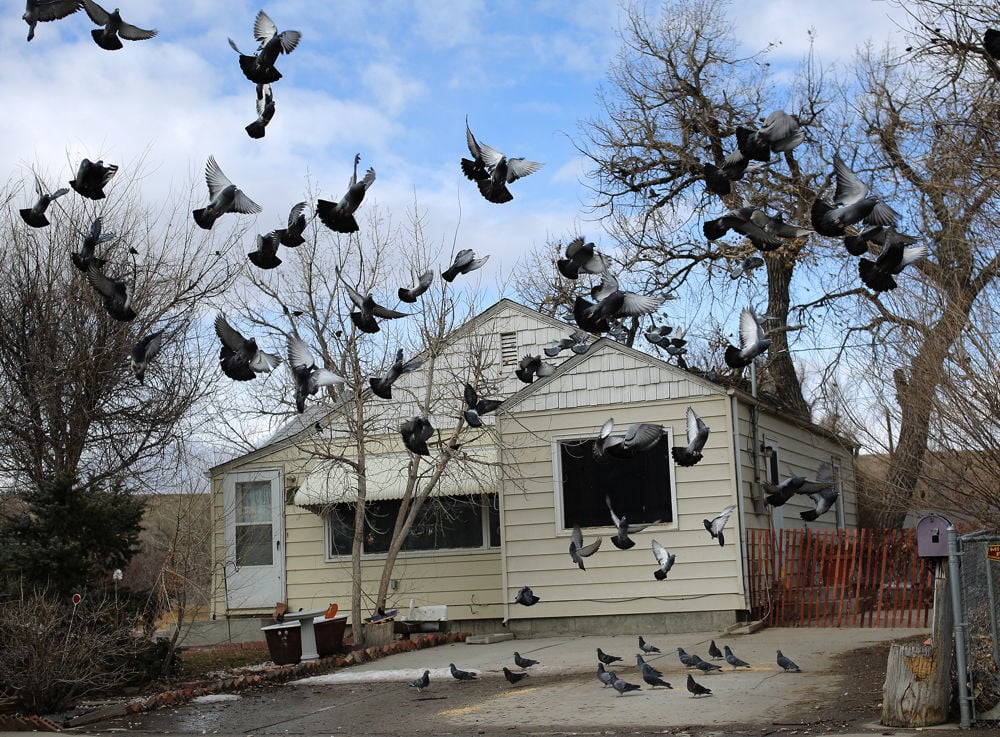 There are more than 43,000 parcels of property in Natrona County, spread across more than 5,000 square miles of land.
The county assessor's office is responsible for physically inspecting every one of them. Currently, that task falls to three full-time employees and one part-time employee. They're spread thin, Natrona County Assessor Matt Keating said.
The Wyoming Department of Revenue requires the inspections every six years to ensure those properties are being valued accurately. Keating said Natrona County can't meet this rule because the assessor's office is so short staffed.
"Nobody (in the county) has ever met this rule," Keating said.
To try to correct this, Keating has asked the Board of County Commissioners to approve money for four new staff members in the assessor's office. Those staff would join the field assessment team. Keating said those new hires are necessary to properly and equitably value properties in the county.
"How do you come up with an accurate fair market value if you've never visited the parcel?" he said.
Brenda Arnold said she didn't think Keating had enough staff to meet the on-site inspection requirement.
"In my professional opinion, absolutely not," she said.
Arnold is the division administrator for the Wyoming Department of Revenue's property tax division. She has been in the property tax business for three decades. She said staffing has been an issue for the Natrona County assessor's office for years.
She used Laramie County for a comparison. The Laramie County assessor's office has 21 employees; 11 are assigned to field inspections. Both Laramie and Natrona counties have a little more than 43,000 parcels and issue around 47,000 valuations annually. But Natrona County's properties are spread over almost twice as much land, and they have a much smaller staff to complete the work.
And the physical inspections can be crucial for getting an accurate appraisal, Arnold said.
"The goal is to have accurate and timely information about the characteristics of the property," she said. "Physically driving to the property and measuring it, there really aren't any alternatives."
Technology can make staff more efficient in meeting this requirement, however. Arnold pointed to oblique imagery as one such tool. It uses aerial photographs taken at 45 degree angles to show assessors if there are any substantial changes to a property.
Arnold said the imagery can help assessors determine which properties require physical inspections and which have not changed from the previous six-year cycle. The state Department of Revenue allows assessors to use this tool in place of on-site inspections in many cases.
"They can eliminate going on site if they have deemed — using imagery — the property has not changed," Arnold said.
But the photos can't replace the on-site inspections altogether. She said Laramie County uses imagery, too, but they still need an 11-person field team.
Keating included a proposal for an oblique imagery program in the budget he submitted to the commissioners. He said the county's information technology department also has $85,000 that can be used for the program.
Arnold vouched for Keating's efforts to make the office more efficient. She said his predecessors struggled with the same challenges.
Keating has spoke of these challenges a number of times. He said the assessor's office was a mess when he took over in January. That mess, he said, was one reason he wanted to run for the office. The field inspections are one piece of this.
When residents received their valuations earlier this month many were frustrated that their property values had skyrocketed. In some cases, properties quadrupled in value. Keating said those values changed so dramatically because the office was trying to start fresh and evaluate properties without the adjustments that had been added in the past. The office then reapplied adjustments case by case. Keating said it is all part of the process to correct problems from previous assessors.
As evidence of previous assessors' struggles, Keating pointed to the county's failure to meet another state-proscribed requirement. The State Board of Equalization is one entity that oversees county assessor's offices. The board hears appeals from residents who disagree with their property valuations, but it also serves as a check on the accuracy of county assessments over time.
One check is ensuring properties assessed in a jurisdiction fall within certain parameters set by the board. Those parameters are established by comparing the appraised values to market values. Gayle Stewart, the board's executive secretary-attorney, said setting those parameters ensures quality control across the state.
"It gives us a feel for if the county is being fairly valued," Stewart said. "We look at it over a number of years."
If a county is not meeting that expectation year over year, it could be an indication of inaccurate assessments, Stewart said.
Keating said Natrona County has been outside of those parameters for at least the last five years. Some areas of the county are overvalued, some undervalued, he said.
Keating said the State Board of Equalization told him that if the county continues to fall outside of those parameters, the board would order an equalization. An equalization is the process by which the state realigns the county within the parameters set by the board and could include mass adjustments across the county.
The cost of an equalization would vary from county to county, Stewart said, but would include the price of resending valuation notices to all property owners in the county. Keating said he sent out more than 47,000 valuation notices this year.
Both Keating and Stewart pointed to Natrona County's rocky history with meeting the standards set by the board. The last time the board had to order an equalization was in 2006, and it was for Natrona County. Stewart said part of the reason for that order was because the county was not meeting the on-site inspection requirement.
Keating said he does not think asking for additional staff to meet the state rules is unreasonable.
"I submitted a bare-bones, no frills budget," he said. "It's fair, it's honest, and it's needed."
Chairman Rob Hendry said the commissioners won't know what the final budget looks like until the end of June.
This month, county departments have been submitting their desired budgets for the upcoming year. Hendry said they won't be able to make a determination about Keating's budget proposal, or any of the proposals, until they have reviewed all of the submissions.
"It will be at least a status quo budget," Hendry said. "We're talking about giving some increases in wages."
But for the most part, he said there isn't a lot of room to negotiate. As for Keating's personnel request, Hendry said things aren't looking good.
"That is quite an increase in that office," he said. "We really just don't know yet."
Follow city reporter Morgan Hughes on Twitter @morganhwrites.
Be the first to know
Get local news delivered to your inbox!