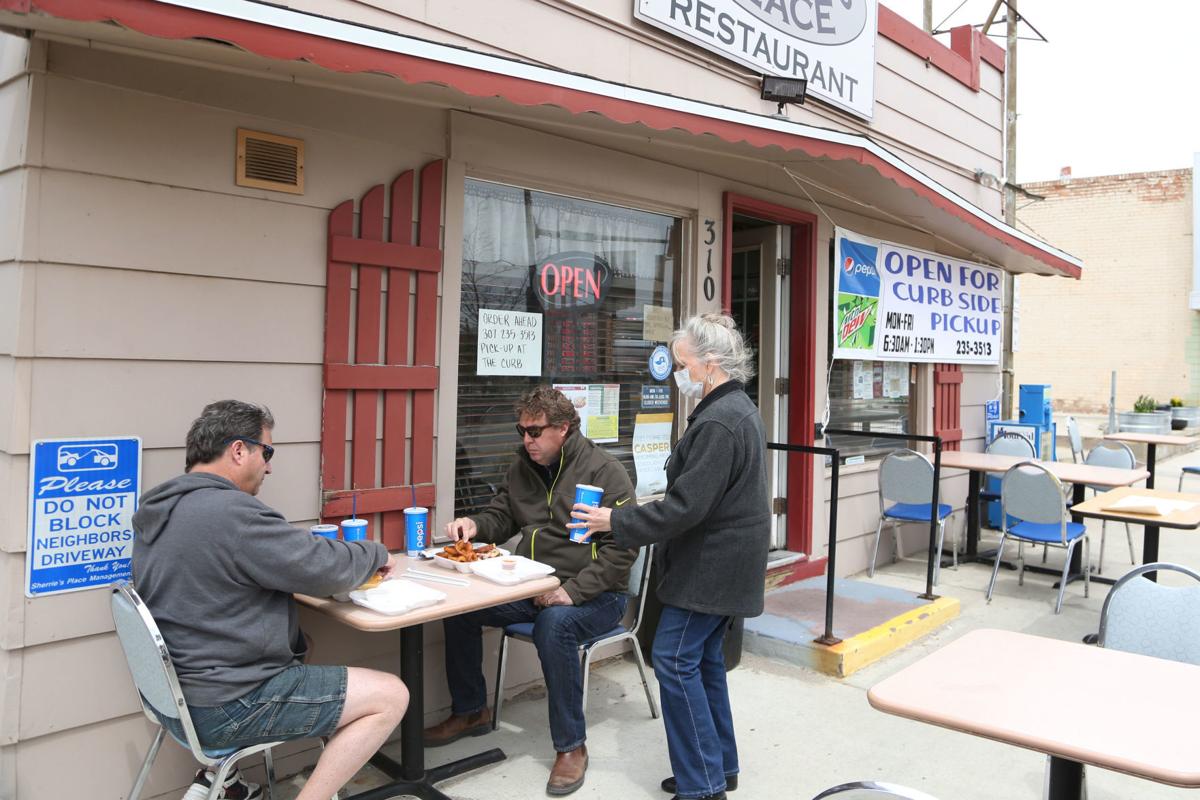 Natrona County has successfully asked to reopen bars and restaurants to indoor patronage, as more than half of Wyoming's counties have requested the state allow them to loosen restrictions put in place to slow the spread of the novel coronavirus.
County officials here announced earlier this week that they would open the interiors of bars, eateries and coffee shops to customers for the first time in nearly two months, pending the state health officer's approval. The county joins a nearly a dozen others across Wyoming who've sought to open up businesses that had previously been limited because of the virus, amid a broader push by the state to give counties flexibility to customize their pandemic responses to their needs.
Outdoor dining has already reopened in Natrona County.
All of the reopenings — in Natrona County and across the state — come with restrictions, like how far patrons must be separated from one another, how food is handled, how staff members are screened and protect themselves throughout their shifts, who can touch what utensils and in some cases when bars must close. But the wave of loosened restrictions continues the state's march toward some form of normalcy, though officials across the state and country continue to warn that the virus is not gone and will likely linger here for the foreseeable future.
Goshen County opened its restaurants and will now allow for religious services (albeit with social distancing and capacity restrictions). Hot Springs, Uinta, Converse and Sweetwater counties have all been approved for similar measures. Natrona County's newest variance order does not include places of worship, something Casper Mayor Steve Freel said Wednesday was a possibility.
Among the 13 counties to apply for a change to statewide orders, Teton County is the only one to ask for more stringent measures than the state has required. Last week, state health officer Dr. Alexia Harrist announced that barbershops, gyms, tattoo parlors and other commercial businesses could reopen on limited, restricted bases. Teton County requested — and received — approval to keep those businesses closed until mid-May.
In their requests, the various counties who've asked for more leniency have highlighted the relatively limited presence of the virus in their communities. The 12 counties who've been approved for looser restrictions have 142 confirmed and probable cases combined. Of those, 119 have recovered.
Natrona County has not had a new confirmed case since April 22.
In Uinta County's request, it wrote, "as of May 4, 2020, 502 tests for COVID-19 have been conducted in Uinta County, with a positivity rate of 1.4%, less than the Wyoming rate of 4%."
Kim Proffit, the nurse manager in Uinta County, said the decision there was made "with a lot of discussion, a decision made with a broad group."
"Basically the hospital has had almost no one in their beds because they haven't done elective surgeries," she said. Facilities across the state have held off on holding elective procedures to preserve supplies and bed space. "The hospital had decent capacity, and the hospital has a lot of ventilators ... it could surge up to that many high-intensity beds."
Last week, the state hospital, located in Evanston, did widespread testing to see if there were any cases there without symptoms. The testing turned up zero new cases, which Proffit said was also influential in the county's decision.
The disease is much more present elsewhere in the state. In Fremont County, for instance, there are more cases than in the 12 variance counties combined. With a spike of cases over the past 10 days, the county has 159 confirmed and nine probable patients, only 28 percent of whom have recovered. Laramie County has 163 confirmed and probable cases, and Teton County has 98 combined. Neither Laramie nor Fremont County had applied for any variance as of Thursday morning.
Concerned about COVID-19?
Sign up now to get the most recent coronavirus headlines and other important local and national news sent to your email inbox daily.