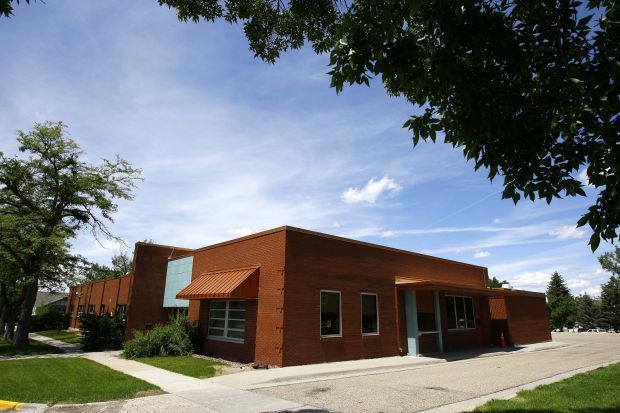 Syd Webb hears complaints of all kinds from parents whose children ride school buses.
Kids are on the bus too long, some parents say. Bus traffic at schools makes driving nearby streets unmanageable during the start and end of the school day.
That's why Webb, transportation coordinator for the Natrona County School District, is so excited about a new plan to transport elementary and middle school students using a centralized busing location, or 'hub,' starting this fall.
It's a strategy that could cut the district's transit time and costs in half, Webb said.
According to the new plan, a student will step onto a bus at a neighborhood stop in the morning. That bus will drive to a block of district-owned land north of Park Elementary School near downtown Casper. Students will unload there and board a different bus to take them the rest of the way to school.
"We're going to be in, and we're going to be out," Webb said of the loading and unloading slated to occur every morning and afternoon at the busing location. Parents will not be permitted to drop their students off at the hub, which will be on Center Street between Seventh and Eighth streets.
The district will invest about $200,000 to renovate the property, building a 4-foot fence around the perimeter and turning the lone building -- the former 12-24 Club -- into bathrooms and a warm space for neighborhood students to huddle on cold days.
Construction on the site is ongoing. About $100,000 in state major maintenance funds and another $100,000 from existing district resources will be used to pay for the project, said Dennis Bay, business director for the district.
"This is an exciting move for the district," Bay said during a school board meeting Monday where the plan was discussed.
District Superintendent Steve Hopkins called it a "completely different way" to think about transporting students.
"We have been searching for quite some time for a more efficient way," Hopkins said.
You have free articles remaining.
The new web of bus routes will use fewer bus stops, creating a longer walk for some students in the morning and, in some cases, a longer bus ride for students, Webb said. 
"For some neighborhoods, it won't change," he said. "For some, they're going to see a significant [change]."
But most students should see a decrease in the amount of time they spend on a bus, he said.
The change is also expected to cut the number of miles school buses travel daily on normal bus routes in Natrona County from between 8,000 and 9,000 miles to about 4,500 miles a day, Webb said. The district spent about $6.5 million to transport students to and from school last school year; Webb hopes that number will also decrease by about half.
Traffic at schools should shrink, too. Where the district's largest schools now handle up to two dozen buses transporting students each day, those schools under the new bus system could see as few as four or five buses a day.
Currently, adult bus monitors stationed at each school oversee students as they load and unload buses each morning and afternoon.
Under the district's new plan, a bus monitor will travel with the students on the bus. They will help make sure kids move successfully from one bus to another at the downtown hub each morning and afternoon.
The increase in adult supervision is meant to make riding the bus a safer experience for kids, Webb said.
"The monitor will get to know those kids," he said. "The bus monitors and the bus drivers will assist in the transfer of all those kids."
Traffic on Center Street around the proposed hub is relatively low, said Andrew Nelson, supervisor of the Casper Metropolitan Planning Organization. In a recent count during a 24-hour period earlier this year, 3,225 vehicles traveled on Center Street near the hub. During a similar survey in 2012, 7,729 vehicles traveled near the intersection of Center and Second streets downtown.
The plan, slated to start this fall, will not affect high school students, who are on a different class schedule than elementary and middle school students.