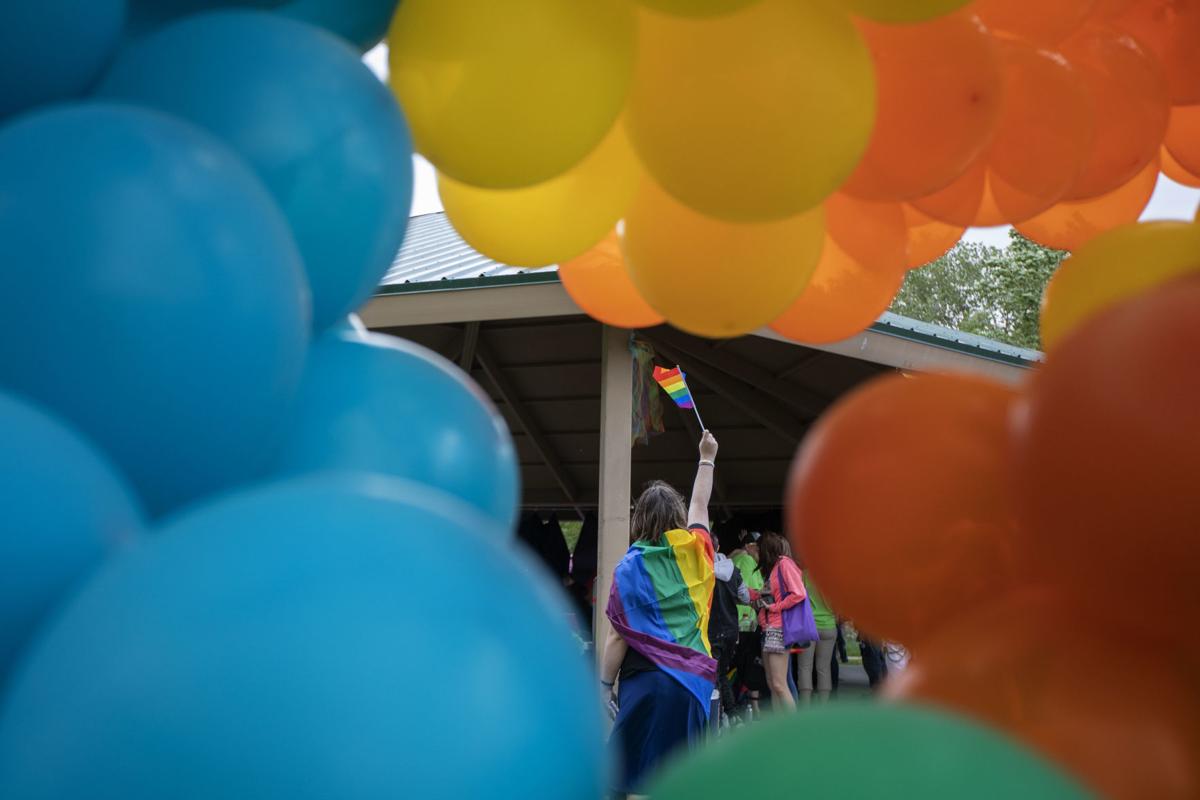 Casper City Council on Tuesday formally adopted an LGBTQ advisory board, the first municipal board of its kind in Wyoming, and the public weighed in with opinions both for and against the idea.
The council voted 6-3 in favor of the board, which will consist of volunteers and won't receive city funding or have decision-making authority. It will, however, provide the council with perspective and insight on decisions that could affect the LGBTQ community.
Sara Burlingame, a Wyoming state Representative and the executive director of the LGBTQ rights nonprofit Wyoming Equality, said Casper was the first municipality in the state to create such a board.
The board originated from a last-minute suggestion during a November work session. Councilman Charlie Powell, then the mayor, suggested creating the body in response to a national index that ranks municipalities on LGBTQ equality. Casper scored low on that index, earning just 11 of 100 available points.
Council tentatively approved the board during that meeting but discussed the issue again during a work session last week. After that discussion, six of the nine council members voted to move forward with the LGBTQ advisory board and asked city staff to create a resolution to that effect.
Tuesday's vote on the resolution was more of a formality, after council's lengthy discussion the week prior made clear where most stood on the issue.
Still, last week's work session did not provide a space for public comment, so Tuesday's meeting was an opportunity both for council members and the public to voice their opinions.
***
The arguments for and against the creation of the board were varied.
Arguments in favor hoped the committee could address high suicide rates in the LGBTQ community and the absence of laws meant to protect people from housing and employment discrimination, that it would allow for better-informed decision making, and that it was simply validating a long-marginalized group of people's right to assembly.
Arguments against the board's formation suggested it was elevating one class above the rest, that it was encroaching on freedom of speech and "freedom of conscience," that it would create a "slippery slope" and lead to an unwieldy number of advisory boards, and that it should be more inclusive and recast as a "human rights" advisory board instead.
Ryan McConnaghey was among those speaking in favor of the board. He spoke on behalf of several Casper residents, he said. Indeed, McConnaghey was accompanied at the meeting by a handful of people.
"While in theory, every resident has the ability to stand before you as I am and air their concerns, in many cases that just isn't the case," he said, referencing an argument two council members had previously made.
That earlier argument suggested LGBTQ residents have the same ability as anyone else in the community to interact with city decision makers. McConnaghey countered this argument by saying LGBTQ residents may be wary of speaking in a public meeting for a variety of reasons, from tenuous family dynamics to fear of losing their job because of their sexual orientation.
"Many LGBT residents do not have the luxury of opening themselves up to sharing their grievances or participating in the political process in a meaningful way," he said.
The organization Casper Pride conducted a survey in 2018 asking LGBTQ residents about issues they said needed to be addressed in the city. Among the responses were a high suicide rate amongst LGBTQ people.
Later in the meeting, Powell, whose background is in mental health, addressed this point directly. He said if the advisory board could prevent even one suicide, "that's enough reason by itself."
Powell has also been a vocal proponent of passing a nondiscrimination ordinance in the city that would protect the LGBTQ community from being fired or denied housing for their sexual orientation. Laramie and Jackson both have ordinances to that effect.
The bulk of comments made against the advisory board came from Linda and Doug Bergeron. They referenced Casper's one active advisory board, the Mayor's Council for People with Disabilities, which has been used as a comparator for the LGBTQ advisory task force.
Linda Bergeron said there were "fundamental differences" between the group for people with disabilities and an advisory board for the LGBTQ community.
"One addresses very real, practical needs and accommodations of a group of people who have medical diagnoses," she said. "Addressing LGBTQ issues isn't based on a diagnosis, standard of care, to guide medical or mental health interventions, or federal or state law directing necessary physical accommodations."
She also referenced the First Amendment, saying that LGBTQ activism has "been one of the primary means to diminish the First Amendment."
Doug Bergeron echoed these comments.
'Where are the advisory boards for all the groups that could be adversely affected by the decision the council will make based on the advice from this board?" he asked. "What steps are this council going to take to protect our freedom of speech and freedom of conscience?"
Bergeron said the formation of the board would elevate one group of people above the rest and provide one group "special representation."
He concluded his comments by asking what would happen if the "LGBTQ" acronym were to change.
"What happens if they start adding letters to their group name," he asked. "Does the council have to approve that or are you going to take advice from a group that adds just any behavior to their name?"
Caitlin Jonckers, a teenager living in Casper, spoke in favor of creating the board and countered the statement that the board would elevate one class of people above others.
"It is not pushing gay people, queer people over other citizens; we are actually undermined by other citizens," she said. "As people say, we people are shunned away from speaking out because people tell us it is not OK to not be straight, when you can't choose who you love."
***
When it came time for council to discuss the matter, none showed any sign that they'd had a change of heart from the work session a week prior.
Councilman Shawn Johnson spoke first and in no uncertain terms about his feelings toward the issue.
"This group has been marginalized, had their personal business even criminalized for hundreds of years," he said. "So to say that we are elevating one group above another is just completely not even in the ballpark."
He said forming the advisory board was "a very miniscule" thing council could do to help a long-marginalized group have their voices heard.
Johnson, a vocal advocate of small government and individual rights, also said the advisory board was simply "a group of citizens, marginalized citizens, that are exercising their First Amendment right to assemble and petition their government."
Three councilmen, Ken Bates, Steve Cathey and Bob Hopkins, again suggested reshaping the board as a "human rights" advisory board so as to not focus just on the LGBTQ community. The suggestion was quickly defeated as it had been during a prior meeting. Most on council said combining all minority groups under one advisory board would "water down" its intent and effectiveness.
Councilman Ray Pacheco challenged those who would say the advisory board was unnecessary because Casper is already a wholly welcoming place.
He suggested those people read Facebook comments posted to articles written about the formation of the board. He called the comments "despicable" and said they were indicative of the progress Casper still needs to make to achieve true equality.
"If we truly lived in a community that was welcome to all ... those comments would not be on Facebook," he said.
To conclude the discussion, Mayor Steve Freel questioned the fairness of not creating the board, saying its formation was simply another avenue for council to better educate itself before making consequential decisions.
Follow local government reporter Morgan Hughes on Twitter @morganhwrites
Be the first to know
Get local news delivered to your inbox!