Megan Wilde was moving again.
It was her daughter's second birthday. They were living in a small apartment above a beauty parlor on the west side of the city. The apartment wasn't great. Chemicals from the salon would waft upstairs and into their living room, and they had to stay quiet during business hours, hard if not impossible to do with a toddler. But it was a place to live.
Then, without warning, the landlord was at the door.
"They came to us and said, 'Hey we'd really like you to leave. This isn't working out for us,'" Megan recalled.
The landlord wanted her out as soon as possible. Not one to be defeated, Megan started looking with her then-husband for a new place to live. During one apartment tour, a dog bit Kristen in the face and Megan had to rush her to the hospital.
Kristen was fine, but because of the incident, Megan passed on the apartment, with the clock ticking on her current place. Her then-husband found an apartment in North Casper. Megan agreed it would be fine, but didn't feel the neighborhood was as safe as she'd hoped.
"That was the straw that broke my marriage," she said.
Soon, Megan and Kristen were on their own and moving for the fourth time in as many years. They found an apartment near the mall. They were there for 18 months, until her landlord raised the rent.
"It was just getting really difficult to live, so I was just like you know, I need to not be here in this apartment," Megan said.
This has been the pattern for all of Megan's adult life. They move, they pay rent, the rent goes up or the apartment has mold or the neighborhood isn't right or something else makes living there unbearable or impossible.
She's lived in at least 10 different apartments in the last 20 years. One recent apartment flooded constantly over the span of 9 months, and her landlord had to replace her water-damaged ceiling three times before finally moving Megan to a different unit in the same complex.
Megan isn't alone in living through years of inadequate, unsafe and expensive housing.
Natrona County has roughly 8,000 units—apartments or houses—with some kind of problem, according to state data. That means they either have inadequate plumbing, kitchen appliances or other facility issues, or that the people occupying the units are cost-burdened, meaning they pay more than 30 percent of their monthly income to live in these places.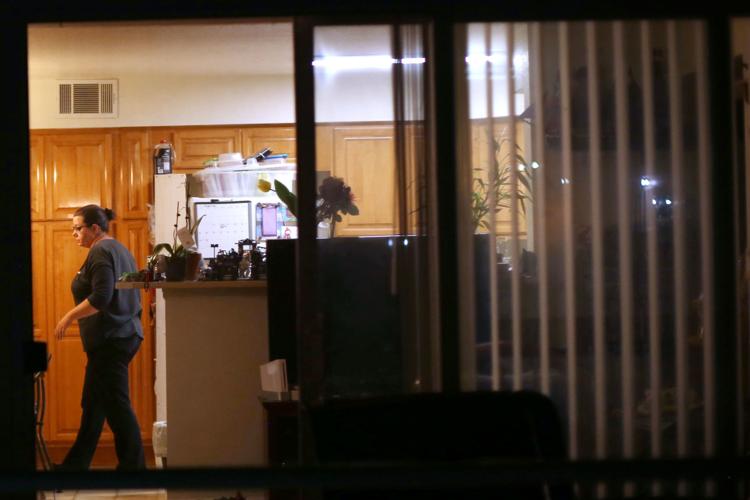 The number of inadequate units is projected to skyrocket over the next few decades with the need for affordable housing increasing right alongside it. But government intervention around housing issues is minimal, particularly in a state as libertarian-minded as Wyoming. Nonprofit groups have stepped in to try to fill the gap for these tenants.
That's how Megan found Habitat for Humanity.
At that point in her life, all of her past mistakes were coming to a head, she said.
The medical bills from her daughter's dog bite had followed her for a decade until finally, a collection agency took a garnishment on her paychecks. It was more than she could afford to lose every month and still make rent.
She declared bankruptcy and tried to dig herself out of the mess she was in, but even six years after, she had no savings, too much debt and no plan. Then she was laid off from her medical billing job.
She applied to Habitat as a last-ditch effort to get things back on track. She was denied.
"It was disappointing because you put so much out there and what you put out wasn't good enough," Megan said. "But sometimes if it terrifies you, you have to stop taking steps back."
After her application was denied, Megan got a phone call. It was Kelly Cooper, Habitat's program manager. She wanted Megan to come in and review the application. She wanted to give her a better chance the next time she applied but warned that it would take a lot of work.
This is a critical part of Habitat's model. Applicants need to be prepared for homeownership and all of its responsibilities before they're approved for the program.
"If we're able to serve people who are ready to be homeowners, that allows others to serve people who aren't quite ready for that step," said Tess Mittelstadt, executive director of the Natrona County Habitat chapter, adding that for the Habitat model to work, it needs to be a partnership between the applicant and organization.
Because despite what people think, Habitat doesn't give houses away for free, Mittelstadt said. The homeowners still have a mortgage, they still pay homeowners insurance, they still pay utilities.
You have free articles remaining.
Habitat applicants need to demonstrate three things before they can be approved. They must demonstrate a need for housing by proving their current situation is unsafe or financially unsustainable. They must demonstrate a "willingness to partner" with Habitat, which means they need to spend 150 hours of their own time helping to build their house. And they also need to be able to make their mortgage payments.
It was this third requirement that denied Megan. Her debt-to-income ratio was too high. She'd used her credit cards to make rent payments after being laid off. She had poor spending habits, having at one point spent $600 at the craft store Michaels. She was behind on all of her bills and a new collection had been taken out against her.
But Megan wanted the house.
She started working with Marilyn Lojo, a housing counselor at the Wyoming Housing Network.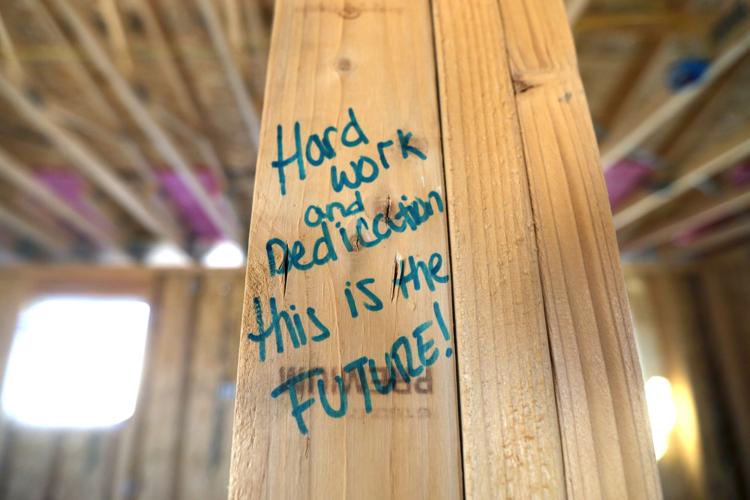 Megan took a four-week finance course with Lojo, set goals and eventually paid off all her debt. By the time she submitted her second application to Habitat — all 75 pages of bank statements, W-2s, pages detailing her credit history, and a two-page letter detailing the reasons she needed a house — she did so with confidence.
The biggest draw for Megan about Habitat was the zero-interest mortgage the organization promises it's homeowners and the guarantee she wouldn't pay more than 30 percent of her monthly income on the mortgage payments. That tends to be the draw for a lot of families, Lojo said.
"It's amazing the difference in what a monthly payment is," she said. "That zero percent interest rate brings it down to where families can actually afford the house."
But even if Habitat said no a second time, Megan would have still learned new money skills and felt maybe she could get approved through a different program, possibly even directly by a bank.
Megan submitted the application in January, but while vastly better than the first iteration, it wasn't perfect. Cooper called Megan and needed more paperwork, including a statement from the collection agency saying Megan's debt had been paid. Megan scrambled to get it done, but couldn't control how quickly the collection agency sent the paperwork.
"I called Kelly nearly in tears," Megan remembers, worried the collection agency wouldn't send the forms in time.
Then Megan had to wait. On March 4, Cooper called Megan again, this time saying she needed to go to the Natrona County Sheriff's Office to have her fingerprints taken.
"That's all she told me," Megan said.
When she walked into Cooper's office later, Cooper had one question for her: "How would you like to live in Harris Crossing?"
Megan's application was approved. She was getting a house.
Megan remembers these details through tears. Finally, somebody was giving her a chance.
"They took a chance on me," she said. "They said 'we want you,' out of everybody who applied, they wanted me."
Megan's pants were stained with paint. Her brown hair, graying slightly at the edges, was knotted at the back of her head. Around her, volunteers drilled gypsum board into the wooden frame of her new house.
"I have days I'm totally terrified of what I'm taking on," Megan said last week, standing in her soon-to-be living room. "I'm afraid I'm going to kill the lawn because I've never had to care about a lawn before."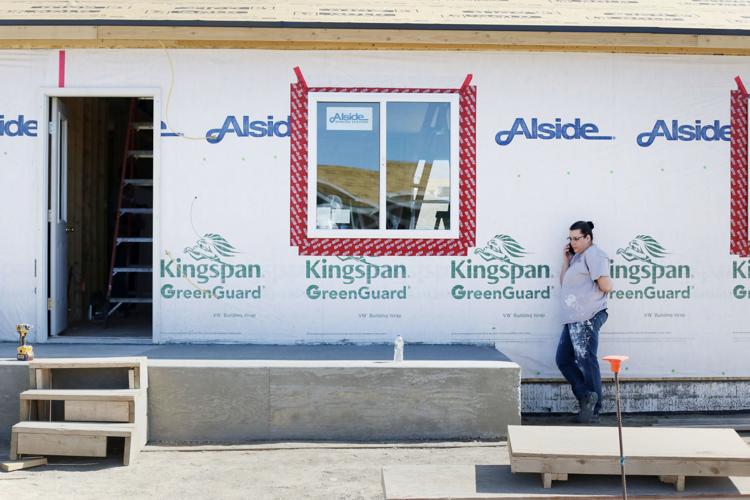 Before the house even had a doorknob, she would sneak over to take pictures of the structure. When she walks through the house she puts imaginary appliances in their place. "That's where the fridge will go, there's where they'll put the stove."
And though right now there is little more than exposed plywood where these fixtures will eventually be, when Megan envisions her home, you can see it, too.
Megan's house is the sixth on the block to be built. She's living alongside five other Habitat families in a $2.5 million Habitat subdivision called Harris Crossing.
The first house on the corner has a green door, children's bicycles in the driveway, a patio set on the deck. It's a perfectly average American home, and soon, Megan will have one just like it.
She said now, finally, she has a feeling of contentment. She can stay in this house for the rest of her life, if she wants, and then it will be there for her daughter if she ever needs it.
"I have a home that's mine, rather than something I'm borrowing from someone else," Megan said through tears. "It's a house, it's four walls, it's peace of mind and it's always seemed just one step out of reach."
Megan has put a Slumberland couch on layaway. It's gray corduroy with built-in recliners. She isn't sure where in the new house it will go, but she's having fun moving it around in her head.
Follow city reporter Morgan Hughes on Twitter @morganhwrites.