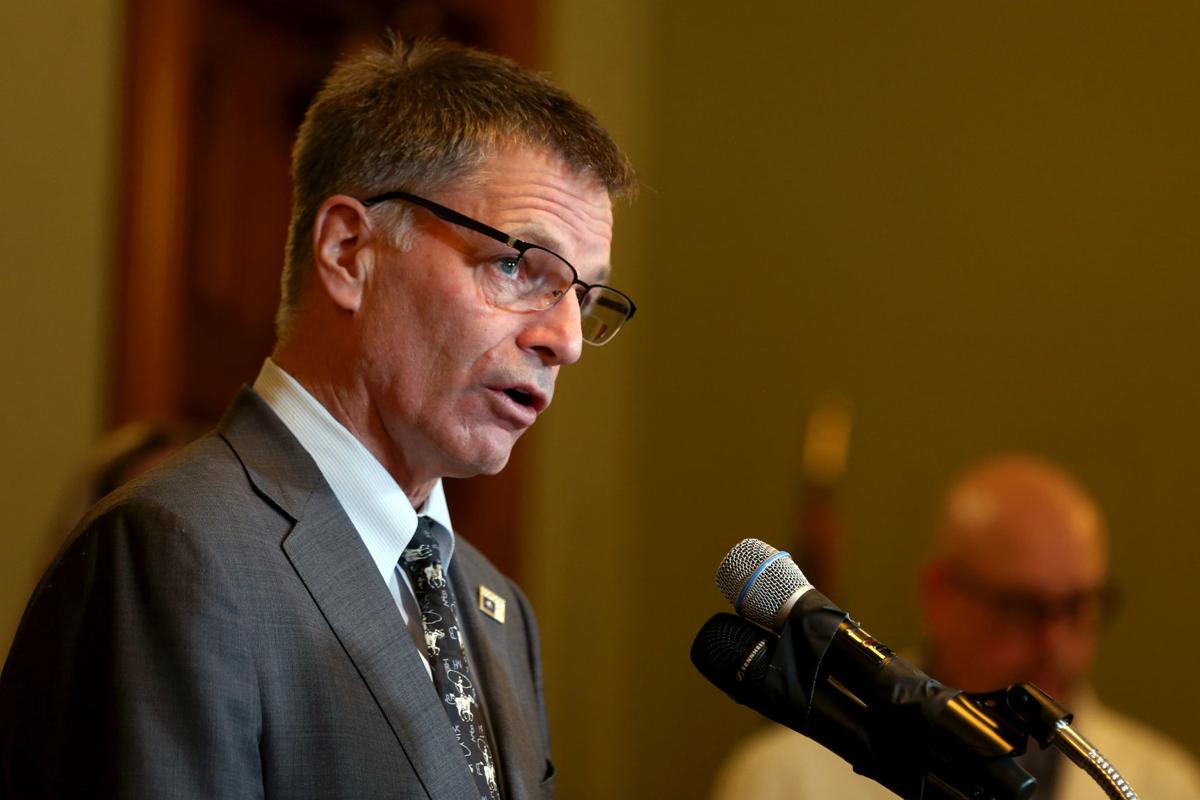 Wyoming's top public health official will soon begin releasing modified versions of the coronavirus-related closure orders that have changed large portions of daily life in the state, the governor's office announced Thursday.
"This will be a balanced approach that will be driven by two guiding principles — public safety and helping more people get back to work," Gov. Mark Gordon said in an announcement. "We are going to relax some of the restrictions, while also detailing what data we will monitor to make sure we stay on the right path."
Gordon said at a Thursday press conference that restrictions on barber shops, cosmetologists and gyms would likely be the orders amended next week, with those new restrictions extending through May 15. That would still leave restrictions on schools, bars, restaurants, gatherings of 10 or more people, and other public-facing businesses. Those mandates are set to expire April 30. Gordon again reiterated that the transition back to pre-coronavirus Wyoming would not happen overnight.
"I've said before this will not be a light switch," he said. "We are building a plane as we are flying it, and with your help – and I stress this, with your help – we'll keep it in the air."
Gordon praised the state and his response for "relying" on the people to socially distance adequately without the need for a shelter in place order. But he said the state would likely be dealing with impacts from the pandemic for a year to 18 months.
He alluded to restrictions put into place 100 years ago, during the Spanish flu in 1918. He described social distancing measures there being lifted too soon and the disease roaring back. Dr. Alexia Harrist, the state health officer who spoke after Gordon on Thursday, reiterated that concern: that to open things too quickly and without safeguards around them would lead to a second wave.
"Globally, I think we are still seeing significant case growth, are still at risk of overburdening our hospitals and staff and risk significant loss of life if people do not maintain physical distancing," he said. "I am worried that relaxing orders, even if they are logical and data driven, will be perceived as giving permission to folks to conduct themselves in ways that will encourage viral spread."
But he added that he "was pleased the governor is taking a health data-driven approach and (hopes) that our citizens will conduct themselves in strict compliance with the directions of their health and policy leaders."
Gordon's announcement indicates that Harrist, who has the ultimate statutory authority over the orders, will allow for "county health officers to submit requests for countywide variances from those orders if the public health conditions in the county warrant the change."
Those county-level changes "can either be more or less restrictive," the governor wrote, depending on counties' situations.
Encouraging mask use
In Natrona County, those discussions have already begun, including preliminary discussions about an order related to face coverings and masks.
"Among many other ideas the subject of putting some sort of order in place that would highly encouraging (sic) the public to wear a face covering when inside establishments or encouraging establishments to ask their customers to wear face coverings was discussed as a way to begin to reopen businesses," Hailey Rodgers, spokeswoman for the Casper-Natrona County Health Department, told the Star-Tribune in a statement.
"Ultimately, the idea of encouraging the public to wear face coverings while inside establishments or encouraging establishments to ask their customers to wear face coverings is still being discussed among local officials and health experts, nothing official, such as a legal order, is in place at this time," she added.
Both the Centers for Disease Control and Prevention and the state Health Department have encouraged anyone moving about in public settings like grocery stores to wear face coverings, though there's been no order requiring it. Dr. Mark Dowell, Natrona County's health officer, expressed disappointment last week about how few people he had seen wearing masks out in public.
Limiting the spread
Testing has confirmed 332 cases of the coronavirus in Wyoming as of Thursday afternoon. Health officials have also reported 121 probable cases — patients who have not been tested but are both showing symptoms of COVID-19 and were in close contact with a confirmed case.
Two-hundred and seventy-nine people of the 433 confirmed or probable cases have recovered.
To limit the virus' spread, Gordon and Harrist ordered last month the closure of schools and many businesses where people congregate, including bars, gym and hair salons. Restaurant dining rooms were also closed, but takeout and delivery are still permitted.
The orders — and the economic hardship they've caused — have prompted some protests, though not on the scale seen in other states.
The state itself released a dashboard with six health metrics "that will be utilized for making decisions about easing restrictions." Those metrics are new cases; percent of cases attributed to community spread; percent of all tests that are positive; total COVID-19-related hospital admissions; hospital bed availability; and ICU bed availability.
On Thursday the percent of cases attributed to community spread and the number of COVID-19 hospital admissions were both rated red for concerning. The other four were rated by the state as yellow, meaning stabilizing. None were yet rated green for improving.
Gordon has said repeatedly that any loosening of orders here will happen alongside similar moves in neighboring states. Indeed, Wyoming's fellow Mountain West states have begun to slowly open up locked down parts of the state. Montana, for instance, will open retail businesses in a limited capacity beginning Friday. Other businesses — gyms, theaters, bowling alleys — will remain closed.
Montana, which has about 400,000 more people than Wyoming, has 439 cases as of Wednesday with 14 deaths.
The Associated Press contributed to this report.
Concerned about COVID-19?
Sign up now to get the most recent coronavirus headlines and other important local and national news sent to your email inbox daily.