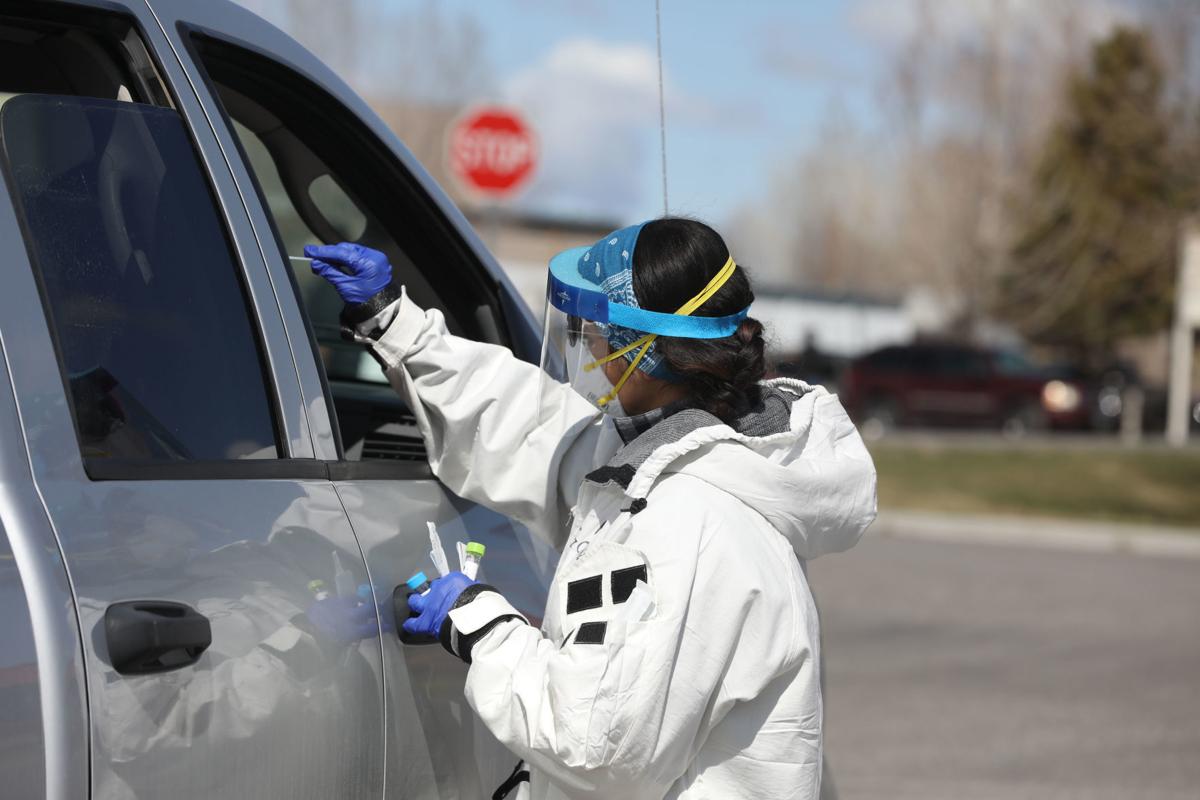 The number of confirmed coronavirus cases in Wyoming rose by 27 on Wednesday, the largest single-day jump in Wyoming since the virus was first confirmed here nearly two months ago.
Twenty-four of the new cases came from Fremont County, the site of the state's largest outbreak of the virus. The new figures were published on the same day some mayors in that county called for businesses to reopen.
Fremont County now has 155 confirmed and nine probable cases. The county's 24-case spike Wednesday tied the previous record for a single-day increase across the entire state. On March 31, two dozen cases were confirmed across the state.
The new wave of cases comes as counties across the state begin to loosen state restrictions on businesses that had been closed to slow the spread of the virus. Several counties — including Natrona — have successfully asked the state's top health official to ease the restrictions on restaurants and other publicly accessible businesses.
Fremont County, which has either led or nearly led the state in confirmed cases throughout much of the pandemic, has not asked the state to allow it to tighten or loosen its restrictions. County officials told the Star-Tribune last week that there were no plans to do so, and that the county wouldn't accept variance requests until at least May 15.
The county continues to have the worst outbreak in the state. Of the 164 confirmed and probable cases there, just 46 people have recovered, a rate of 28 percent. That's far and away the lowest ratio in the state. In Teton County, which has 98 probable and confirmed cases, 91 percent of people have recovered. Laramie County has 163 known or suspected cases, 65 percent of which have recovered. In Natrona County, two-thirds of the people with the disease have recovered.
Kim Deti, the spokeswoman for the state Department of Health, said the new patients were mostly "close contacts of previously identified cases."
In a Wednesday afternoon press release, Fremont County officials wrote that the new cases "suggest continued community spread is occurring in parts of the county."
Pressure to reopen
Last week, Fremont County Public Health Officer Dr. Brian Gee said it had appeared that new cases could be plateauing, but that it would be at least a week or two before health officials could confidently say if new case numbers were leveling out, adding that officials had been flooded with requests from businesses to ask about getting a variance from the state orders.
In an open letter on Wednesday, mayors from the Fremont County communities of Riverton, Shoshoni, Pavillion and Dubois said they'd like to see businesses reopen and residents "make their own personal choices" when considering public health guidelines or whether to venture out in the community.
"We are not wishing to tell anyone to venture out if they choose not to. For those who would like to get back to a normalcy, it would be (our) hope that we can allow this to be accomplished," the four mayors said in their letter. "We don't want to encourage civil disobedience or conflict, but it is our wish to encourage all in authority to work together to reopen the many businesses that are shuttered. We need the economy to rebound as soon as possible for jobs to become available again ..."
While some leaders in the county would like to see the pace of business reopening quicken, leaders on the Wind River Reservation are continuing to stress the importance of a stay-at-home order on the reservation.
Leaders have said the stay-at-home order is an important tool they have to mitigate spread of the virus, which is especially dangerous to many Indigenous people because of higher rates of preexisting conditions or crowded living situations due to a lack of housing.
In a statement posted to the Northern Arapaho Tribe's Facebook page last weekend, Dr. Paul Ebbert, chief medical officer of the tribe's Wind River Family & Community Health Care, said many are disregarding the order — despite the threat of jail time or a fine for violating the order.
Almost 27 percent of confirmed cases as of Wednesday afternoon were among American Indians in the state, though the number of cases among Eastern Shoshone or Northern Arapaho tribal citizens on the reservation or in Fremont County is unclear. Less than 3 percent of the state's population identifies as American Indian.
While aggressive testing and contact tracing is partly responsible for the increased numbers among tribal members, he said violators of the order have also been responsible for the increases, adding those who ignore the order have been "needlessly exposing other Tribal members to the virus."
"We have heard about house parties and other large gatherings of people. Many of our new cases have been the result of such large gatherings," Ebbert said. "Please remember that you not only put yourself at risk, but you also put your family and especially the Elders at risk. Please continue to follow the Tribal Stay-At-Home Orders and only go out if you have to."
The order, one of the most aggressive steps taken in the state to combat the pandemic, took effect on April 1 and remains in effect until further notice. The tribes have also taken other steps, like closing their casinos — an important source of jobs and revenue for tribal programs — until further notice.
Hardest hit county
Wednesday is not the first time Fremont County has experienced a spike in cases. On April 24, testing confirmed 13 new cases there, another one of the larger jumps recorded in Wyoming. In the early days of the virus' presence, cases were tied in one way or another to the Showboat Retirement Center, an assisted-living facility in Lander. It was the largest cluster in the state, with only a spate of cases tied to Wyoming Behavioral Institute coming close.
Previously, officials in Fremont County had said that aggressive testing and extensive contact tracing among the tribal populations were partially responsible for the high number of confirmed cases. Indeed, the county has tested more people than any other part of Wyoming. As of Wednesday morning, nearly 4,200 people had been tested, which accounts for roughly a third of the state's total.
Nearly 11 percent of Fremont County's 39,000-odd residents have been tested, according to state data. The county's infection rate is nearly 400 people per 100,000, surpassing Teton County's 291 and Laramie County's 109 cases per 100,000.
Messages sent to state and county health officials were not immediately returned Wednesday.
Wyoming numbers
Statewide, there are now 631 cases — 479 confirmed and 152 probable — and 416 recoveries — 295 confirmed and 121 probable — recorded in the state, as well as seven deaths.
Officials caution that the reported numbers are low, even with the addition of probable cases. Natrona County health officer Dr. Mark Dowell has called the data "falsely low."
On April 2, the Wyoming Department of Health began restricting testing to six priority categories; potential patients who don't fall in one of those categories had to be tested by private laboratories. However, the department announced April 23 that it would be able to resume testing patients outside of those six categories, although priority patients' samples remain at the front of the line.
Patients have tested positive for coronavirus in 21 of Wyoming's 23 counties. Only Platte and Weston counties are without confirmed cases.
Wyoming has the lowest recorded number of coronavirus deaths of any state. Alaska has the second fewest deaths related to the virus, with 10, according to the New York Times and state health departments.
More than 12 percent of Wyoming's cases required a hospital stay. In 17.7 percent of the cases, health officials don't know if the patient was hospitalized.
The virus has disproportionately affected people of color throughout the United States, a trend that is also reflected in Wyoming's data. Just over 51 percent of confirmed cases in Wyoming are white, 26.9 percent are American Indian, 13.2 percent are Hispanic, 1 percent are Asian, and 1.7 percent are black. The racial identities of 8.1 percent of confirmed cases in Wyoming are not known, and 3.1 percent of confirmed cases identified as other races. According to 2019 census estimates, Wyoming's population is 83.8 percent white (not Hispanic/Latino), 10.1 percent Hispanic/Latino, 2.7 percent American Indian/Alaska Native, 1.3 percent black, 1.1 percent Asian and 2.2 percent two or more races.
In 46.3 percent of the cases, the patient came in contact with a known case. In another 13.1 percent of the cases, the patient had traveled either domestically or internationally. Community spread has been attributed to 15.7 percent of the cases. In 11.5 percent of Wyoming's cases, health officials don't how the person was exposed to the virus, and 16.7 percent of cases are pending investigation.
Wyoming has more cases per 100,000 people than seven states, a number that was once as high as 20, according to the Times, which includes probable counts where they exist.



Cases in Wyoming by county (probable in parentheses)



Deaths in Wyoming by county



Rate of spread
This graph shows the rate at which confirmed and probable cases in Wyoming have been announced, as well as the number of patients who have fully recovered.
Keep in mind, however, that state and medical officials say the true number of COVID-19 cases is surely higher than the official numbers due to testing limitations.



Testing statistics
The Wyoming Department of Health has published the following data:
As of Wednesday, there have been 12,569 tests performed for COVID-19 in Wyoming.
Wyoming Public Health Laboratory: 5,659
Commercial labs: 6,910
CDC: 1



National cases
Know the symptoms
COVID-19, the disease caused by the novel coronavirus, is a respiratory illness. Its symptoms include cough, fever and shortness of breath. Symptoms appear within two weeks. If you have contact with a person who has COVID-19, you should self-isolate for 14 days.



Follow the Wyoming Health Department's tips
Stay home when sick and avoid contact with other people unless you need medical attention.
Follow advice from the Centers for Disease Control and Prevention on what to do if you think you may be sick.
Follow current public health orders.
Follow commonsense steps such as washing your hands often and well, covering your coughs and sneezes, and cleaning and disinfecting.
Nursing homes, assisted living facilities and other healthcare facilities should closely follow guidelines for infection control and prevention.
Older people and those with health conditions that mean they have a higher chance of getting seriously ill should avoid close-contact situations.
Concerned about COVID-19?
Sign up now to get the most recent coronavirus headlines and other important local and national news sent to your email inbox daily.