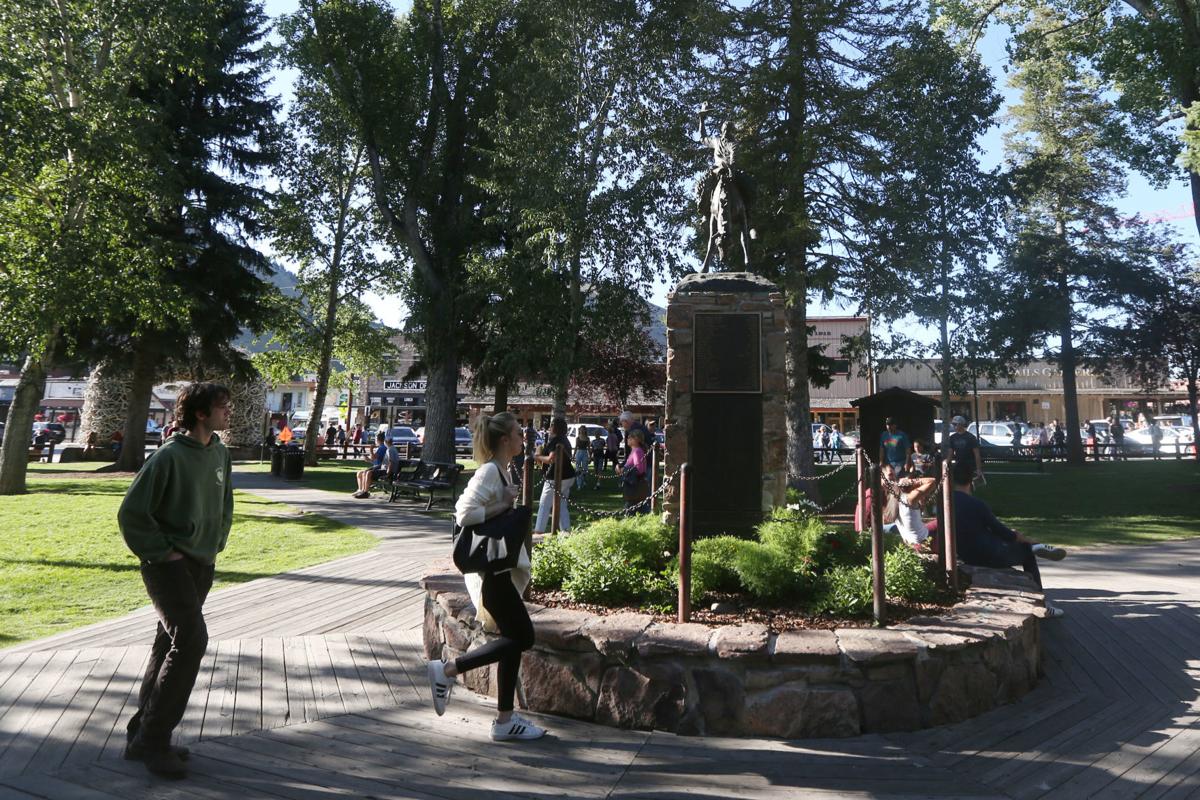 Fourteen more Wyomingites were confirmed to have the novel coronavirus Friday, as the state's total hit 253 and the spike in Teton County showed no signs of slowing.
There are now 53 cases in the northwestern Wyoming county, the second most in the state. With a population of just over 23,000, Teton County's infection rate per 100,000 people is roughly 230, the highest by far in Wyoming. In comparison, Laramie County's per 100,000 rate is 59. Fremont County, which is the site of another significant outbreak, has a rate of 102 cases per 100,000 people.
Half of Teton's cases have been hospitalized, according to county data. Statewide, about 15 percent of patients have required hospital stays.
While Teton's per-100,000 rate is not as high as many hot spots elsewhere in the country, and the county's relatively low population means the rate can fluctuate with only a few positive cases, the number shows the strain that the disease is placing on the community there.
"What's important to understand about our rate per 100,000 people is our resources reflect a population of 23,000, like the number of our hospital beds," Jodie Pond, the director of the Teton County Health Department. She said she was "very concerned" that St. John's Health could be overrun, though she stressed plans are in place should that become an imminent threat.
Pond said her biggest concern was the area's lack of testing supplies. She said health officials there were turning away even those who had symptoms and had close contact with confirmed cases. The county has 19 probable cases in addition to its 53 confirmed, and Pond indicated that there were more cases that haven't been identified even as probable.
"The testing, the nationwide testing debacle is — I don't even have words," she said. "We know it's the tip of the iceberg because we can't test."
Travel spurs spread
The spike in Teton cases can be attributed in part to travel — both of people coming into the resort town of Jackson and of residents traveling in and out of the community. Pond said that other ski towns had also been hit hard and that the county health department had received a call early on from a man who said he'd visited while symptomatic and had skied and eaten at several restaurants.
"We had people coming here from all the big cities, we have direct flights every day from all the major cities in the United States," she said. She noted that people who'd flown into the U.S. from China were screened and isolated, but that didn't happen initially with domestic travel. "So when the disease was undetected in these large cities, those direct flights were coming here."
Concerns about travel contributing to spread are not isolated to Teton County. Health officials in Laramie County have said Cheyenne's close proximity to Colorado and Nebraska have contributed to a "significant amount" of the area's case total. Pond said the cases in Teton County aren't tied to Jackson's nearness to Idaho, but rather to flights coming in and out.
County data shows that scheduled and arriving flights have dropped significantly. The county was proactive, Pond said — it canceled events early on and closed nonessential businesses. Jackson implemented the state's first municipal-level shelter-in-place order. But the disease has still spread rapidly.
"We did everything we could do weeks before it would seem like we should've done it, but our cases are still climbing," she said, sighing.
Gear shortages
Testing isn't the only medical shortage facing the county. Like just about everywhere else in Wyoming and the nation, Teton's health care workers have a very finite amount of protective gear. St. John's Health spokeswoman Karen Connelly said earlier this week that the hospital had received a fraction of the supplies it had requested and an attempt to get more from overseas was derailed.
Pond said a local philanthropist had donated 11,000 respirators to first responders in the county — a $45,000 gift. Still, that gear will last a couple of weeks.
Even though the county's rate of infection is significant, the end is not in sight for Teton County.
"I just don't see — with every day, the number of cases we're getting and the positives from close contacts, we don't have containment on our mind at this moment," she said. "We'd like to be there, but we're not."
Such is the news from health officials across the state. From Lander to Cheyenne and Casper to Jackson, they say that the pandemic here will get worse before it gets better.
There is certainly good news: 129 of the 253 known patients have recovered and there have been no deaths. The vast majority of the 5,200 people tested have been confirmed to not have the virus. Gov. Mark Gordon was praised by a national health official Friday for Wyoming's "extraordinary" handling of the crisis.
The new cases confirmed Friday included two in Natrona, three in Teton, four in Laramie, two in Fremont, and one each in Campbell and Sweetwater counties.
Patients have tested positive for coronavirus in 19 of Wyoming's 23 counties. Wyoming remains the only state without a known death of a coronavirus patient.
In about 47 percent of the cases, the patient came in contact with a known case. In another 20 percent of the cases, the patient had traveled either domestically or internationally. Community spread has been attributed to about 8 percent of the cases. In about 18 percent of Wyoming's cases, health officials don't how the person was exposed to the virus.
While Wyoming's case count ranks among the smallest in the U.S., the state's per capita total outpaces more than a dozen other states. More than half the state's known cases were announced during the week's worth of consecutive days with 10-plus cases.



Total cases in Wyoming by county
Laramie: 58 confirmed (23 probable)
Hot Springs: 0 (previously counted as 1 confirmed)



This graph shows the rate at which confirmed cases in Wyoming have been announced, as well as the number of patients who have fully recovered.
Keep in mind, however, that state and medical officials say the true number of COVID-19 cases is surely higher than the official number due to testing limitations.



The Wyoming Department of Health has published the following data:
As of Thursday evening, there have been 5,256 tests performed for COVID-19 in Wyoming.
Wyoming Public Health Labratory: 2,800
CDC: 1
Commercial labs: 2,455






COVID-19, the disease caused by the novel coronavirus, is a respiratory illness. Its symptoms include cough, fever and shortness of breath. Symptoms appear within two weeks. If you have contact with a person who has COVID-19, you should self-isolate for 14 days.



Follow the Wyoming Health Department's tips
Stay home when sick and avoid contact with other people unless you need medical attention.
Follow advice from the Centers for Disease Control and Prevention on what to do if you think you may be sick.
Follow current public health orders.
Follow commonsense steps such as washing your hands often and well, covering your coughs and sneezes, and cleaning and disinfecting.
Nursing homes, assisted living facilities and other healthcare facilities should closely follow guidelines for infection control and prevention.
Older people and those with health conditions that mean they have a higher chance of getting seriously ill should avoid close-contact situations.
Concerned about COVID-19?
Sign up now to get the most recent coronavirus headlines and other important local and national news sent to your email inbox daily.