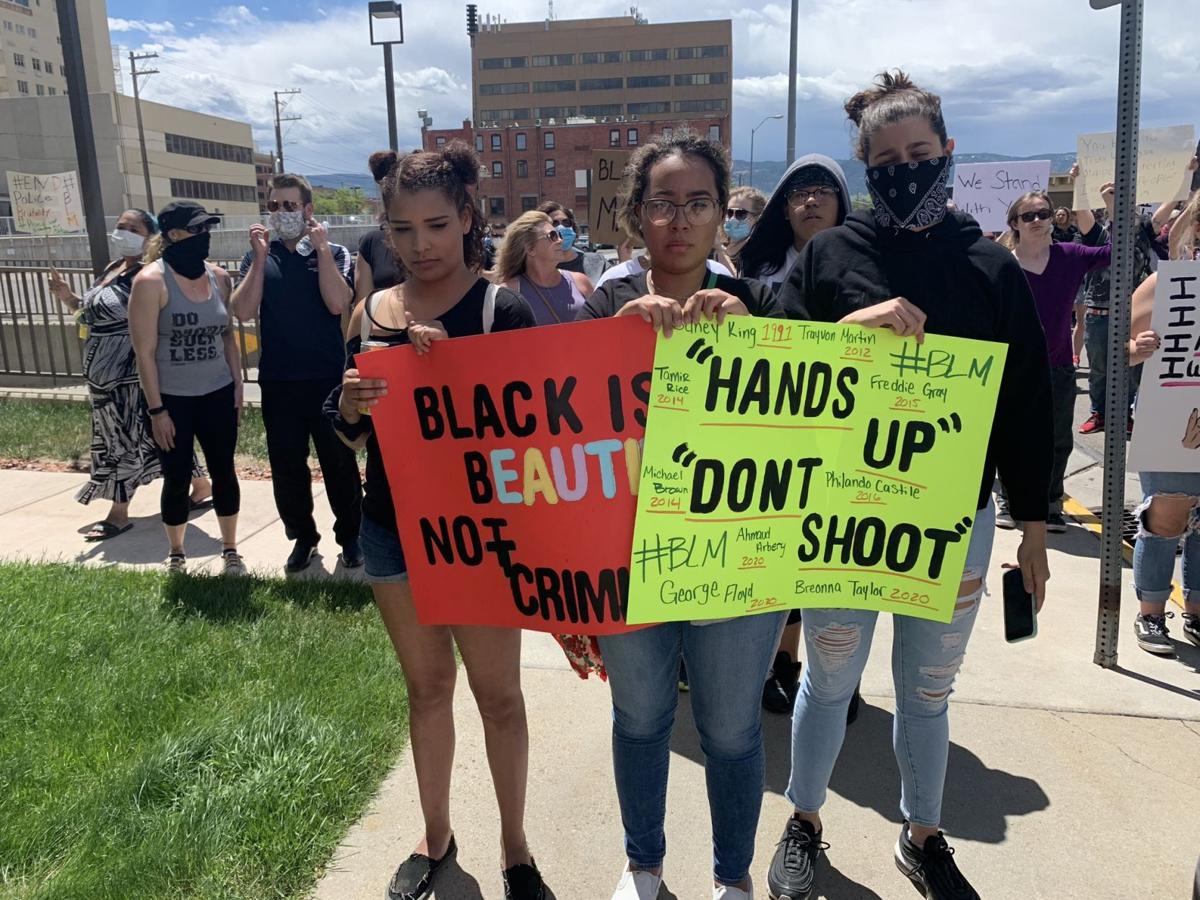 A march is scheduled for noon Wednesday in Casper in protest of the police killing of George Floyd in Minneapolis. We will update this story throughout the day with the latest information on protests both in Casper and throughout Wyoming.
Latest updates:
Another protest held in Laramie
6:36 p.m.
Amanda Hargrow and her husband, Adrian, are originally from Houston, George Floyd's hometown, and now live in Rock River. They made the trip to Laramie to "support our community" and protest police brutality more than anything else, they said.

Their sign: pic.twitter.com/ylzDQjxCnU

— Davis Potter (@DavisEPotter) June 3, 2020
Spotted some Wyoming coaches and athletes among the protesters, including @RomeWeber

— Davis Potter (@DavisEPotter) June 4, 2020
The protest in Laramie just ended. If we're talking truly peaceful protests, this one was about as close as you're gonna get. I saw one police car the whole time, and it was in the regular flow of traffic. Rarely did anyone get out in the street until this chant at the very end. pic.twitter.com/EtcKaet0FV

— Davis Potter (@DavisEPotter) June 4, 2020
Minor activity downtown
5:30 p.m.
Some motorcycle guys running back and forth. A white truck with two American flags and "Trump 2020" written in marker has been making rounds up and down the main road. Peaceful otherwise. pic.twitter.com/1QJYadfSp4

— Nick Reynolds (@IAmNickReynolds) June 3, 2020
Everyone's heading out now, as am I. Stay safe y'all.

— Nick Reynolds (@IAmNickReynolds) June 3, 2020
Woman injured after truck jumps curb
4 p.m.
Initial protest organizers issue statement on second march
3:47 p.m.
Police swarm as protesters stop in major intersection
3:30 p.m.
March reaches Walmart
3:15 p.m.
Casper Youth for Change, the group that organized this morning's march and protest, said it is not affiliated with the current protest.
Tensions rise on East Second Street
2:48 p.m.
Traffic was temporarily blocked as demonstrators walked in East Second Street at about 2:30 p.m. Police cars trailed the protesters with their lights on. Less than 10 minutes later, the protesters had reached the east side Albertsons store, taking up all of the eastbound lanes and part of the westbound lanes.
In that area, confrontations between protesters and observers began to break out. Protesters blocked off a red pickup truck that was aggressively trailing the protest and appeared to exchanged words before it rolled away, turning into the Albertsons parking lot. A few white men with AR-15s, some in tactical vests, stepped in between the protesters and the truck. They did not appear to be police officers. Other protesters were trying to calm the situation.
Within a few minutes, the tensions seemed to dissipate. One man with a long gun asked a protester if he was OK, and people passed around water.
Truck and militia types are right up on protestors. Hear a white dude in a white F150 shouting "they can't beat guns" and "they can't even afford guns"

— Shane Sanderson (@shanersanderson) June 3, 2020
Live video of second march
2:30 p.m.
Second march begins
1:34 p.m.
Just spoke with Chief and sheriff. They had a crowd estimate of closer to 300. Said they haven't made any arrests.

— Shane Sanderson (@shanersanderson) June 3, 2020
Outside the fed building, security came out to tell the crowd they can demonstrate on the sidewalk but not federal property. pic.twitter.com/3pba5sbN44

— Morgan Hughes (@morganhwrites) June 3, 2020
Signs to be displayed at Art 321
1:18 p.m.
Signs from the protest will be displayed at local nonprofit Art 321.
Casper Youth for Change, the group that organized the protest, also said on Facebook that it believes the protest went successfully:
Organizer asks protesters to start dispersing
12:50 p.m.
With a storm oncoming, a Casper Youth for Change organizer asked that the protest begin to disperse and that protesters shop downtown afterward to show support for local businesses. The Casper Police Department earlier this week recommended that downtown businesses close during the protest.
Speakers appeared to stop addressing the crowd a few minutes after the organizer's request.
Some protesters returned to David Street Station, where the protest started.
Crowd kind of milling around David Street station. Has dispersed significantly. Definitely looks like mostly the younger portion that's still here. Still small groups of folks standing to the outskirts with long guns across their chest.

— Shane Sanderson (@shanersanderson) June 3, 2020
More scenes from the protest
12:38 p.m.
MC member walks away. Now this guy and the MC member are arguing. MC member carrying a long gun across his chest. Not pointing it.

— Shane Sanderson (@shanersanderson) June 3, 2020
Someone saying they're a dem Senate candidate speaking about policy. The crowd is not very receptive to his comments, say he's missing the mark. "Give up the mic" someone yelled.

— Morgan Hughes (@morganhwrites) June 3, 2020
Hundreds gather in front of Hall of Justice
12:17 p.m.
The protesters have arrived at the Hall of Justice, where demonstrators are making speeches on the steps of the building. There appear to be a couple hundred people in attendance. 
"I'm here because I'm mad," Meeshla Bovee, a 15-year-old protester, told the crowd. "Not only am I mad, I'm angry. Not only am I angry, I'm pissed."
"I shouldn't have to stand next to my white neighbor and know if I walk into that store, they're gonna follow me... I'm tired of reading another black man killed," she continued.
March begins in silence
12:05 p.m.
Marchers have decided to make their protest a silent one. They've begun their walk from David Street Station toward the Hall of Justice, where the Casper Police Department and Natrona County Sheriff's Office are located.. Hundreds of people appear to have turned out for the event.
The march has so far been entirely peaceful. Some spectators are carrying guns, but they don't appear to be part of the demonstration.
Protesters begin to gather at David Street Station
11:43 a.m. 
As the noon start time for the march approaches, demonstrators are beginning to gather at David Street Station. As was the case on Tuesday, many appeared to be student aged. However, some older protesters were on site as well. 
Casper Police Chief Keith McPheeters addressed protesters from the plaza's stage ahead of the march and explained some of the precautions that the city has taken ahead of the vent.
Several people open carrying in downtown Casper
11:22 a.m. 
Reporters have observed several people open carrying pistols and AR-15 rifles in downtown Casper. A handful of armed spectators told a reporter they were there to protect the First Amendment rights of protesters and had bottles of water to hand out. 
Just chatted with a handful of armed spectators ahead of today's protest in Casper. They're armed, they said, to protect the 1A rights of those protesting. They said they have a group of about 12 ppl, and are also handing out water bottles to protestors. pic.twitter.com/CL5jQZktSi

— Morgan Hughes (@morganhwrites) June 3, 2020
Another reporter spotted a woman in a downtown business with a shotgun on the floor, visible through the window. On Tuesday, Casper Mayor Steve Freel said some downtown business owners had asked if they would be allowed to stand outside their storefronts with firearms during the march. 
Group asks protesters to march in silence
10:15 a.m.
Casper Youth for Change, the group organizing Wednesday's protest, is asking demonstrators to march in silence. According to a Facebook post from the group, its spokesperson has been in contact with Floyd's uncle, who made the request.
Businesses, other services close in anticipation
9:49 a.m.
A number of businesses will be closed Wednesday in anticipation of the protest, which is being organized by a local youth activist group. Monday, the Casper Police Department recommended that downtown businesses close during the time of the protest.
Other protests in state
Earlier this week
In Riverton, a Black Lives Matter protest was held Monday, seen here in footage from Wyoming Public Radio:
Bigger turnout than expected here in Riverton — at least 100 people are gathered at city park to honor George Floyd's life pic.twitter.com/cDwO8NcyWQ

— Savannah Maher (@savannah_maher) June 2, 2020
The Riverton Police Department said that the protest — estimated to be around 100 people — was peaceful and "went extremely well."
In Laramie, a protest was held downtown Tuesday and another is anticipated Wednesday evening:
The Laramie Boomerang estimated the crowd to be "well over 100 people."
A protest was also held in Gillette:
The crowd numbered "about 50 people," according to the Gillette News Record.
A protest was also held Tuesday in Rock Springs.
Latest stories:
Neither the Casper Police Department nor city officials have seen any evidence to support the rumors. 
One sign read "Until 'good' cops hold 'bad' cops accountable there are no 'good cops.'"
In public statements this week, Wyoming's delegation in the nation's capital acknowledged many of the realities fueling the demonstrations across the country.
The graffiti, which was done sometime Monday night, included the phrases "f*ck Trump" and "I can't breathe."
"To the extent that these protests are peaceful ... they enhance the national conversation about a very difficult issue," Gordon said. "When these protests become violent, they represent criminal behavior, plain and simple. Nothing more."
Peaceful protests have been held in Cheyenne and Jackson.
Civilians organizing armed patrols in an attempt to help law enforcement will actually hinder them, according to the Rapid City Police Department.
"We are angry too," McPheeters' letter begins. "George Floyd did not deserve to die."
Jackson's demonstration remained peaceful, with law enforcement observing from across Cache Street.
About 125 people stood near the steps of the state Capitol on Friday for a candlelight vigil for George Floyd and other Americans who have lost their lives to racism and police violence.
Be the first to know
Get local news delivered to your inbox!