The clouds were a watercolor of pinks, blues and purples when Marvin Christensen walked the parking lot of Ghost Town Fuel Shop & Restaurant on a windy Sunday morning in Casper.
The 76-year-old moved slowly, heading at 7:45 a.m. toward 10 parked trucks.
He wore a gray wool suit jacket with beige leather patches on the elbows. His bolo tie was homemade, a cross medallion on top, and tiny, hand-carved deer antlers dangling from the bottom. His ball cap was black, a large white logo of hands holding a truck printed above the bill.
"Trucker's Christian Chapel," the logo said. "Reaching Truckers For Jesus Christ."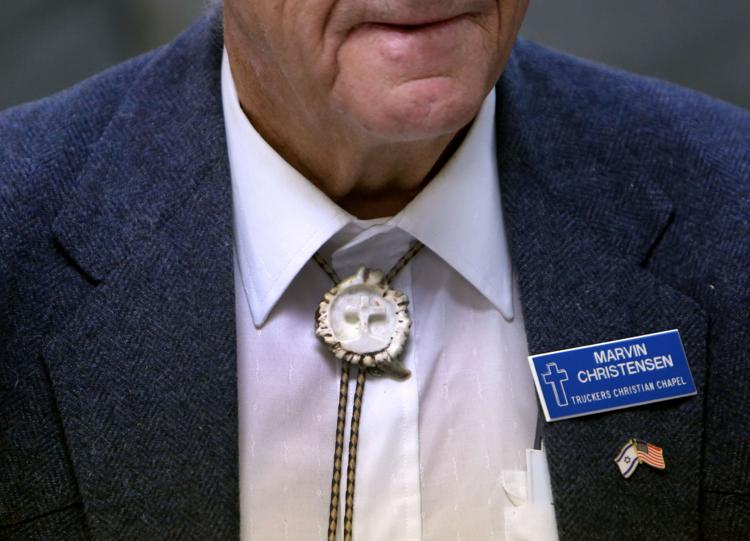 Marvin had his baseball card-sized pamphlets advertising the Bible at the ready, prepared to distribute to any truck driver interested in attending his truck stop church service set to begin in 45 minutes.
"I don't know when they came in," Marvin said, his words fighting against the wind. "I don't want to knock on the doors. They might've come in at 3 a.m."
He faced each truck and squinted at the windshields, seeing if anyone was awake.
"They'd be sitting up in the front. Some of them wouldn't want to talk to me anyways. (Some) don't believe in the Bible."
Marvin finished his walk down the line of trucks without sharing a pamphlet.
This is his routine every Sunday morning. For more than five years, the slow-talking man with silky white hair and thick eyeglasses has been the volunteer pastor at Ghost Town, holding 30-minute services from the truckers' lounge next to shower 1 and shower 2.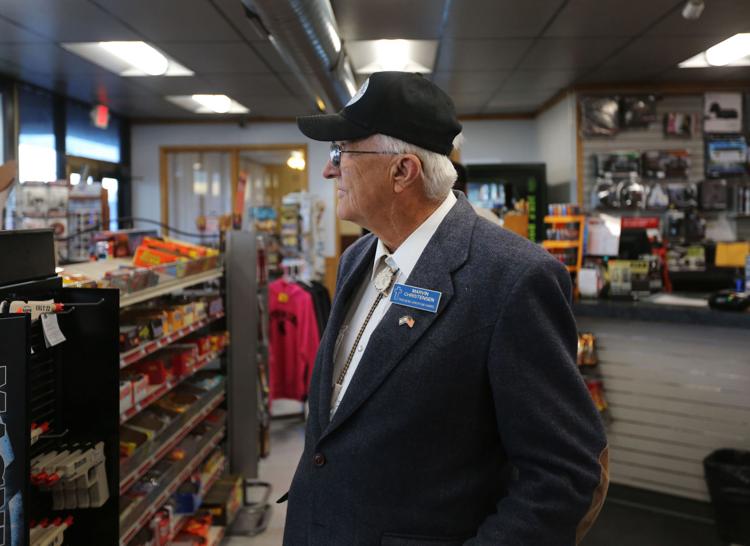 Marvin is a truck driver himself. He's been driving since the early 90s. He works four days a week from 7 a.m. to 5 p.m., but years back, his hours were more sporadic.
Finding a church service while on the road was difficult.
"You don't find many of these places," he said, walking toward his car to grab a stand from the trunk. "(The first) truck stop church I went to was along a highway. When I got to the church and started singing, tears came to my eyes. Because it was good, man."
Over the years, Marvin has attended services at truck stops in Oklahoma City and Las Vegas. During his childhood, Marvin rarely went to church. It wasn't until he was 23, three years after he married his wife, when he started to regularly attend.
He moved to Casper in 1981, and soon after, taught classes at Mountain View Baptist Church in his spare time. Around five years ago, his friend Gary approached with a request.
Gary was starting a truck stop church at Eastgate Travel Plaza in Evansville, and he wanted Marvin to start one at Ghost Town.
"And I said, 'Well, it's God's will. So OK.'"
Marvin walked with his stand through the doors of Ghost Town, past the register and the candy aisle, down the hallway toward the showers and the truckers' lounge. When he arrived, a man in sweatpants was sitting on the couch watching TV.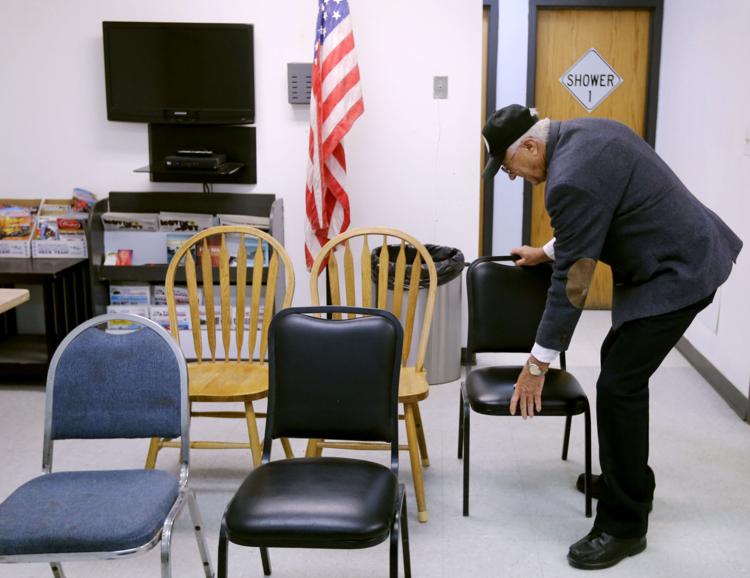 "How are you?" Marvin said in a soft, shy voice.
"Good," the man replied. "Do I need to go somewhere else?"
"Well, usually we (get ready) around 8 a.m.," Marvin said, motioning toward the sign on the wall that announced church services would begin in this room at 8:30. "But you can stay?"
The man walked away. Marvin turned off the television and headed for the closet in the corner. He retrieved seven chairs, even though the largest crowd he's ever preached to was three or four people.
"I usually have one guy (named Dale) that comes on a regular basis. He's a guy who goes to church with me (after my truck stop service)," Marvin said, making two rows of three on the white linoleum floor, leaving one chair at the front for himself.
"I very seldom have a truck driver. There's not that many of them that want to hear the word, I guess."
Marvin placed a Bible on each chair, then popped a CD in a nearby stereo. Sometimes, he said, the songs on this CD attract stray visitors. With 30 minutes to spare and the white washed walls now colored with hymns, he left the trucker's lounge to recruit.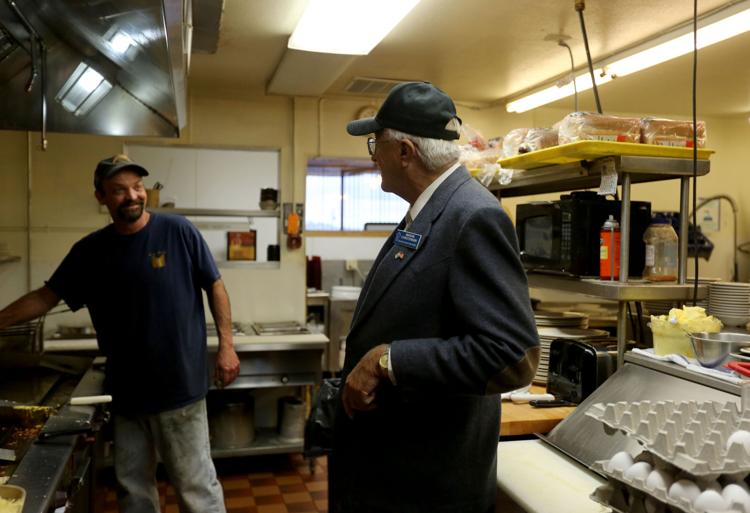 "Hey, Marvin," Jon Willard said, chopping hash browns on a grill in the truck stop's kitchen. "How are you doing?"
"Well, OK," Marvin said, holding back a smile. "How are you?"
Willard has been a cook at Ghost Town for a year and a half. His shift always coincides with Marvin's services, so he's never attended.
"Sometimes (Marvin) doesn't get (a lot of people), sometimes it's packed," Willard said. "It's just hit and miss, time of year and day."
After services, Willard frequently sees Marvin helping the homeless customers who saunter into Ghost Town. Sometimes it's buying a meal. Other days it's a bus ticket, or even a night at a motel.
"He buys food for people who don't have any money, puts gas in your vehicles when they don't have gas to get to work. He's like a really good guy," said Christenne Elliott, who's worked the cash register at Ghost Town for eight months.
"I think he might be too good-hearted sometimes. He helps some of the same people a lot."
For the next 20 minutes, Marvin quietly circled the restaurant while locals and truckers ate breakfast. He made his way toward the front of the gas station, standing near the prepackaged doughnuts and cinnamon rolls.
At 8:25 a.m., Marvin checked his watch.
"Well, Dale might not be coming. He usually comes about now."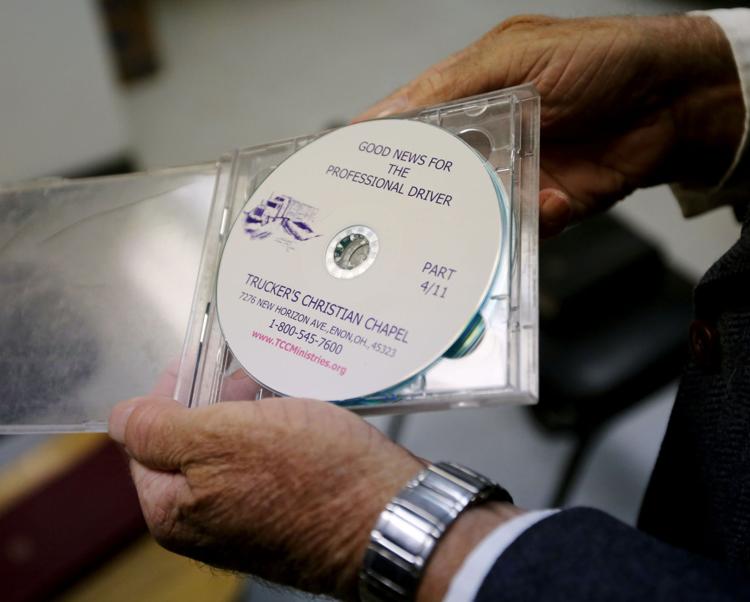 It's fairly rare that nobody attends Marvin's service. When that's the case, he plays a different CD from the Trucker's Christian Chapel, and waits the 30 minutes under long fluorescent tubes in case someone walks in.
"I just sit there, and hopefully I don't go to sleep. I can go to sleep pretty fast."
Five minutes later, Marvin walked toward the lounge. He swapped CDs, the rushes of water from an occupied shower 1 breaking the silence. He pressed play and sat in his chair behind the stand with his handwritten notes for the day's service.
"We at Trucker's Christian Chapel Ministries made this tape especially for you, the trucker," a man with a Southern accent said on the CD. "Why? Well that's a logical question. I myself have been a driver for 11 years. I know that trucking is more than a job, it's a way of life.
"If you don't mind, driver, I'd like to just ride down the road with you and sort of explain one very important verse of the Bible."
Marvin sat and waited. He stared at the black TV screen on the wall. A few people passed in the hallway, mainly to use the shower. He quietly listened to the tape, his Bible opened to page 203.
Thirty minutes passed. At 9 a.m., Marvin stood and pressed stop. He packed away the Bibles and chairs, and grabbed his stand.
He headed toward the front doors and waved goodbye to Christenne, driving away from Ghost Town on his way to church.
Follow reporter Brendan Meyer on Twitter @Brendan_Meyer13.
Be the first to know
Get local news delivered to your inbox!