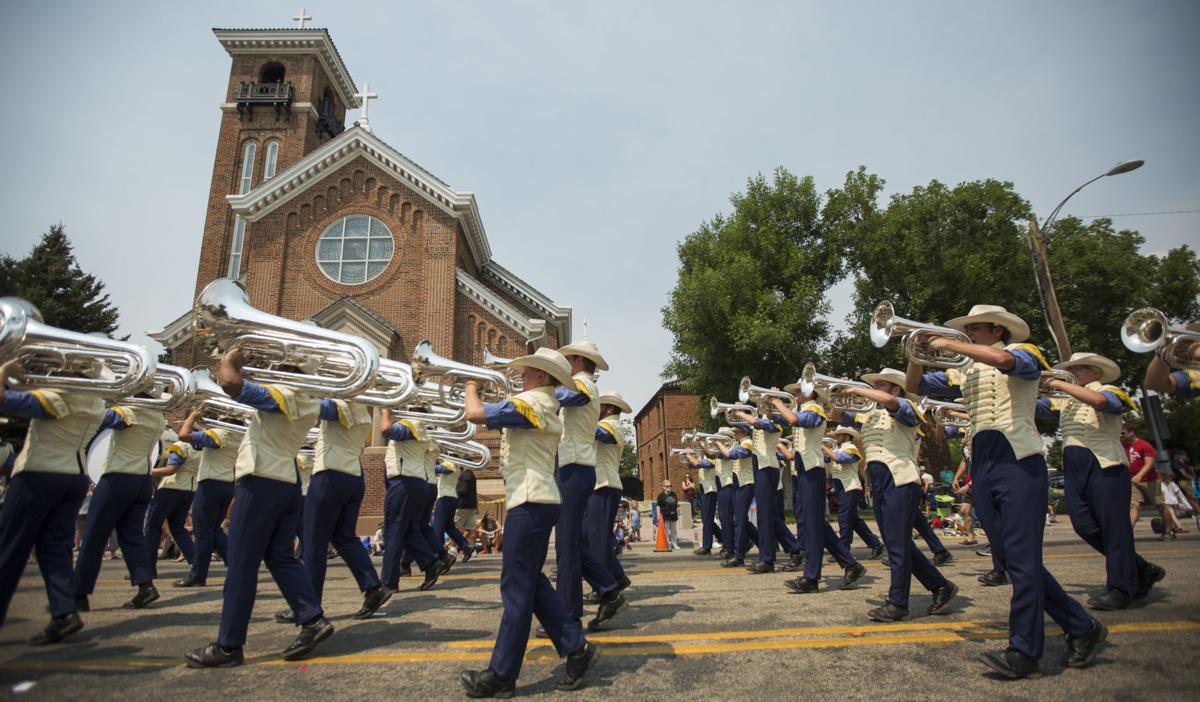 The Troopers Drum & Bugle Corps was started in 1957 by a general contractor with $4,000 of borrowed cash.
The group was mostly high school kids who performed for the first time publicly in 1958 in Riverton — it was a repertoire of "Riders in the Sky, Battle Hymn of the Republic, Cool Water and April Love/Tammy."
Some 60 years later, director Fred Morris will welcome a corps of primarily college students from throughout the country when all-day rehearsals begin just after Memorial Day. Among those is second-year Katie Gruner of Casper, a 2017 Natrona County High School graduate and current freshman at the University of Wyoming. She is the daughter of two Trooper alums who met while marching in the corps.
Changes this year include beginning the competitive season in California, rather than the Midwest where the Troopers have begun for seven or eight years.
And instead of holding all-day intensive rehearsals in Indiana, the corps will now be closer to their roots, hopefully at the University of Wyoming if final details can be negotiated.
The show this anniversary season is "The New Road West," and chronicles a journey from New York to the West, including following portions of the Mormon and Oregon trails.
Music will include "Black Parade," by My Chemical Romance; Willie Nelson's "On the Road Again," and "Climb Every Mountain," the arrangement used by Jamie Foxx and Barbra Streisand, which Morris describes as "haunting."
Morris said the change in tour schedule from the Midwest to the West will offer several advantages.
"It's a different exposure," he said. "A lot of the corps that are in that 13- to 17-place range, where we have been, are out there, and so we've got to set a precedent from day one in that group that says, 'We're not just in this range, we're at the top.'"
Drum corps compete every night of the season for positioning that will ultimately result in placing at the quarterfinals and semifinals of World Championship Finals, held in August in Indianapolis. The top 12 from semifinals reach the finals, a feat the Troopers haven't managed since 2009.
Although there will be competitive advantages to beginning in the West, Morris chuckled when asked if it's cheaper.
"Nope," he said. "Gas is higher, food is more expensive, and we have to buy all of our fruits and vegetables in California instead of taking them with us."
The Troopers will make their way home to Casper from Oregon, Washington, Idaho and Utah, arriving back in the early morning July 12.
Here they will host a Summer Music Camp with students of Vibes Music & Performing Arts. The annual Troopers Hall of Fame induction ceremony will begin at 4:30 p.m. at Fort Caspar, and at 6:30 p.m., the 2018 corps will perform, along with all alumni who have been invited to return from the 59 previous years.
"We have 200 interested in coming at this point," Morris said. "Now I need to figure out how to find horns and drums for them all to use."
Fort Caspar is an iconic setting for the Troopers, whose uniforms are mindful of the 11th Ohio Cavalry, which was stationed at the outpost in the 1830s. With the backdrop of the log cabin buildings and gentle, rolling green hills, the horns and drums seem perfectly at home at Fort Caspar.
Inside the Fort Caspar Museum, visitors can see a stunning display of Troopers history in an exhibit that will remain through the fall of 2018.
"Troopers: Celebrating 60 Years of the Troopers Drum & Bugle Corps," features a large collection of instruments, color guard props, uniforms, photographs and memorabilia obtained from the Troopers organization and from past members.
Morris is already petitioning the weather gods for some assistance on Friday the 13th of July. Last year's Drums Along the Rockies-Casper Edition was washed out by a late afternoon severe thunderstorm.
"Yeah, even though it's Friday the 13th, we're praying for luck," he said. "Our fans were so disappointed last year. We really hope we can give them a show."
Other corps competing in Casper will be the Oregon Crusaders from Portland, Seattle Cascades and the Mandarins from Sacramento, California.
Follow community news editor Sally Ann Shurmur on Twitter @WYOSAS
Be the first to know
Get local news delivered to your inbox!