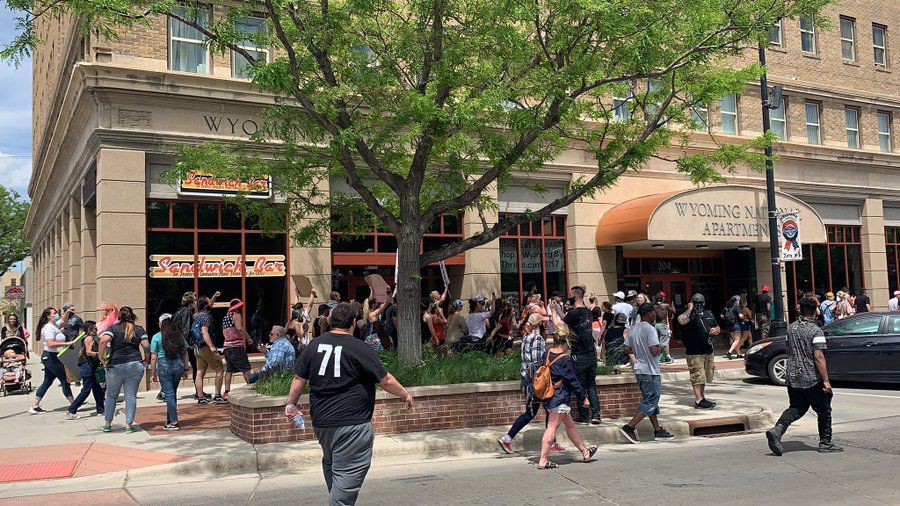 A group of roughly 50 protesters marched down East Second Street in Casper on Wednesday following a larger demonstration at the Hall of Justice. The march has gone on for two hours.
Around 3:15 p.m., the march, which began downtown, reached the east side Walmart. The march then returned to the intersection of East Second and Wyoming Boulevard. Some protesters knelt and lay down in the intersection while a number of police cars arrived and officers told the protest they were assembling illegally.
Traffic was temporarily blocked as demonstrators walked in the street at about 2:30 p.m. Police cars trailed the protesters with their lights on. Less than 10 minutes later, the protesters had reached the east side Albertsons store, taking up all of the eastbound lanes and part of the westbound lanes.
In that area, confrontations between protesters and drivers began to break out. Protesters blocked off a red pickup truck that was aggressively trailing the protest and appeared to exchanged words before it rolled away, turning into the Albertsons parking lot. A few white men with AR-15s, some in tactical vests, stepped in between the protesters and the truck. They did not appear to be police officers. Other protesters were trying to calm the situation.
A reporter overheard a man yell from a truck, "They can't beat guns. They can't even afford guns."
Within a few minutes, the tensions seemed to dissipate. One man with a long gun asked a protester if he was OK, and people passed around water near the grocery store.
Armed spectators initially walked along as the procession headed east. Other bystanders watched the march, with a few raising their fists in solidarity.
Demonstrators gathered at Conwell Park, where the protest continued. Then protesters then headed west down East Second in the eastbound lane, blocking traffic. They chanted, "No justice, no peace," "Black lives matter," and "Hands up, don't shoot."
Others yelled, "I can't breathe," a reference to George Floyd, who died May 25 when a Minneapolis Police officer kneeled on his neck for nearly nine minutes.
The secondary march began after roughly 300 people participated in a protest in downtown Casper. That march traveled from David Street Station to the Hall of Justice.
This story will be updated.
Be the first to know
Get local news delivered to your inbox!