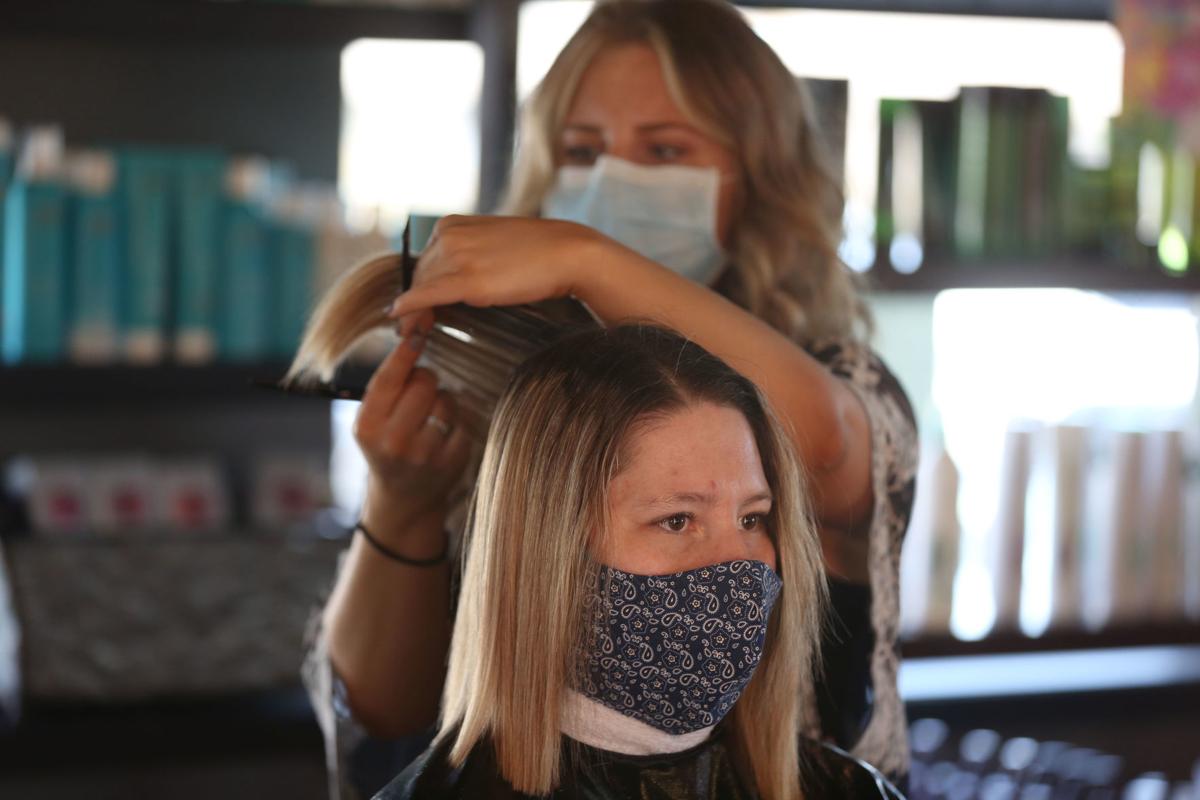 Denise Weisman's husband was sitting in David Anderson's salon chair when Anderson got the call he needed to close. That was five weeks ago.
Weisman said this as a somewhat general statement, to no one in particular, as she sat Friday on the outside stoop of Rootz Salon and Spa in Casper. Weisman would typically ascend those steps every three weeks to have her hair cut by Anderson, who owns Rootz. But she's been forbidden from that ritual for nearly two months now, and it began to wear on her.
"I just feel unkempt, not being able to have my nails done and things," she said.
Public health orders issued in March closed businesses and churches and canceled events and public gatherings as a means to limit the spread of the novel coronavirus. For many, Weisman included, the routine things no longer permitted — a manicure, a good exercise, a fresh haircut — are the changes that have taken the heaviest toll.
Weisman was elated when earlier this week Gov. Mark Gordon released a modified order that allowed personal care businesses, including salons, to reopen, albeit still with some health and safety measures in place.
One such requirement is that both staff and clients must wear masks inside the facility. Weisman wears hers — a black cloth mask imprinted with a white logo — loose and somewhat askew, exposing the tip of her nose.
Another restriction imposed on salons is the prohibition of inside waiting areas. Anderson has rectified this for his customers by asking them to wait in their vehicles and then calling them when he's ready for them to enter (after he's sanitized from the previous client).
Weisman found a compromise for herself, waiting on the step rather than in her hot car. A few other patrons navigated around her as she waited for her 11:50 a.m. appointment and contemplates how, and why, things have felt so off the past few weeks.
"Just horrible," she said of going without her routine hair appointments, then ran her hands through her short gray hair. "My hair actually hurts. People don't understand that about coarse hair."
But she and David have been corresponding, she said. He promised to get her in right away, the first day the salon was allowed to reopen.
"He's the only person in the world who can cut my hair," she said.
And then Shelley Coffey, who drove 110 miles from Lusk to see Anderson on Friday morning, stepped through the salon door. As Coffey left, freshly cut and colored, Anderson called Weisman in for her appointment, and she bounded up the steps.
Coffey certainly understands the excitement.
"I couldn't wait for today to come," she said. "It had been two months and every time I looked in the mirror I felt uglier."
Coffey has been making these long voyages to Casper for 12, maybe 14 years, she said.
It's a treat for herself. She and her husband Rebel (a nickname) are cattle ranchers in Lusk. They work hard and "don't believe in retirement," Coffey said. And "David gives fabulous cuts," so it's worth the 220-mile round-trip journey.
Plus, it makes her feel good to look nice. So for the last two months, she hasn't felt like herself. And although Coffey doesn't like to use the word depressed, things have been different.
"You look at yourself and you just feel depleted," she said, and her husband even noticed her shift in demeanor. He was just as excited for her to get this treat as she was. "I really was just kind of out of sorts."
But on Friday morning, she got to walk cheerfully back to her car feeling at least a bit like herself again.
In a back corner of the Beverly Plaza parking lot, Lucy Zepeda waited from her parked car for that opportunity herself.
She was parked directly in front of the nail salon ProNails — the door of her SUV ajar — waiting for a manicure. This trip had been a long time coming. What would normally be a biweekly excursion was ripped out from under her. She knows it's a little thing, but having her nails done makes her feel good. She likes when strangers compliment her manicure, and she likes feeling pampered for an hour every other week.
"I am a single mother … I am the type that my kids come first; I really don't do much for myself," she said. "My nails are just, they're my special thing for me."
She's been coming to ProNails for that special treat every two weeks for the past year. She adores the staff, and she goes to church with Tony Duong, one of the owners.
Not being able to see the people who would normally make up her daily routine has left Zepeda with an "empty" feeling. And if she's being honest, she's worried that confirmed COVID-19 cases in Wyoming are going to begin to rise again.
As of Friday afternoon, there were 420 confirmed cases in the state and 146 probable cases, as well as 281 confirmed and 106 probable recoveries. Seven people in Wyoming have died from COVID-19, the illness caused by the novel coronavirus.
Health officials have warned the numbers are likely low, due to a shortage of testing.
With new cases still emerging, Zepeda is worried that if people don't follow the restrictions in the new order, these businesses will be forced closed again.
Still, she's hopeful this is a light at the end of the tunnel and not the eye of the storm.
Follow local government reporter Morgan Hughes on Twitter @morganhwrites
Concerned about COVID-19?
Sign up now to get the most recent coronavirus headlines and other important local and national news sent to your email inbox daily.