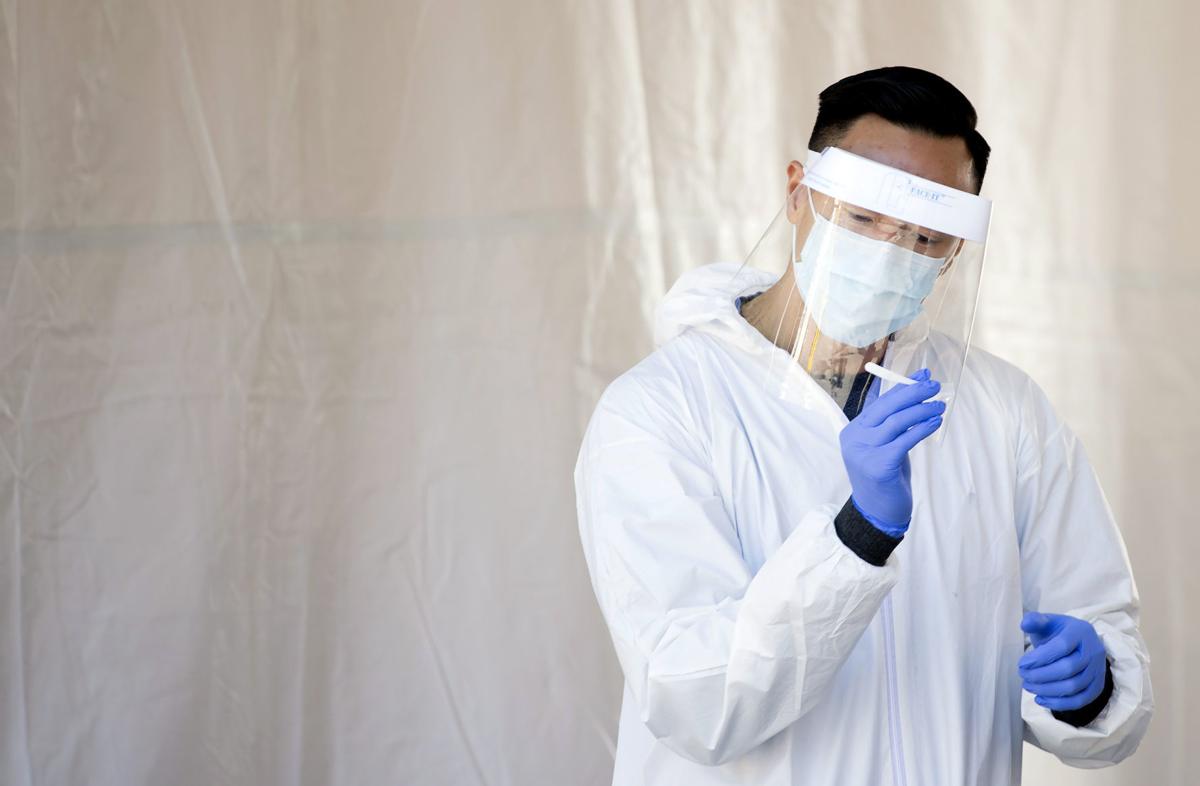 The number of coronavirus cases in Wyoming rose by nine Friday, as the state became the last to eclipse 300 confirmed cases. More than half of the now 305 cases — 157 — have fully recovered, according to the Wyoming Department of Health.
The state was also the last to reach 100 confirmed cases and the last to have a coronavirus-related death.
Three of the new cases came earlier in the day: one in Natrona County and two in Uinta County. The latter two were patients from the Wyoming Behavioral Institute in Casper who tested positive at the Wyoming State Hospital in Evanston.
The other new cases came from Fremont (two), Laramie (two), Sweetwater (two) and Albany counties, with one case being subtracted from Washakie County's total (now five).
There are 107 probable cases in the state. Probable cases are defined by officials as close contacts of lab-confirmed cases with symptoms consistent with COVID-19, the disease caused by the novel coronavirus.
Two COVID-19 patients have died in Wyoming.
After a weeklong stretch (March 31-April 6) in which the state averaged more than 16 new cases per day, the state has not had a double-digit case load in a single day since April 11.
Officials caution that the reported numbers are low, even with the addition of probable cases. Natrona County health officer Dr. Mark Dowell said the decreased rate of new cases is "falsely low."
On April 2, the Wyoming Department of Health began restricting testing to six priority categories; potential patients who don't fall in one of those categories now must be tested by private laboratories.
The state Health Department has said it's too soon to tell whether the drop-off is a result of the testing change, though Gov. Mark Gordon has said that the projected peak of the disease in Wyoming has not yet arrived.
The number of recoveries grew by 19 — nine confirmed and 10 probable — on Thursday to 206.
Patients have tested positive for coronavirus in 21 of Wyoming's 23 counties. With two recorded fatalities, Wyoming still has the lowest number of coronavirus deaths of any state. Alaska, Montana and South Dakota each have the second fewest deaths related to the virus, with seven each, according to the New York Times.
More than 16 percent of Wyoming's cases required a hospital stay. In over 4 percent of the cases, health officials don't know if the patient was hospitalized.
In 48 percent of the cases, the patient came in contact with a known case. In another 19.3 percent of the cases, the patient had traveled either domestically or internationally. Community spread has been attributed to nearly 12 percent of the cases. In 16.1 percent of Wyoming's cases, health officials don't how the person was exposed to the virus.
The state's per capita case ranking has fallen in recent weeks; Wyoming has more cases per 100,000 people than six states, a number that was once as high as 20, according to the Times.
Total cases in Wyoming by county
Laramie: 69 confirmed (26 probable)
Teton: 61 (28)
Fremont: 45 (7)
Natrona: 38 (10)
Campbell: 13 (4)
Sheridan:12 (4)
Johnson: 11 (3)
Sweetwater: 10 (5)
Converse: 8 (6)
Albany: 6 (1)
Uinta 6
Lincoln: 5 (4)
Washakie: 5 (3)
Carbon: 4
Crook: 4
Goshen: 3 (1)
Big Horn: 1 (1)
Hot Springs: 1
Niobrara: 1 (1)
Park: 1
Sublette: 1 (2)
Deaths in Wyoming by county
Rate of spread
This graph shows the rate at which confirmed and probable cases in Wyoming have been announced, as well as the number of patients who have fully recovered.
Keep in mind, however, that state and medical officials say the true number of COVID-19 cases is surely higher than the official numbers due to testing limitations.
Testing statistics
The Wyoming Department of Health has published the following data:
As of Thursday morning, there have been 6,522 tests performed for COVID-19 in Wyoming.
Wyoming Public Health Labratory: 3,391
CDC: 1
Commercial labs: 3,130
National cases
Know the symptoms
COVID-19, the disease caused by the novel coronavirus, is a respiratory illness. Its symptoms include cough, fever and shortness of breath. Symptoms appear within two weeks. If you have contact with a person who has COVID-19, you should self-isolate for 14 days.
Follow the Wyoming Health Department's tips
Stay home when sick and avoid contact with other people unless you need medical attention.
Follow advice from the Centers for Disease Control and Prevention on what to do if you think you may be sick.
Follow current public health orders.
Follow commonsense steps such as washing your hands often and well, covering your coughs and sneezes, and cleaning and disinfecting.
Nursing homes, assisted living facilities and other healthcare facilities should closely follow guidelines for infection control and prevention.
Older people and those with health conditions that mean they have a higher chance of getting seriously ill should avoid close-contact situations.
Concerned about COVID-19?
Sign up now to get the most recent coronavirus headlines and other important local and national news sent to your email inbox daily.