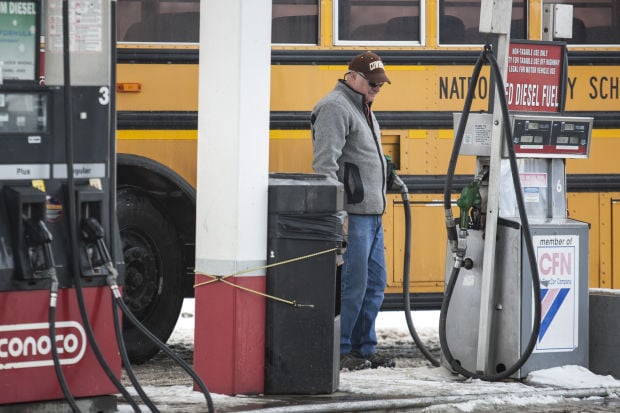 A 10-cent hike in the state fuel tax has narrowed the gap between Wyoming's gas prices and prices in neighboring states, according to the state's most recent gas price data.
A year ago, gas in Wyoming was one-tenth of a cent cheaper than gas at the pump today. Wyoming averaged $3.02 per gallon across the state earlier this week.
Wyoming's neighbors, though, have all seen measurable decreases in their year-over-year prices. Montana's statewide average for the month of December fell from $3.16 per gallon in 2012 to $3.00 in 2013. In Nebraska, average gas prices fell from $3.19 to $3.04 and Colorado gas prices fell from $3.05 to $3.02. 
Even though Wyoming gas prices remain among the nation's lowest, prices aren't as low as they could have been if it weren't for the tax hike, which went into law July 1, said Patrick DeHaan, a petroleum analyst for virtual gas price forum GasBuddy.com. The 10-cents-per-gallon tax hike, which raised Wyoming's fuel tax from 14 to 24 cents per gallon, was the largest fuel tax increase of any state in 2013, he said.
By this point, motorists have absorbed the hike, and any immediate increase due to the tax is mostly absorbed, DeHaan said.
"It's soaked in," DeHaan said.
Sen. Charles Scott, a Republican from Casper who opposed the state's hike in February during the legislative session, said Monday his opinion on the tax increase hasn't changed in the slightest.
Scott said he typically makes an effort to fill up on gas in Wyoming before traveling into neighboring Colorado to see family. Until recently, Scott said, gas in Wyoming was reliably cheaper than in Colorado. 
"There isn't the differential there used to be," Scott said of Wyoming's gas prices when compared to neighboring states. 
The data would suggest Scott is right. During the past 10 years, Wyoming's average gas prices have generally been at or below Colorado's statewide average, according to data from GasBuddy.com. Since late June, though, that trend has reversed. Wyoming's average price per gallon was higher than Colorado's until this week.
Charlene Murdock, president of the Wyoming Taxpayers Association, said the association supports the increase as a sound fiscal policy for the state. The WTA says the increase will provide a stable, long-term funding source for the state's roads.
"We are less than a year into the new funding formula and as the fund grows, [the Wyoming Department of Transportation] will move from a 'preservation mode' to a pro-active (sic) approach," Murdock wrote in an email to the Star-Tribune.
The fuel tax is an investment in a safe highway system, she said.
Looking into the short-term future, the nation's low gas prices may not last long.
"We've likely seen the cheapest prices now behind us," DeHaan said.
But Wyoming may be an exception. Because Canadian crude oil is among the cheapest available globally, and most of the crude oil processed in the Rocky Mountain region comes from Canada, prices in the state may remain lower than national averages for the foreseeable future, according to DeHaan.
And the nation's long-term gas price future looks even better. 
A federal report released last week forecast U.S. oil and natural gas production to increase during the next several decades. The report clocked domestic crude oil production near the nation's historical high in 1970, and predicted a long period where domestic production will rise and individual consumption will fall.
That's good news for gas prices, DeHaan said.
"We could be talking about, down the road, [domestic production] could be making a significant difference," he said.