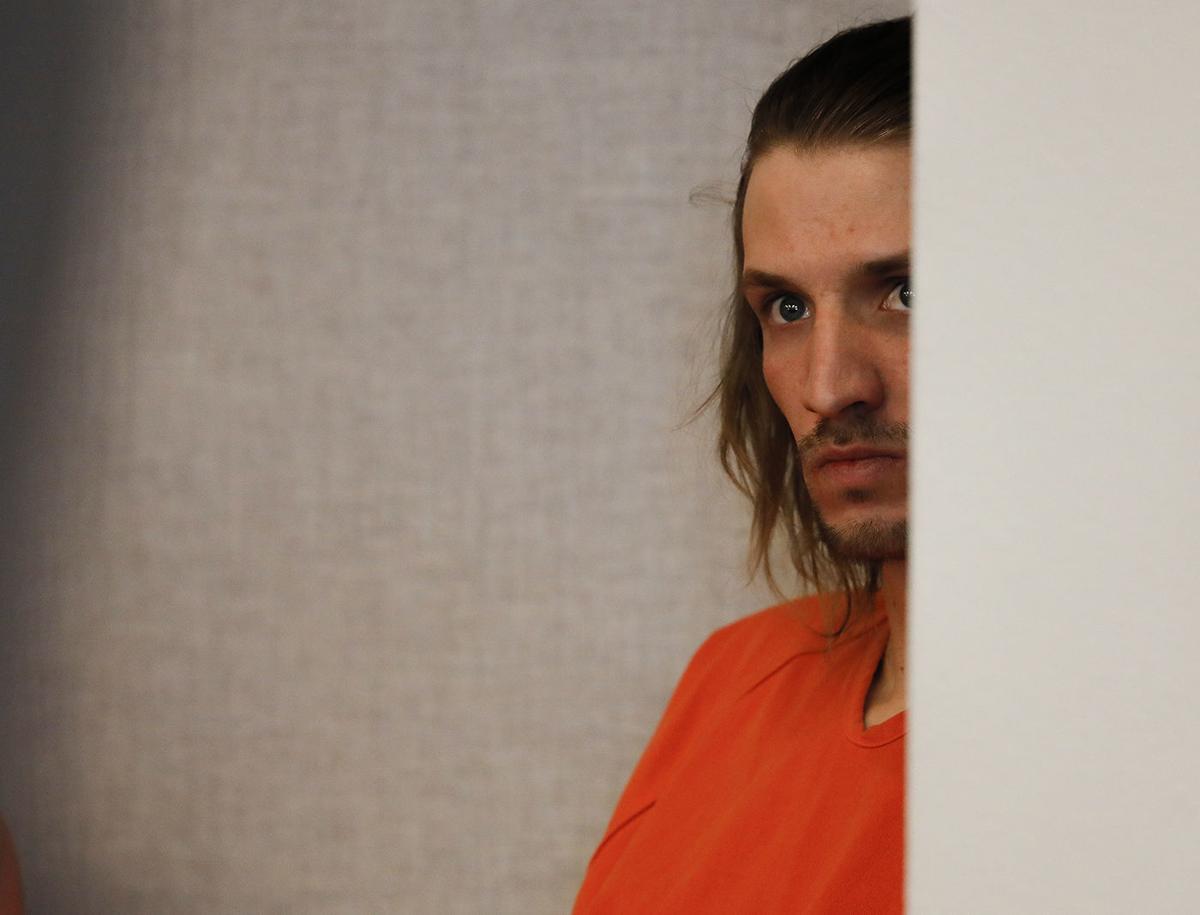 A Natrona County jury on Friday afternoon took 101 minutes to convict a man of murder for the February killing of his mother in her central Casper home.
When a court clerk read the jury's verdict at 5:15 p.m., Andrew Steplock, 28, put his right hand near his opposite wrist, rubbing the base of his left hand. He otherwise remained expressionless and largely motionless, as he had through the course of the five-day trial. The audience of two dozen, including a mix of prosecutors, a public defender and family members, likewise remained silent while a court clerk read the verdict: guilty of felony murder. And guilty as well of second-degree murder, aggravated burglary and possession of a deadly weapon with unlawful intent.
Steplock sat again, bending his neck at the collarbone toward the table in front of him.
His lawyers did not contest a prosecution request to hold Steplock without bond in advance of sentencing, which due to his felony murder conviction will either be life imprisonment or life in prison without the possibility of parole. That conviction — which is codified as a portion of Wyoming's first-degree murder law — means jurors found Steplock guilty of murder while committing another felony.
The jury found for the purposes of that conviction that Steplock had both burglarized and attempted to burglarize his mother's home on Feb. 26, when he shot and killed her. He drove a Toyota SUV to Colorado, where, he told detectives after his arrest, he had planned to live on the street. But police arrested him asleep in the SUV parked near a northern Colorado gas station. He confessed shortly after the arrest but eventually took the case to trial, where his court-appointed defense team acknowledged he shot and killed his mom. Those lawyers, however, argued he should be found not guilty by reason of mental illness, despite a state hospital doctor's finding that he did not qualify for such a defense.
Ultimately, jurors found the same.
Joe Cole, one of the two court-appointed defense lawyers who represented Steplock at trial, declined to comment following the conviction.
District Attorney Dan Itzen said on a sidewalk near the Natrona County courthouse that he thought the jury had made the right decision. He said family members were solemn, but that the jury's verdict provided them closure. Itzen, who tried the case alongside Assistant District Attorney Kevin Taheri, attributed the jury's relatively rapid decision-making to a well-prepared case.
"I thought it was a strong case going in," Itzen said. "And a lot of that strength was due to the detectives at the Casper Police Department."
The prosecutors' case featured 18 witnesses, including multiple detectives, the doctor who evaluated Steplock's mental health, an FBI agent, the defendant's father and one of his sisters. The defense called two witnesses, the latter of which was Andrew Steplock.
Defendant testifies
Steplock took the stand on Friday morning and testified that he had been hearing voices in his head for years. He broke into his mother's house and shot her because one of those voices told him to, he told jurors from the witness stand.
The Wyoming State Hospital doctor testified earlier this week that Steplock has a personality disorder but not mental illness. He was and is able to understand reality enough to know right and wrong, the doctor said.
Under direct examination by a court-appointed defense lawyer, Steplock said that although he had been hearing voices for years, it was about a week before the shooting that he started seeing things other people do not. Two demons appeared before him while he sat on a couch in his Casper apartment, he said.
They spent the next week training him for an army, he testified. When he was booked into jail on a marijuana charge, the demons visited him there, he said. They said they'd bond him out but his family members did instead, Steplock testified.
On Feb. 25, Steplock said, he was was visited by another demon, who told him she was there to help him. She had thrown the other demons into hell, he said before a courtroom audience of about 30.
She told him his parents would be out of town, Steplock said. He told jurors that the doors were locked. The demon told him, Steplock testified, to break out a window, break into the house and — when he encountered her inside — to shoot his mother.
Steplock said under questioning by Joe Hampton, the court-appointed defense attorney, that he didn't tell detectives about the hallucinations because he was more afraid of the demons than a murder charge. It was only months after the arrest that he told the state hospital doctor about the hallucinations.
She testified earlier this week that she did not find the story credible or consistent with typical presentation of psychoses.
Under cross-examination, Steplock largely answered questions by District Attorney Dan Itzen drawn from the defendant's video-recorded interview with Detective Mitch Baker in a Colorado interview room.
As the 30 minutes of questioning continued, Baker's name was dropped from most questions. Answers remained largely monosyllabic: "Yes."
At one point, Steplock broke form to contest Itzen's characterization. Steplock said he didn't know while driving through Colorado that he'd shot his mom.
"You saw her lying on the ground when you left," Itzen said.
"It still didn't seem real," Steplock replied.
"I can understand that," the prosecutor said, before continuing the barrage of questions.
It was only toward the end of the examination that Itzen turned to Steplock's statements about demons. He never told jail nurses about them, Steplock said. And he'd never been diagnosed as mentally ill or medicated, he acknowledged.
When Hampton returned to the lectern, his client acknowledged that he can sometimes answer questions quickly. One question — about a cut on his hand — he'd never before answered as he did, Steplock told his lawyer. But he didn't go to the house to steal from or kill his mother.
Steplock stepped down shortly before noon. And after resolving jury instruction preparations, Judge Daniel Forgey paused proceedings for lunch.
Attorneys' arguments
Following the approximately hour-long break, attorneys made closing arguments. Itzen began by talking jurors through the break-in and shooting, details of which were drawn largely from the videotaped interview and corroborated by physical evidence on scene. After shooting his mother, Steplock took off.
"He fled as many cowards do: into the cover of darkness — and away," Itzen said.
The prosecutor then referenced a series of statements to police, in which Steplock said he broke into the house in order to steal from his parents. Those statements, Itzen argued, support the aggravated burglary charge that Steplock faced, as well as the burglary and attempted burglary components of the felony murder charge.
Itzen then turned to the state doctor's findings and Steplock's actions to indicate the mental illness plea should be disregarded.
"(This) is not a mental illness case," Itzen said. "It's about a spoiled kid who wanted more."
Cole then walked to the lectern. He asked jurors to find his client not guilty by reason of mental illness. A rational person, Cole said, would not go to the house knowing his parents were there. He said Steplock's actions were indicative of delusion. The lawyer said he would not diagnose Steplock before weighing in on his client's mental health:
"He appears to have had some kind of psychotic break," the defense lawyer said.
During a brief rebuttal, Itzen told jurors that Cole had described a poorly planned crime, not mental illness.
"Most crimes — when (people) get caught — probably aren't a very good plan," Itzen said. "We take our defendants as we get them: smart and dumb."
The jury of eight men and four women left the courtroom at 3:18 p.m. with a binder of instructions and a verdict form. At 4:59, court security began directing spectators back toward the courtroom for the jury's verdict.