Every weekday at 2 p.m. a metal door swings open in a Casper courtroom and people wearing shackles and orange jumpsuits shuffle inside. The defendants, mostly men, wait for a judge to call their case and read them their rights.
They'll be asked about bond and whether they need an attorney. On a busy day, the process may repeat itself two dozen times.
Many will eventually be found guilty of a crime and serve probation or time in county jail.
A portion of them, however, will become inmates in the custody of Wyoming's Department of Corrections. Since 2007, the number of people who ultimately find themselves in state prisons has been declining across the country — but not so in Wyoming.
Wyoming's prisons are stressed by budget cuts, understaffing and, in the case of the state penitentiary, dilapidated facilities. And while incarceration rates have dropped nationwide, Wyoming's have been headed in the other direction — with little sign of slowing.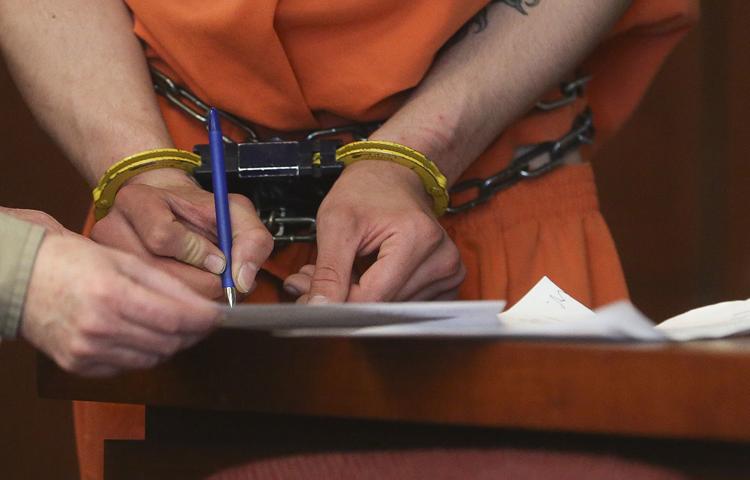 Attorneys in Wyoming attribute the growth in the prison population to changes in state law, more severe sentences and drug addicts who violate probation or parole. The numbers show certain types of offenses — namely drug and sex crimes — are driving the increase.
"Addiction is a difficult problem...," Natrona County District Attorney Michael Blonigen told the Star-Tribune. "It is not surprising that the incarceration numbers are up for these ... offenses."
Advocates of reforming the criminal justice system say other factors are at play. Reforms that have taken hold in more populated states are largely responsible for the national decrease in incarceration rates, said American Civil Liberties Wyoming Policy Director Sabrina King. But those reform efforts have often fallen flat in Wyoming.
"Rural areas need their own solutions," she said.
The numbers
Historically, Wyoming's incarceration rates have been significantly lower than the rest of the country's. As the number of Americans behind bars doubled between 1981 and 1991, Wyoming locked up about 20 percent fewer people per capita than the average state. As recently as 2010, Wyoming incarcerated 374 people per 100,000 — 18 percent fewer than the national average of 452 per 100,000.
Then, national incarceration rates began to drop, while Wyoming's continued to rise.
Since 2010, incarceration rates have dropped by about a tenth in the U.S. — paralleling a national drop in crime rates. During that same time frame, Wyoming's incarceration rate grew by about eight percent, even as the state's crime rate dropped, according to FBI statistics.
That change can be felt far beyond the walls of a prison, King said. When a person is imprisoned, their family, their employer and their community are all affected.
"There's this human cost to incarceration," King said. Although crimes come with punishments, King said the state should focus on more creative solutions than incarceration.
"Regardless of how good a prison tends to be ... you are still dealing with the reality of putting people behind bars," she said.
In 2015, Wyoming's state prison incarceration rate topped the nationwide average for the first time since the Bureau of Justice Statistics began tracking the numbers in 1978. In 2016, Wyoming's incarceration rate dipped slightly below the nationwide number: 405 Wyomingites per 100,000 were in state prison custody at the year's end, compared to 406 Americans per 100,000. The Bureau of Justice Statistics does not yet have numbers available for 2017.
Drug and sex crimes have driven the population growth in Wyoming state prisons, figures show.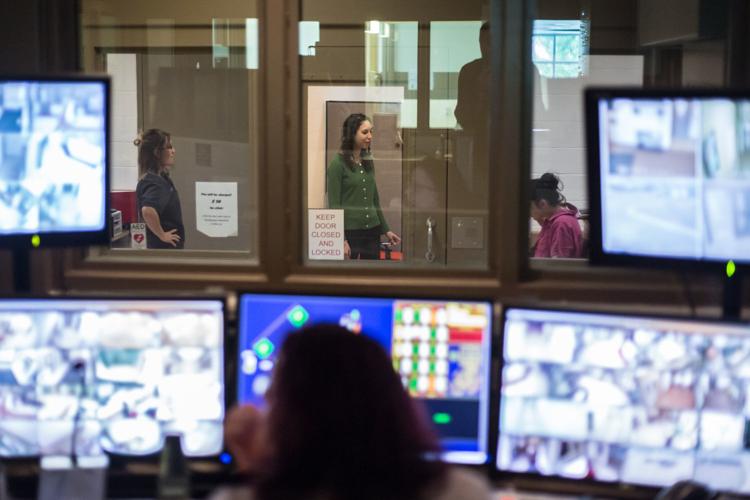 In 2010, less than one-fifth of people in Wyoming state prisons were serving time for drug crimes. By 2016, that number had grown to one-quarter. The percentage of the prison population incarcerated for sex crimes grew from just over 20 percent to 24 percent during the same time frame.
The changes have been even more pronounced for Natrona County offenders. In 2010, a quarter of people serving prison time for a crime in Natrona County had committed property offenses. By 2016, that number had fallen below 17 percent. Meanwhile, the proportion of prisoners sentenced for sex crimes in Natrona County grew from 15 to 22 percent.
Corrections needed?
Wyoming's rising incarceration rate comes as the Department of Corrections faces a slew of challenges. Last year, the department predicted its facilities would be at 99 percent capacity by 2020, though that could come sooner.
That housing crunch comes as officials deal with structural problems at the Wyoming State Penitentiary, the facility tasked with holding the state's most dangerous prisoners.
Sinking soil beneath the penitentiary has damaged walls, floors and ceilings. The fix will be costly and lawmakers haven't yet settled on a permanent solution.
In February, meanwhile, the corrections department said it had to rely on county jails to house inmates due to staffing problems that limit the number of inmates that can be housed in prisons. Two months later, the DOC sent 88 inmates to a private prison in Mississippi, a move the agency attributed to an inordinate number of inmates per staffer.
Mark Horan, an agency spokesman, said although the DOC has had difficulty attracting and retaining staff, the problem is inextricable from the number of people under the agency's supervision. Were the corrections department watching less people, staffing issues would not be as burdensome.
Horan could not say this week whether the department would again have to send prisoners out of state.
"At this point, I don't have the answer to that," he said.
Causes
King, the policy director for Wyoming's ACLU chapter, said increased incarceration rates are common in rural areas nationwide. The national trend of decreasing incarceration is primarily driven by criminal justice reform initiatives that have mostly been undertaken in large cities, she said.
Wyoming cut funding to mental health, drug treatment and drug rehabilitation programs following the most recent economic downturn. King said in a phone interview with the Star-Tribune that those cuts meant more mental health and drug addiction issues have had to be resolved in the criminal justice system.
In 2016 and 2017, state lawmakers introduced bills that sought to remake Wyoming's criminal justice system. They failed both years.
A 2016 effort to remake sentencing and rehabilitation was killed after members of the Legislature's appropriations committee said the changes would cost too much. The next year, a similar bill died when the Senate president declined to assign the bill to a committee. Sen. Eli Bebout, R-Riverton, cited the upfront cost of implementing reforms in making his decision to kill the legislation.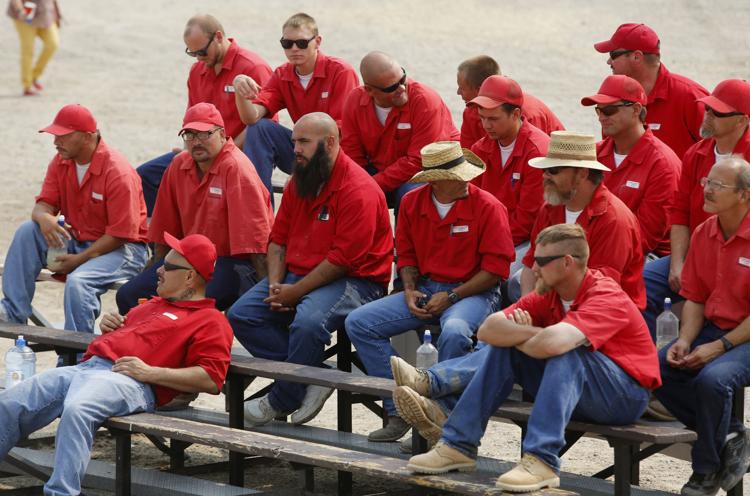 Attorneys say drugs are one of the drivers of increased incarceration. That's in line with what corrections department Deputy Director Steve Lindly says jailers see.
Nine out of 10 male prisoners and eight out of 10 female prisoners in Wyoming need some form of substance-use treatment, Lindly said. And half of all new admissions are serving sentences because they violated the terms of their probation or parole by using a prohibited substance.
Most people who appear in the statistics as drug offenders are in Wyoming prisons because of probation and parole revocations, Blonigen said.
"The good news is that when (in-prison treatment programs) are fully funded and utilized our rate of recidivism is quite low," he said.
King said that legislators have begun looking at the link between mental health, drug addiction and incarceration, but no comprehensive legislation suitable for Wyoming has yet emerged.
Natrona County Public Defender Rob Oldham, meanwhile, was skeptical that people with drug problems would benefit by having third-time possession convictions being charged as felonies.
"We're talking about people's lives," he said. "I don't know how that benefits society in any way."
Sentencing
Blonigen attributed the rise in prisoners incarcerated for sex crimes to stricter sentencing from local judges.
"It was not uncommon 15 years ago to see probation sentences or perhaps short prison terms, especially if the person had no record. Judges have distinctly changed sentencing philosophies" regarding child sexual assault, Blonigen wrote in an email to the Star-Tribune.
The prosecutor said people convicted of sex crimes against children are almost always sent to prison for "significant" periods of time.
"I think most people would agree that's a good thing," Blonigen wrote.
Part of the reason for the increased prison time for sex offenders is a 2007 law that made allegations of sexual crimes against children more difficult to defend against, Oldham said.
Judges generally sentence people convicted of first-time felonies to prison with far more regularity than they did 10 years ago, Oldham said. A decade ago, it wasn't unusual for a person convicted of a nonviolent first-time felony to avoid the penitentiary. That's far less common now, he said.
As for a public perception that sex offenders are often let off with a slap on the wrist, Oldham disagrees. Despite social media posts bemoaning sex offenders receiving light sentences, Oldham said people convicted of sex crimes are frequently sentenced to long periods of incarceration.
"They get f—-ing hammered," Oldham said.
The future
Earlier this year, Governor Matt Mead signed a criminal justice reform bill into law. It aims to keep more people out of prison by providing more funding to send people to county jail for brief stints while offering more drug and alcohol treatment in the same facilities.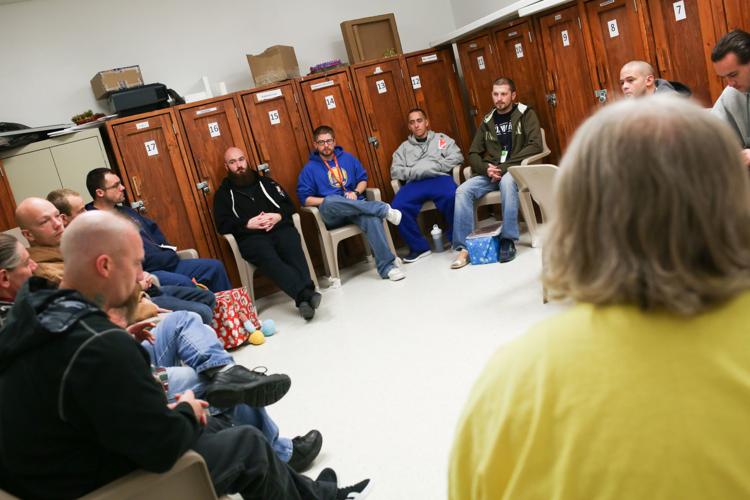 Lindly said the bill offers some opportunity to slow prison intake, though not as drastically as prior bills may have. He said the bill could be expected to divert dozens of people from prison.
Lindly said the corrections department will report to legislators on the effects of the bill in December.
King said she is skeptical that the bill, which only received one year of funding, will show results immediately. Such initiatives can be expected to take two to three years before they show results — but the trade-off can be immense, she said.
Without paying the upfront cost of funding drug treatment, mental health treatment and implementing comprehensive criminal justice reform — more akin to the 2017 bill that failed — the state will need to find funding to add prison beds, King said.
"We really are heading down a dangerous road," she said.
In the meantime, the courtroom door will open again in Casper and another group of defendants in orange jumpsuits will shuffle inside.