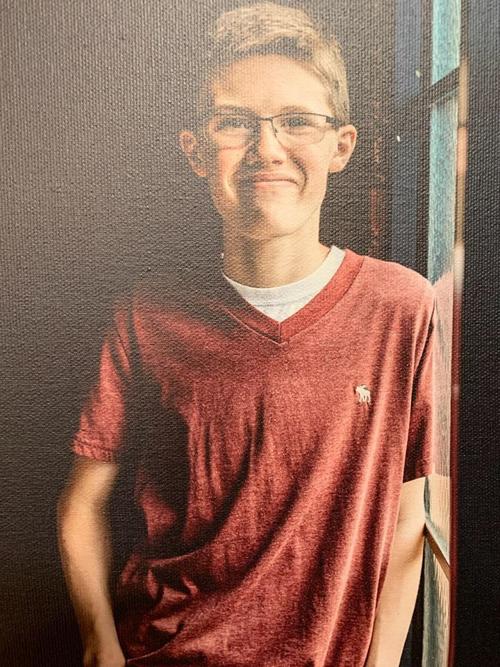 Authorities on Monday afternoon prepared to use night vision technology in their search for a teenager who the day before walked from his family's rural Natrona County home into an approaching winter storm while wearing pajamas.
The teenage boy, Joseph "Joey" Peterson, 16, has been missing since shortly before noon Sunday. He has high-functioning autism and is not self-sufficient, said a Natrona County Sheriff's Office spokesman. He did not have a cellphone when he left the home, which is in the area of Goose Creek Circle and Hat Six Road.
As the search team prepared for sunset, sheriff's Sgt. Sean Ellis issued a statement again noting that authorities wanted people to stay away from the area. It also stressed that searching at night is dangerous — and would be particularly so for anyone not authorized to do so by the sheriff's office.
The sheriff's spokesman also thanked local donors for supporting the search party with food. Ellis noted all nutritional needs had been met and asked for a stop to donations.
The search party consisted of 10 local, state and federal emergency agencies. Although authorities can call on trained volunteer assistance for some searches in Natrona County, the sheriff's office did not do so, save for family and neighbors. Multiple aircraft were involved in the search along with dog and human trackers on the ground. The total number of searchers climbed into triple digits.
At about noon Monday, a Blackhawk helicopter moved meticulously above ranch land less than a mile from the search party's base near the Peterson home. About 50 vehicles surrounded an RV used as mobile headquarters by county emergency management. The nearby web of interlocking dirt roads was quiet. Where about an inch of fresh snow had been broken by tire tracks, red clay peeked through. Three searchers left a barn and walked down hill to the east. An airplane circled slowly.
The day was clear and had warmed consistently since sunrise, when temperatures in the area remained in single digits.
At a Monday morning news conference in the Natrona County Sheriff's Office headquarters, Ellis said the family was doing what was in their power.
"They're doing the best they can," he said.
Peterson has blond hair; is 5 feet, 9 inches tall; and weighs 120 pounds. He was last seen wearing a red hooded sweatshirt and pajama pants.
Temperatures were expected to remain below freezing for much of Monday night and into Tuesday morning.
Anyone with information about the boy's disappearance is asked to contact authorities at 307-235-9300.
Sign up for our Crime & Courts newsletter
Get the latest in local public safety news with this weekly email.