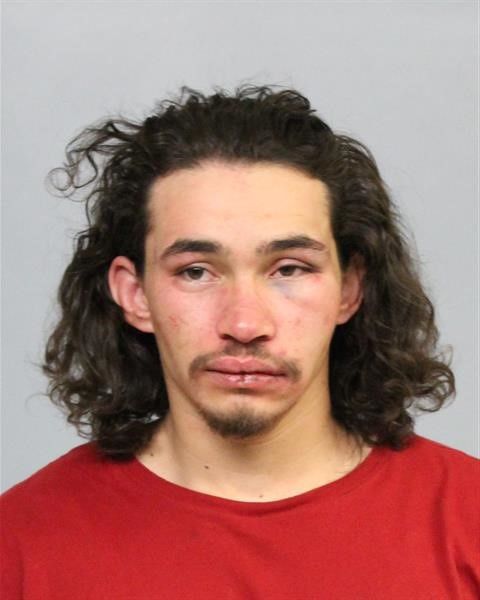 A Bar Nunn man Friday pleaded not guilty to 11 charges — eight of them felonies — alleging he burglarized multiple vehicles, stealing one and driving it into a police cruiser, before leading Casper police on a foot chase.
Micheal Odom, 27, entered the pleas at his Natrona County District Court arraignment, where he appeared wearing jail garb indicating he had not been able to meet a $50,000 cash-only bail requirement. After Judge Kerri Johnson read the charges, which include four counts of burglary, two counts of property destruction as well as a single count each of theft and aggravated fleeing, Odom entered a blanket denial.
"Not guilty," he told the judge.
Following a request from Kurt Infanger, Odom's public defender, Johnson declined to halve Odom's bail request. She did, however, issue another requested modification that will allow Odom to hire a bail agent to post bond for him.
You have free articles remaining.
Court documents filed by prosecutors and describing police allegations state that a Casper police sergeant saw a black Volvo in December run a stop sign as it headed east on Seventh Street near Missouri Avenue.
Three minutes later, according to the documents, the Volvo's owner called 911 and said his car had been stolen a few blocks away. The owner told police, according to the documents, he was heading into his home when he heard the car pull off.
The policeman saw the Volvo speed through another pair of stop signs on Fourth Street, the documents state. The patrol sergeant turned on his overhead lights as he followed the Volvo, according to the documents, but the car did not stop. After it turned onto Trigood Drive, the car sped through a dip in the road and launched into the air. It landed on a patch of ice and and spun out. The car then rammed the sergeant's patrol SUV, the documents state.
Odom got out from behind the wheel of the car and took off running, the documents allege. He jumped fences in the neighborhood, and the cop lost sight of him, the documents state.
Two backup officers saw Odom run across Country Club Road near Fourth Street, the documents state. Those cops tackled Odom near a church's fence.
When police questioned him at the hospital, Odom said he did not remember what led to the chase, the documents state. He then asked for a lawyer.