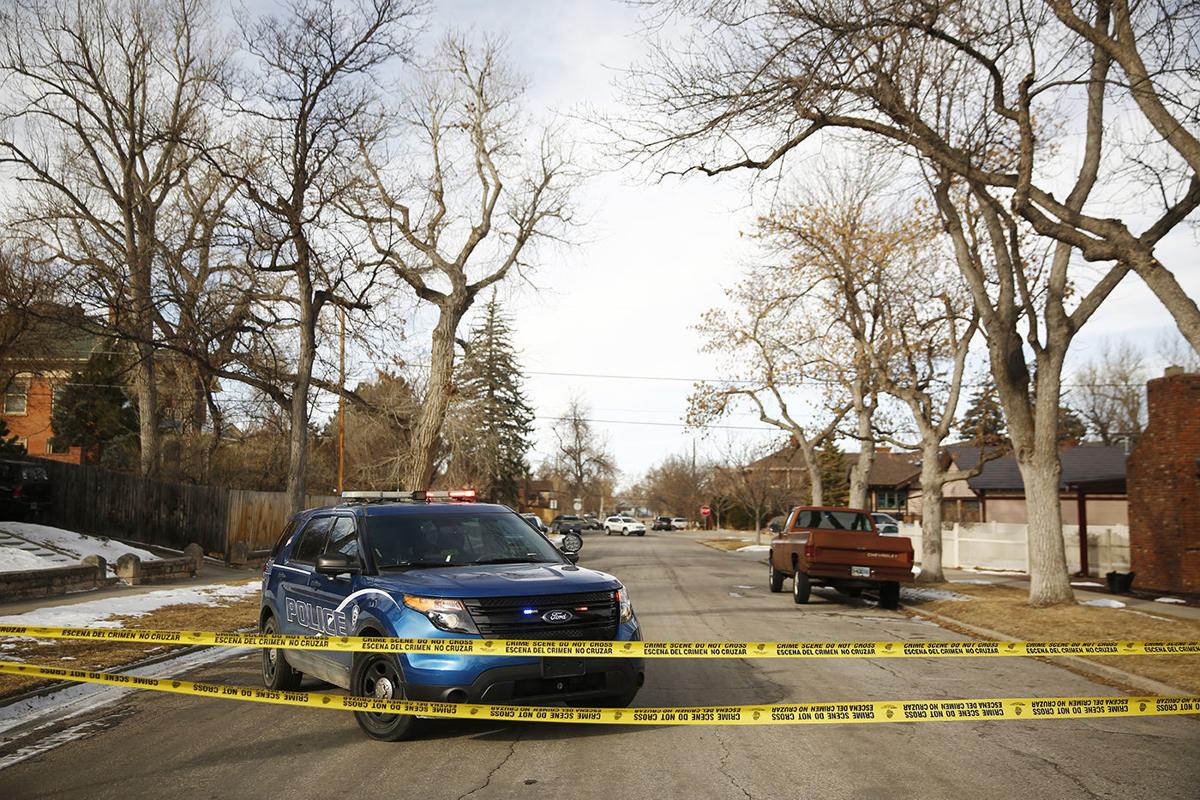 Dr. Albert Steplock looked around a Natrona County District Courtroom on Tuesday afternoon, searching for his son.
His eyes crossed the room, then returned to the far side. District Attorney Dan Itzen stepped away from a lectern, out of the path of the doctor's gaze. Public defenders rolled in their chairs away from a courtroom table.
Behind them, sat the person he was looking for. His son was wearing a green shirt, the doctor told Itzen.
And, with that, Steplock began an hour of testimony about the man who killed his wife: their son, Andrew Steplock, 28.
The younger Steplock faces four felonies, punishable by up to life in prison. He told police — and his lawyers in court this week conceded — that he shot and killed his mother, Deborah, early on Feb. 26 at her central Casper home.
Public defenders have indicated they plan to argue that their client is not culpable for his actions because of mental illness or deficiency. They say their client thought a demon told him to kill his mother. Prosecutors have insinuated that Steplock's claim was made for a dearth of legal options.
On Tuesday, the trial's second of five days scheduled, prosecutors called six witnesses to testify. In addition to the elder Steplock, three police officers and a home security system representative took the witness stand, as well as a doctor who examined Andrew Steplock at the Wyoming State Hospital and found him mentally capable of being held responsible for his actions under state law.
The day began at about 9:30 a.m. when Officer Keri Patrick returned to the witness stand. Patrick, the first cop on scene of the shooting, had testified to crime scene photos on Monday afternoon. Tuesday, she described a .40-caliber shell casing found in the house and a bullet fragment found near the dead woman's body. Following a brief cross-examination by Public Defender Joe Cole, Patrick left the courtroom.
Detective Justin Hatcher, the second police officer on scene, took her place. He stepped down shortly after 10 a.m. By 10:30, the security system representative had concluded his testimony and Dr. Elizabeth Donegan began to speak.
Doctor's diagnosis
The doctor, who works for Wyoming State Hospital as a contract employee, described her evaluation to jurors. Judge Daniel Forgey had before the trial ordered the evaluation to align with Wyoming law that exempts people from criminal culpability if they are so mentally ill they did not know what they were doing was wrong or they cannot control their behavior. Such evaluations can be used by juries to find that a defendant is not guilty for reason of mental illness or deficiency, which Steplock has claimed.
During direct examination by Itzen, Donegan said that Steplock told her he experienced hallucinations beginning a week prior to the shooting. She said the hallucinations he described, however, were not consistent with those typically described by people living with psychoses. The doctor diagnosed Steplock with cannabis use disorder and schizoid personality disorder. Although the name of the personality disorder shares a syllable with schizophrenia, it does not share the mental illness's psychotic features.
Steplock, the psychologist said, indicated he was able to pursue goals, and in a police interview only hours after the shooting, was able to answer detectives' questions. Such characteristics are not consistent with severe mental illness, Donegan said. None of her work indicates Steplock was experiencing mental health symptoms that would put him out of touch with reality, she said.
Under an extended cross-examination by Public Defender Joe Hampton, the psychologist said the condition does not lead to schizophrenia, though one person can have both the mental illness and the personality disorder. Steplock, however, has never received any psychologist's diagnoses other than those made by Donegan. She said that Steplock's explanation was convenient to his defense but largely inconsistent with research in the medical field.
She told Hampton that although sometimes mental illnesses diverge from their descriptions in medical literature, Steplock's description was too far afield to be credible. The abrupt onset of hallucinations he described, along with the elaborate descriptions he gave of delusions and the nature of the visual hallucinations themselves, were all inconsistent with what is observed in people who have been psychotic.
"Is there a phenomenology to psychotic disorders? Absolutely," the doctor said. "Hallucinations are not something that start one day and remit shortly after."
If was shortly after 3 p.m. that a court clerk swore Albert Steplock, the defendant's father, to an oath and he began testimony.
After identifying his son, the elder Steplock described waking about an hour after midnight on Feb. 26 to the sound of his home's alarm system. He went to the top of his home's stairs and called to his wife, a night owl, but got no response.
You have free articles remaining.
So, he said, he returned to his bedroom momentarily to gather shoes or a pair of glasses. On Tuesday, he wasn't sure which.
He went straight to the TV room where he and Deborah Steplock, 58, had watched Game of Thrones. She wasn't there.
Albert Steplock found her a few paces away, near the front door of the home. He tried to wake her. He shook her. He called her name. He noticed a pool of blood near her ear.
The doctor spotted a deep head injury. He knew then, he told jurors, that his wife hadn't fainted. He called 911.
By the time police arrived — only minutes later — the blood pool had grown from the size of a half-dollar to at least a volleyball.
911 call
Itzen then played a recording of the phone call to police dispatchers.
When the dispatcher asks Steplock his location, he answers in three words. When she asks what's happening, he's also succinct.
"My wife is unconscious and there is blood coming out of her head," he states.
He's put on hold momentarily. Then, he repeats the same information to another person. Then, he explains, slightly.
"I don't know if somebody broke in and hit her on the head or what," Steplock says. He gives the dispatchers his name and hangs up as police arrive moments later.
After conclusion of the audio, Itzen on Tuesday asked Steplock why he'd been so calm on the phone. The doctor's face turned red. He put a hand to his mouth and looked down.
"Right then, she was not my wife," he said. "She was a patient."
He went on to describe providing financial support to his son, even after the young man had moved out of his family home. Andrew Steplock stopped talking to the entire family except his mother, the elder Steplock said. It had been years since Andrew Steplock had been to a family gathering, the father said.
On cross-examination, Albert Steplock said Deborah Steplock still had groceries in her car when she died. Photos show plastic bags tied on top. A case of bottled water. She'd planned to drop them at her son's house later the same day.
The doctor didn't learn until after his wife had died how angry Andrew Steplock had been to his mother, he said. Still, he saw it:
"It seemed like he was always mad at her for something."
A Casper police detective then took the stand to describe tracking Andrew Steplock by phone coordinates to Colorado and talk through a series of text messages between mother and son. In those messages, Detective Jesse Jones told jurors, Deborah Steplock repeatedly asked her son to find a job and to pay his bills. He was only occasionally responsive.
The trial is set to continue 9:30 Wednesday morning.