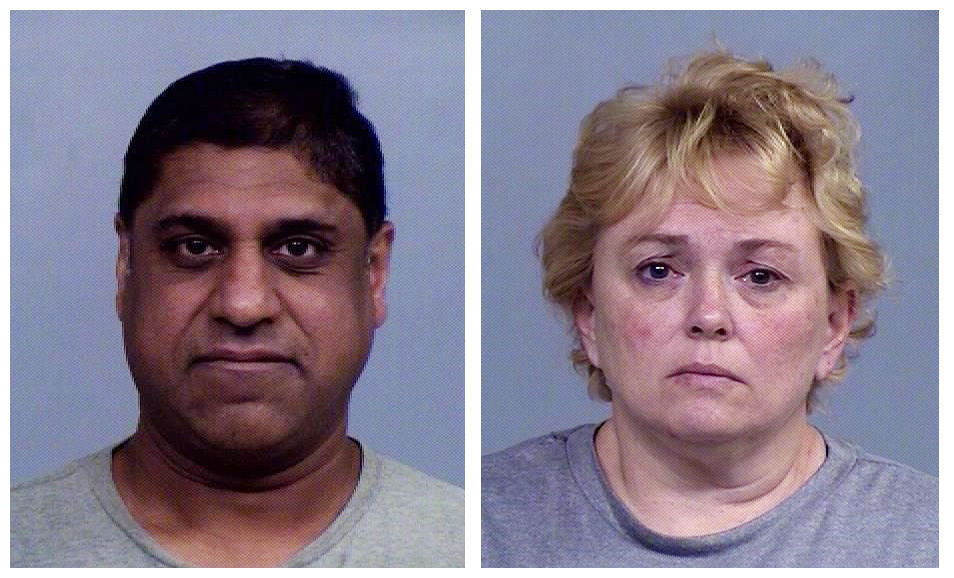 A doctor is set to go to trial this week on charges alleging he operated a criminal drug conspiracy out of his Casper office, ultimately resulting in the overdose death of an Arizona woman.
Shakeel Kahn faces 21 felonies in the case, including a single count of conspiracy to distribute drugs resulting in death and a single count of operating a continuing criminal enterprise. A conviction on either of those crimes is punishable by between 20 years and life in prison.
Kahn has pleaded not guilty.
In documents filed in March, federal prosecutors for the district of Wyoming allege that over the course of five years Kahn wrote more than 22,000 prescriptions for controlled substances, including opioid painkillers. The doctor required customers to sign a statement that said he was not a "drug dealer," according to prosecutors. The amount Kahn charged to write prescriptions depended on how many pills he was prescribing, prosecutors say.
Both Nabeel Kahn, who is set to stand trial alongside the doctor, and Shakeel Kahn "possessed, carried, and brandished firearms at the medical office, during medical office hours," prosecutors allege.
Nabeel Kahn faces two charges in the case, including a count of conspiracy resulting in death.
The conspiracy stretched beyond Wyoming and Arizona, to Kentucky, Massachusetts, Oregon and Washington state, prosecutors say. People traveled from as far as Massachusetts and Washington to the state to pick up and fill prescriptions written by Kahn, according to government lawyers. They allege Kahn wrote painkiller and anti-anxiety drug prescriptions for the Arizona woman, Jessica Burch, on which she overdosed and died in March 2015.
Lyn Kahn and Shawnna C. Thacker were also set to go to trial with the two men for alleged participated in the scheme. Thacker pleaded guilty earlier this month to a single count of conspiracy and is expected to testify for the state.
Proposed jury instructions indicate prosecutors intend to call to the witness stand Thacker and Paul Beland, who also pleaded guilty earlier this year.
The doctor's wife, Lyn Kahn, is scheduled to change at least one of her eight not guilty pleas on Wednesday. Attorneys have filed an agreement regarding her change in pleas, but filed the document under court seal, making it unavailable for public review.
Prosecutors indicate they intend to call witnesses who used prescription drugs, but do not specify whom.
"The United States will call witnesses who were addicted to prescription drugs, as well as witnesses whose family members were addicted to prescription drugs," the government's lawyers wrote in their proposed jury selection questions. Those questions do not state what additional witnesses prosecutors intend to call, but a number of people pleaded guilty to state drug crimes in Natrona County District Court, independent of Kahn's federal case.
Thursday, Kahn's attorneys filed an emergency request to change the trial date. Friday, government lawyers responded, but both documents were filed under seal, obscuring the issues argued and stances taken. Friday, a judge dismissed Kahn's request, according to documents filed mid-afternoon.
After Lyn Kahn's change of plea hearing, which is set for 1 p.m. Wednesday, attorneys will meet for a final pretrial conference. The trial will commence at 9:30 Thursday morning in the federal courthouse on Wolcott Street in Casper.
In March, prosecutors estimated they would need at least 2 weeks to present their case.
Editor's note: An earlier version of this story did not specify the prosecuting agency. The case is being prosecuted by the U.S. Attorney's Office for the District of Wyoming.
Follow crime reporter Shane Sanderson on Twitter @shanersanderson