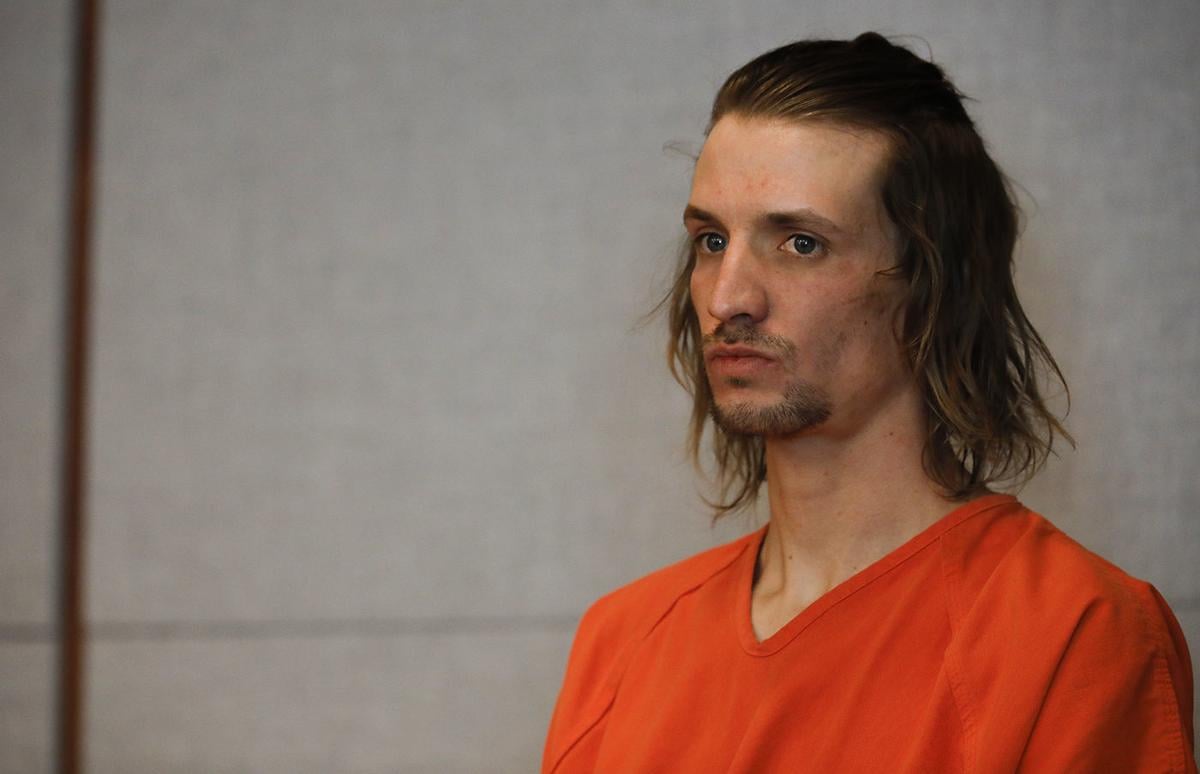 A Casper man charged with murdering his mother told a judge Thursday that he plans to testify in his own defense. He'll have an opportunity to do so Friday morning.
Andrew Steplock informed the court of his decision on the afternoon of the trial's fourth day, shortly after prosecutors concluded presenting their felony murder case, which could result in his life imprisonment. Steplock, 28, told police detectives in a recorded interview that he shot his mother, Deborah Steplock, in her central Casper home earlier this year. He was arrested on Feb. 26, the same day as the shooting, in Colorado.
Defense lawyers acknowledge their client shot his mother. They argue that Steplock shouldn't be found culpable for the four felonies he faces, however, because he was too mentally ill at the time of the shooting to comprehend reality.
On Friday morning, the courtroom was closed to the public as well as jurors for about an hour. When the proceedings resumed, neither Judge Daniel Forgey nor prosecution or defense lawyers made any reference to the closed-door portion of the morning. Prosecutors called in quick succession a police detective and two state crime lab workers, who testified that drops of Steplock's blood were found at the crime scene along with a shell casing fired by his gun.
After a lunch break, District Attorney Dan Itzen called Dr. Michael Burson, the private practice pathologist who performed an autopsy on Deborah Steplock. When Burson examined her corpse, he found small wounds to her body surrounding a single gunshot wound. Those small wounds, Burson said, are the result of residue indicating that when fired, the gun was between 6 and 18 inches away from the 58-year-old woman's face.
Burson answered only a couple questions on cross-examination, and prosecutors then concluded their case. After Forgey denied a request — which defense lawyers typically make after prosecutors conclude presentation of criminal cases — to throw the case out, the judge paused proceedings while Steplock conferred with his lawyers about testifying in his own defense.
When proceedings resumed, Steplock told Forgey he wanted to testify. The judge began asking Steplock a series of procedural questions related to his waiver of Fifth Amendment rights. Midway through the questioning, court-appointed defense attorney Joe Cole told Forgey that Steplock had indicated he wanted more time to prepare.
You have free articles remaining.
"How much time would you like?" the judge asked.
"That's up to you," Steplock replied. "I was thinking tomorrow morning."
The judge then said he would revisit Steplock's decision to testify. And the defense called its sole other witness.
The defendant's sister, Elizabeth Steplock, told jurors under questioning by Cole that her brother years ago fell out of touch with her and, except for his mother, the rest of his immediate family. When Elizabeth Steplock talked to her mother, the two women said they were worried about Andrew Steplock. Her younger brother didn't take care of himself, Elizabeth Steplock told jurors.
"We wanted him back in our lives the way he used to be," she testified.
When he was in jail on a marijuana possession charge in February, it was his sister, Elizabeth Steplock, who paid his bail, she said.
Because she was out of the country, the sister sent money to her mother, who then posted the bail. The siblings talked on the phone for the first time in a long time on Feb. 25, less than 24 hours before Andrew Steplock shot their mother. But in that phone call, he thanked his sister for helping him, Elizabeth Steplock told jurors.
Shortly before she concluded her testimony, lawyers gathered around the judge's bench for whispered conversation. While a white noise machine filled the courtroom, Elizabeth Steplock swiveled her chair from side to side, looking across the courtroom at her younger brother. He looked down, twisted his own chair once in each direction, and became motionless again.
After a brief cross-examination, Elizabeth Steplock stepped down and Forgey dismissed jurors for the day. Lawyers stayed behind to discuss jury instructions. The trial's final day is set to begin at 9:30 a.m.