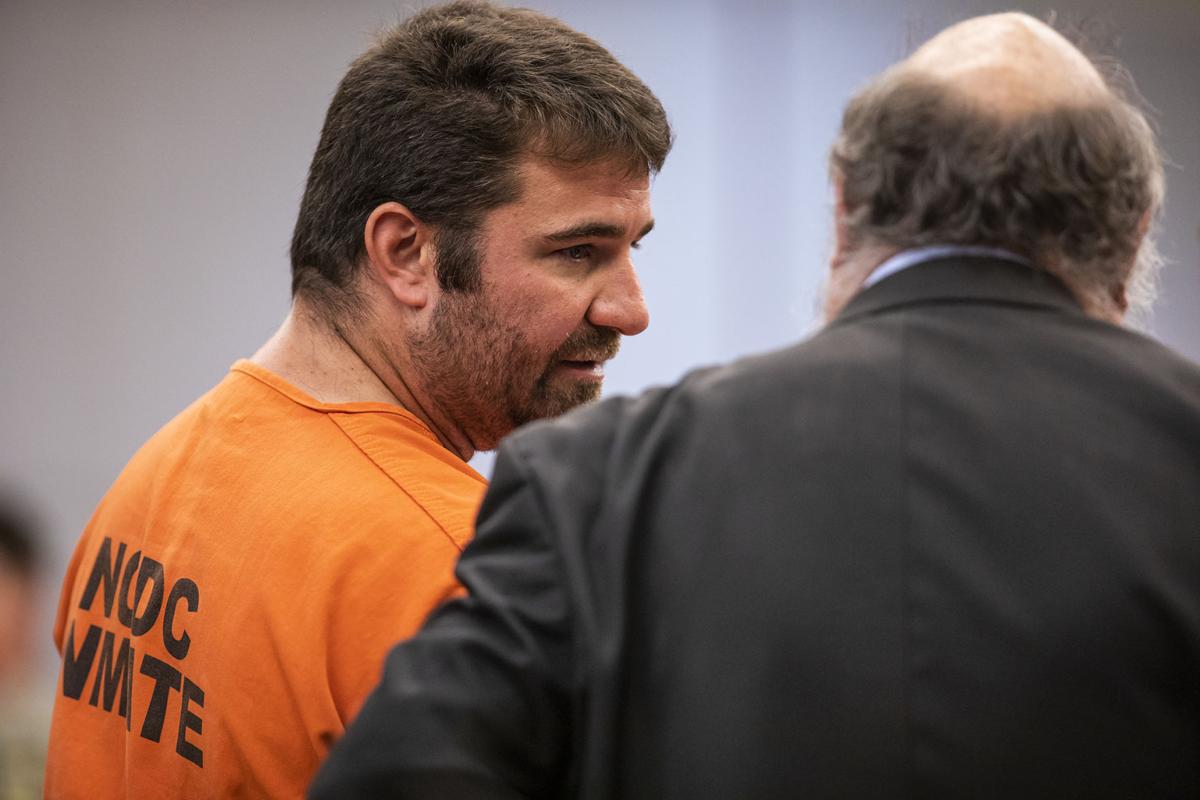 A Casper man sentenced to up to 62 years in prison for sexually assaulting multiple women filed an appeal in Wyoming Supreme Court on Monday, court records show.
In October, a jury convicted Samuel Barrett on all felony charges against him: six counts of first-degree sexual assault, two child pornography charges and one count of blackmail.
The charges stemmed from seven reported instances of sexual assault from four women between 2012 and 2019.
Robert Oldham, who defended Barrett when his case was moving through district court in Natrona County, said Tuesday he's not involved in the appeal. But in large felony cases like Barrett's, Oldham said, an appeal is expected.
If the appeal succeeds, Barrett's case can either be sent back for a new trial or a revised sentencing. In the most extreme case, he could be acquitted and the case could not be retried again.
Only the notice of appeal had been filed as of Tuesday afternoon. The grounds for Barrett's appeal are unknown, and calls to the public defenders representing him in the Wyoming Supreme Court were not returned Tuesday.
Barrett has been at the Wyoming State Penitentiary since his sentencing in March. He's first serving a 10- to 12-year sentence for the child pornography charge, then faces up to 50 more years on concurrent sentences for sexual assault and blackmail.
According to court documents that cite victim interviews and video evidence, Barrett forced one of four victims in the case to perform oral sex at gunpoint while her child was in a car outside his home.
The victim had been a babysitter for Barrett's children more than 10 years earlier, when she was 15, and was sexually assaulted by Barrett at that time. A conviction in that case sentenced Barrett to five years of probation and landed him on the sex offender registry in 2009.
Another victim, according to an affidavit in the case, also said she was held at gunpoint and forced into oral sex by Barrett. A third victim said she was sexually assaulted on video at Barrett's home after Barrett had told her he would help pay for her son's medical bills.
The final victim in the case told police in interviews cited in the affidavit that Barrett tried to make her perform oral sex on a child while he filmed her, holding her at gunpoint. When she refused, court documents state he turned off the camera and raped her. He later reportedly used a recording of her "pretending" to perform oral sex to blackmail the victim into sexual intercourse.
Barrett, court filings state, forced victims to say on camera that they consented to the abuse, and threatened to kill or kidnap them if they told anyone.
Before Barrett received his sentence in Natrona County District Court in March, several of the victims spoke to the court. One said she constantly checked her windows and doors at home to make sure she was safe. Another said she felt like she was always drowning.
"I'll never be the person I was again," one told Judge Daniel Forgey in March.
A police search of Barrett's residence found the gun he used was likely a BB gun matching the victims' description.
During his sentencing, Barrett denied the charges against him and said the victims were working together to make up their stories. Several members of his family told Forgey that Barrett suffered from a sex addiction and testified to his character.
Before this case, Barrett was already a registered sex offender after being convicted of second-degree sexual abuse of a minor in 2009.
Follow city and crime reporter Ellen Gerst on Twitter at @ellengerst.