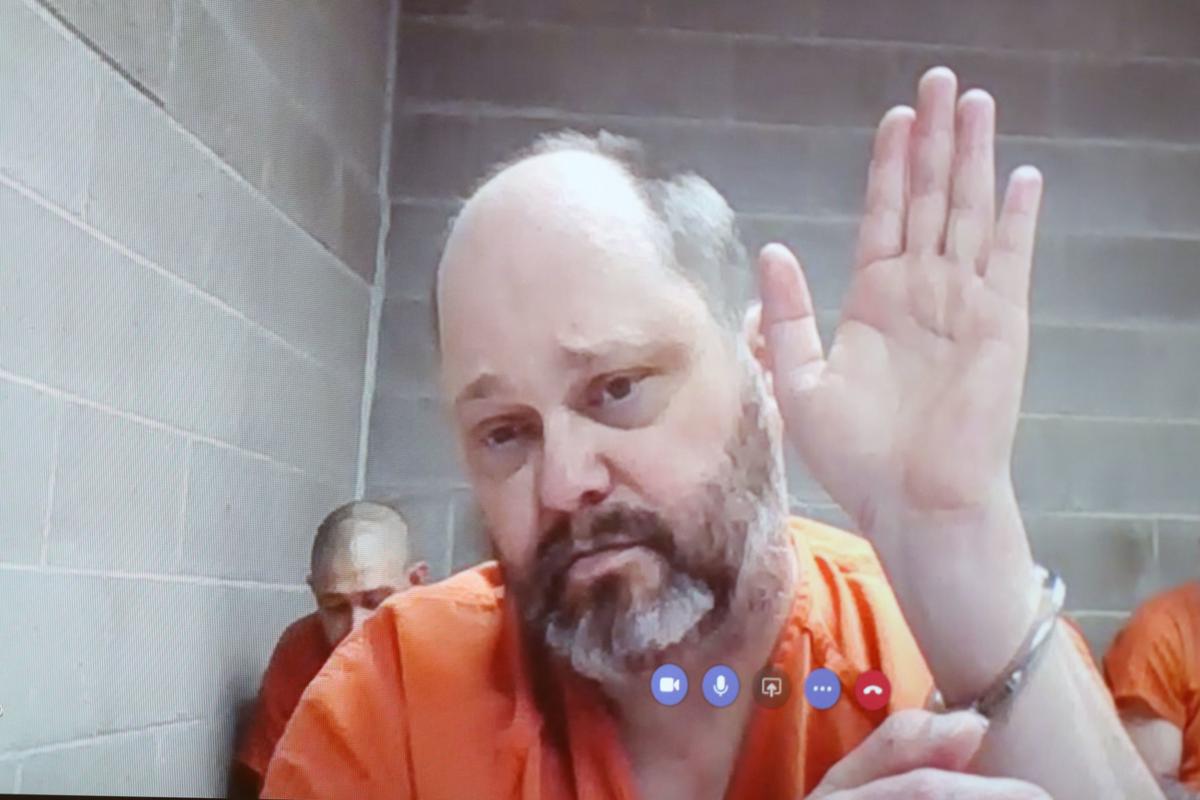 A Casper man pleaded not guilty on Thursday afternoon to a charge alleging he murdered his wife.
Edward E. Robertson, 49, entered the plea by video from a local jail to the single count of first-degree murder he faces in connection with the death of his wife: Dana Marie Robertson, 42, also of Casper.
Robertson faces a maximum sentence of life imprisonment; District Attorney Dan Itzen told the Star-Tribune by phone Thursday that he had decided not to seek the death penalty in the case.
During the brief afternoon arraignment, Robertson appeared before Judge Catherine Wilking from Natrona County Detention Center, where he has been incarcerated since his arrest following the shooting death of his wife.
Robertson — wearing an orange jail uniform and sitting in front of a white cinder-block wall — answered a series of procedural questions. After the judge read the charge he faces, Robertson spoke clearly to enter his plea.
Robertson left view of the camera after prosecution and defense attorneys declined to address any other issues in the case on Thursday. Wilking will set a separate hearing to schedule Robertson's trial date.
According to court documents filed in support of the single charge Robertson faces, police began investigating the case in mid-March, when he called 911 and said he had shot his wife. Officers arrived at about 11 p.m. on March 20 at the couple's Maple Street home. He walked out with his hands in the air and was handcuffed, according to the documents. Police inside found the body of Dana Robertson, who had been shot once and killed.
In a police interview the same night, Edward Robertson said that he had kicked his wife out of their home in early March because he thought she was cheating on him, the documents state. The couple reconciled, but on March 20 she asked him for a separation, according to his statements to a detective.
When she declined to come to bed with him the same night, he followed her into another room, according to his statement to a detective. The documents state that he told police that he shot her once in the head while she lay on the floor in a makeshift bed.
Robertson said he then tried to shoot himself, but the gun jammed, according to the documents. Instead he called 911.
In the same interview, Robertson's diabetic pump failed to keep his blood sugar elevated and he lost consciousness. The documents state he told a detective after regaining consciousness that the pump's failure was "somewhat" of an attempt at suicide.
After his reported confession, Robertson was booked into Natrona County Detention Center, where he has been held since in lieu of a half-million dollar bond. On March 31, Robertson contested in Natrona County Circuit Court the probable cause underlying the single charge. The judge overseeing his preliminary hearing ruled in favor of prosecutors and the same day ordered the case bound over to district court.
The death is the fifth since late fall that authorities have termed a domestic homicide. Including Robertson's, four cases are ongoing: Officers in November arrested two people on suspicion of involvement in the murder of a 54-year-old Casper woman. Then, in December, police arrested a local man and prosecutors charged him with manslaughter in the death of his wife. Earlier this year, sheriff's deputies accused a man of murder in the death of his girlfriend; he faces life in prison.
The fifth case was not prosecuted. In February, police found a married couple dead in their home. Detectives believe in that case a man shot and killed his wife before completing suicide.
When women are killed by men, more than a third of the time the killer is a romantic partner using a gun, according to the National Coalition Against Domestic Violence.
Sign up for our Crime & Courts newsletter
Get the latest in local public safety news with this weekly email.