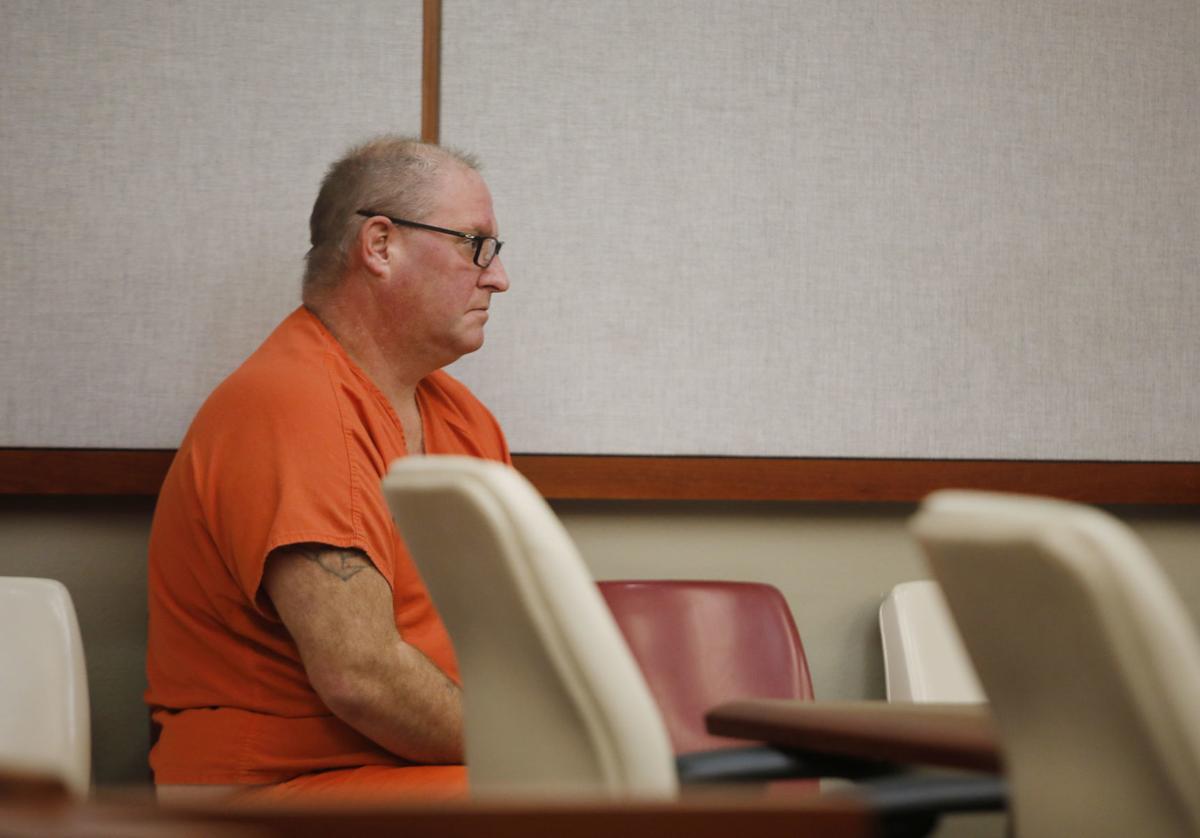 A local man pleaded not guilty Thursday morning to a single felony alleging he killed his wife in November by hitting her in the head inside their Paradise Valley home.
Rodney H. Smith, 51, faces life imprisonment in the case. Although prosecutors charged Smith with manslaughter, which is typically punished by 20 years imprisonment, they have also included a sentencing enhancement that alleges he is a habitual criminal.
That enhancement — which requires prosecutors to show Smith has been previously been convicted of three felonies — is undergirded by allegations of five prior convictions, including aggravated burglary, dealing in stolen property and forgery.
On Thursday morning, Smith appeared in Natrona County District Court wearing an orange jail uniform and chains indicating his incarceration in lieu of a $100,000 cash-only bond requirement. Standing next to his court-appointed attorney, Smith answered a series of procedural questions posed by Judge Catherine Wilking while five prosecutors — more than the assigned table could host — looked on.
After the judge read Smith's charge, he responded:
"Not guilty, your honor," he said, the choked words not traveling far from the lectern behind which he stood.
District Attorney Dan Itzen, who is prosecuting the case, asked Wilking to set a separate court hearing to schedule the trial and associated deadlines. Kurt Infanger, the court-appointed lawyer representing Smith, agreed with the prosecutor's proposal and asked Wilking to halve Smith's bail requirement and allow him to hire a bond agent.
Itzen opposed the request, citing the five prior convictions the judge already read. Wilking declined to modify the bond but did not detail her reasoning.
You have free articles remaining.
Smith then walked from the courtroom lectern to a bench where three other incarcerated people sat awaiting the judge. A sheriff's deputy waved him away and toward a hallway that took him to Natrona County Detention Center.
Police began investigating the case on Nov. 30 when officers found in Smith's house the body of his dead wife, Anne Mae, 42, according to court documents filed in the case.
Rodney Smith initially told police at the scene, according to the documents, that the couple had been drinking into the night. He went to bed, but at about 10 p.m., woke to find her drunk, the documents state. He said he carried her up to bed to let her sleep it off, according to the police.
It was only in the morning that he found her dead and called 911, Smith said.
When authorities performed an autopsy of Anne Smith, they discovered that she had bruising on her head and determined she died from a brain bleed, the documents state.
Police arrested Smith on an out-of-state warrant and, while he was being held in Natrona County Detention Center, he agreed to talk to detectives, according to the documents. He told detectives that when his wife tried to leave the home, he blocked her from doing so, the documents state.
Smith told police that his wife tried to attack him from behind and he hit her in the head, according to the documents. She fell and hit her head, he said. He said she might have mumbled something afterward, but otherwise stopped talking and moving.
He told detectives he realized she was dead in the morning, the documents state.
Police have alleged that even before the woman's death, Smith had a history of violence against her. The details of that history have not been fully explained, however, according to court documents filed in the case, Smith admitted to a detective that the relationship was historically violent. The details of that violence or the admission pertaining to it are not made clear by the documents. However, they do state that the detective drafting them found indications that Smith reported multiple times that her husband had hurt her. Whether those reports were ever prosecuted is not indicated.
The warrant on which Smith was initially arrested states that the Lyon County, Nevada, District Attorney charged Smith with a single felony accusing him of dissuading a person from reporting a crime. Paperwork supporting the warrant alleges that Smith instructed people in June on a highway to report that he did not hit another person. Whether he did indeed hit another person — or who that person was — is not directly alleged in the paperwork.