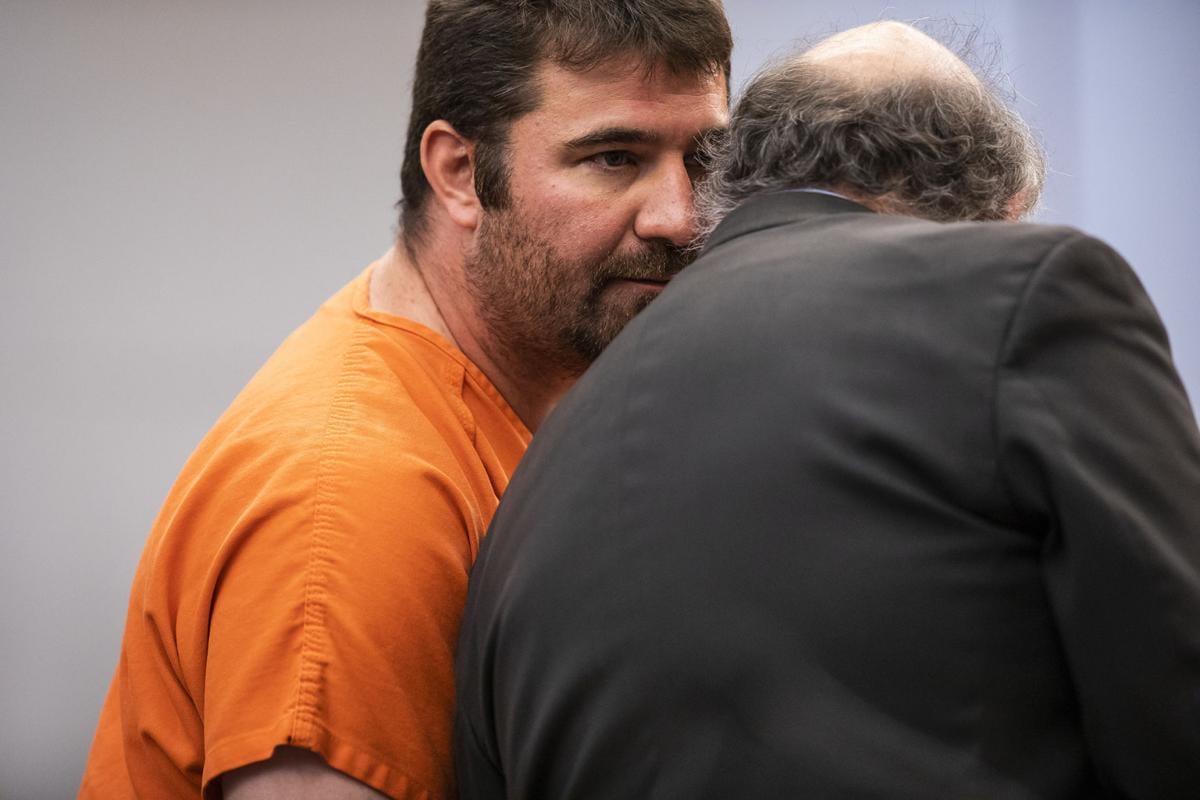 One woman said she felt like she was constantly drowning, afraid to walk in a parking garage or into an alley to take the trash out at work in case she ran into him. The other, reading from a folded piece of paper, said that even when she was at home, she would constantly check the windows and doors to make sure she was safe. When Samuel Barrett went to jail, they said, they could relax at least a little bit.
Two of Barrett's victims spoke ahead of his sentencing Monday in Natrona County District Court, testifying to how much fear and anxiety his sexual assaults had brought into their lives.
Later in the proceedings, Barrett spoke clearly into a microphone wrapped in a protective filter. He called the victims liars, accusing them of conspiring to share fabricated stories out of their own self-interest. He was then sentenced to up to 62 years in prison.
"I'll never be the person I was again," one of the victims told Judge Daniel Forgey. "He once told me he owned me. I'm not owned by him. Now, he's owned by the Department of Corrections."
In October, a jury found Barrett guilty of six counts of first-degree sexual assault, two counts of sexual exploitation of children and one count of blackmail — all felonies.
Barrett will first serve 10 to 12 years for sexual exploitation of children, then up to 50 years in concurrent sentences for sexual assault and blackmail charges.
Both victims who appeared Monday asked the court to impose a long prison sentence in the interest of keeping the community safe. The Star-Tribune does not name sexual assault victims.
Several of Barrett's family members also appeared in district court to testify to his character, citing his ability as a father and active role in community groups and youth sports (prior to becoming a convicted sex offender in 2009).
The assaults and blackmail took place between 2012 and 2019. Police learned of the case in April 2019, when one of the victims reported she had been forced to perform oral sex on Barrett while he held her at gunpoint in his apartment as her child was in a car outside. The victim told police Barrett had warned her not to report the incident, threatening her by telling her he had recorded the encounter and knew where she lived.
Prior to his conviction in October, the court dismissed seven additional charges of second-degree sexual assault in the case.
Three victims are included in the case, one of whom had been previously assaulted by Barrett as a minor. The other two testified to two instances of assault each. Barrett told the judge Monday that it was implausible for a victim of assault to return for a second assault, intending to suggest the encounters had been consensual.
Barrett's father testified Monday that his son suffered from a sex addiction, one that the defense said required him to form longer-term relationships with his victims for his gratification. Defense attorney Rob Oldham said he was not sure if Wyoming correctional facilities provided treatment for that kind of addiction, but that Barrett could benefit from it if available.
According to prosecutors, several of the assaults were captured on video. Multiple victims said they had been forced to say they had consented to having sex with Barrett on camera. Barrett's defense said Monday that he had begun recording the assaults to "prove that the sex was consensual."
An affidavit in the case states he also threatened two women at gunpoint in separate instances to coerce them into performing oral sex on him.
In multiple instances, victims told investigators that Barrett made them shower or took a shower with them after the assaults, erasing any evidence that could be detected by a sexual assault forensic exam (SAFE).
Another woman told investigators Barrett tried to make her perform oral sex on a child on camera, holding her at gunpoint. According to the victim, he recorded a video of her licking the child's stomach and used it as blackmail to coerce her into performing further sex acts with him over an eight-month period. Barrett claimed in court Monday that she had performed a sex act on the child of her own will.
"What won't he do?" prosecutor Kevin Taheri said in court Monday. "If somebody would do that, where will he stop? He's a sexual predator and a serial rapist. In order to protect the community from Samuel Barrett, he has to be incarcerated for decades."