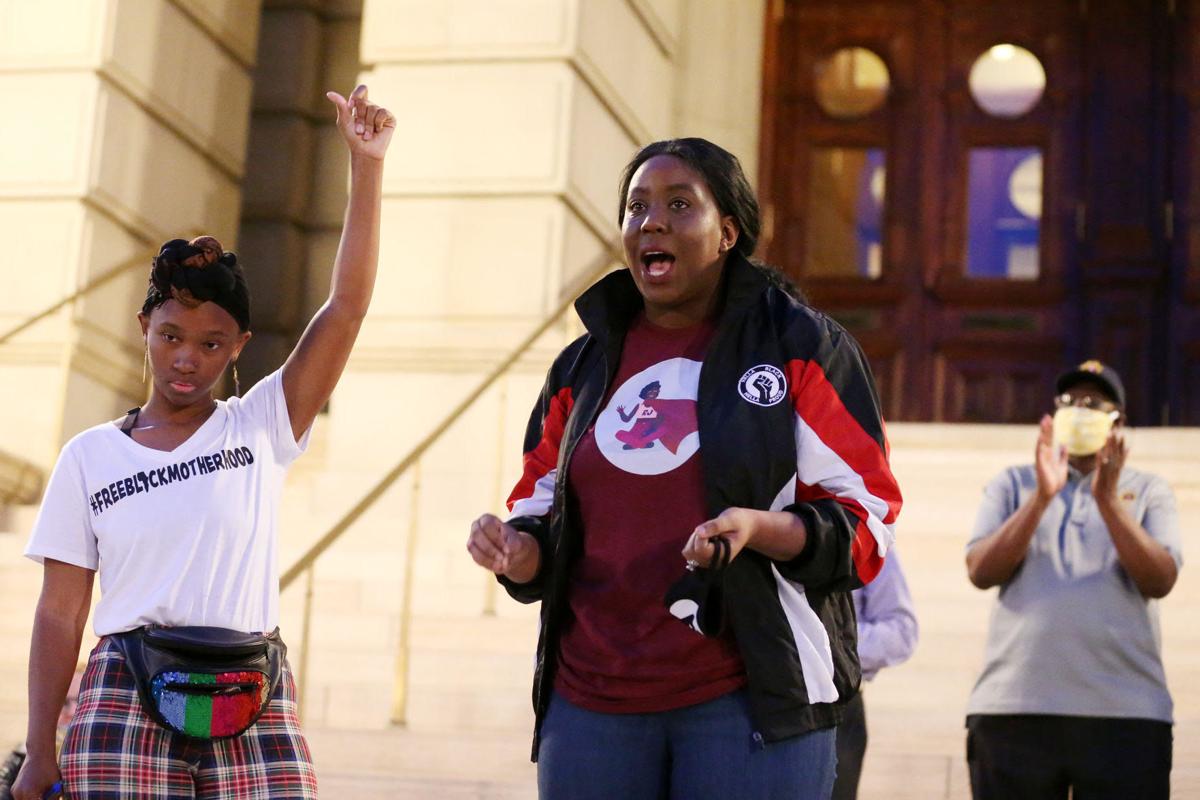 Casper police have encouraged downtown businesses to temporarily close for a protest anticipated to begin at noon Wednesday in response to the police killing of a black man in Minneapolis.
In the Monday announcement, the Casper Police Department also asked people not connected with the protest — which comes amid nationwide protests over George Floyd's death — to avoid the downtown area on Wednesday afternoon. The agency in issuing its statement said that it is "aware of the potential for these gatherings to turn violent" but otherwise did not specify what led the agency to make its request.
A pair of fliers circulated on social media Sunday and Monday advertising alternatively a "First Amendment walk" and a protest of the killing of George Floyd "and other fallen people of color." The fliers do not identify their creators but both include reference to Black Lives Matter, an activist movement that stemmed from police killings of black men last decade. The First Amendment promises to protect individuals' rights that include freedom of speech, freedom of assembly and the freedom to air grievances against government.
The video of Floyd's death shows a white Minneapolis police officer, Derek Chauvin, pushing his knee against the handcuffed Floyd's neck for more than eight minutes, during which Floyd cries out repeatedly that he cannot breathe. At least three other police officers can be seen participating in Floyd's detention. Video from the scene shows bystanders gathering, shouting for Chauvin to get off of Floyd.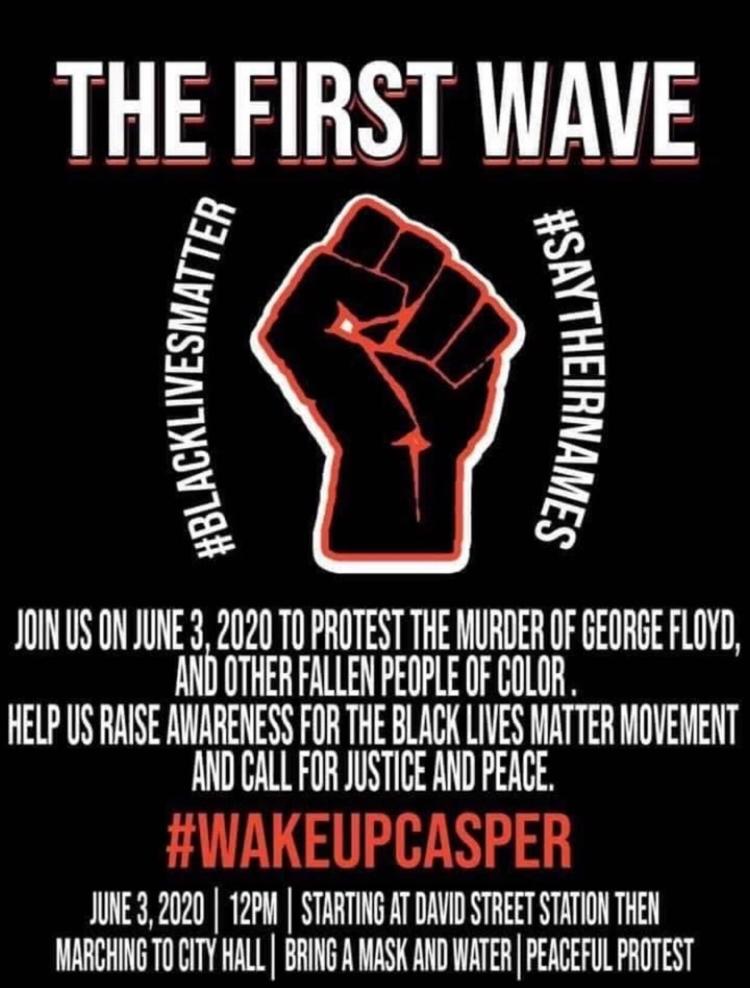 On May 26, the agency fired the four officers involved.
Chauvin, according to national news outlets, had previously received 18 formal complaints. The Minneapolis Police Department issued discipline twice.
On Friday, local prosecutors announced they had arrested and charged Chauvin. He faces a single count each of third-degree murder and second-degree manslaughter.
The slow official response to Floyd's death prompted extensive protesting in Minneapolis that soon led to looting and property destruction, including the razing of a police precinct building. Similar protests have spread throughout the country and many cities have seen widespread destruction of buildings.
Footage circulated widely from the protests shows police sometimes indiscriminately attacking protesters. In New York City, a police officer drove an SUV directly into a mass of people. In Salt Lake City, a police officer threw an elderly man to the ground in an apparently unprovoked attack. In Denver, officers fired pepper balls and tear gas into crowds.
An autopsy commissioned by Floyd's family found that he died of asphyxiation due to neck and back compression, according to The Associated Press. Government authorities have said that Floyd did not die from asphyxiation or strangulation but have not provided a definitive cause of death.
***
In its announcement the Casper Police Department reiterated language from a statement released earlier Monday condemning Floyd's death. In it, Casper Police Chief Keith McPheeters said he was "disgusted" with the killing.
The city's top police officer made the comment in a 2 1/2-page statement branded as an "open letter," in which he wrote that last week he reviewed and discussed Floyd's death with the agency.
McPheeters said he reviewed video of the killing and "together we are having important conversations regarding race and our role as police officers to help — not hinder — the progress that needs to be made in our country."
His letter does not address the protesting, looting, property destruction or any videotaped police brutality beyond Chauvin's actions. Instead, the chief references only Minneapolis police actions and their connection with Floyd's death. McPheeters, though, wrote that anger at police in Minneapolis is justified.
"We are angry too," McPheeters' letter begins. "George Floyd did not deserve to die. We have all seen the horrific video footage of George Floyd's tragic death. We've seen it and we are appalled. We are disgusted that someone trusted to protect and serve others as a police officer would so callously treat another human in this way."
McPheeters goes on to distinguish his agency from the Minneapolis police. He writes that Floyd's death is not representative of the Casper Police Department and that it conflicts with the agency's values.
"That is not who we are — we are Casper," the letter says. "As citizens of Casper, you may be looking at your police department and wondering if a situation like what happened in Minneapolis could ever happen here ... We never want this to happen in our community and we are dedicated beyond measure to ensuring that it doesn't."
In the letter the chief said his department is using this moment as a chance to review its own practices. The chief wrote that his agency "thoroughly" reviews and investigates all uses of force and complaints filed with the department.
"When we see something wrong, we act and we are accountable — even if we are the ones at fault," McPheeters said.
***
The department's statement about the Wednesday protest says that police would not "tolerate violence."
"We are aware that future gatherings of individuals wishing to express their justified frustration in response to what happened in Minneapolis are being planned for our community," it reads. "We support the rights of the public to safely and peacefully communicate their outrage as a response to this incident."
Peaceful protests have been held in Cheyenne and Jackson.
"As a law enforcement community, we welcome the opportunity to support citizens' rights to gather and peacefully protest," the Casper police announcement read. "However, we are also aware of the potential for these gatherings to turn violent. We encourage those who are not participating in the gathering to please avoid the downtown area during the afternoon hours. Out of an abundance of caution, we also encourage downtown businesses to consider temporarily closing and take precautions to secure their businesses.
"We believe in the people of Casper to peacefully and lawfully gather to express their opinions. We are proud to support those wishing to speak out against the heartbreaking death of George Floyd. We will not; however, tolerate violence and destruction to our community in any situation."
A separate protest is also anticipated for Friday. Keisha Simmons posted a video on social media Monday saying that the Pikes Peak Southern Christian Leadership Conference had planned a "peaceful vigil" for Friday at 6 p.m. In her video post Simmons asked for signs to display positive messages. She said that law enforcement had initiated contact with the civil rights organization before her announcement.
Simmons did not respond to a series of requests for comment for this story.
Sign up for our Crime & Courts newsletter
Get the latest in local public safety news with this weekly email.