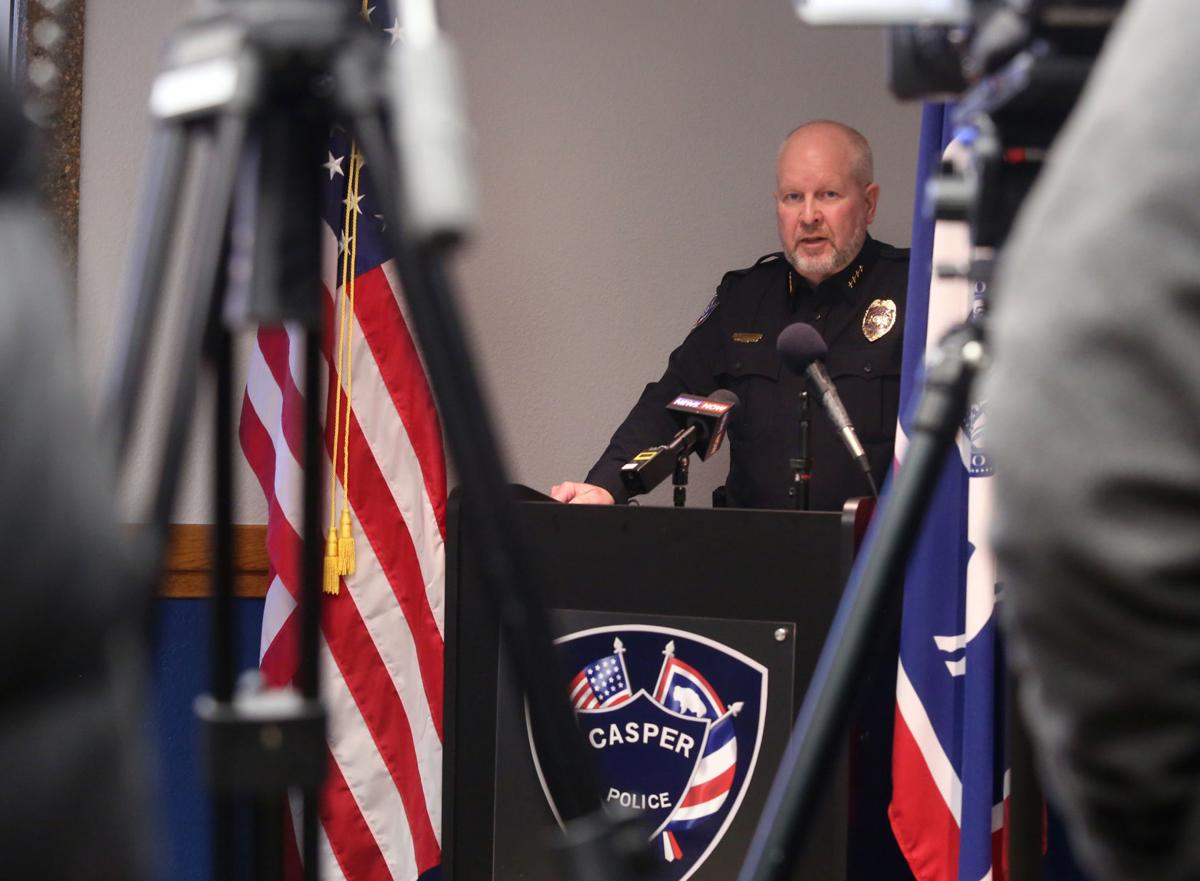 Casper police are investigating the deaths of two adults whose bodies were found Saturday as a potential murder-suicide, officials said at a news conference Tuesday afternoon.
Deidra Rowe, 33, and Darren Rowe, 35, were found dead Saturday, the police department said. Police Chief Keith McPheeters said he could not identify the suspected murderer because the investigation is ongoing.
Neither Rowe had a history of violence, spokeswoman Rebekah Ladd said at the news conference. Ladd previously said the incident was isolated and presented no threat to the public.
Deidra Rowe was a municipal court supervisor for the city of Casper.
"With respect to that," City Manager Carter Napier said, "we as an organization certainly are struggling with this loss and with respect to the type of tragedy this type of incident represents."
Casper municipal court cases have been postponed for the week. The court's offices will remain open, Napier said, but all cases have been rescheduled for sometime after this week.
The Casper Police Department announced Sunday it was investigating a "domestic homicide" after two adults, one man and one female, were found dead Saturday on the 1600 block of East 27th Street.
Police began investigating the case at 6:33 p.m. Saturday, Ladd said Tuesday. A friend of Deidra Rowe's contacted the police department after Diedra did not respond to multiple calls and text messages, Ladd said. Officers who were dispatched then to East 27th Street for a welfare check found two people dead in the master bedroom, Ladd said.
The Rowes' identities have been confirmed by Natrona County Coroner Jim Whipps, who told the Star-Tribune on Monday that he did not know the manner or the cause of death for either of the Rowes.
McPheeters echoed this, saying because of the ongoing investigation, he could not release information about the manner of death for either Rowe. 
According to a news release from the coroner, next of kin have been notified of their deaths.
You have free articles remaining.
City officials encouraged community members to speak up about potential cases of domestic violence.
"We do have resources," Napier said. "We do have help available. We do have ways to minimize this as much as possible."
McPheeters discussed both the prevalence of domestic violence and the prevalence of suicide across Wyoming and urged those who are struggling with either to seek help. Indeed, when asked what the police department is doing to address domestic violence on a grander scale, McPheeters said officers have undergone intensive training to investigate and respond to domestic violence situations. 
"However, we can't do it alone," he said, urging the community to act, either through promoting community resources or by helping loved ones who may be in an unsafe situation. 
McPheeters said the investigation is incomplete, which limited the department's ability to provide further details. He said there was no timeline for when the investigation would be completed.
"The reality is, it's going to be a long investigation," he said. 
While both Napier and McPheeters touched on the prevalence of domestic violence during the press conference, with Napier calling the crime "a scourge," intervening in situations of intimate partner abuse can be complicated. Jen Dyer, executive director of the Self Help Center, which provides resources to those experiencing domestic violence, said the issue is still stigmatized and that can make it difficult to speak about openly. 
"There are a lot of reasons people decide to stay in those relationships," like fear of retaliation for leaving, love for the abuser despite the violence, children or financial instability, she said. 
On average, someone in an abusive relationship will return to that relationship seven times before leaving for good, Dyer said. That can create a complicated situation. The Self Help Center works with victims in these situations to help with everything from completing victim compensation paperwork to finding housing assistance to helping with protection orders. 
But once a person is in that relationship, it can be hard to break the cycle.
Dyer said the best thing that can be done to prevent domestic violence is education on things such as what a healthy relationship looks like and what consensual touching means. Because violence is often cyclical and generational, Dyer said, breaking those cycles requires education. It also requires talking about it. 
"People don't really talk about it or know what to do until it happens to them personally," she said, adding that the resources available to those experiencing domestic violence must be shared more vocally.
Star-Tribune staff writer Shane Sanderson contributed to this report.
Follow local government reporter Morgan Hughes on Twitter @morganhwrites
Sign up for our Crime & Courts newsletter
Get the latest in local public safety news with this weekly email.