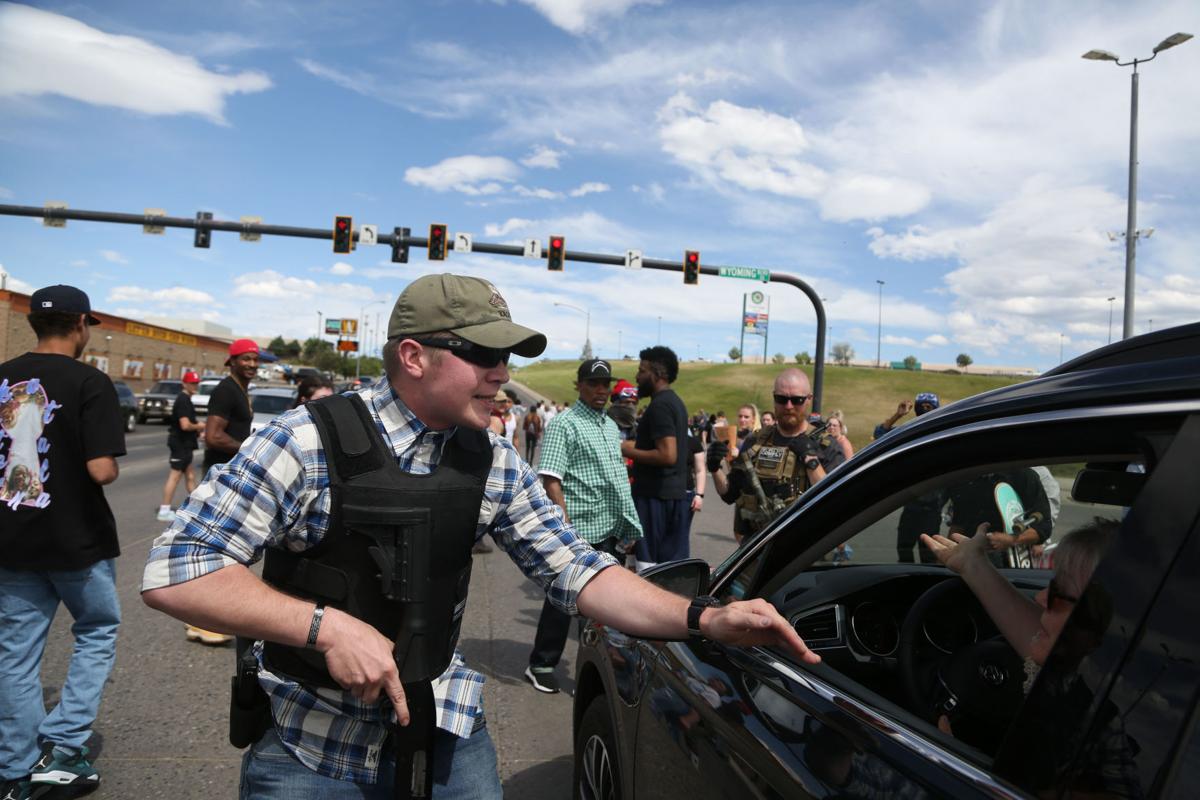 Protesters who marched along Second Street from downtown Casper to the east side Walmart returned to the intersection of East Second Street and Wyoming Boulevard, where some briefly knelt and lied down.
At least 10 Casper Police Department cars then arrived to move the protest out of the intersection, saying that the marchers were illegally assembling.
The march, which appeared to form in impromptu fashion after a much larger protest at noon, continued for close to three hours. Casper Youth for Change, the group that organized the first protest, said it was not affiliated with the march across town.
The protests come in response to the police killing of George Floyd, a black man who died in Minneapolis after an officer knelt on his neck for more than 8 minutes.
As the march continued west down Second Street, a woman was injured near Wyoming Medical Center when a truck appeared to lose control and drove into Conwell Park.
An eye witness, who did not want to provide his name, said that a green truck carrying protesters clipped a police car, jumped a median and drove up into the park. It is not clear whether the woman fell out of the truck, which had been carrying protesters in its bed, or a different car. A number of cars had been slowly driving along with the protest.
A large number of officers, including around 10 in riot gear, and medical attendants immediately responded to the scene. Police began asking that the protesters move to the sidewalk.
Casper Police Chief Keith McPheeters said that he expected his officers to remain tolerant when the march arrives back downtown, as long as things remain under control.
The police in riot gear kept a distance from protesters before dispersing.
The protest of a few dozen split off from an earlier protest march of around 300 in downtown Casper.
The vast majority of the protesters' interactions had been peaceful, with some verbal disagreements between marchers and onlookers. However, not long before the woman was injured, a small scuffle broke out that involved a punch being thrown. It was not clear who punched whom, but police quickly arrived and broke up the situation.
The first significant confrontation seen by Star-Tribune reporters on the scene occurred as the march passed the east side Albertsons. Protesters blocked off a red pickup truck that was aggressively trailing the protest and the two sides appeared to exchange words. A few white men with AR-15s, some in tactical vests, stepped in between the protesters and the truck. They did not appear to be police officers. Other protesters were trying to calm the situation.
A reporter overheard a man yell from a truck, "They can't beat guns. They can't even afford guns."
Within a few minutes, the tensions seemed to dissipate. The truck rolled away, turning into the Albertsons parking lot. One man with a long gun asked a protester if he was OK, and people passed around water near the grocery store.
The Casper protest is part of nationwide outrage at Floyd's killing. As police have geared up elsewhere, protests have turned violent, with civilians looting businesses and officers videotaped beating demonstrators and shooting them with rubber bullets. As the protests have continued in cities across America, the Minneapolis agency fired Chauvin and three other police officers involved. Chauvin has been charged with two felonies, including second-degree murder. Authorities on Wednesday said they planned to file charges against the three other officers who were present at the time of Floyd's death.
The slow official response prompted extensive protesting in Minneapolis that soon led to looting and property destruction, including the razing of a police precinct building.