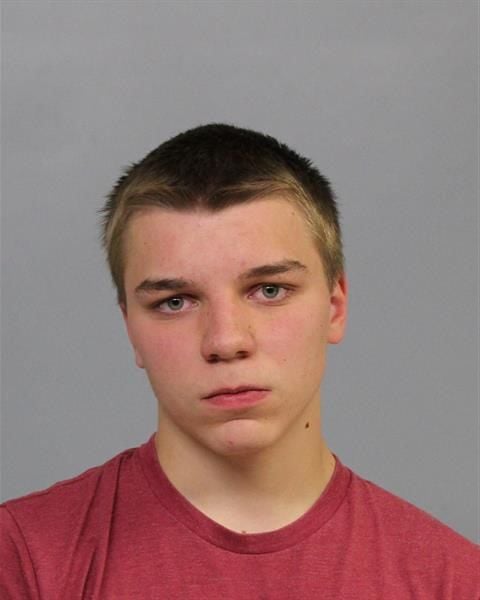 A Casper high schooler admitted Thursday to shooting another teenager at a house party last year.
Connor Goodman, 18, made the admission in Natrona County District Court as part of a guilty plea to a single count of aggravated assault. In exchange for Goodman's plea, prosecutors agreed to dismiss a second assault charge and to cap their argument at sentencing to seven years in prison.
Goodman's lawyer will be able to request whatever punishment he thinks appropriate at the sentencing hearing later this year.
Judge Catherine Wilking called Goodman's case at just after 9 a.m. Thursday, and he joined Kurt Infanger, his court-appointed lawyer, at a lectern in the courtroom's center. Before an audience numbering a bit more than a dozen, Goodman told the judge he had been playing with a gun at a party, when he recklessly shot a boy — who was 16 or 17 at the time, according to court documents — in the torso.
The other teen, Goodman told the judge, has undergone multiple surgeries to repair injuries caused by the shooting.
Under questioning by the judge, Goodman said that other partygoers had asked him to put the gun away before the shooting. He said he had drank the majority of a case of beer before shooting the boy.
After Wilking accepted Goodman's guilty plea, District Attorney Dan Itzen stood and told the judge he wanted to caution Goodman. The prosecutor said that Goodman had text messaged witnesses to the shooting, calling them snitches. Goodman, Itzen said, had since the shooting been present at multiple house parties when police arrived — an apparent violation of his bail.
The prosecutor said that if Goodman "continues down this path," he will ask the judge to institute a provision of the plea deal that would allow Itzen at sentencing to ask for the 10-year maximum prison term, rather than the seven-year limit the deal calls for.
After Infanger assured the judge that he had already advised Goodman of the risk, the judge ended the hearing and Goodman left free on bond.
The case dates to September, when police arrested Goodman on suspicion of aggravated assault, alleging he shot and injured a boy at a weekend party.
In court paperwork filed shortly following the shooting, police said the boy had been shot in the torso and flown to a Colorado hospital for medical treatment.
When police arrived at the party, at a house in the 3500 block of Big Horn Street, a witness told investigators that Goodman had been drunkenly waving a semi-automatic pistol, according to the documents.
Another witness said he had asked Goodman to put the gun away, which the 18-year-old did, according to the paperwork.
In an interview with police, Goodman said a girl asked to see his gun, and when he withdrew it from his waistband, it went off accidentally, the paperwork states he told police. Other witnesses said, however, that nobody had asked to see Goodman's gun and instead had told him to put it away.
When police searched Goodman's home, they found a semiautomatic 9 mm pistol matching partygoers' description.
Sign up for our Crime & Courts newsletter
Get the latest in local public safety news with this weekly email.