Casper police officer Jacob Carlson stepped to a microphone on the stage at David Street Station and looked out over a crowd of roughly 1,000 people.
He introduced himself, then paused, apparently overcome with emotion.
Then the community that had supported the officer since he was gravely wounded in a May 6 gunfight began to cheer.
"We love you, Jake!" came one voice, then another.
Carlson then spoke, thanking his family, law enforcement and the Casper community. It was his first public comments since he suffered life-threatening injuries after being shot at least four times in May.
"From the bottom of my heart," Carlson said to close his brief statement. "Thank you."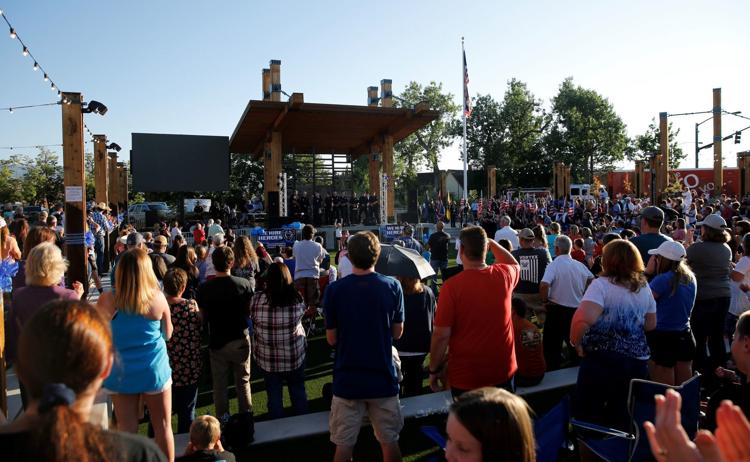 Carlson's remarks came during a Monday night event that honored him and officer Randi Garrett, who shot and killed Carlson's attacker during the gunfight. Both police officers remain on administrative leave.
On Monday, Chief Keith McPheeters awarded the two officers with medals of valor, the police department's highest honor. Carlson also received a Purple Heart.
Before awarding and introducing the two officers, the chief told the crowd that Carlson's survival was miraculous. He said Carlson had risen to fire his gun, and as a spent round was ejected from the weapon's chamber, a bullet fired by David P. Wolosin hit the gun's ejection port and disabled the weapon.
Carlson's police work saved his own life, the chief said.
McPheeters also credited first responders, assisting agencies, Wyoming Medical Center staff and Garrett with contributing to Carlson's unlikely survival. While awarding Garrett her medal, he said she had risen from a crouching postion of cover behind a car, located the 38-year-old Wolosin, fired the fatal shot and returned to cover within 1.09 seconds.
"What I just described is physically impossible," McPheeters said.
The two officers left the stage to a standing ovation from a crowd that spent much of the evening on its feet. A brief video played on a screen next to the stage, in which Casperites thanked the officers and their department.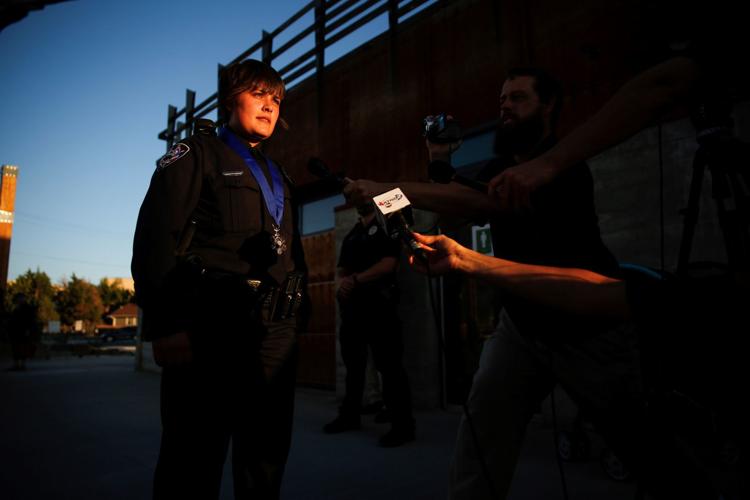 Afterward, Garrett, a lifelong Casper resident and Kelly Walsh High School graduate, said she was not surprised by the community support.
"I'm very blessed to live in this community," she said. "We all stand together."
When asked about the community support, Carlson said he was emotionally moved.
"It's overwhelming," he said. "I couldn't be more grateful."
The shootout began May 6 after officers responded to a vacant lot in east Casper because a child was driving a car, investigators said. David P. Wolosin, 38, was in the passenger's seat when officers arrived.
Video footage shows the two officers talking to Wolosin. When Carlson steps toward Wolosin and attempts to grab him, the man draws a gun and fires as he moves back. Carlson appears to return fire as he falls to the ground. Wolosin falls down and Carlson crawls behind the car.
Children can be seen moving inside the vehicle while the officers crouch behind the wheels. At some points, Garrett can be seen reaching toward the passenger side window of the sedan. The two officers take turns standing to fire over the hood and trunk of the car, and then tuck behind the wheels of the vehicle for cover.
The Division of Criminal Investigation examination of the shootout, which spanned more than a month and a half, took longer than expected because Carlson's extensive injuries made conducting an interview difficult, a DCI representative said earlier this summer.
In a letter to the DCI investigator who worked the case, District Attorney Michael Blonigen stated he was not able to determine a "concrete motive" for Wolosin's actions. The prosecutor wrote that the two officers actions' were justified.
"Officers Carlson and Garrett reacted in a commendable and appropriate way to protect themselves from a deadly and unprovoked assault upon them," Blonigen wrote.
During the shootout, Garrett fired a single bullet, which struck Wolosin in the chest and killed him, according to Blonigen.