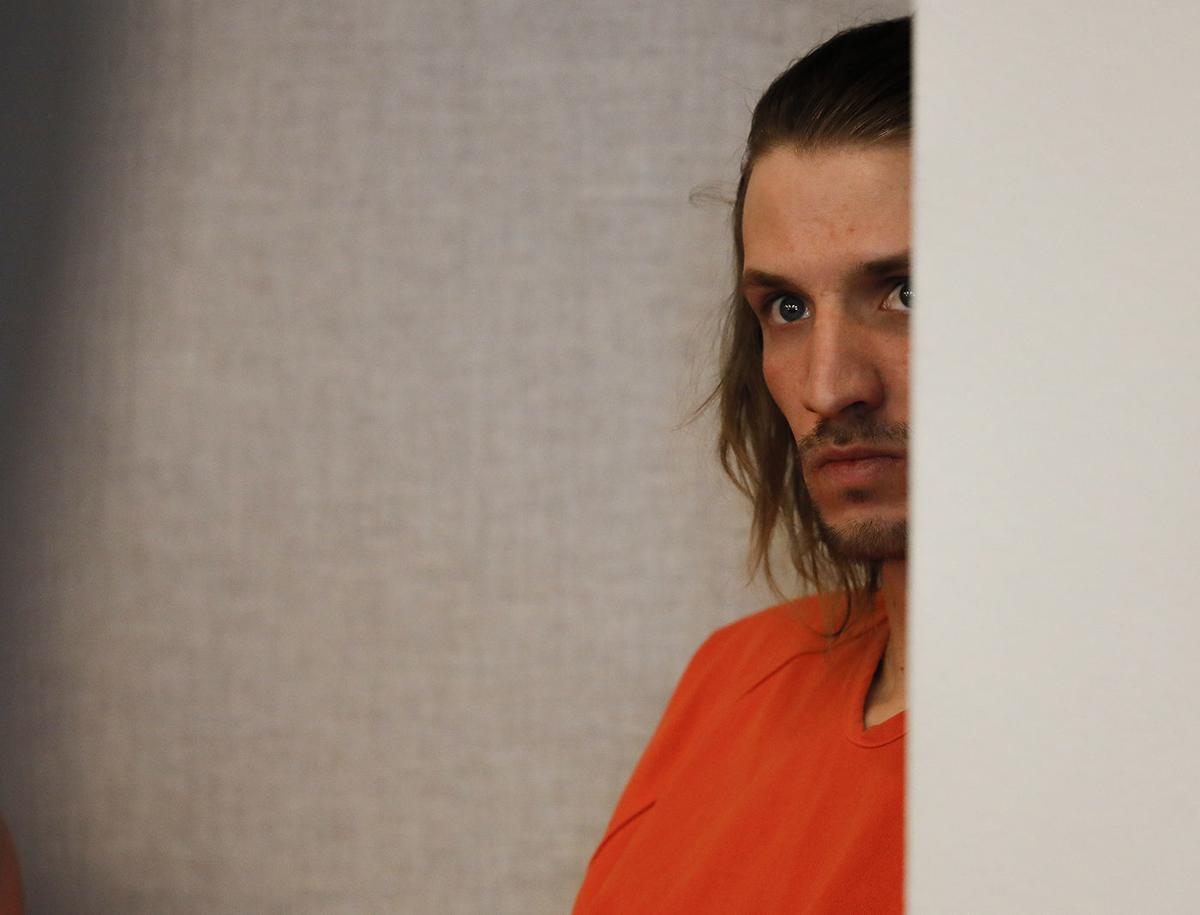 A 28-year-old Casper man on trial for murder thought he was acting at the direction of a demon when he shot and killed his mother in her home, the man's court-appointed lawyer said Monday.
The man, Andrew Steplock, 28, faces four felonies in connection to the shooting death of his mother, Deborah, early on Feb. 26 at her central Casper home. Although Steplock's lawyer does not dispute the shooting, he said during the trial's opening statements that the defense team would argue his client is not culpable for his actions. Steplock has pleaded not guilty and not guilty by reason of mental illness to all four counts.
A state hospital doctor evaluated Steplock earlier this year and, although he had asked the court to allow him to seek his own evaluation, he did not enter the name of any expert witness with that ability. The doctor found he had a mood disorder but not psychosis, said attorney Joe Hampton, who represents Steplock along with lawyer Joe Cole.
Although the doctor's diagnosis — which Hampton disputed during the same statement — apparently does not fit with Steplock's defense theory, he will likely not call an expert to provide a second opinion.
Judge Daniel Forgey earlier the same day cited state law and court rules in determining that Steplock would not be allowed to call his own witness to speak to his mental health.
During a statement just preceding Hampton's, District Attorney Dan Itzen only momentarily addressed Steplock's mental health. The prosecutor said before a courtroom audience of approximately two dozen that Steplock only made the statement implicating his mental health months after his arrest. Itzen said that Steplock referenced a video game in making the statement and insinuated it had been made for a dearth of legal options following a complete confession to police supported by DNA and a shell casing placing Steplock and his gun at the crime.
"Given that level of evidence ladies and gentlemen," Itzen said to jurors, "That would have to be the defense."
The trial, which is scheduled to run through the end of the week, began shortly after 9 a.m. Monday when Forgey called a conference on an issue he did not describe, turning on a noise machine to shield lawyers' conversation near the judge's bench. After the conclusion of about 15 minutes of hushed consultation, potential jurors entered the courtroom.
Over the course of the next three hours, lawyers winnowed the field of 62. The judge exempted five people from the field for knowledge of and connections to the case. He struck another couple of handfuls of potential jurors before lawyers exercised their discretionary strikes and a jury was seated just after 12:30 p.m.
The jury now consists of 14 people: five women and nine men. Two of those people are alternates and will only be called to participate in deliberations if another juror is excused.
Lawyers discuss witnesses
After Forgey excused jurors for the lunch hour, he returned to the outstanding witness issue. Assistant District Attorney Kevin Taheri renewed an objection — apparently made during the earlier bench conference — to a defense witness.
Taheri, who is prosecuting the case along with District Attorney Dan Itzen, did not name the witness, but said she was expected to talk about Steplock's responsibility for his alleged crimes on the basis of mental illness. He asked Forgey to disallow the witness on the basis of state law that circumscribes such testimony to people specifically ordered by the court to make such evaluations.
The prosecutor also asked Forgey to disallow the witness' testimony for other procedural reasons. Taheri said the late notice of the woman's expected testimony did not meet the court's timeline requirements.
Public Defender Joe Cole then asked Forgey to allow the witness — whom he refer to only as "Ms. Miller" — to testify in general terms about mental illness. He said the defense team did not perceive the need for the witness until late last week and provided notice to the state as soon as possible.
A list filed by Steplock's court-appointed lawyers on Thursdays included four witnesses:' two of the defendants' immediate relatives, a Casper police detective and the Wyoming State Hospital doctor who conducted the initial court-ordered evaluation.
Forgey ruled in favor of prosecutors, stating that the defense's evaluation of the state doctor's report could have been done well in advance of trial. He said allowing testimony as described by the defense lawyers would violate state law regarding such evaluations as well as court rules requiring advance notice of witnesses who will testify.
After a lunch recess, Forgey provided initial and standard jury instructions before attorneys made their statements to jurors.
A break-in and shooting
You have free articles remaining.
Itzen first ran through the prosecution's case. Deborah Steplock, 58, and her husband, a local doctor, were planning on Feb. 25 of this year to leave for vacation the next day. Their son, Andrew, Itzen said came to the couple's central Casper home unannounced that same morning. He asked his mother for money, she asked him to do yard work and he didn't complete it. She did not give him the money.
When Andrew Steplock went upstairs to take a shower, his mother took a house key off his key ring and replaced it with a similar looking key that did not match the house's locks.
Deborah Steplock was in a living room when her son returned shortly after midnight, Itzen told jurors. Itzen said that in a 90-minute video recorded statement to detectives, Andrew Steplock said he went to the house to steal from his parents in order to start a life for himself. However, Itzen said, Steplock's key didn't work when he tried opening doors to the house. So he broke out a window in the frame of a back door, reaching inside to open the lock. Then, Itzen recounted, he encountered his mother in the living room looking at her smart phone.
She looked up and asked her son what he was doing in the house.
He shot and killed her, Itzen said.
Steplock looked in the next room for his father — whom, he told police, he would have also shot — before fleeing the state. When police caught up with Steplock outside of a Colorado gas station, the prosecutor said he admitted to the crime and said he had fled in order to live on the street in Denver.
Police found a 40-caliber Smith and Wesson inside Steplock's Toyota SUV and a matching shell casing in the house, Itzen said. They found the non-functional key and the cell phone police had used to track Steplock to Colorado.
Mental condition debated
It was this summer, when Steplock spoke to a doctor evaluating him for trial, that — at the end of an hours-long interview — Steplock said God's blood army had ordered him to kill his mother. Steplock, Itzen insinuated, had picked up the term from a video game.
The prosecutor went on to say that Steplock turned to the story because of the overwhelming evidence against him.
"Ladies and gentlemen, this was a home invasion," Itzen said. "When caught, he gets rid of the witness. And he runs."
When Hampton the defense attorney spoke, he began by largely conceding Itzen's factual statements.
"Much of what Mr. Itzen said today is true," Hampton said. "Mr. Steplock did shoot his mother in the head."
The defense attorney, however, went on to say that the defense team disagrees with the state hospital's diagnosis. The doctor who conducted the evaluation, Hampton said, disregarded Steplock's statements about psychosis because she did not believe him.
Hampton went on to describe Steplock in early 2018 praying to a demon. About a week prior before the shooting, Steplock began believing demons were visiting him. On the night before the shooting, Hampton said, Steplock drove through Casper with his dog, Puff. He thought a demon named "Medusa" was in the car with them. The demon told Steplock to kill his mother, so he did it, Hampton said.
"Mr. Steplock is not a normal individual by anyone's assessment," Hampton said. "He is a cold, cold person as a result of a mental deficiency."
Hampton said the state hospital's report relayed only a portion of Steplock's statements to the doctors and inappropriately failed to diagnose him as psychotic.
After a break, Steplock's sister testified that she had been on the phone Feb. 25 with her mother, Deborah Steplock, while Andrew Steplock was at the house showering. The sister, Rebecca Johnson, said she overheard an argument about money between her mother and brother. After Andrew Steplock left the house, the mother said she was glad to have taken the key off her son's key ring.
"She felt good about what she did," Johnson said.
Johnson told Cole on cross-examination that she and her brother grew apart shortly after high school. She said Steplock became distant from the rest of the family at about the same time.
After she completed her testimony, Police Officer Keri Patrick testified. She told jurors that when she arrived at the scene of the shooting, she thought Deborah Steplock did not have a pulse. However, the mortally injured woman's husband, a doctor, said it could be found on the femoral artery. While another cop began clearing the house, Patrick performed CPR on the wounded woman.
Steplock remained in custody on Monday evening. The trial is set to resume at 9:30 a.m., when Patrick will return to the stand to answer more questions from Itzen.