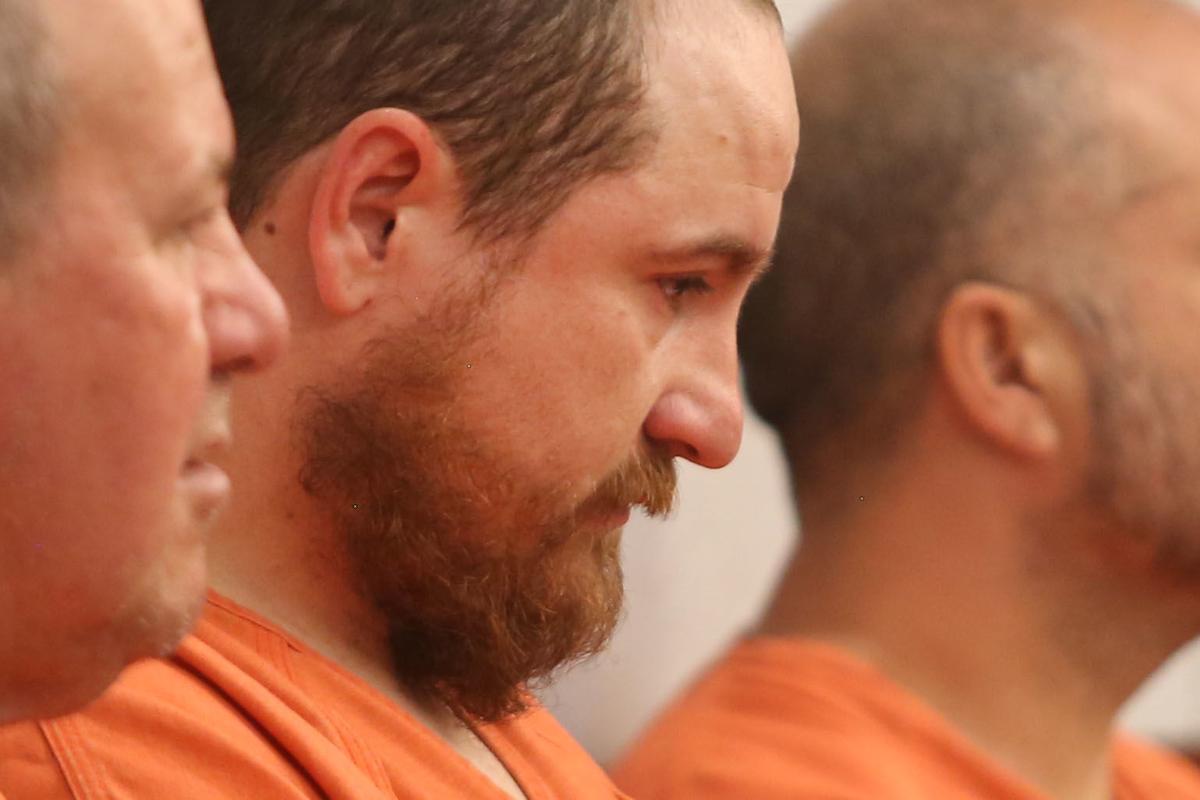 A judge on Thursday afternoon ordered a Casper man to serve 55 years in prison for the abduction and molestation of a 4-year-old girl approximately a year ago.
The prison sentence is on the highest end of the terms allowed under a plea deal that Joshua T. Hicks, 33, struck with prosecutors. And, although he will be eligible for parole after the 55 years have been satisfied, Hicks will be under supervision for 85 years.
The order handed down by Judge Catherine Wilking also directs Hicks to participate in all sex offender treatment made available to him in prison.
When Hicks on July 3 of last year took a child from where she played outside a south Casper home, it sparked a law enforcement manhunt that lasted for about 18 hours. Police caught up with him when they spotted his truck roll through a stop sign. He soon admitted to kidnapping the girl and exposing himself to her.
Hicks has abused children before. Hicks, according to court documents filed by prosecutors, told the detective in the post-arrest interview he previously masturbated in front of young children. His record also indicates he had previously been suspected of a sexual crime, which was charged as a misdemeanor and later dismissed.
In December, Hicks pleaded guilty to a single count of aggravated kidnapping and admitted that he attempted to molest the child. His plea, which came as part of a deal with prosecutors, meant he would serve at least 30 years in prison and the prosecution would not ask for more than 55 years in prison.
Thursday's hearing was held by video, consistent with typical procedures during the coronavirus pandemic. The child's parents, appearing on separate video feeds, told Wilking that their daughter had suffered extensive harm as a result of the kidnapping and abuse.
The child's mother – whom the Star-Tribune has decided not to identify so as not to identify the victim of the crime – said that her daughter still suffers from nightmares and is afraid to go out in public. She has recovered somewhat, said the girl's mother, but still lives with the psychological trauma.
"I hope you think about this for the rest of your life," said the mother to Hicks. "God made (my daughter) strong, brave and smart for a reason."
The child's father – who works in local law enforcement – then spoke. By video, he told Wilking that his daughter had prayed for Hicks. The father said, though, that he had not done the same.
"I would never think of doing anything positive for such a terrible person," the man said.
Hicks' 55-year-old father, Robert, then addressed the judge. He said that he grieves for the girl and her family. Robert Hicks, though, said that he thinks his son is sick and can be healed. He asked Wilking for mercy.
District Attorney Dan Itzen then spoke, beginning by posing a question to the judge.
"You know when you come face to face with pure evil," Itzen said. "The question is: what do you do about that, your honor?"
The prosecutor said that the vast majority of kidnappings in Wyoming don't resemble the apparent random abduction by a stranger that Hicks committed. The abduction, Itzen said, rightfully terrifies parents.
After abducting the child, Itzen said, Hicks tried to destroy evidence: he threw out the girl's sandal left behind in his truck and moved a tool box that appeared in a photo police circulated as they looked for Hicks.
Itzen said that Hicks needed extensive incarceration for the protection of society and supervision for the rest of his life. The prosecutor asked Wilking to sentence Hicks to 55 to 100 years. Such a sentence would enable for the Corrections Department's parole board to let Hicks out of prison after completing – depending on awards of credit for good behavior – the lesser number. If set free before completing the greater number, though, he would remain under parole agents' supervision.
"This will assure that at least someone will watch him if he ever gets out of the state penitentiary," Itzen said.
Defense attorney Don Fuller then told the judge that his client needed treatment – which, Fuller said, can be effective in rehabilitation – and said Hicks had not tried to dodge responsibility. Fuller asked for a 30- to 50-year sentence. By completion of the 30 years, Fuller said, a parole board would have a comprehensive understanding of Hicks' psychiatric health and would know if he were safe to reenter society.
The recommendation, said Fuller, took into account the significance of the crime.
"Mr. Itzen presents a tremendous argument," said Fuller. "I will also say that this is probably the longest sentence I have ever advocated for"
Hicks – who appeared by video from Converse County Detention Center, where he has been held for the past 363 days – then addressed the judge. He apologized to his family and the child's. He said he would spend the rest of his life regretting the crime. Hicks said that he prays daily that he never hurts anybody again. He is willing, he said, to change.
Turning his comments to the judge, Hicks then asked him to see, "that one day I'm worth a second chance."
Wilking said she appreciated acknowledgement that Hicks needed treatment. The judge said, though, that such help was available before Hicks kidnapped the crime. Wilking noted that – perhaps – had Hicks sought treatment, something else may have happened.
The judge then noted that Hicks admitted to previously consuming child porn and exposing himself to children. Hicks' sexual deviancy, Wilking said, clearly accelerated over the years leading to the kidnapping.
The judge then noted that – like the evidence of the crime – Hicks saw his victim as disposable. She said that his interview with police indicated that he sees young girls as worthless.
"That is a big deal to the court, and it's a big deal to this community," Wilking said.
Wilking said that the child's statements to law enforcement after the abduction may have made the difference between Hicks being caught and getting away. The girl made her own justice, said the judge.
And – citing the "unacceptable risk of harm" Hicks poses – Wilking ordered he be incarcerated for 55 to 85 years.
The judge then concluded the proceeding. Lawyers' and attendees' video feeds ended.
But the victim's father and Hicks remained, looking straight toward the screens that displayed one another's faces. For a moment they stared. Then, the video feed from the cinderblock jail cell ended.