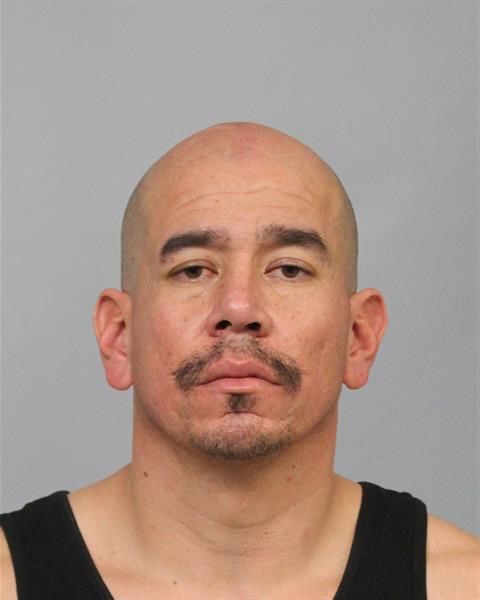 A man charged with 13 felonies for allegedly stealing five cars and various other property pleaded not guilty at a Natrona County District Court arraignment Friday.
Joseph Ramirez Jr., who court documents state is from California, was arrested during a traffic stop in Casper in December. Law enforcement found a pair of suspected stolen firearms and "copious amounts" of narcotics in the car, according to the arrest affidavit. Police were then able to identify Ramirez as the suspect in a string of several burglaries in Utah and Wyoming.
Ramirez now awaits trial for one count of burglary, one of aggravated burglary, one of auto burglary, six counts of wrongful taking and disposing of property, and four counts of possessing a firearm as a previously convicted felon. Four of the taking and disposing charges are related to stolen vehicles. A review of Ramirez's criminal history included in court filings found he was convicted of four prior felonies including vehicle theft and burglary in California between 1997 and 2008.
He is accused of having stolen a black Ford F-150 truck, a 2004 GMC Sierra truck, a 2005 Chevrolet Malibu, a white Chevrolet Impala, two industrial BTU heaters, three TVs and eight firearms over several months in 2020.
The first burglary in the case was brought to law enforcement in May, after a man living off of Highway 220 reported that his GMC truck had been stolen along with several firearms and ammunition, televisions and a set of collector's coins. Investigators from the Natrona County Sheriff's office were unable to find the suspect at that time, but surveillance footage described in the affidavit showed a man with a concealed face making three separate trips into a home, carrying duffel bags of stolen items into the truck before driving away.
The suspect's specific gait, captured on video, was later used to link this incident to others in the area. Investigators later learned that Ramirez sold at least one of the television sets, the affidavit states.
The GMC truck was found later in May, locked and abandoned, near a beach in Alcova. An investigator was told there that Ramirez had allegedly assaulted a woman with a shotgun after an argument, and that she drove away as he chased on foot while trying to load the gun, according to the affidavit.
During a June 5 traffic stop in Casper, police pulled over a white Chevrolet Impala that they learned had been reported stolen from a dealership in Orem, Utah. The driver ran from police and was not found, but a witness told officers that someone named "Joey" — a nickname used by Ramirez — had run into his house, the affidavit states. Two handgun boxes were found in the car, including one that had been reported stolen in the May burglary.
Surveillance footage from two days later at a gas station in Casper shows Ramirez and a woman inside the shop, walking with the same gait as shown on the video from the first incident. A report of a stolen gray Chevrolet Malibu from the gas station at the time of the footage strongly linked Ramirez to the stolen car. The Malibu was found later in June in a public parking area in Alcova, where officers had received reports of Ramirez and the woman "spinning 'cookies,'" according to the affidavit.
The same day, court documents say the sheriff's office was notified that a man fishing in the area had seen the two of them in the car and found two firearms wrapped in a towel nearby. Investigators were able to identify the guns as those which had been reported stolen in May.
A black Ford F-150 was reported to authorities in July by a Natrona County towing company. Inside, employees found several debit and credit cards with Ramirez's name, his Wyoming driver's license, a construction site heater and two license plate frames which had been reported stolen in separate incidents, the affidavit states. Investigators learned that the heater, along with another unit and hoses worth more than $3,000 in total, had been taken from a construction site in Utah.
According to the affidavit, an employee with the towing company also gave investigators access to a TV and sets of collector's coins that had been found in the Ford truck. The items were submitted as evidence in the investigation, and a DNA test of evidence found in the GMC Sierra and the Impala found the DNA to be matching. In November, that DNA profile was matched to that of a known offender in California: Joseph Ramirez.
After his arrest in December, Ramirez refused to speak with investigators about any criminal activity, according to court documents. He told an officer that he was in town for his daughter's birthday.