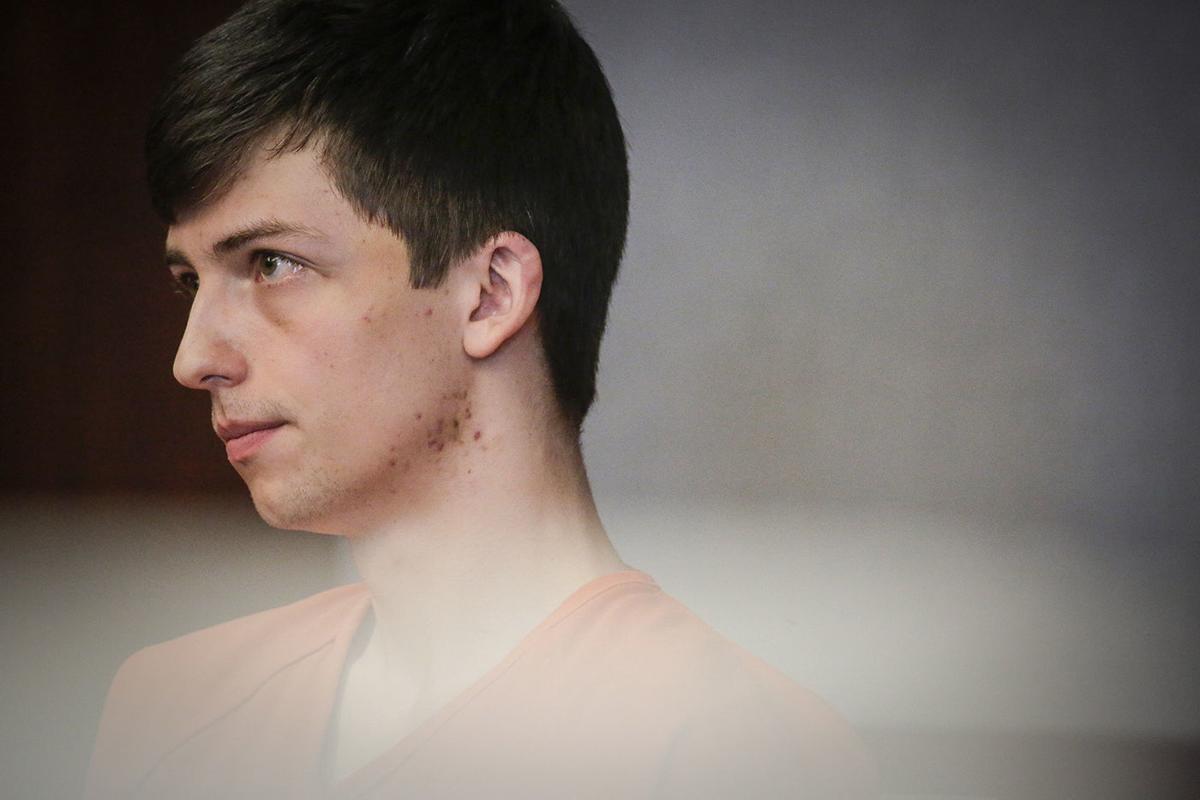 A Casper man who opened fire inside of Wyoming Medical Center in March was sentenced Wednesday to six to nine years in prison.
Mitchell D. Taylor faced a maximum 30-year sentence on the three counts he has been convicted on: two counts of aggravated assault, to which he was convicted by a jury in July, and one count of property damage, to which he pleaded guilty just before his trial began.
Taylor and his public defender, Joseph Cole, had asked Judge Daniel Forgey to impose a sentence of one year in jail and up to five years' probation. Both men acknowledged that such a sentence would be a "mercy." Natrona County District Attorney Dan Itzen had asked the judge to sentence Taylor to six to 10 years in prison.
Taylor has maintained that he was high on LSD when he walked through the emergency room doors at Wyoming Medical Center in the early morning hours of March 4. He testified during his trial in July that he drove to the hospital to seek help because of the effects of the drug.
Surveillance footage shown at trial tracks Taylor's path through WMC, a path that moves past the ER and deeper into the hospital. Taylor eventually laid down in front of a bank of elevators before pulling a gun out of his jacket. He testified that he intended to shoot himself to prove to himself that he was still alive.
Footage shows Taylor shooting seven rounds down a hallway, into an elevator door and a wall. He fired those rounds after a housekeeper and then a doctor appeared in front of him. Taylor has said he didn't even see the two WMC employees.
In court Wednesday, three people took to the lectern to talk about Taylor's character, including his grandmother. She had attended all of Taylor's court appearances, as had a small group of friends who again filled the pews to watch his sentencing.
"He was always willing to give you the shirt off of his back," said Kayci Stripling, who said she had known Taylor for a decade through her daughter.
His grandmother called his decision to open fire in WMC a "stupid, stupid thing." She said Taylor, who previously said he was planning on training to be an EMT before the shooting, had been on the right track.
"He's a good young man," she told Forgey as Taylor sniffled beside his attorney. "He just made a terrible mistake."
After the witnesses spoke, Itzen stood up. He called Taylor's defense that he had planned on shooting himself "ridiculous." The county's top prosecutor said Taylor's repeated firing of the gun and video surveillance showing him aiming it down a hallway in the direction of the housekeeper indicated Taylor had intended to do more than seek care.
You have free articles remaining.
He said the defense's request for a split sentence — jail time and probation — was "repugnant." He told Forgey that the irony of the incident is that the hospital Taylor shot up was filled with staff whose model "is to do no harm and preserve life."
Itzen urged Forgey to send a message that there are parts of the community where gun violence will not be tolerated. He said a hospital is second only to schools in that regard.
Cole acknowledged that Taylor's actions left the people in the hospital "terrified."
We "understand that and are not trying to justify it," he said.
But the attorney again reiterated that Taylor was high on LSD and was so impaired that his first interview with police "was utterly incoherent." He reminded Forgey that he was sentencing the man, not his crimes.
He said Mitchell was confused and wasn't a "stalker ... looking for victims to terrify." He called the shooting a tragedy that could've been worse.
"We have probably God to thank for that," Cole said.
When Cole was done, Forgey turned to Taylor and asked if he wanted to say anything.
"What I did was horrible, it was reckless, and it was irresponsible," he said through tears. He said he could never repair the damage he had done and would think about that morning for the rest of his life.
"I'm not a repeat offender, I'm not angry, I'm not violent," Taylor said. "I just messed up, you know."
He asked Forgey for mercy and apologized again.
The judge took a moment to look through Taylor's file as Taylor's grandmother interlocked her fingers, pressed them against her chin and closed her eyes.
Forgey said he didn't believe probation — as Cole had requested — was appropriate. He sentenced Taylor to six to nine years for both aggravated assault convictions and one to two years for the property damage charge. The three sentences will run at the same time.
Cole patted Taylor on the back before his client was led from the courtroom. Before he walked through the security door, he mouthed, "I love you guys" to the people in the pews.