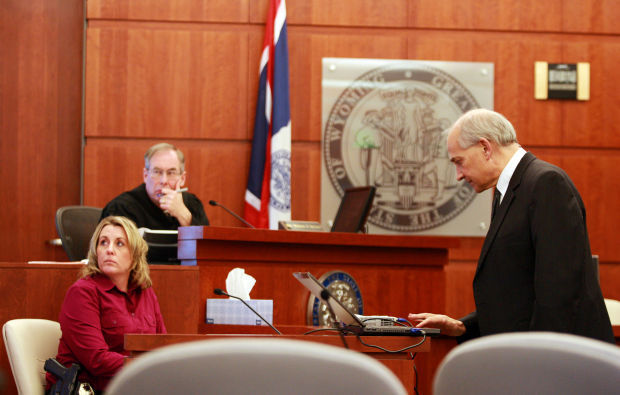 The Natrona County District Attorney's Office will need to cut nearly $450,000 from its budget under state cuts announced last week by Gov. Mark Gordon.
The cuts total $250 million across all agencies, with another 10% cut possible in the future.
"A 10% budget cut for this agency is substantial," Natrona County District Attorney Dan Itzen said.
Itzen is not yet certain where his office will trim but conceded staffing cuts are inevitable, adding it's likely the office will lose three positions. Whether that will be through attrition or layoffs, Itzen would not immediately say.
"Ninety-five point four percent of our budget is payroll," he said. "So when you start talking 10%, you're going to start talking (about) employees."
Itzen currently has a 20-person staff, which he said is already stretched thin. Even if the office cut all of its discretionary spending, he said, it would still be more than $130,000 short of the governor's request.
The Natrona County District Attorney's office handles a third of Wyoming's criminal cases, Itzen said. The pandemic had already hindered the department by stalling the legal process, leaving a backlog of cases. Staff furloughs are also being required of executive branch employees making salaries greater than $65,000.
Those staff members will have one furlough day a month for at least the next six months.
"Things have gotten backed up … but we're furloughing employees at our busiest time," Itzen said.
The office will likely accept fewer cases as a result. With the office's capacity reduced, the county and city attorney offices will need to fill in the gaps.
County Attorney Eric Nelson said that will likely mean more routine misdemeanor cases being processed through circuit and municipal court, though details are still being discussed. This also means his office will have a greater workload.
Nelson said his office is already significantly busier than this time last year — handling an increase in property valuation appeals and the legal side of the county's COVID-19 response.
The county attorney's office is now looking for a third attorney, an expense already approved by the commission. Hiring that position would alleviate some of the new workload, Nelson said, but the position has been difficult to hire. There hasn't been resounding interest.
Regardless of that position being filled, however, Nelson said the new situation will likely require further collaboration between the city, county and district attorney's offices.
Still, future cuts by the state are likely. This round of reductions only covers a portion of the budget shortfall, and Gordon has asked agencies to prepare proposals to cut another 10% from their budgets.
Itzen said another 10% from his budget would be crippling, adding that he proposed reducing the budget by 3% and 5% in the first round of cuts but never heard back from the state.
"We will hold people accountable, but 10% in cuts to this agency … is dramatic," Itzen said. "The state of Wyoming gets a lot more than what it pays for from this office."
Follow local government reporter Morgan Hughes on Twitter @morganhwrites
Sign up for our Crime & Courts newsletter
Get the latest in local public safety news with this weekly email.