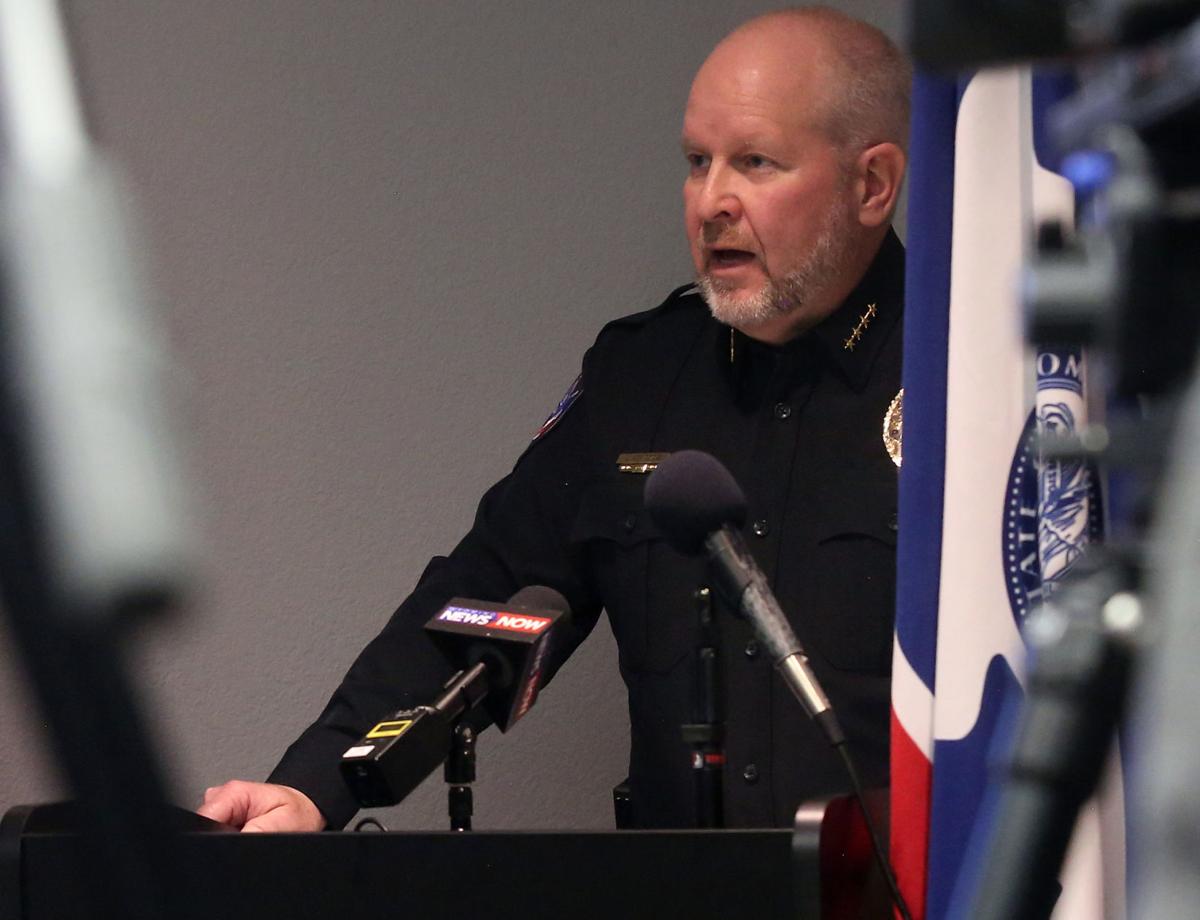 A DEA-funded traffic stop operation that received public criticism in March was not specifically meant to target cannabis, police told the Casper City Council on Tuesday.
In February, the council voted to accept a $35,000 grant from the Drug Enforcement Administration to carry out a "focused-effort interdiction" intended to crack down on drugs in areas the agency identifies as hot spots for trafficking.
According to the Casper Police Department, just over $10,000 of that money was actually used during the operation on March 29-30, going towards overtime pay for participating officers. The rest can still be used for other operations covered by the grant until October, Casper Police Chief Keith McPheeters said Tuesday.
McPheeters said that although the grant is a part of the DEA's Domestic Cannabis Eradication/Suppression Program, the traffic stops it funds are meant for more than just finding cannabis. It allows officers working overtime to focus on making a lot of stops in certain high-crime areas without being pulled away for routine calls and investigations.
Traffic stops, the chief said, are the best way to "lawfully talk to somebody," either to educate them on a small traffic violation or to find people with known criminal histories. Having larger operations like this one, he said, also discourage crime in the area since the police are so visible.
Much of the backlash against the news of the operation, according to McPheeters, was in response to the grant's name, which implies it was to be used specifically to seize cannabis. If it had claimed to target methamphetamine, council member Steve Cathey said, likely no one would have batted an eye.
During the two-day operation, Casper police arrested 23 people, 12 of them on drug-related suggested charges.
In 14 hours, 389 traffic stops were made. McPheeters said the department made 380 stops total over the last week.
About 1.15 pounds, or 520 grams, of marijuana was seized by officers between seven cars. One pound of that was found in one car. That, combined with another driver found with two ounces of weed, means that 510 of the 520 grams seized came from just two cars.
On the other end of the spectrum, a different car had just 0.6 grams of marijuana seized, roughly equivalent to one joint. Another was found with one gram of THC wax.
Officers also found a total of 66.7 grams of methamphetamine and one gram of cocaine during the interdiction.
Rebekah Ladd, spokesperson for the Casper Police Department, said at the time that officers were essentially pulling anyone over who committed a traffic infraction in the targeted area.
The department has used a data-based model defined by the National Highway Traffic Safety Administration to zero in on areas in town where high rates of crime and crashes overlap. In Casper, the March operation was centered around Interstate 25, CY Avenue and other large connecting roads.
McPheeters compared the model, called DDACTS (Data-Driven Approaches to Crime and Traffic Safety) to a fishing guide that indicates where you're most likely to catch something. But instead of fish, officers are looking for people with active warrants, stolen property, drugs or other infractions.
"It is nationally recognized as the best way to prevent and reduce crime without adversely impacting, say, a community of color, or something like that," the chief said. "So we're here, not because we're picking on this neighborhood, we're here because the data shows that this intersection is high in traffic crashes, and it's also high in recorded crime."
Council members Shawn Johnson and Amber Pollock both requested more information on the grant and operation in council meetings following the interdiction. In a May meeting, council member Bruce Knell accused his colleagues Johnson, Pollock and Kyle Gamroth of going against the Wyoming Constitution when they voted against accepting the money from the DEA in February.
City Attorney John Henley said that marijuana is illegal according to state statute, not the constitution.
Gamroth actually voted in favor of the money, but later said he had wanted to pull the matter from that meeting's consent agenda for discussion and did not realize he could vote no on just that item.
Johnson, who ran for the Wyoming Legislature as a Libertarian in 2020, has supported the legalization of medical marijuana and recently appeared in Cheyenne to deliver a pair of ballot initiatives on the matter to the secretary of state.
In May, Johnson said he was concerned that the grant may have enabled police to violate citizens' Fourth Amendment rights, which protect against unreasonable searches and seizures.
He also said there are plenty of examples of the law not being morally correct, citing times when homelessness, gay and interracial marriage were also outlawed.
Vice Mayor Ray Pacheco asked Tuesday whether people pulled over during the operation had the right to refuse a search. McPheeters, while not explicitly saying drivers could say no to a search, said the department only conducted searches where there was reason (like a canine sniff or visual cue) to suggest illegal activity.
"I have a hard time reckoning with the idea that putting more people in jail necessarily results in a safer community, or a healthier community," Pollock said. "I also understand that taking 66 grams of meth off the street likely does, so I'm not suggesting that this doesn't necessarily result in a safer community, but I'm wondering how will we know, and when will we know?"
Pollock told the Star-Tribune in April that she'd gotten more feedback on this issue than anything else since taking office in January. She voiced concern that these arrests for marijuana or other offenses, no matter how small, could threaten a person's housing or job while also incurring costly court fees and fines.
McPheeters said Tuesday that the grant is just part of a "growing and expanding partnership" between Casper and the DEA, which could help train the city's officers to handle and investigate drug-related crimes.
Between February and April, CPD said it carried out four separate high-visibility operations including this one. Two of those focused on driving under the influence — one in February that stopped 93 cars and arrested one person for a DUI, and the other in March pulled over 286 drivers to make five DUI arrests.
Follow city and crime reporter Ellen Gerst on Twitter at @ellengerst.