Police with guns stormed a downtown Casper apartment Friday afternoon because an online bully called in a false report to harass the man living there, he said.
Josh Saunders, an internet personality known as KingCobraJFS, told the Star-Tribune from his Center Street apartment that a heavily armed police response came in response to someone impersonating him in a phone call to police. The caller, Saunders said, threatened to shoot his wife and children. Saunders is single, childless and lives alone.
A video posted live to Saunders' YouTube stream shows police entering his apartment, interrupting a conversation with his internet audience. They can be seen searching the apartment.
Saunders, 28, said that he began streaming — filming and uploading videos in real time — shortly after his graduation from Natrona County High School. He said the bullying that followed him from school-to-school in childhood has showed up online. The call, Saunders said, is an extreme example of such conduct.
He would not be the first person made the victim of a hoax that brought armed police to his door. Such hoaxes have a name: swatting. And they can be deadly. Two years ago, police in Wichita, Kansas, killed a man while responding to what later turned out to be a hoax call made from someone in California.
Casper police on late Friday afternoon declined to say if they had seen the video. Rebekah Ladd, an agency spokeswoman, said by phone that police are largely sure the 911 call was fraudulent. When asked if the call was intended to harass someone, Ladd said police were looking at possibilities "along those lines."
Ladd said she did not anticipate releasing more information on the call before Monday.
Police responded to the call shortly before 3 p.m. City and county law enforcement officers carrying rifles and wearing ballistic vests swarmed a Center Street apartment building where Saunders lives. From the scene, Ladd told journalists that police were responding to a report of a shooting, but that officers had found the report unfounded.
Although authorities closed the section of Center Street where the building stands, traffic was flowing again within 30 minutes.
Officers later determined no shots had been fired, according to a post on the Casper Police Department's Facebook page. The post stated no one was injured and there was no threat to the public.
Police said they detained a man at the scene and interviewed him. He was later released after the reported was determined to be unfounded. Police did not identify the man.
Saunders told the Star-Tribune in the early evening said he had been eating a burrito provided by fans of his online stream when officers knocked on the door. Police cuffed him and took him to the agency's downtown headquarters. After an interview with a detective, police let him go.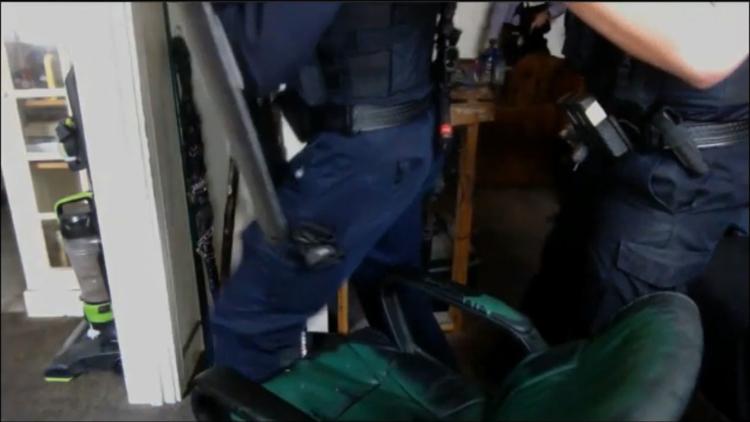 You have free articles remaining.
In the video posted online, Saunders has just finished eating a burrito when seven loud knocks are heard at his door. He gets up quickly to answer.
"Hey, what's up?" he says. An officer's response is inaudible except for the word "Josh."
"Hey, what's up?" Saunders repeats.
"Show us your hands," an officer replies.
"Hold your hands up," another says.
"OK, I did—" Saunders begins to say.
"And step out and talk to us," an officer interrupts.
"OK, OK, OK," Saunders says.
"You're all right, Josh," an officer says. "You're all right."
More than a half dozen officers can be seen entering the apartment shortly after, with another standing at the door. Some carry long guns, and one has a shield. One officer notes that there is a shotgun in the apartment.
After the officers check each room, including under a bed, the livestream ends.
The call, Saunders said, has introduced tumult into a relatively stable personal life that is largely centered on his YouTube stream, musical pursuits and an online business selling handmade magicians' wands.
Star-Tribune editor Joshua Wolfson contributed to this report.