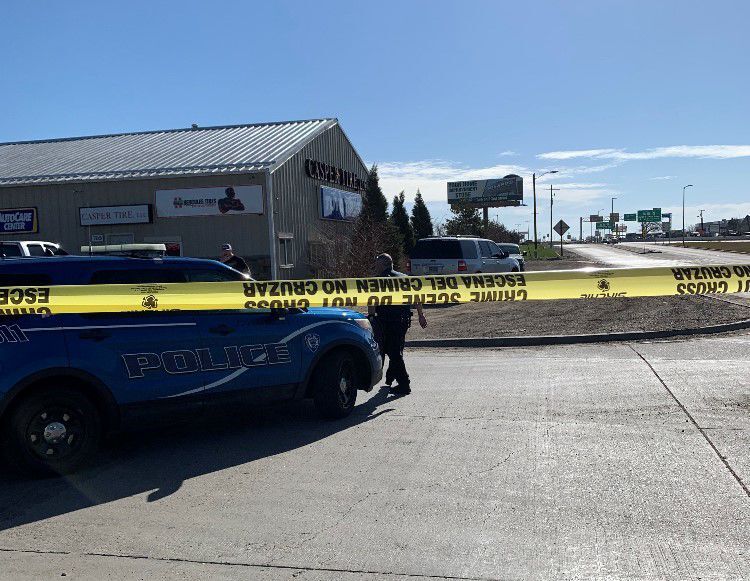 Casper police shot and killed a man the department says was fleeing a traffic stop with an officer still inside the vehicle early Thursday on Interstate 25.
The Natrona County Coroner's Office confirmed Thursday that the person killed was 42-year-old Casper resident Thomas Joseph Roeber.
The shooting happened shortly before 4 a.m. when officers stopped a vehicle in the area of East H and North Elm streets in Casper, according to a police statement. Two officers approached the vehicle, which had two people inside.
At some point during the encounter, the driver tried to get out of the car. Roeber, meanwhile, moved from the passenger side into the driver's seat and tried to flee the scene, police said.
One of the officers tried to stop the fleeing vehicle, but Roeber reportedly drove quickly from the scene with the officer inside, according to police. The other officer was occupied with the second person from the vehicle.
The vehicle drove onto I-25 and into oncoming traffic. At some point, the officer shot Roeber, then stopped the vehicle on the side of the road, according to the police statement.
Police did not say how long the officer was in the car before shooting.
Roeber was pronounced dead at Wyoming Medical Center. The coroner's office said his family had been notified as of noon Thursday, and an autopsy was set to take place Friday.
Neither officer involved in the shooting suffered serious injuries. As is standard protocol, both were put on administrative leave while the matter is investigated by the Wyoming Division of Criminal Investigation.
"This protocol is in place to ensure the integrity of the investigation as well as to safeguard the mental health of the officers after a traumatic event," police said in the statement.
The police statement did not describe why officers had stopped the vehicle during the initial encounter. Officers at the scene of the shooting said they could not discuss the incident and referred the matter to a police spokesperson.
Police said the reason for the traffic stop could not be disclosed, as it is part of the ongoing investigation.
Due to the investigation, Casper police temporarily closed a section of northbound Interstate 25 and a frontage road.
Interstate 25 northbound from Bryan Stock Trail to Center Street;
F Street from Beverly to Elma streets.
Multiple side roads were also closed in the area, according to a department Facebook post shared just after 6:15 a.m. The interstate speed limit was also slowed to 60 mph east of the Wyoming Boulevard exit.
The closures came during the morning commute and traffic backups were reported.
Around 9 a.m., officers began opening up certain side roads and placed markers on an interstate off-ramp near F Street and North Elma Street.
Shortly after 9:30 a.m., a tweet from the Wyoming Department of Transportation confirmed the northbound lane closures on I-25 had been reopened.