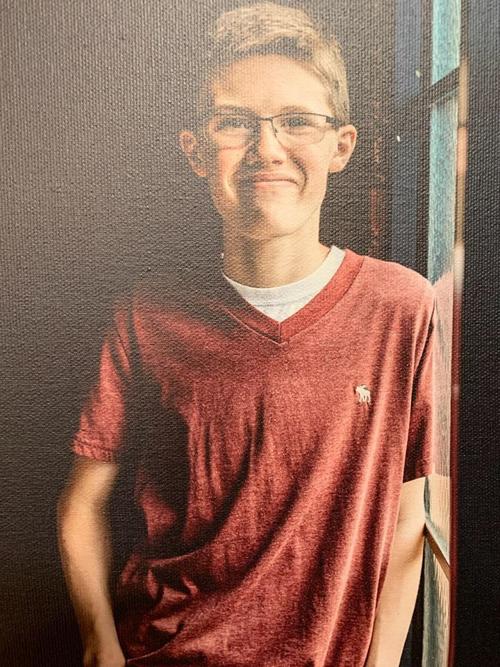 A search team found the tracks of a missing Natrona County teenager on Saturday, the sheriff's office confirmed Monday, as the hunt for the boy enters its second week.
"That track provided a general direction of travel through very steep mountainous terrain, and a comprehensive search of that area is ongoing," the sheriff's office said in a statement. "The footprints, based upon information provided by human tracking experts, is believed to be multiple days old."
Authorities say they know the tracks belonged to Peterson because they were the same as tracks that he left while leaving his home. Before authorities confirmed the discovery in Monday's press release, a sheriff's office spokesman told the Star-Tribune that there was "some truth" that footprints had been found and that details would be released later.
The searchers were using at least two new dog teams, with two more "possibly on the way." The FBI, Bureau of Land Management, and Wyoming Game and Fish have all contributed resources to the search.
You have free articles remaining.
Thus far, 240 square miles have been searched by rescuers. As of Friday, more than 150 volunteers have joined the effort. Forty were used on Saturday alone, when Peterson's tracks were discovered. Authorities have also used night and heat vision equipment, as well as Black Hawk helicopters, in their attempts to find Peterson in the rural, rugged terrain.
Authorities have asked the public to avoid the area and for volunteers to coordinate with first responders before joining the effort.
Peterson left his home, in the area of Goose Creek Circle and Hat Six Road, late on the morning of Nov. 10. Sheriff's deputies were notified of the 16-year-old's disappearance at 12:12 p.m. Sunday and arrived on scene at 12:31 p.m., according to the agency.
Peterson did not leave the home with a cellphone. Authorities say he has high-functioning autism and is not self-sufficient.
On the night and morning following Peterson's disappearance, temperatures were well below freezing and snow fell for hours. By midday Tuesday, temperatures had climbed into the 40s and have fluctuated since.
Peterson has blond hair; is 5 feet, 9 inches tall; and weighs 120 pounds. He was last seen leaving the family house before noon on Sunday, when he wore a red hooded sweatshirt and pajama pants.
Anyone with information about the boy's disappearance is asked to contact authorities at 307-235-9300.