Before four bullets tore up his insides, before his heart stopped beating on a hospital bed, before his shooting became the story of his adopted town, Officer Jacob Carlson stopped in an east Casper parking lot to share lunch with a friend.
He pulled his Casper Police Department cruiser into the parking lot, and a second squad car driven by Officer Randi Garrett arrived. Garrett passed a sample of her stuffed mexi fries through the window to him. Carlson was a fairly recent transplant to Wyoming, having moved there from Alaska — with a brief interlude in Atlanta — after finishing his time in the Army. Garrett has never lived anywhere but Casper. She was sworn into the force in July 2016, three days after quitting the job at the sub shop she'd held for eight years.
The two cops hung out at work and off the job. They and their closest friends from the force held a standing game night on Fridays at Carlson's home. They'd spend hours playing Cards Against Humanity, What Do You Meme and Pit. Trash talk was a constant, Carlson's sharp wit delivered in a gentle voice.
In April, Carlson's 27th birthday fell on game night. Garrett gave him an Alexa speaker as a gift.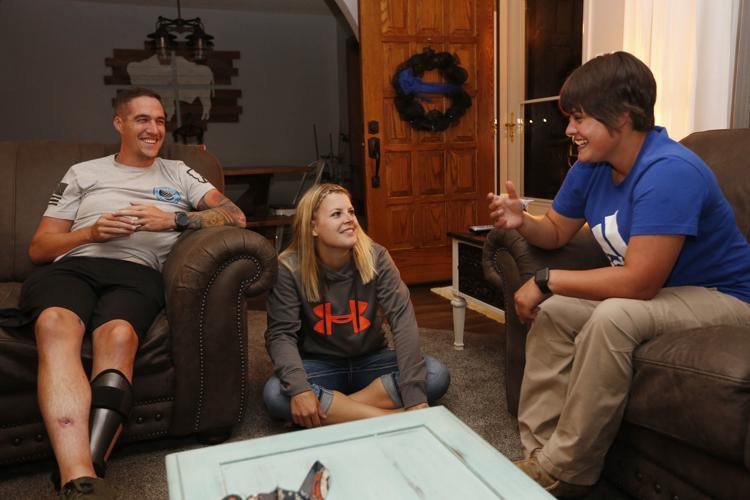 On May 6, Carlson and Garrett were back on the street for their first day shift after four nights on and three days off. Garrett didn't pack a lunch, so she stopped in the Taco Time drive-thru and rode to the Hobby Lobby parking lot about a mile away.
As spring days go, it was the platonic ideal. The sun was out. The temperature would peak at 77. Garrett wore short sleeves.
After Patrol Team Four's pre-dawn briefing, Carlson headed to area two, which begins by the parking lot where they ate. Garrett, who typically patrolled area two with Carlson, was instead tasked with area one, which stretches across the east side of town from Country Club Road to Hat Six Road.
When five kids rode their bikes around the officers' patrol cars, Garrett and Carlson got out of their cruisers. The officers showed the cars to the kids, turned on the lights and took photos. In one of the images, Garrett stands alongside her vehicle, smiling with the children, who still wear their bike helmets.
Eventually, the kids moved on, as did Carlson. He had a vehicle theft report to take.
Carlson had just turned in paperwork to dispatch when a juvenile problem call crackled over the radio. Garrett had taken more calls than him that day and the incident was in his patrol area, though it was near the dividing line between the two.
While they drove separately to the scene, the two cops exchanged instant messages on their patrol cars' mounted laptops. Although Garrett would be first to arrive at an apparent low-stakes call — kids driving a car around the lot — Carlson wanted to take it. It was only fair, he figured. She'd done more work that day.
If nothing else, he'd do the paperwork, he told Garrett.
Garrett arrived at the scene alone and pulled into the paved parking lot sandwiched between a park and Fairdale Avenue. A line of town homes sits east of the lot. To the south is the former home of the Star Lane Center.
North of the paved lot, the land slopes down to a dirt patch bordered farther north by Farnum Street and beyond that a strip mall. A white 2011 Nissan Altima driven by a 3-year-old circled in the dirt. Another child and a 38-year-old man were also inside the car.
Garrett remembers parking and deciding to walk down the hill, unsure if her patrol car would be able to squeeze through a gap in the curb.
The man, later identified as David P. Wolosin, exited the car and pulled out his cell phone. It was 1:37 p.m.
Wolosin's actions would later be scrutinized, not only by authorities, but by the countless people who watched videos taken that afternoon. But little is known about the man himself.
Until recently, he had lived in a fifth-wheel camper in Clovis, a city of about 40,000 in Curry County, New Mexico, bordered by Cannon Air Force Base. His father and younger brother had helped him move back to Casper in the first few months of the year. Authorities don't know why. His car still carried New Mexico plates. He lived in his parents' basement a few blocks from the lot.
From there, information becomes scarce.
Although state investigators had heard that Wolosin worked as a government contractor, they were never able to confirm his employment. Neither the Casper Police Department, the Natrona County Sheriff's Office, the Curry County Sheriff's Office nor the Clovis Police Department had any record of contact with Wolosin prior to May 6, agency officials said.
Wolosin's siblings did not answer or return phone calls made by the Star-Tribune.
Of the five people at the lot that afternoon, one is dead, one has a fragmented memory of the day, and two are children whose father did not return calls seeking comment for the story. The fifth is Garrett.
In an interview, she said her psychiatrist was amazed by the amount of detail she remembers from the shootout. Garrett can still watch the day in her mind's eye.
While Wolosin fumbled with his phone, Garrett asked him his name. He stood just out of arm's reach. She looked him up and down but didn't see the outline of a gun in his baggy pants.
She told him that although allowing the children to drive is technically a crime, she said she just wanted to run his information through police computers and send him on his way.
Wolosin made a phone call. It was to a family member who is the father of the children in the vehicle, though Garrett didn't know that at the time. She asked Wolosin for identifying information. He refused to answer.
"I don't want to talk to you," she remembers Wolosin saying repeatedly. "Nothing's wrong here."
He was agitated and fidgety.
"OK, we're going to have a problem here," she thought.
Two minutes had passed and Garrett hadn't made any progress. "Step it up," she said into the radio. The dispatcher told her Carlson was arriving.
As the second officer walked down the hill, Garrett heard Wolosin speak into the phone.
"They're probably gonna shoot me," he said. "You need to get here."
Carlson remembers very little from that day. He doesn't remember driving to the call, pulling into the paved lot or parking his car next to Garrett's.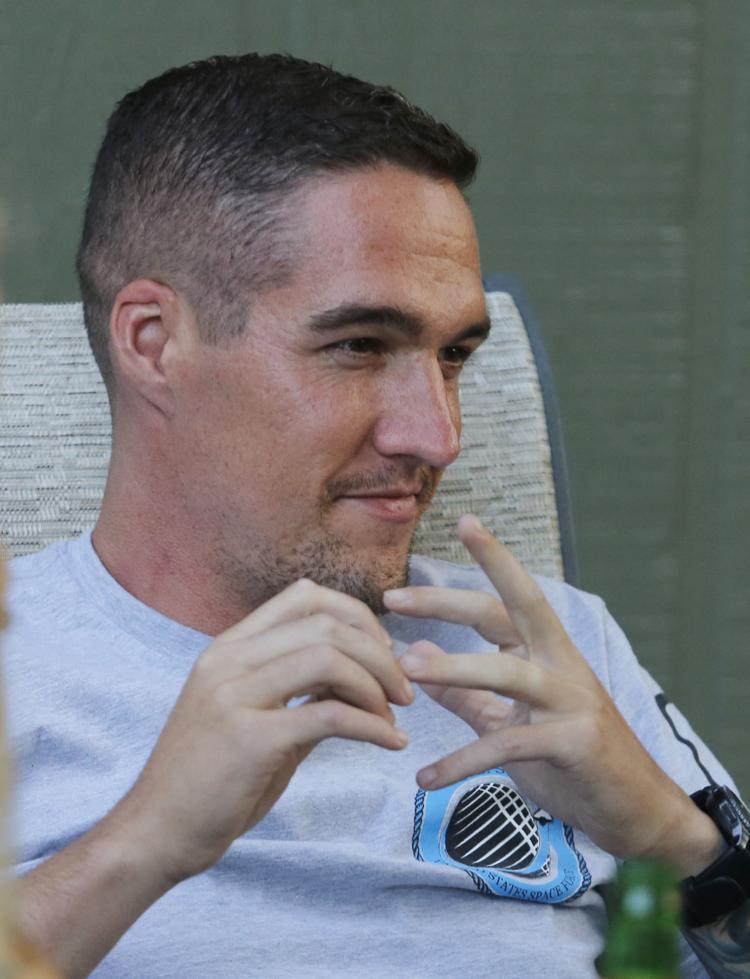 He doesn't recall walking down the hill.
He remembers Wolosin talking on the phone, disregarding Garrett. He remembers feeling amped, thinking the situation needed to be taken under control.
With Carlson on scene, Garrett went to check on the two children in the car. She looked in the window. Behind her, Carlson and Wolosin's voices began to rise.
Carlson saw Wolosin edge away, as if he were about to take off. Carlson reached for Wolosin's arm, wanting to cuff him and then figure out his identity.
Garrett, a few steps behind Carlson, took chase. "OK, we're going hands on," she thought.
Garrett came around the corner of the car, then heard gunshots and Carlson screaming.
The state's largest hospital, Wyoming Medical Center, sits a little more than a mile northwest of the dirt lot. On the hospital's east side, an ambulance bay separates the medics' break room from Conwell Street.
Paramedics Tim Powell and Angelena Potter were in the break room when a medical call came in. As they stepped through the doorway to the ambulance bay, another detail from the call came over the radio.
Potter maneuvered ambulance 302, its side emblazoned with a large mountain lion, up Conwell to 12th Street and then east to Beverly. Potter mashed her foot down on the accelerator as the sirens cleared the road. For safety reasons, the ambulance parked a block from the ongoing shootout. The paramedics waited.
Wolosin had stepped back and pulled a pistol from a holster in his right pocket as Carlson attempted to grab him. Wolosin fired as he backpedaled. Carlson drew his own weapon as he retreated.
"This is not happening," Garrett thought. "This is just a terrible dream."
Carlson fell to the ground.
As he dropped, Carlson shot Wolosin in the left thigh. Wolosin scrambled across the lot and came to rest on his left side, propping himself on one elbow, his sandaled feet pointing toward the car. He kept firing. Authorities later found eight bullets lodged in the Nissan.
The officers scrambled for cover behind the wheels of the car.
Because it was a Sunday afternoon, many neighbors were home to hear the gunfight. They split into roughly three groups: those who ignored the shootout — mistaking the gunshots for fireworks — those who grabbed cell phones and those who scrambled for cover.
The 34-year-old woman who made the initial call to police, complaining about children driving and hanging out the windows of the Nissan, fell into the latter group. She and her son were playing south of the dirt lot. As the bullets flew, she took cover in a neighbor's apartment with her child.
Two more neighbors stood east of the lot, their cell phones held out, filming the gun battle.
A man sat in his apartment, watching a Queens of the Stone Age music video.
The two officers remained hidden behind the car's wheels while Wolosin lay semi-supine. His high-pressure bullets closed the 20 feet separating him from the police, the car and the two children inside even more rapidly than a typical 9 mm round. Carlson, already carrying a bullet in his belly and two more in his vest, scrambled to the front wheel of the car but Garrett shooed him away.
As Wolosin aimed his Glock at Garrett, he tried shooting under the car, the bullets kicking up dirt. He hit the front door twice and the door frame two times more. The children inside screamed, covering their ears.
Carlson reached briefly over the trunk, fired and ducked down.
"I want my mommy," a child said. "I want my mommy."
Bullets from Wolosin's gun struck the car again and again. Another made its way through the trunk.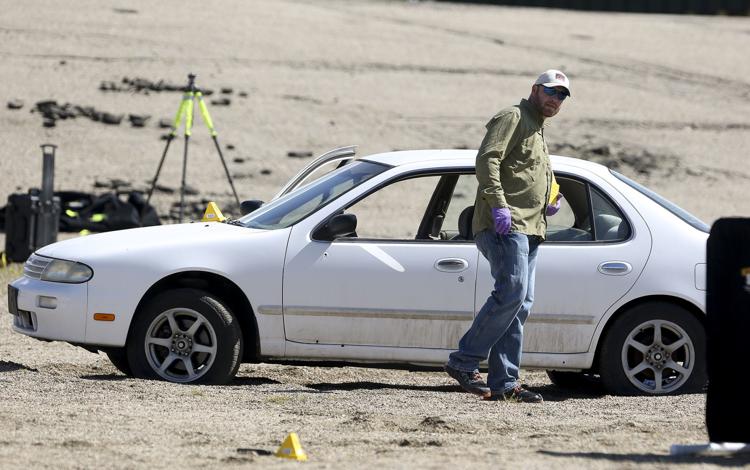 Carlson stood and raised his pistol — a 9 mm Smith and Wesson M&P that he had chosen for how the grip fit his hand. It didn't fire. He fell behind the wheel. The cop looked at his gun, assuming debris had jammed it.
"I hate Smith and Wesson," he thought.
The slide was still locked back. Carlson looked into the gun's chamber. Everything looked fine. Tunnel vision closed in as he dropped a magazine, trying to make his gun operational again.
It would not fire another shot. One of Wolosin's bullets had hit Carlson's gun as it ejected a spent round.
Garrett looked around the Nissan's front bumper. Wolosin fumbled with his gun, perhaps changing magazines. She stood, fired once, and hit him in the chest. The 9 mm round tore through Wolosin's heart, esophagus and left lung. It came to rest in the muscles of his back.
Garrett crouched behind the front wheel. Carlson did the same 9 feet to her left before slumping against the rear wheel. Garrett, unsure if Wolosin was still alive, remained by the wheel well, trying to comfort the children trapped inside the Nissan. She looked around the front bumper again. Wolosin remained motionless.
Officer Matthew Bowman pulled into the parking lot, having abandoned a traffic stop. He pulled a rifle from the passenger's seat of his patrol car and told the children's father — now on scene — to remain in the paved parking lot. He ran down the hill.
Bowman walked gingerly around the car's front bumper while Garrett took a route past the Nissan's tail lights.
The two cops stood over Wolosin's motionless body.
"OK, well, he's dead," Garrett thought. "He's not breathing anymore."
She kicked the Glock from Wolosin's reach. She kicked it again. And again. She kicked it 12 feet across the lot.
Bowman returned to the Nissan's rear wheel. He and Officer Austin Birkle, who had charged down the hill moments after Bowman, tied tourniquets around Carlson's upper legs.
The children's father stood atop the hill, shouting for them. Garrett looked into Carlson's eyes. It was like he wasn't there anymore.
She asked the wounded cop to squeeze her hand — just one good squeeze. Carlson squeezed.
"He's — he's doing OK," Garrett thought. "I'm going to get these kids out of the car."
She opened the Nissan's passenger door and lifted the children out of the car. They ran up the hill toward their father, followed by Garrett.
Wyoming Medical Center ambulance 302 pulled onto Beverly Street. A half block later, it turned right, before taking a quick left onto Fairdale Avenue, passing neighbors still standing in front of their town homes.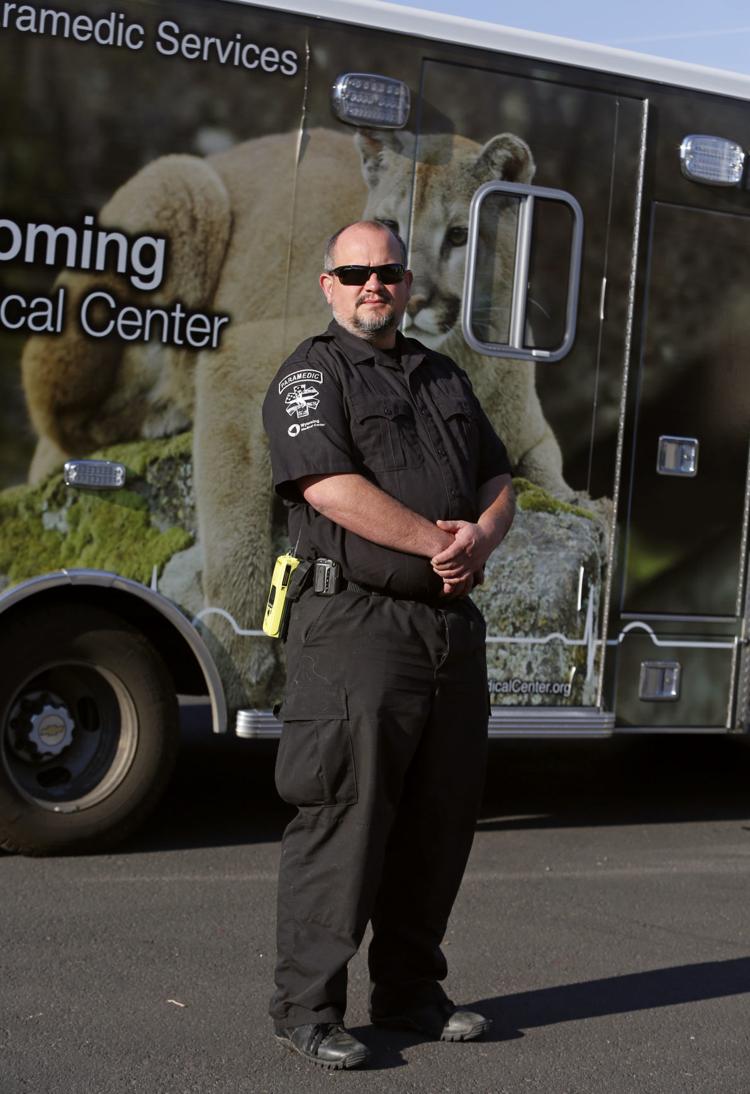 Potter drove into the paved lot and pulled to the curb.
"I'm jumping it," she said.
"Go for it," Powell answered.
Powell bailed out of the ambulance and ran to the wounded officer. Potter put the truck in park and headed to Wolosin. She put her hand on his chest — he wasn't breathing. She checked for a pulse and found none.
Powell knew the tourniquets would keep Carlson from bleeding out from his leg wounds. The officer also had a large bruise on his chest. Potter rejoined Powell and the two medics turned Carlson on his stomach. He had a matching wound on his back. He may have been struck by two bullets, one in the chest and one in the back. Or, he may have taken a bullet through his torso. The latter would be more concerning.
"I need to see his vest," Powell hollered. "Somebody give me his vest."
If Carlson had suffered a "through-and-through," Powell would be able to tell by looking at the inside of the ballistic vest. When a bullet fragment travels through a vest, it tears up the inside. If a bullet fragment had made its way into Carlson's chest, that would likely be what was killing the cop.
The vest was intact, the interior unmarked.
Powell ran his gloved hands across Carlson's body, trying to find the source of the blood loss. His hands reached Carlson's left hip and the glove grew damp.
Powell looked at the black glove but couldn't tell if he'd found blood or sweat. He wiped the glove on Carlson's bare skin. It left a red mark.
Ambulance 302 chased a police escort across east Casper, the rough ride throwing the two medics around the interior. A firefighter who had arrived at the scene separately was behind the wheel.
Powell searched for a blood vessel to start an IV. His patient's lips were blue. He couldn't find a pulse.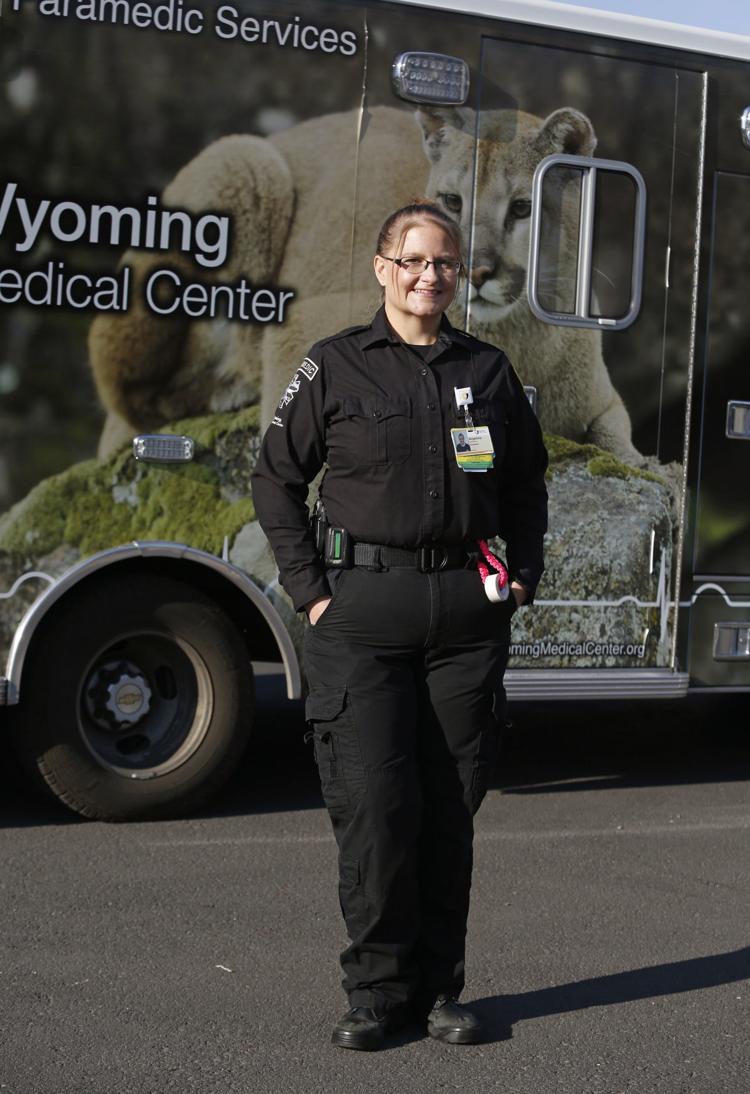 Carlson lay on a stretcher inside the belly of the vehicle, bleeding from four gunshot wounds. Powell stabbed Carlson's right arm but couldn't find a vein. He tried again, and the needle, foiled by a lack of pressure, went clear through the collapsed blood vessel.
Potter fit an IV near Carlson's elbow joint, and fluids started pouring into the officer's left arm.
Carlson began thrashing his arms and legs, as if trying to fight off his attacker. Potter talked to the officer, trying to distract him from attempts to pull the IV from his arm and the mask from his face.
Powell pinned Carlson's arms as he tried to place a second IV. He failed to find a hold in Carlson's neck.
The ambulance's backup alarm beeped. Carlson remembers ambulance doors opening to a view of a Wyoming Medical Center ambulance bay.
His next memory came three weeks later.
Carlson's sweat worked through adhesive on the tape holding the lone IV to his arm. Potter held the IV in place with her hand as she worked a medical wrap around the cop's arm and again secured the IV, which nurses attached to a bag of blood.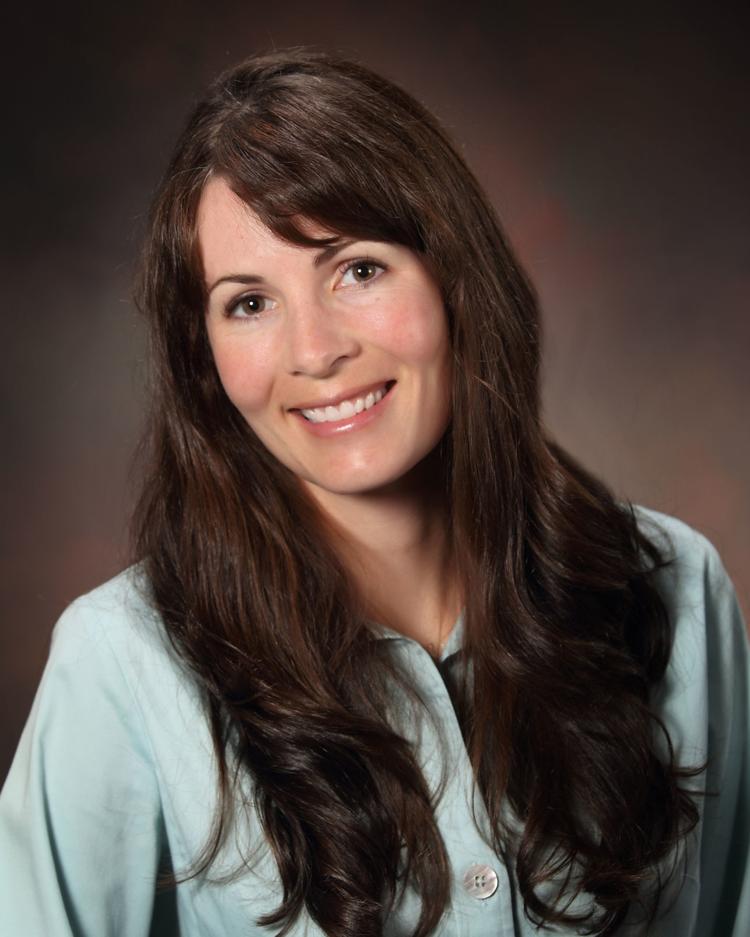 Jonna Cubin, the emergency medicine doctor working that Sunday, had been given less than five minutes of warning before the stretcher arrived. She and her staff had spent what little time they had to prepare. Because the call came across the emergency department's speakers accompanied by the tag "trauma red," staff had mobilized all the resources at its disposal.
Darren Bowe, the on-call trauma surgeon, arrived from his nearby home as Carlson's prognosis went from bad to worse. Within minutes, the officer's heart stopped beating.
The doctors began an emergency procedure that only 9 percent of patients survive.
Cubin pushed a plastic tube into Carlson's airway. Once the officer was intubated, Bowe cut Carlson's chest open and spread his ribs. He reached into the officer's chest and found the aorta — the blood vessel responsible for supplying blood to the body — completely empty. Bowe held the aorta closed with his fingers, ensuring blood would remain where it was most needed — the heart, lungs and brain.
Medical staff administered adrenaline and more blood.
Bowe walked alongside the bed as medical staff pushed it toward an operating room, his hand still inside the man's chest. He felt the aorta pulse. Carlson's heart was beating again.
Garrett sat in a Casper police headquarters conference room in silence. Roughly two hours had passed since the shooting. It was nearly time for her interview.
When an officer in Wyoming shoots someone, there is a standard investigative process. A department official contacts the Wyoming Division of Criminal Investigation — a statewide law enforcement agency that often investigates major drug cases and white-collar government crime — to examine the incident. The agency then forwards its findings to a prosecutor, who ultimately decides whether a shooting is justified or a criminal act.
Before the interview with Garrett began, a Fraternal Order of Police leader called a lawyer. Don Fuller, whom the organization frequently hires, arrived at police headquarters.
Fuller asked the two agents from the division to read Garrett her rights. They did.
Garrett didn't know yet she had hit Wolosin. She wasn't sure if she could have done something differently.
DCI agents took Garrett's 9 mm Springfield XD(M), two spare magazines and 56 bullets. They took her uniform, her boots and belt.
Her parents brought a pair of jeans and a T-shirt to the station. She headed to the hospital.
In the operating room, three surgeons crowded around the cop's body. Carlson's heart stopped again. Bowe reached into his chest, a hand on each side of the cop's heart. The doctor moved his hands like a bellows, manually compressing Carlson's heart and forcing blood to the officer's brain. It was an inefficient use of the body's engine but better than nothing.
They injected more adrenaline into Carlson's heart and it began to beat again.
When a patient remains in the operating room for too long, his condition can spiral while doctors work to address immediate medical issues. The body undergoes immense stress with every surgery, and a patient's condition can go from bad to worse from the stress alone.
Carlson needed to get out of the operating room and into intensive care, but first surgeons needed to staple his gut closed and repair the artery that was pouring blood into his abdomen.
A bullet had glanced off the lower back of Carlson's vest and entered into his buttocks. It shattered his pelvis and either the round itself or broken pieces of the pelvic bone had severed his external iliac artery. The bullet tore across his bowels and punctured them in four places. It stopped on the far side of his stomach.
The external iliac artery carries blood from the heart to the leg. If doctors did not repair the damage to the vessel, every time Carlson's heart beat, he would bleed internally until he could bleed no more.
A surgeon clamped the artery above the wound. He took a small plastic tube and used it as a temporary replacement for the torn portion of the blood vessel.
The surgeons temporarily closed the wounds to Carlson's intestinal tract and sent him to the ICU.
Later that day, doctors reopened Carlson's abdomen and stuffed a clotting gauze into his pelvis. He continued to receive blood transfusions. Medical staff connected a vacuum to his wound to draw out any blood that made it past the gauze.
His heart stopped again. Bowe worked his heart like a bellows again. Carlson went back to the ICU. Bowe slept in the hospital staff room.
Carlson developed pneumonia. His liver quit working. His kidneys were on the brink of failure.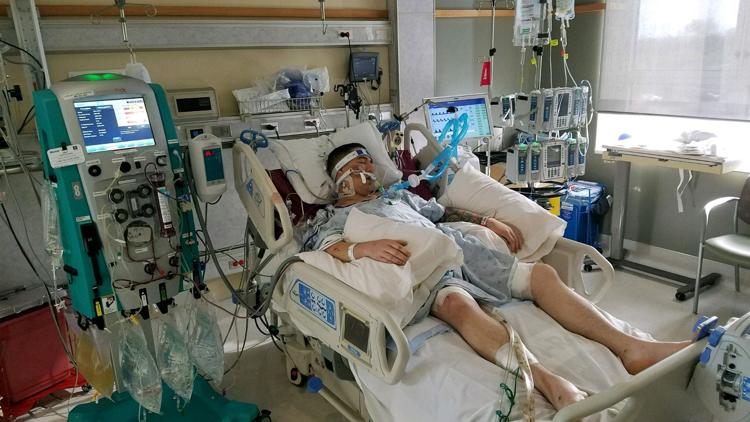 Three days after the shootout, as Carlson languished in a hospital bed, Casper police detective and chaplain Adrian White led 500 people in a prayer for the wounded officer in a park across the street from Wyoming Medical Center.
Cops, firefighters and paramedics stood alongside private citizens and city officials. The crowd waved, blue ribbons gripped in their hands, to Carlson's family members standing near a window. They returned the greeting.
The rally was only one reflection of a community's passion for the injured cop. In the first few days after the shooting, United Blood Services received a flood of donations. On that Wednesday alone, the clinic took in 48 units of blood.
By Friday, Carlson's liver had not recovered. Every lab run on his liver function came back worse. If his liver failed, he would likely die.
While Carlson's life hung in the balance, his condition swinging wildly from day to day, the Casper Police Department issued periodic updates on the cop's medical status via social media. Only the good news made it to the agency's Facebook feed.
By Friday, he had opened his eyes, the agency said. The police department's post was shared across the site nearly 800 times.
In the hospital, Carlson looked at his wife, Tiffany, unable to talk. She could see the helplessness in his jaundiced eyes, which were as yellow as the hospital socks he wore.
Tiffany Carlson was born and raised in Casper. She graduated from Kelly Walsh High School a year before Garrett. Though the two knew of each other in high school, they didn't talk. She went to college in Laramie with an eye toward law school.
She loved Wyoming but hated Laramie. She finished her degree at UW-Casper and took a scene-processing class from a sheriff's deputy. She applied for a job at the Natrona County Sheriff's Office.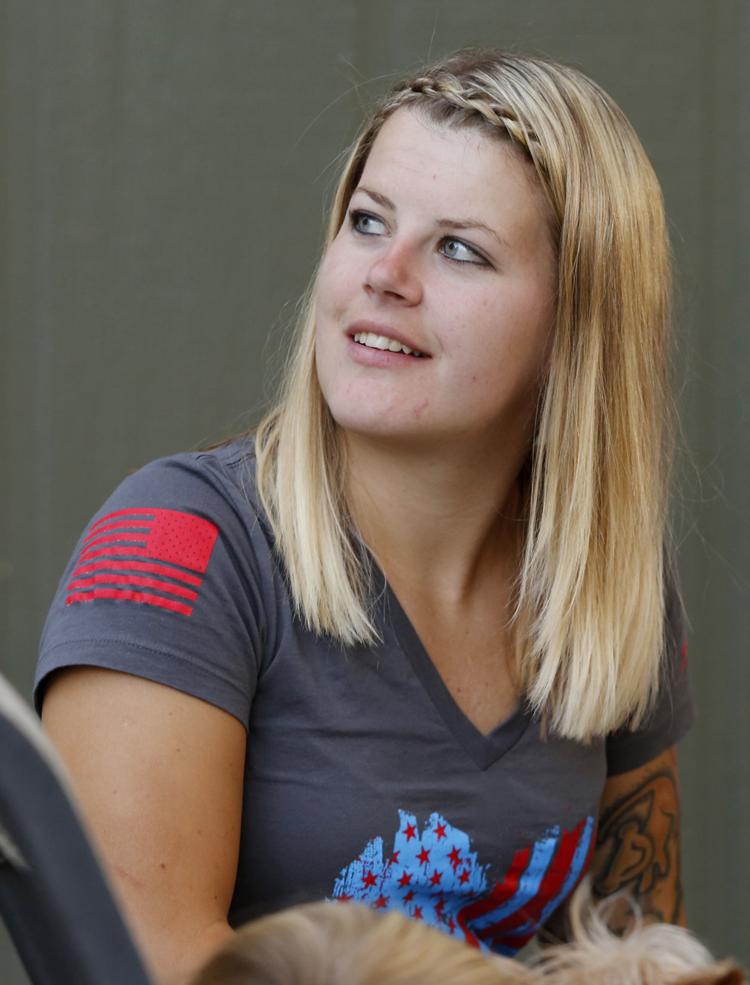 She met Jacob Carlson while working at the Natrona County Detention Center. He was dropping off an arrested person. The reason for the arrest has faded with time — it might have been for public intoxication, he said. He does remember she seemed flirtatious, he was sure she was into him. She says she was just trying to be helpful.
Jacob asked a mutual friend for her phone number, and the two started texting. They went out at Keg 'n Cork. She ordered mac n' cheese, her diet limited by a recent removal of her wisdom teeth. He had a hamburger. They insisted they were taking things slow.
She met Jake's son, Zane, then only months old. She fell in love with the kid, then the cop.
The two were legally married at their kitchen table in November, though neither of them is sure of the exact date. They signed papers, a procedural process in advance of buying a new home. The real ceremony was planned for the summer.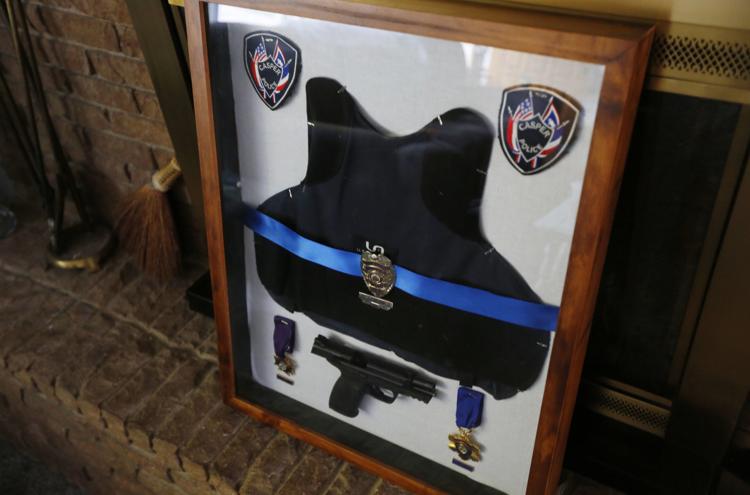 Carlson woke in late May, his chest and abdomen covered with staples and stitches, remnants of the lifesaving operations he had underwent. His liver function had returned.
The cop's mind remained drowsy from the pain medication coursing through the tubes still connected to his body, paranoid from a dream he'd been kidnapped and tortured by Kanye West with the assistance of police officers. He was surrounded by people he was sure had been torturing him.
Even his wife looked untrustworthy. He told her as much in a high-pitched voice, modulated by the tubes recently removed from his throat.
Thus began his conscious recovery.
Garrett, meanwhile, spent nearly all her time at Wyoming Medical Center and the Carlsons' house. As she helped Tiffany keep the home neat and watch the kid, she thought about one thing.
Why did Jake get shot so many times? Why did I come out with just scrapes? Why couldn't it have been me? I don't have kids. I don't have a significant other.
She replayed the day in her head. She dreamed about it. She woke in cold sweats every night.
A feeding tube in Carlson's nose bothered him, so he pulled it out. Nurses reinserted it and the process repeated nearly a half-dozen times.
He begged Tiffany to take him home.
"Babe, we can't take you home," she said.
She stayed in the hospital day after day. When she went home at night, nurses would call her. "Your husband wants to see you," they said. She drove back to the hospital.
She signed medical consent forms warning her that Jacob could die in surgery. She watched his condition improve, then worsen the next day. The helplessness settled over her.
His typically close-trimmed hair grew long. He made his way from the intensive care unit and into the progressive care unit — a sign of his physical progress. The doses of his medications lowered, and his mind cleared.
The couple had planned to fly down to the Dominican Republic in early June, a week and a half before their June 16 wedding date. Their flight came and went.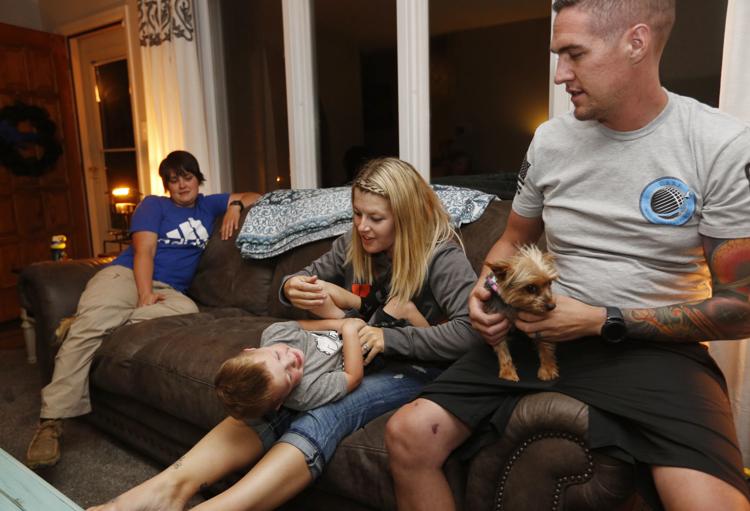 Medical staff released him from the hospital June 12. He insisted on walking out of his own power. He did so with the assistance of a medical walker. The path down a hallway, into an elevator and out the front door took more than 15 minutes to navigate, breaks and a wrong turn included.
Carlson's kidneys remained damaged, and he continued to receive dialysis three times a week. Tiffany Carlson, on leave from the Natrona County Sheriff's Office, learned to administer IV antibiotics and to change his wound dressings, both of which she had to do multiple times a day.
For weeks, he spent eight hours every day receiving medical treatment. Yet he was home.
Garrett decided she was OK. She went back to work. Command put her on desk duty, helping detectives with evidence.
She wasn't OK. She went to a captain and said so. She went into therapy.
One day, Chief Keith McPheeters called her into his office. He said she'd shot Wolosin in the chest. A weight lifted from her shoulders.
I just wanted to know that I didn't just let my partner get shot, she thought.
She watched video of the shootout. There's just nothing we could have done differently, she thought.
When Garrett returned to the street, she spent a week riding in a patrol car with Bowman, whom she'd gone to academy with and who was first on the scene of the shootout. Garrett found herself nervous, cautious and on-guard. She'd always looked people up and down for weapons, but a hand in a pocket would put her on edge.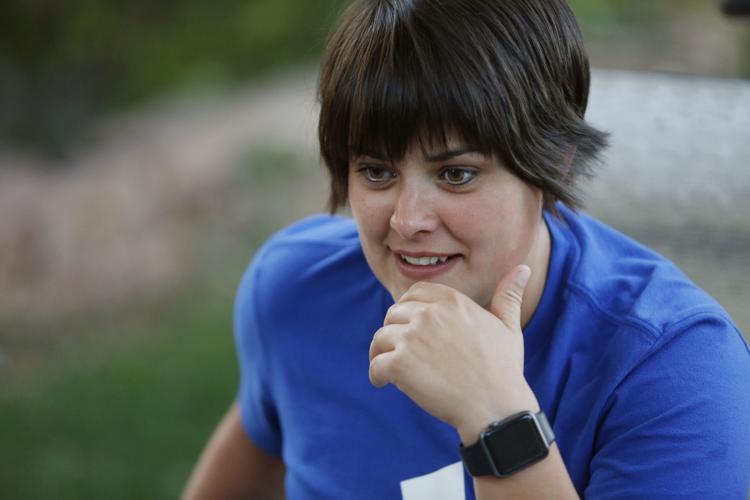 She started driving her old cruiser again. She went through the Taco Time drive through. Her palms sweated. She shook.
But with repetition the tension slowly dissipated. It's taken time — Garrett doesn't think she'll ever be the same — but the improvement comes with each day on the street and every day she puts between her and the shootout. She is learning how to recall the shootout only when she wants to. She thinks she'll always be able to remember the day.
On July 23, District Attorney Michael Blonigen sent a letter to the officers' attorney, DCI and the chief of police stating he would not charge either cop with a crime related to Wolosin's death.
A week later, McPheeters decorated the two officers with medals of valor and awarded a Purple Heart to Carlson in a Monday night event attended by 1,000 people at David Street Station. The chief said through a microphone that Carlson's survival was miraculous. He characterized Garrett as acting "selflessly and at great peril to (her) life."
Carlson stepped to the microphone to address the crowd. He choked up and stopped. People began to call out.
The police department's public relations channels then went quiet. The press releases, Facebook posts and public events dried up.
Carlson and Garrett continued to recover quietly, far from the public eye.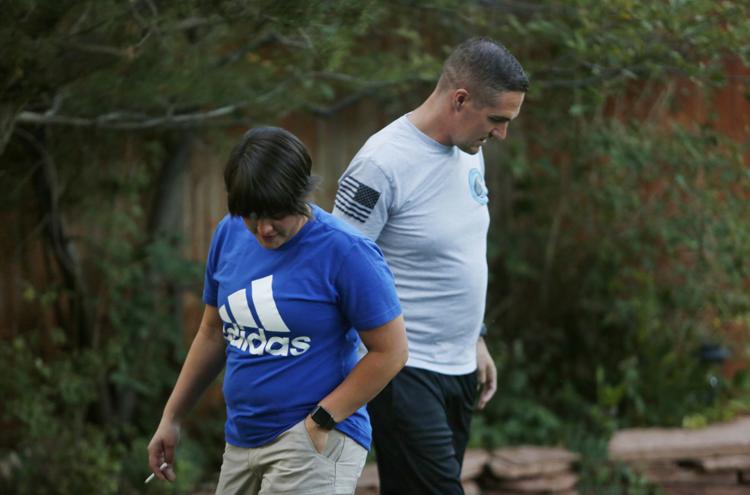 On Aug. 20, Carlson told the Star-Tribune from his lawyer's office that McPheeters had pressured him to return to work, even though he did not have medical clearance to do so. Carlson said the chief on the previous Tuesday had called him into headquarters asking him to appear at work for restricted duty by Wednesday. When Carlson said he did not have medical clearance, the chief told him he expected the cop back by the 20th, Carlson said in the interview.
When the Star-Tribune called the same day and asked about Carlson's allegations — and a corresponding letter sent by Fuller — McPheeters declined comment because he had not seen the letter. When he was offered a copy of the letter, the chief said he was busy setting up a training and could not comment.
The public reaction was immediate and vitriolic. Social media commenters began calling for McPheeters' resignation.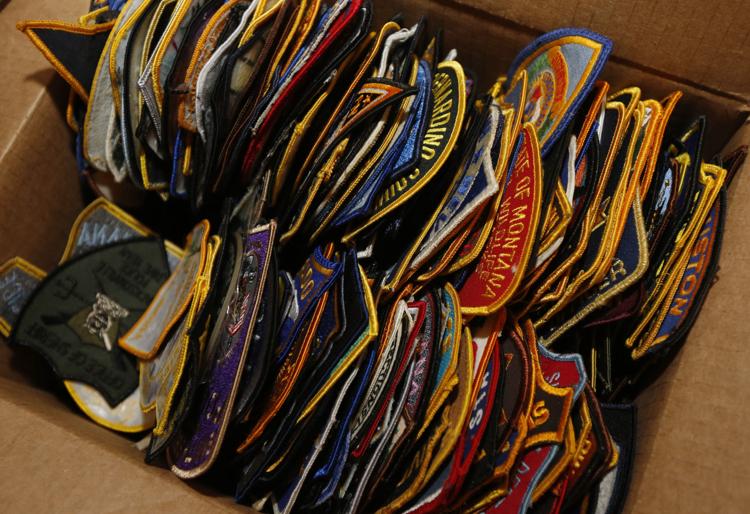 At 9:38 the next morning, the Casper city government announced a press conference taking place within an hour. By 10:30, the city manager, a handful of council members and the city attorney convened in a City Hall boardroom.
Fuller entered the room with Carlson minutes before the press conference was slated to begin and asked if it was public. A heated argument between the lawyer and City Attorney John Henley ensued, and Henley booted Fuller from the room. Carlson went with him.
City Manager Carter Napier gave a statement in which he voiced support for the officer who sat in the lobby. He said Carlson had been medically cleared — which he had, on the previous afternoon, with an authorization for limited work beginning Aug. 27.
When asked about Carlson's comments to the Star-Tribune, Napier said he could not comment on Carlson's "purported statements." He said the officer had not been asked back to work, though Carlson found a signed letter from the chief in his work mailbox ordering him back to work on the 20th.
In another press conference that afternoon, McPheeters said he had failed to effectively communicate with the officer.
Seven days later, Fuller and Carlson met with city officials, who agreed to grant the officer another eight weeks of paid leave. In the meantime, Carlson continued to attend physical therapy twice a week as he recovered from his injuries. He lacked full mobility in his left foot, making it difficult to walk on uneven ground.
A postmortem investigation of Wolosin has made him no less mysterious than he was the day he died. A toxicology screening performed as part of his autopsy came back negative.
Although the officers' attorney Don Fuller told the Star-Tribune days after the shootout that Wolosin "fancied himself sovereign," DCI Special Agent Ryan Cox declined to characterize the dead man in such terms.
He was "very constitutional in (his) views of everything," but investigators ultimately decided those views were likely not a factor in the case, Cox said. The agency — and District Attorney Michael Blonigen — declined to speculate why Wolosin acted how he did.
There is no official explanation for why Wolosin refused to give his name to Garrett and why he drew his gun and fired at Carlson.
"Ultimately, it's not why," Cox said. "It's what."
The dinners with friends resumed after Carlson came home from the hospital. By August, they were playing board games again.
A month later, Garrett turned 26. Tiffany prepared steak fajitas — with tomato salsa made from the Carlsons' backyard garden — and a half-dozen cops carried their paper plates to the patio.
After dinner, Tiffany Carlson decorated Garrett's chocolate cake with wooden matches in lieu of forgotten candles. The two matches burned out before the assembly had finished singing. Tiffany lit a third match, which fizzled. The fourth produced a meager flame, just strong enough to keep the match lit while Tiffany pushed it into the cake.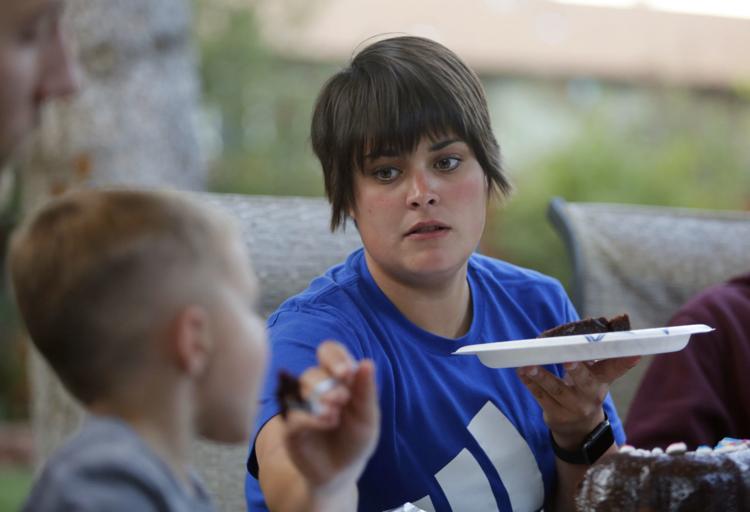 Garrett breathed on her makeshift candle before it had a chance to burn itself out.
The sun set. The sky grew darker, the voices quieter and the laughs louder. Jake Carlson turned on a set of canopy lights, then a lamp.
He snuck back inside to clean the kitchen and listen to jazz. Tiffany, Garrett and their remaining companions went on with the game. Carlson's 2-year-old son ran across the yard with another cop's children. A dog, Agnes Edith Carlson, sat facing the door.
Life wasn't quite normal, but normal wasn't far off.
Follow crime reporter Shane Sanderson on Twitter @shanersanderson
Sign up for our Crime & Courts newsletter
Get the latest in local public safety news with this weekly email.