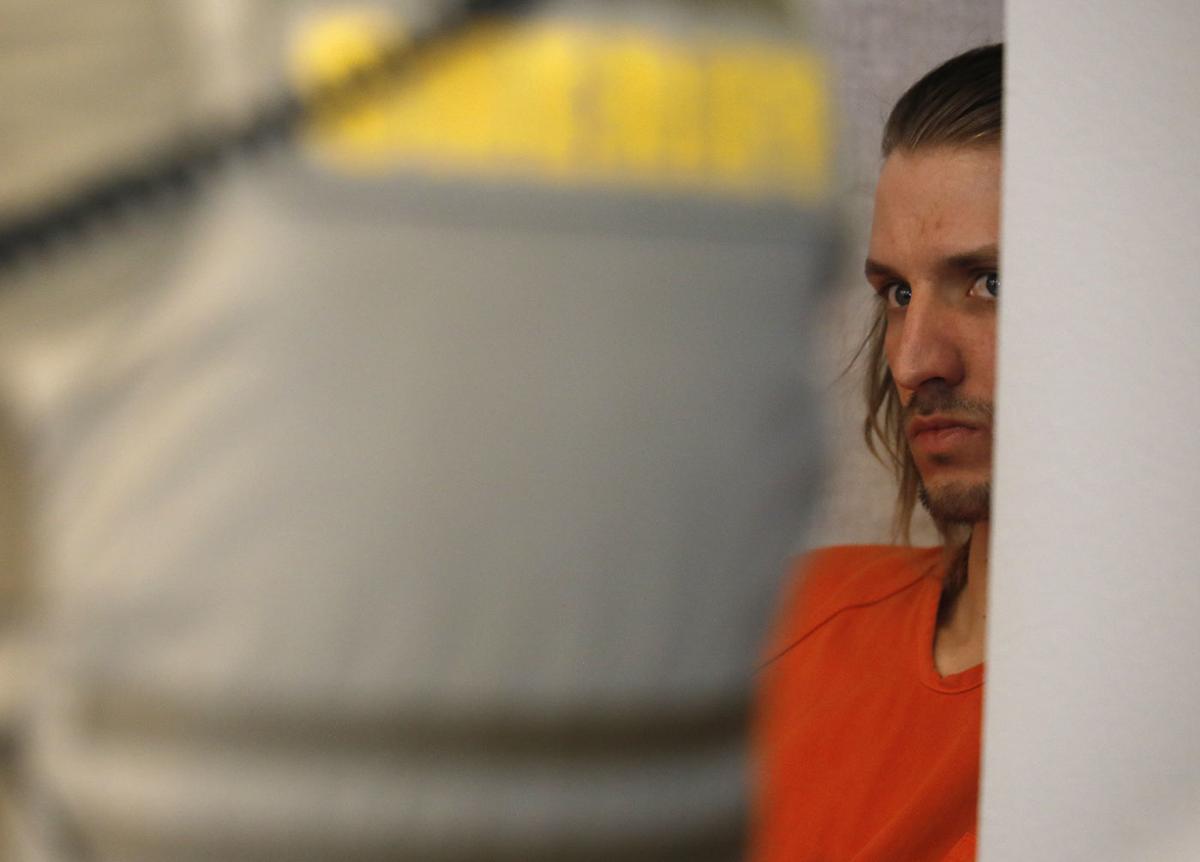 Andrew Steplock in February sat at a round table in a Colorado interview room.
Directly across from him sat a Casper police detective. And to Steplock's right — still well within his line of sight — sat a second Casper detective.
Steplock told the cops about his dog and the breeder's price.
The white-faced clock behind him, which ran 15 minutes fast, ticked audibly during a pause in the conversation.
Detective Mitch Baker asked Steplock if he knew why they were talking. The 28-year-old said he didn't know.
The detective began again. He and his partner — Detective Adrian White — had driven to the Larimer County Sheriff's Office for a reason.
Baker asked why they'd taken the drive. Steplock mumbled a response.
White asked the man to repeat himself: "What'd you say, Andrew?"
"Killed my mom," Steplock said.
The video footage came midway through Baker's testimony in Natrona County District Court, where Steplock is standing trial on four felony counts. Among them is felony murder, for which convictions are punishable by life imprisonment.
Wednesday, the trial's third day, featured a half-dozen witnesses called as part of prosecutors' case that is expected to conclude by Thursday night.
Steplock's confession, made seven minutes into a 90-minute interview, expanded rapidly.
In the video, which prosecutors played for jurors late in the morning of the trial's third day, Steplock told the two cops he shot his mother, Deborah Steplock, 58, inside her central Casper home. He said if he'd have seen his father in the next room, he would have shot him, too.
He described the gun he used — a .40-caliber Smith and Wesson — and told the detectives how he got into the house: breaking out a window near the back door. He said he wanted to break into a wine cellar in the basement of the house; its vault-like door indicated it held valuables, Steplock told police.
Steplock said his mind was blank when he shot his mother.
While sitting in the interview room, about 24 hours after the shooting, he claimed sometimes to not know why he had acted. His comments came sometimes in rambling mumbles and sometimes in succinct statements.
You have free articles remaining.
At one point, face in his hands, Steplock repeatedly asked himself what he had done. He told detective he clearly remembered some details surrounding the crime.
"That's all I can see in my head. How scared she was," Steplock said.
It was only while driving through Colorado, he told detectives, that he thought: "Dude, what the f—- did I just do?"
Andrew Steplock, 28, of Casper, goes to trial Monday on charges alleging he shot and killed his mother in the living room of her Casper home. …
Defense attorneys on Wednesday largely did not contest statements their client made in the footage. They have conceded Steplock shot his mother, and their case focuses on contesting his mental capacity to be held accountable for his crimes. He has pleaded not guilty by reason of mental illness or deficiency to the four charges he faces: felony murder, second-degree murder, aggravated burglary and possession of a weapon with unlawful intent.
Public Defender Joe Cole on cross-examination asked Baker, who is now a sergeant, if Steplock's scattered demeanor and sometimes fuzzy recollection was normal. On little sleep and under high stress, it's not unusual, the sergeant said.
Steplock's hygiene was poor: an odor filled the interview room, Baker said. He also noted, though, that given the events of the prior 24 hours, that might not be abnormal, even if a person had showered.
FBI tracking
The first witness of the day, FBI Agent Kevin Hoyland, told jurors that he had helped track the movement of Steplock's phone using cell tower data. In a series of images presented to jurors, Hoyland indicated that the phone was between Steplock's home near Casper's rail yard and his mother's home in central Casper shortly before the early morning Feb. 26 shooting. Between 12:59 and 1:01 a.m., which is about the time Deborah Steplock was shot, the phone begins moving rapidly away from the scene and south down Poplar Street, then east on Wyoming Boulevard toward the interstate. The phone was just north of Cheyenne at about 6 a.m.
It went off the grid by the middle of the day, likely because it had been powered down, the federal agent said. It began connecting to towers again shortly after 2 p.m. in Aurora, Colorado. By 7 p.m., the phone was still in Denver, according to the agent. And by 10 p.m. on the same day, the phone was outside a gas station where police would soon arrest Steplock.
The next witness, a bank manager, told jurors that Steplock had the day before the shooting withdrawn hundreds of dollars from an account he was authorized to use, but in his mother's name. After the bank manager concluded her testimony, Baker took the stand. He briefly described the investigation leading to Steplock's arrest by a Colorado SWAT team in the parking lot of the gas station. Prosecutors showed the video footage, and after Baker described some police interview techniques, prosecutors put Steplock's gun — a .40-caliber Smith and Wesson — into evidence.
As Cole concluded his cross-examination, District Attorney Dan Itzen asked Judge Daniel Forgey for clarification of an issue. Prosecution and defense lawyers huddled around the judge, before Cole returned to ask a follow-up question.
In response, Baker said that Steplock told detectives he had been locked out of the house because he had a history of stealing from his mom's purse.
Baker stepped down from the stand and Itzen called two police evidence technicians in order. The first, Officer Chris Miller, only spoke to his collection of DNA from a family member. While the second, Officer Jeff Broneck, sat on the stand, Itzen presented scores of photos to jurors.
Before they were shown, Cole objected on the basis of relevance to presentation of photos taken in the house's basement wine cellar.
"It's where his client said he was gonna go steal from," Itzen told Forgey.
The judge allowed jurors to see the photos.
The day's final witness, Detective Tiffany Elhart, took the stand only long enough to help prosecutors introduce into evidence the single bullet a coroner removed from Deborah Steplock.
The trial is set to continue at 9:30 a.m. on Thursday.