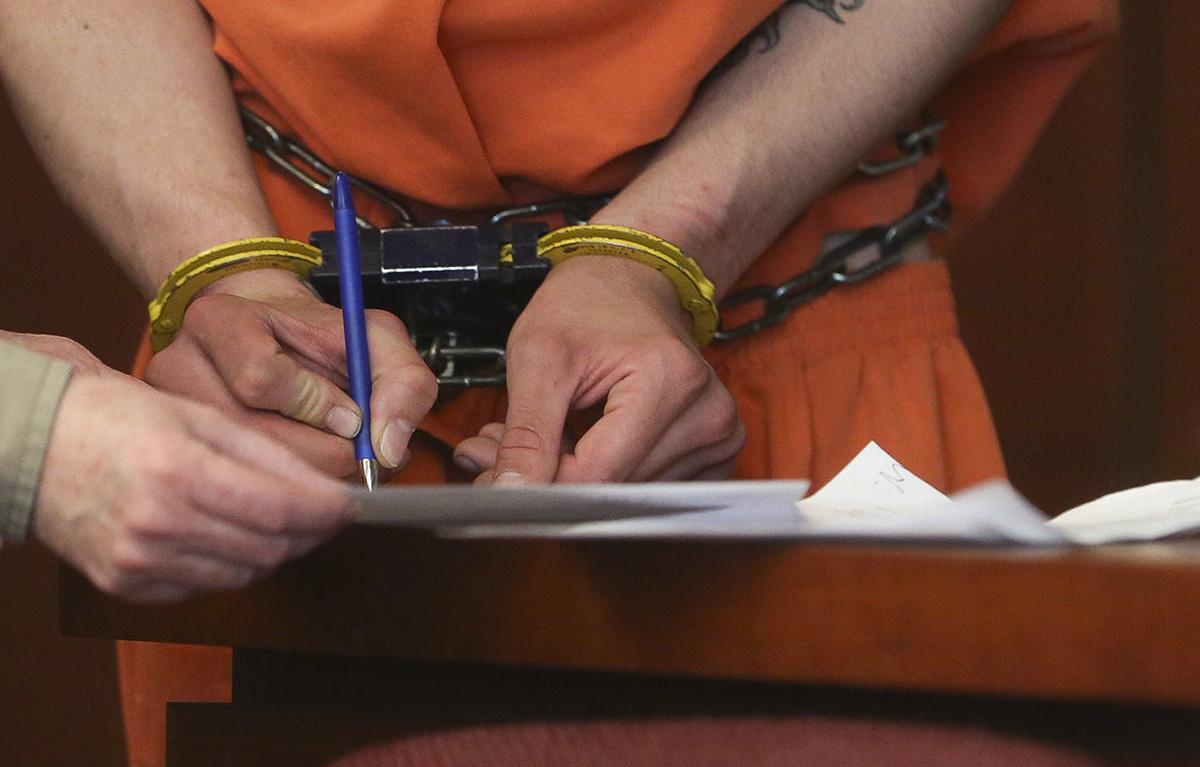 Attorney Joe Cole didn't have an answer. He referred the judge's question to his client.
The judge repeated her inquiry: Did Spencer Lamb have a place to live?
Lamb, talking into a video camera at the Natrona County Detention Center, told the judge he could find a place to stay. He's separated from his family on the basis of a Department of Family Services order. But there's a local motel that rents rooms on a month-to-month basis. And there's always the Wyoming Rescue Mission on Park Street.
Judge Catherine Wilking paused momentarily, then announced her decision: She would halve Lamb's bond, reducing the requirement from $10,000 to $5,000. If he were to hire a bond agent, he could pay them a portion of that amount — 10 or 15 percent, typically — in order to have them post the bond for him.
Lamb's case was one of four Wilking heard Monday solely on a request for a bond reduction. And in all four of those cases, the judge made a reduction. Wilking's determinations came about a week and a half after she and her colleagues on the Natrona County District Court bench cited the novel coronavirus in cancelling jury trials through mid-May. In the same order, the judges announced they would cancel and reschedule the many other court appearances and hold what hearings remained by phone or video wherever possible.
The Natrona County judges made those announcements on the heels of a directive from the Wyoming Supreme Court — which the state bar association has said is largely advisory — asking judges to postpone and reschedule many hearings in the interest of public health. The implementation of those advisements has varied dramatically across the state. Lawyers and experts in the field say, though, that they still leave up in the air many questions about how criminal justice will be administrated in Wyoming if the ongoing pandemic renders public spaces unsafe for an extended period of time.
Central to this set of challenges is a tension in Natrona County's courts: a desire to limit in-person court hearings to prevent the spread of coronavirus makes it difficult to ensure that people — some of whom may ultimately be found not guilty — are not jailed indefinitely.
***
The Wyoming Supreme Court's order is temporary — lasting through April 10 — but it is unlikely that institutions soon will be able to return to business as usual. The number of identified cases of the novel coronavirus has trended dramatically upward in Wyoming as well as the rest of the country. Scientists say the disease it causes can spread rapidly in spaces where people come into close contact with one another. The close contact common to jails and courthouses, combined with the high volume of foot traffic expected in those institutions, make them potential sources of outbreak for an illness with no identified vaccine.
Although the Wyoming Supreme Court's order called judges to continue to follow a court rule that typically brings people accused of crimes to trial within 180 days of their arraignment, the rule is no guarantee, said John Robinson, a Wyoming lawyer whose civil litigation frequently addresses civil rights violations. Robinson said that the rule contains safeguards that allow the court to delay trial in certain circumstances. The pandemic almost certainly qualifies, Robinson said.
The lawyer said also that federal constitutional rights are unlikely to ensure that people awaiting trial will have a chance to go before a jury or go free on bond. It could be years before applicable federal law would kick in, he said.
"I don't know if there's any relief that people charged with a crime can look toward," Robinson said. "Hopefully it resolves sooner rather than later."
But if things don't begin moving again by summertime, Robinson said, institutions may have to start making changes for logistical reasons. When the jails and prisons begin to fill up, authorities will have no choice but to find a solution, he said. According to Robinson, the Wyoming Department of Corrections and county sheriffs don't have the resources to be arresting people and holding them indefinitely without trial.
Some such determinations have already begun. In Fremont County, according to the Riverton Ranger, a mid-March conference call between a circuit court judge, the county attorney, the sheriff and a public defender resulted in the release of 30 people who were deemed of low public risk.
The toll of the pandemic could also include an increase in convictions, said Ian Sandefer, a Casper lawyer who largely focuses on personal injury litigation. Sandefer said that given the potential difficulty in going to trial, it's more likely than usual that people would be pressured to plead guilty to crimes they hadn't committed. People incarcerated pre-trial are generally more likely to plead guilty. Sandefer said that's because the system can present a difficult decision for certain people: spend several months awaiting trial or plead guilty to a crime they didn't commit to go free on probation or with credit for time served. With the risk of coronavirus, though, the stakes are higher.
"That's what people have been asking even before this pandemic," Sandefer said. "I think it's highlighted by this pandemic … because sitting in jail for an extended period of time could be a death sentence."
***
Modifications to criminal court policies vary across the state, but they largely amount to decreased access to the hearings necessary to adjudicating a case. Many county courthouses are closed altogether and hearings are limited to those that do not require defendants to make a physical appearance in court, which judges have interpreted to mean that sentencing hearings must be rescheduled.
The variance, though, can be dramatic. According to an order issued by the Carbon County District Court, hearings and trials remained scheduled, but if people are particularly concerned, they should ask for a postponement to their case, Judge Dawnessa Snyder wrote. The judge's office said on Tuesday that cases were being dealt with on an individual basis: two jury trials scheduled for mid-April were postponed.
In Converse County, meanwhile, at least some arraignments have been postponed, meaning that the six-month speedy trial clock can simply sit idle. Don Fuller, a Casper defense lawyer, said an arraignment his client was scheduled to appear at on Monday instead was rescheduled for July. That postponement didn't concern him, Fuller said, because — like many people who are able to afford private attorneys — the man was free on bond.
"His speedy trial will be off in the stratosphere," Fuller said. "But because of some of these massive delays … judges are looking into bond modifications. It is discriminatory to the impoverished and people who cannot make bail."
A clear path forward has not yet made itself apparent, the attorneys said. But Sabrina King, spokeswoman for the Wyoming chapter of the ACLU, said last week that judges could easily reduce the number of people held in jail awaiting trial. Over the entirety of the state's jail population, King said, people are usually not being held for public safety but to ensure appearance at future court hearings.
"There are very few people at this point who are being held pre-trial because they are a danger to society," King said.
The ACLU spokeswoman said that her organization had not yet been contacted by anybody alleging court delays had infringed on their rights. King said, though, that being given an opportunity to plead guilty without access to a process for being found not guilty could create a class of people in need of a remedy.
"The courts could certainly make that determination, but I think you're getting into some deep questions," she said. "That's gonna cause some problems for the courts."
***
Most information available about judges' changes to bond decisions is anecdotal. Because Natrona County District Court judges do not make themselves available to press inquiries, any reasoning not explained from the bench is unknown to the Star-Tribune. It is too soon for an analysis of bond settings to provide a comprehensive indication of changes to judges' reasoning under the new order. And nobody in the county has yet come up against the 180-day criminal trial deadline required by Wyoming court rule.
However, it is clear that judges here are now considering the virus in their decisions on the issue. In their order, the three district court judges said that they would review bond in cases affected by the court's limited hearing schedules. Judges indicated they will call bond hearings on their own accord. And, on Monday, Wilking indicated that she made one bond reduction at least in part because a person held in jail in advance of sentencing lives with HIV and therefore is more susceptible to COVID-19.
Wilking's decisions during the Monday hearing were unusual compared to what observers might expect under more typical circumstances: It's somewhat uncommon for a judge to reduce multiple bond amounts over prosecutors' objections during a single morning. But on Monday prosecutors objected to three of the four.
In the fourth case, prosecutors agreed to a defense request that tightened observational requirements for a woman accused of a drug crime. Wilking then ordered the institution of a so-called signature bond, which allows a defendant to go free without putting up cash or hiring a bond agent. Instead, she signs paperwork promising to follow the bond requirements and acknowledging that if she fails to comply with bond she may have to forfeit money to the court.
Under more typical conditions, district court judges do not frequently find that the felony cases they hear qualify for signature bonds in advance of trial. However, Wilking's decisions were not isolated. On Thursday, she reduced bond amounts in two cases. On Friday morning, Judge Daniel Forgey approved a bond reduction as well. In that case, although a public defender had requested only a reduction in his client's bond requirement, Forgey ordered the man be allowed out on a signature bond.
Their colleague Judge Kerri Johnson has, according to schedules provided to the Star-Tribune, not heard a bond reduction case since the court changed its procedures.
In the case of Lamb, the man who said he'd be able to live at a motel or homeless shelter, Wilking said that the court's changes weighed in her decision. Lamb had asked before the postponements for the judge to suppress evidence in the case, which Wilking noted she would not be able to hear, though at no fault of Lamb's.
Cole, the public defender representing Lamb, said at the Monday hearing that he intends to challenge the admission of evidence in the drug prosecution. Cole told the judge that he think the request is a strong one, and likely to determine the outcome of the case. But it won't come before the judge soon. The hearing on that issue was postponed following the court's order.
And although the judge reduced Lamb's bail requirement, he was apparently unable to meet the lessened setting. He remained incarcerated Tuesday in lieu of the $5,000 requirement.
Concerned about COVID-19?
Sign up now to get the most recent coronavirus headlines and other important local and national news sent to your email inbox daily.