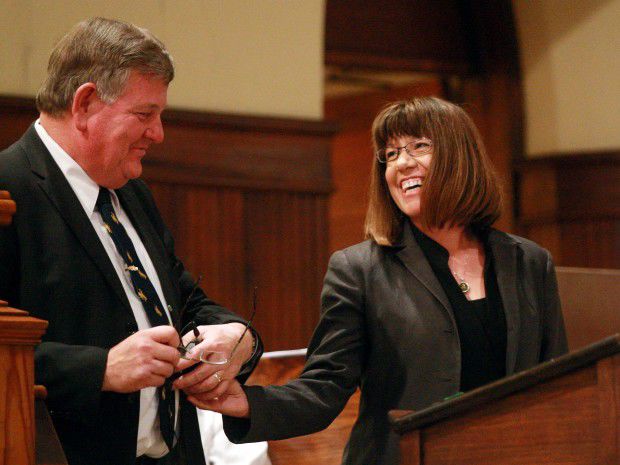 Staffing shortages that led the Wyoming public defender last summer to decline misdemeanor cases in Campbell County have been resolved, the attorney told the Star-Tribune earlier this month.
Diane Lozano, who runs the statewide agency that defends people accused of crimes who cannot afford private lawyers, said by phone that she had made job offers to fill open positions in Campbell and Laramie counties. She said during the April 8 interview that she had not yet made an offer to fill an open position in Natrona County, but that she anticipated doing so soon.
The agency's capacity to take cases became an issue last year, when Lozano told judges in Campbell County Circuit Court that her office there did not have enough lawyers to handle new cases. The same day, Judge Paul Phillips found her in contempt and ordered she pay the court $1,500 per day until she took the cases and all others referred her by the court.
By the end of May, Lozano had appealed the judge's ruling to the state appellate court. In Natrona County, meanwhile, the public defender's office — citing workloads that Lozano said precluded lawyers' ability to provide effective representation as required by the U.S. Constitution — also stopped taking appointments to misdemeanor cases and judges in both counties began appointing private attorneys to those cases.
The staffing crunch eventually eased, and public defenders began again taking the cases, though private lawyers continued to represent the people they had been assigned during the staffing shortage.
Then, in early April, the Wyoming Supreme Court ruled in Lozano's favor, determining that Lozano acted appropriately when she triggered the contempt order — citing rules of professional conduct that indicated her lawyers were well-overworked — by declining to represent two people in Campbell County misdemeanor cases. The court found that Lozano, not a judge, should be able to determine — as circumscribed by ethical obligations — whether the public defender's office is available to take cases.
"Our (determination) is in keeping with the legislature's intent to secure indigent defendants' Sixth Amendment right to counsel," Chief Justice Michael Davis wrote in the majority opinion. "While a defendant's right to the effective assistance is not defined by the rules of professional conduct, the rules do provide helpful guidance."
The court, though, found that the public defender's office was still financially responsible for defense of indigent people. In Natrona and Campbell counties, Lozano said, a budget amendment covered bills submitted by private lawyers. The cases assigned to outside lawyers last year have nearly all concluded and been paid for. And, in the budget that will take effect over the next two years, legislators provided the agency a pot of money that allows for hiring contract attorneys when caseloads climb. Also, if necessary, the Supreme Court's opinion means the public defender's office can recuse itself as necessary, instead paying for private lawyers' time.
"That's not something that we're looking to do," Lozano said. "We have a blueprint now … but we'll always do our best to avoid that situation."
In addition to the Supreme Court ruling and legislative budget modifications, legislators earlier this year instituted a law more clearly delineating the income amounts that allow a person to qualify for representation by the public defender's office. Once a person earns more than 218 percent of the federal poverty guidelines — which, in a single person household, would work out to about $28,000 — they no longer qualify.
How the new guidelines will affect the number of people her office represents is unclear, Lozano said. But the focus of state institutions on her office's funding woes was a good thing. Nationally, the right to adequate representation in criminal court has eroded recently, Lozano said.
But that trend has reversed locally, she said: "Over the last year, the right to counsel has become more meaningful in the state of Wyoming."
Sign up for our Crime & Courts newsletter
Get the latest in local public safety news with this weekly email.