To understand what it means to be home — truly home — spend some time with the seniors of Midwest School.
That's what English teacher Daphne Vaughn recommends. At that moment, six of them — the bulk of the class — are sitting in the center of the bleachers in the school gym, surrounded by roughly 130 fellow students. It's Tuesday, the first day of school, the first day in 16 months they are all gathered here, the first without an hour-long commute, without early mornings and late nights away from home.
Standing in the door to the gym, Vaughn points up to the seniors. Kayden Best points back before lifting his right arm and flexing his bicep. His cocked fist inadvertently points to the big maroon letters behind his head: "Home of the Oilers."
"These are 17-year-old boys who nearly had tears in their eyes, they were so happy to be home," Vaughn says.
Kayden is a lifer. He's been at Midwest since pre-kindergarten, and he plays three sports here. In class, he makes deadpan jokes and teases his classmates, lies down across a desk or mock-arm wrestles.
But after the assembly, when he's asked about what it means to be here again, in this building after 16 months away, he's serious and measured.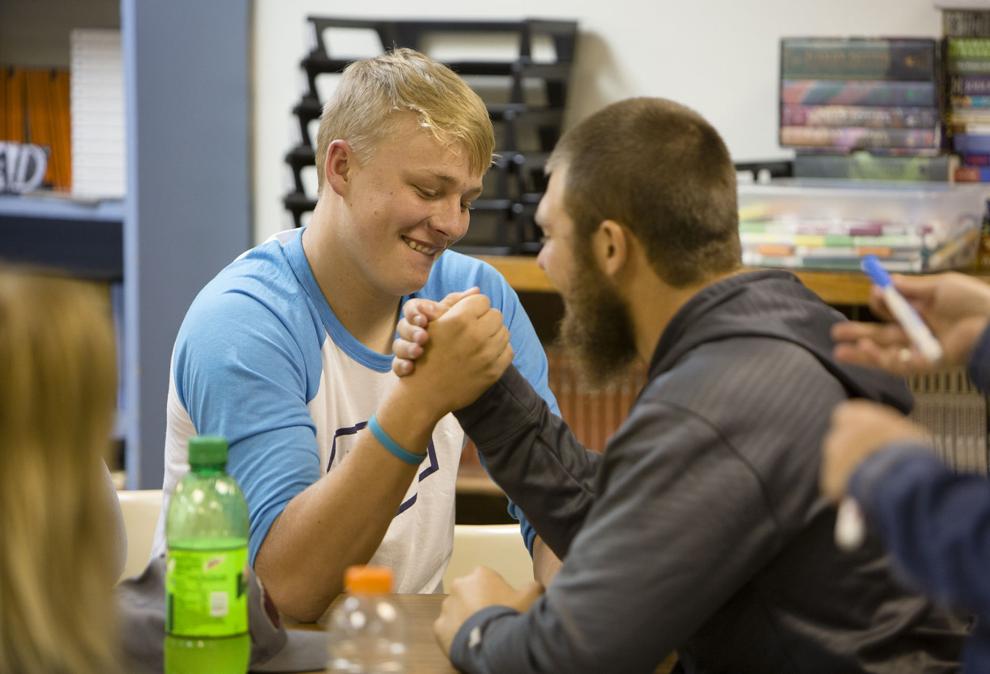 "There are a lot of memories here," he says. He's sitting in the bleachers with five other seniors at the start of gym class. "We know all the kids here, instead of at (Pathways) where we didn't know anybody — "
Kayden cuts himself off to yell "here" to physical education teacher Jeremy Prisbrey, who's taking attendance.
"Sorry," he says, smiling.
"It's just nice to be home," adds Logan Drinkwalter, who's sitting next to Kayden.
"Nothing's really changed," Kayden says. "Except we're older."
Sixteen months separate this moment at Midwest from the last, when those seniors were sophomores and the building was evacuated after students and staff noticed a strange odor. Midwest sits in a stretch of barren prairie broken up by buttes and ravines and pockmarked with oil rigs. People have been drilling for oil here for more than 100 years. Early wells were often plugged with simple items like wooden fence posts, and state records show 120 have been abandoned in the 640-acre section surrounding the school.
The odor prompted an investigation, which revealed a gas leak from the oil field was filling the air inside the school with unsafe levels of chemicals. It was shut down indefinitely.
There were two weeks left in the 2016 school year. For those two weeks, Midwest's students boarded buses every morning at 6:30 and headed to Casper, an hour-long bus ride alongside the rising sun. Teachers had seven hours to pack up their professional lives and take them to their new, temporary location at North Casper School. That year's senior class walked across a stage in the Casper Event Center.
That must've been terrible, the class of 2017 agrees. Don't get them wrong: The events center is great. It's just that they always imagined themselves graduating here, in Midwest, at home.
At first, it was unclear when the school would reopen. Like the town of 400, the building sits a few minutes away from the Salt Creek oil field, the oldest and largest in the state. A system needed to be designed and installed to ensure a similar leak wouldn't happen again.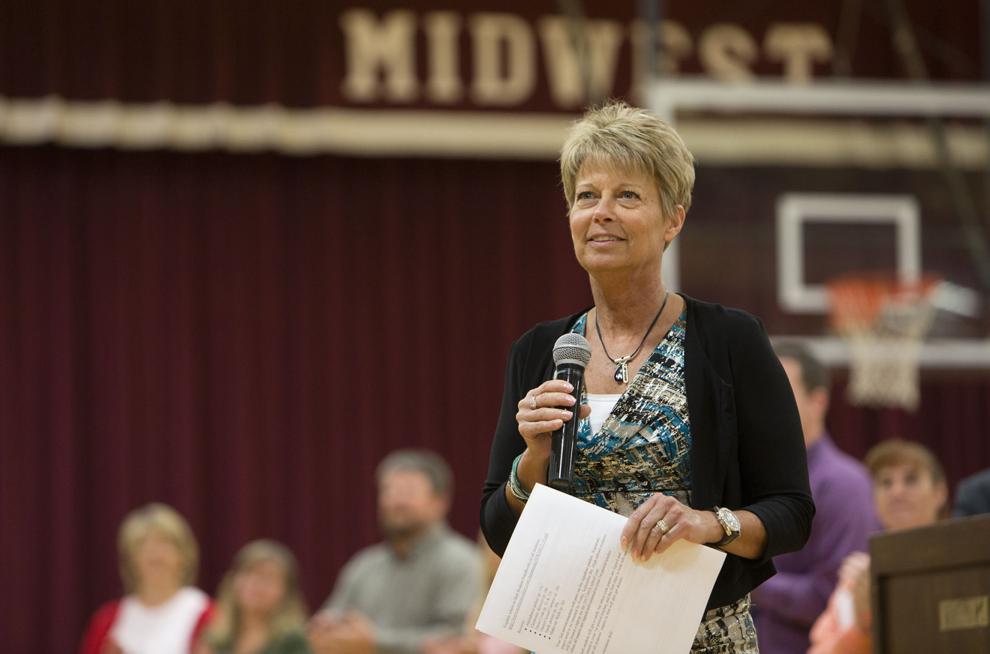 Principal Chris Tobin hoped students would fill the halls again in fall 2016. Then the target became after the New Year. Then, eventually, it was clear the school would remain shuttered until September, until Tuesday.
"We're used to being under the same roof," Tobin says Tuesday, sitting in her office in the heart of the building.
In the meantime, part of the school flooded. Asbestos was pulled out. A system to pump carbon dioxide from beneath the building and into the air above it was designed and installed.
So for more than nine months, students rose at dawn and often rode home in the dark, through the quiet streets of Midwest, past the gas station and the modest houses and the Oiler Pride signs that often hang from them. Kayden, Logan and the other high school students rode the bus to Pathways. The younger students attended the empty Westwood Elementary. Another senior class accepted their diplomas in Casper.
"It was hard on everybody," Tobin says.
In their absence, a small town grew smaller. Nearly everyone here — from the pastor, to an employee at the gas station, to the clerk at the town hall, to the mayor — has some tie to the school. Those that don't still crowd the football stadium on Friday nights.
Midwest School is the rhythm and energy of a small town that likely wouldn't exist without it.
"It puts the heart back in the town," Tobin says. "With the downturn in the energy industry, we've lost several businesses. Right now the only place you can eat in Midwest and Edgerton is over here at the Big D. We used to have a couple of cafes, those have closed up. So, to take Midwest School out of the equation leaves a huge hole in our community."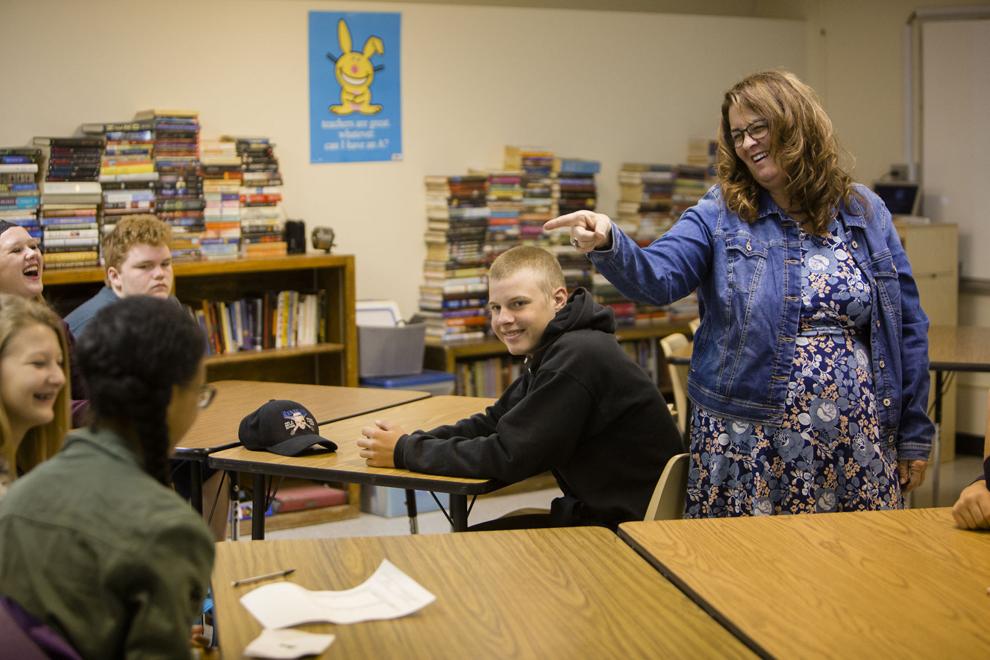 "It was terrible for us," says Tracy Sutherland, the pastor of the Midwest Community United Methodist Church, which is visible from the school's playground. In years past, before the closure, you could hear kids play on the blacktop from the church. You could even hear the principal talking over the intercom.
"We've been praying for this," he says. "Why would we want to send our kids away?"
"The town was dead without the kids," agrees Shawn Bishop, Kayden's father. On Tuesday, he was helping Sutherland scrape the siding off the church. "Definitely excited it's open."
"Praise the Lord," adds Sutherland.
"It was very quiet. (The school is) the heartbeat of the town," explains Jennifer Sutherland, Kayden's mother. She's standing outside of the kitchen at Big D's, the gas station across the street from the school that's a favorite haunt for older students looking for lunch.
She also coaches three sports at Midwest and has two more children there. With her coaching duties, Sutherland often wouldn't be home until 8 p.m. during the time when Midwest was closed. It affected everything in the family's life, down to what they had for dinner.
"It's pizza. Again," she says, emphasizing the last word. "Or Ramen noodles. Again."
"You don't know what you got 'til it's gone," she says.
But now? Now, her daughter set an early alarm not because she had a bus to catch but because she was excited to be back. Now Sutherland can walk to school with her kids again. It was cold that Tuesday morning, but that didn't matter. Not that morning.
"Now, it's like summer again."
Katie Bachmeier and her daughters walked to school Tuesday, too. From where she's standing on Midwest's blacktop, watching as elementary students swing and slide and run around playground equipment, she can see her home. She points to it, to the small blue awning and the gray satellite dish jutting off of the lip of the roof.
Bachmeier, a classroom aide at Midwest, remembers those first hectic weeks last fall. She remembers how her two children hated it, how exhausted they were, how much they wanted to be back in their old building.
She, like apparently everyone at the school, was grateful to the Casper schools that opened their doors. To Pathways and Westwood for providing classrooms, to Natrona County High and Kelly Walsh for practice time and playing fields.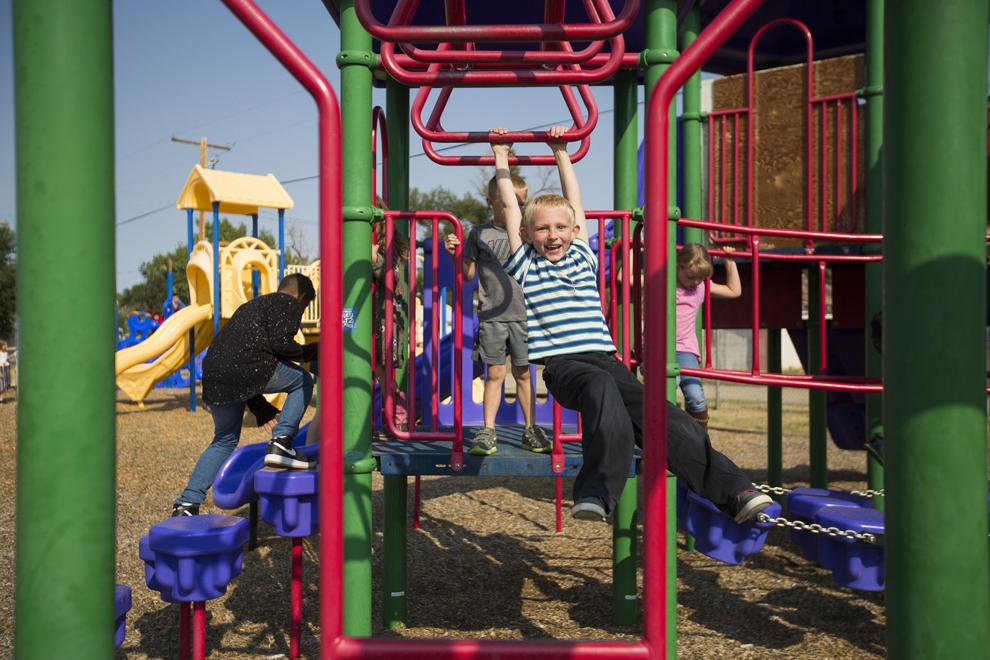 "But it's very different being in green and white and not in maroon and white," Bachmeier says, referring to the colors of Kelly Walsh, where Midwest's teams would often practice last year, and those of the Oilers.
In the hallway after recess, as her students filed back toward their classroom in the elementary wing of the school, second-grade teacher Starla Powers said it was good to be back, that it was exhausting and overwhelming on her students.
"It was difficult to fathom," she says of the closure, "not knowing if they were going to let us back in."
She had been concerned about the air quality, about the damage the leak might have caused before it was detected. But she's confident now that the school is safe.
Her small class now assembled, Powers sits them down on a rug with a map of the world painted across it. As the kids eat Honey Nut Cheerios off of brown paper towels, Powers reads about Pete the Cat and his white shoes.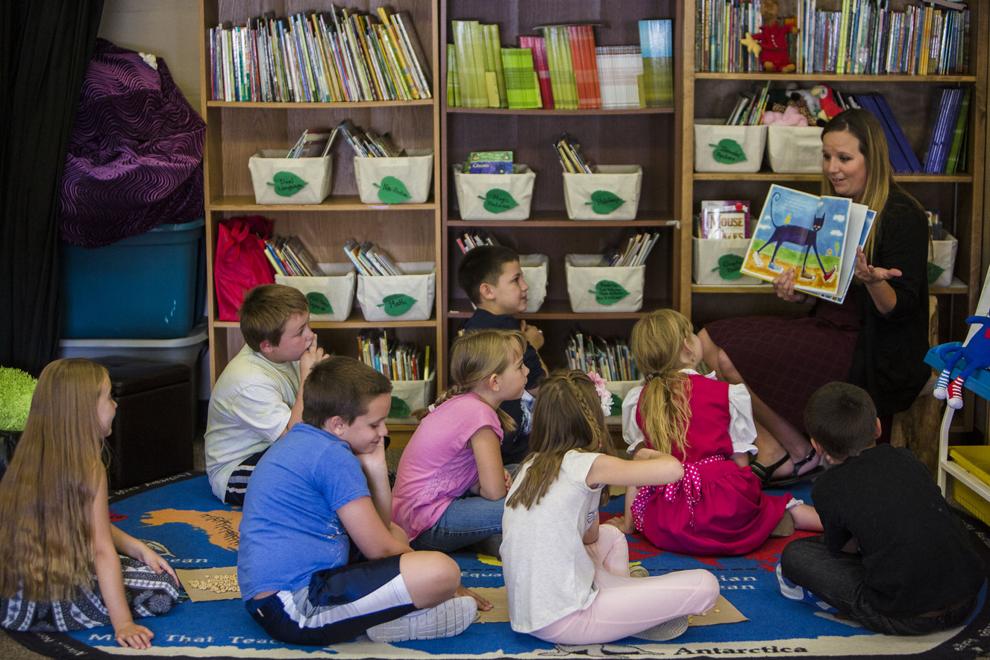 As Pete walks and sings merrily (he really loves his white shoes), he keeps stepping in messes — big piles of strawberries, some mud, a puddle. Each time, as his shoes change colors, he keep singing and smiling.
"What's the moral of the story?" Powers asks. A pause. Then: "Who here has heard that word before?"
One boy raises his hand. He knows "moral," he says with the confidence only an elementary school kid who knows something can have, because of the times he's gotten in trouble with his parents. It means the lesson.
That's right, Powers says. And the moral of Pete's story is that when you step in something, you just keep walking and singing your song.
Back down the hallways of the school, past the murals painted by Midwest students stretching back to the 1980s, past the library and the small, thermostat-like screen that shows the carbon dioxide levels in the building, down through the high school hallway that flooded, the seniors are finishing up gym.
Will Chapman, who sports a mullet, a belt buckle and cowboy boots, leaps for a layup, which Kayden swats away. Will returns the favor with a good-natured kick.
Behind them is the stage they'll walk across in May. Kayden said it's where he always imagined graduating. Not in Casper, but here.
The bell rings. Kayden drains a three-pointer, grins at Prisbrey and walks down the hall, to Vaughn's English class. The seniors all know her — she taught their ACT prep class last year, and some of them helped her move into Midwest over the summer. Though the desk clumps only sit four apiece, they pull up chairs so all six can sit at a table together.
The class is typical for a first day of school. They chat about goals for the year, about what snacks Vaughn should bring them, about retaking the ACT, about girlfriends and boyfriends, about finally playing football on their home field again. Logan and Kayden debate punching each other. Will pulls out a bag of candy and passes it around. Vaughn puts on a video of Admiral William H. McRaven, who was in charge of U.S. Special Forces, talking about working together, about powering through adversity, about doing one small task a day.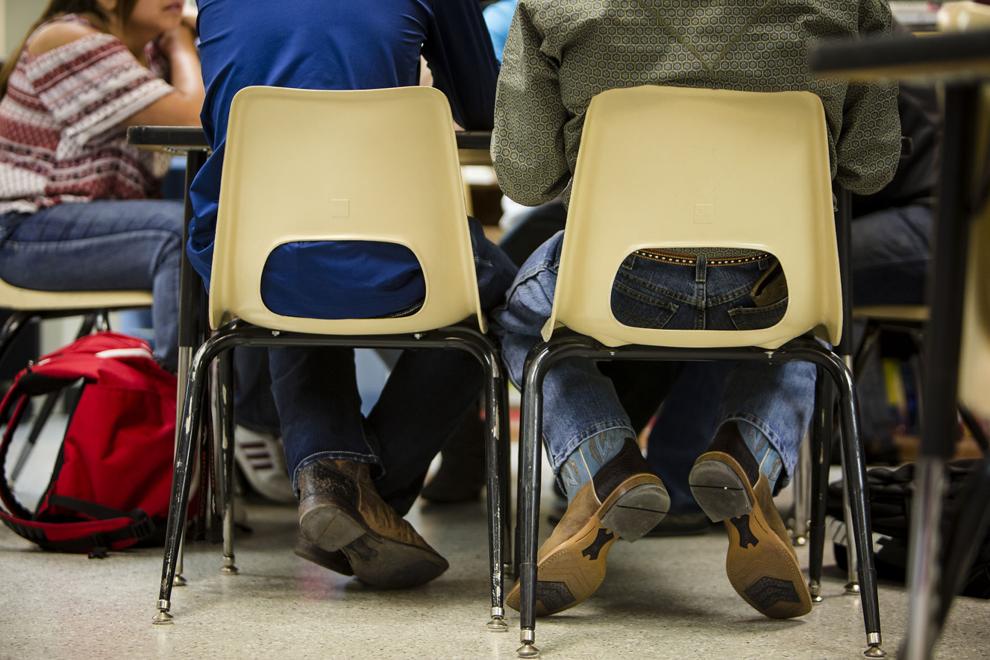 After the class is dismissed, Vaughn sighs and sits down. Last year was her first year as a Midwest teacher, but this is her first year in the actual building. She doesn't know how the students were before they had to take an hour-long bus ride every morning. But she knows what Midwest means to them.
"They have a super deep pride of their community and their school, and when sports, different activities would hit, you could tell," she says.
She taught at other small schools before this, in Fremont and Guernsey. Is Midwest different than those communities?
She pauses for about 10 seconds.
"These guys are like brothers and sisters," she says finally. "So they pick on each other, like bug each other, but I guarantee if somebody from a different place were to try to pick on them and bug, it would not be OK."
"It's just home, to them. You can tell these kids needed to be home. They needed to be home."
Follow education reporter Seth Klamann on Twitter @SethKlamann