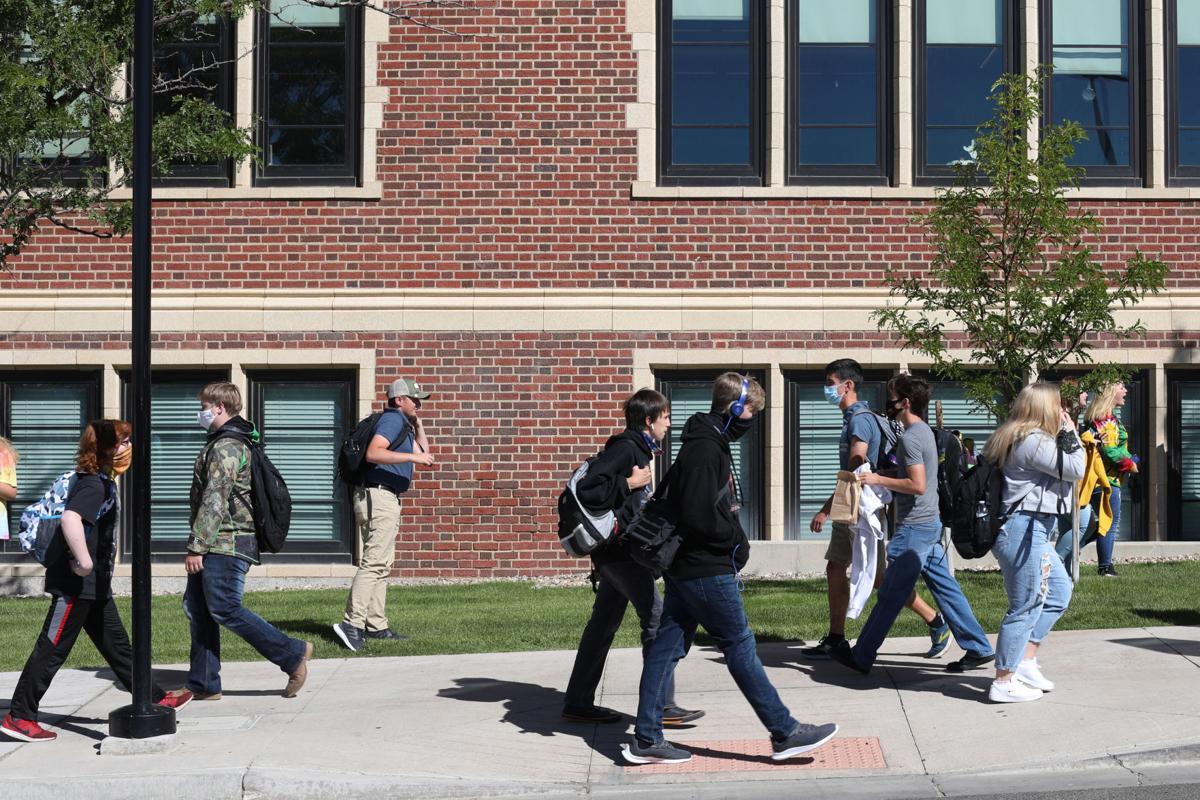 Students will return to Wyoming's educational institutions after the new year with lessons learned from the fall semester.
For many students in Natrona County, that return will look a lot like normal school. For university students, there will be a few extra steps.
University of Wyoming students will return to campus Jan. 14 to a "limited contact period" before classes resume Jan. 21. The first two days of those classes will be online. The plan follows what President Ed Seidel described as a "slow start approach."
The limited contact period won't require students to stay in their dorms or apartments, but it will require students and staff to not interact with others on campus for the first week of the return.
Students will also get a spring break, which had previously been canceled because of COVID-19 before student groups lobbied the administration to reconsider.
The university has also changed how it will address outbreaks. Last semester, the plan required classes pause if five or more students tested positive for the virus in a single day. Seidel recently told the board of trustees that approach did not allow enough flexibility.
Instead, he said the university will use data over time to address outbreaks, rather than using the static metric.
Casper College will return to in-person classes Jan. 19 and hold a spring break in March. Both Casper College and UW have been online since the week of Thanksgiving.
In a memo to students posted on the school's website Dec. 7, President Darren Devine wrote: "While it is always possible that health conditions could change, and thus necessitate some modifications as time progresses, we do not presently anticipate any alterations to the schedule, or the format of instruction."
College spokesperson Chris Lorenzen confirmed the Dec. 7 update was the most up-to-date information on the school's return to classes after the new year.
Lorenzen said the return to campus for the spring semester will follow the same course the college used for the fall semester — which allowed students back on campus and in classrooms barring virus symptoms or positive tests.
While the college plans to return to in-person classes, Devine's note acknowledges the plan could change.
In the fall, the college transitioned to online classes after the Thanksgiving break as virus cases surged in Natrona County.
"Local health services are being stretched thin due to the recent increase in COVID cases," an email from Devine to students at the time read. "Reducing the density of in-person classes will help ensure our campus does not contribute to those increasing pressures."
Prior to taking classes online, the college had been testing residence hall students once a week after an outbreak forced all students in the residence halls to quarantine during the fall.
Lorenzen said he did not know if the college would continue that testing program, or if it would still be necessary. He said that conversation has not been had yet.
Natrona County School District students, too, will return to in-person classes this month.
The K-12 school district has not seen the same problems as the university and Casper College. Institutions of higher education have stressed off-campus gatherings were a main contributor to climbing cases in the fall.
While Natrona County School District is still seeing cases among students and staff, health officials have repeatedly called the school district a good example for how to accommodate prevention measures like mask wearing and social distancing while keeping the school day going. Local health officials and district superintendent Mike Jennings have said there has not yet been evidence that virus transmission is happening at schools and those students and staff testing positive are instead being exposed in the community.
Because of this, Jennings has repeatedly said the schools show no signs of needing to close or go remote, and classes will resume normally when students return to class Jan. 5.
The school will still be following its "Smart Start Reopening Plan" approved by the Wyoming Department of Education this summer.
That plan establishes a framework to switch classes or entire schools if needed to online learning in the case of an outbreak. So far, the district has not had to quarantine entire classrooms or schools.
Follow health and education reporter Morgan Hughes on Twitter @m0rgan_hughes