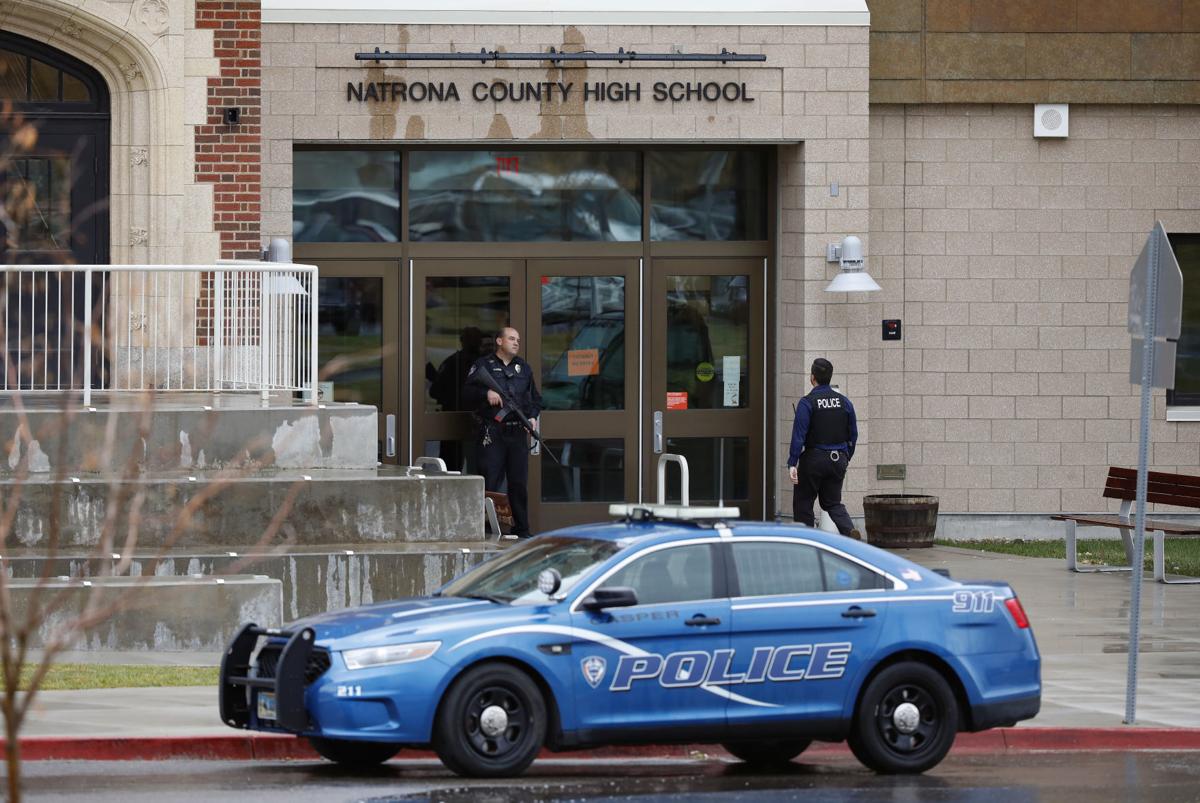 Natrona County's school resource officers responded to more than 1,200 incidents at Casper schools during the first quarter of 2019, according to data presented to the school board Monday night.
Law enforcement leaders from the Casper and Evansville police departments, plus a lieutenant from the Natrona County Sheriff's Office, spoke to the board about increased security efforts across the county. The assembled law enforcement officers, plus various school administrators from across the county, described troubling increases in gang activity and a spike in marijuana and tobacco use while highlighting the impact of officers in schools.
"I can tell you my officers in the high schools are perhaps busiest police officers in the city of Casper," Casper police Chief Keith McPheeters told the board. "They're working hard. They're earning every penny of the pay that comes home in their paycheck."
Building up the police presence in Casper's schools has indeed been an investment: The district pays about $700,000 now, which is 70 percent of the cost for the officers. That figure drew some mild criticism from board members earlier this year.
According to data presented to the board, Kelly Walsh has had by far the most reported incidents. School resource officers responded to more than 400 incidents in the first quarter alone.
That drew the attention of the board. KW principal Mike Britt said part of it was likely due to the high population at the east Casper school, while McPheeters and Sgt. Scott Jones said many of the incidents occurred in neighborhoods surrounding Kelly Walsh. Not all 400-something responses ended with a citation or other "enforcement." Still, KW led in that category as well, with nearly 70 incidents that required some enforcement from officers. Those incidents include vandalism, bullying, sexual assault, tobacco or vaping, and alcohol.
"Any time I get 1,500, 1,900 people of any type in one concentrated area, I'm going to have to have police there," McPheeters said.
Part of the uptick in incidents may be explained by more diligent enforcement and simply by the number of officers in schools, as well as a significant jump in the use of tobacco and vaping products, officials said.
Perhaps the most surprising update from the assembled law enforcement was that there is active gang activity in Natrona County's high schools.
You have free articles remaining.
"We're dealing with gang issues coming into town out of Colorado," said Casper police Lt. Ryan Dabney.
McPheeters added that there are two active gangs in Casper and that they were recruiting in the schools. He said the two gangs had "taken exception to each other" and that police were heavily monitoring the situation in schools.
In a statement sent Tuesday, police spokeswoman Rebekah Ladd said adult gang members "are known to manipulate children into committing crimes." Asked which gangs were active and how they were affiliated with Colorado groups, Ladd declined to comment and said the situation was under investigation.
The apparent presence of gangs surprised some of the board. Trustee Dave Applegate said he was surprised to hear it. Dabney replied that he could tell Applegate stories that would scare him.
The message overall from police, particularly McPheeters, was that the board should continue to support school resource officers and that the officers already in the schools were providing a vital service. Indeed, in the packet provided to the board, police listed several incidents officers responded to. Some were mundane — a stolen phone, probation violations — while several others were more serious. One described responding to a report of an 11-year-old being sexually assaulted "over a period of months." Many of the reports detailed property damage, including a student punching out a glass window.
Another report described a separate 11-year-old "roaming the hallways of an elementary school fondling girls." An officer had a conversation with the student's parent.
Yet another report described some of the gang activity McPheeters mentioned. Someone — the name is redacted — contacted Jones in mid-October "with concerns of a gang forming among ... students." The students apparently wore blue, and several were on probation and as such were required to be in school.
Dabney read a statement from a student, who wrote that he or she would've killed themselves had it not been for their relationship with Officer Walker Galloway. Galloway is based at Cottonwood Elementary but, like most of the school resource officers, has a presence in multiple schools.
As the meeting wrapped up, McPheeters again emphasized the importance of the school resource officers and encouraged the board to continue to fund it.
"The rest of the state of Wyoming is looking at Natrona County School District as the model for safety, for school resource officers and for civility in the learning environment," the chief said. "The rest of the state is paying attention, and we would encourage you to continue that progress."
Gallery: Active Shooter Training
Natrona County School District employees took part in ALICE active shooter training on Friday, Feb. 13, 2015, at Willard Elementary School in Casper. The ALICE program offers an alternative to the widespread "lockdown" response that many schools and businesses take by empowering targeted victims to asses their options and act instead of being "sitting ducks."